Thank goodness for Dorie Greenspan. What else is there to say? When you're feeling down and out, in swoops Dorie with a batch of cookies to make everything seem a little brighter. Her new cookbook, Dorie's Cookies, comes at a perfect time when I'm looking. It's the book equivalent of a big warm hug. By the way, I got a real hug from Dorie, too!
It's been several years since our last meeting and the first thing she said was, "You look the same!" I said the same thing! Look at this post from 2008 – is Dorie not still exactly the same wonderful baking fairy godmother she's always been?
I've always loved Dorie's cookbooks because they're always so warm and personal, revealing the her adventures and behind-the-scenes secrets that led up to the creation of each recipe. Her first few cookbooks chronicled her love affair with French pastry, and her ancedotes of wandering Paris, sampling sweets and talking to pastry chefs like Pierre Herme fired my imagination and my own love of French patisserie. Her later cookbooks, including this one, continued to offer delightful glimpses into her life and her ever-creative mind, from adapting French cooking for home cooks to a collection of favorites from her own sweet kitchen. Although we've only been face-to-face a handful of times over the years, Dorie has never felt far away – she was always as close as her cookbooks, which still hold pride of place on my cookbook shelf.
I never got the chance to visit her New York cookie pop up, Beurre et Sel, so I'm thrilled that her new book includes the recipes to the cookies she made for her store. I'm also super excited to try her updated chocolate chip cookie (I totally agree that you can never have too many chocolate chip cookie recipes).
However, for my first baking project from her new book I had to go for the appropriately named Thanksgiving Bars, just in time for Thanksgiving. This unusual recipe feels like a cross between making a tart and a cookie: two layers of cocoa-walnut shortbread sandwiching a filling of cranberry jam and fresh raspberries. The top layer of shortbread bakes around the raspberries, creating this cool pebbled effect for the top when it's done. It's actually fairly simple to make – don't let the idea of rolling out cookie dough or making jam intimidate you. The actual prep work can be done in about half an hour, and assembly about the same.
The result is a complex, intriguing combination of textures and tastes, from the buttery, nutty, chocolate shortbread to the tartness of the berries to the crunch of the sugar-speckled top. I wouldn't have pegged these as a holiday cookie when I first saw them, but after I tried them I totally got it. If you're making cranberry sauce for your Thanksgiving, set some aside and use them to make these bars. Your guests will thank you!
I told Dorie that I was especially happy that her latest book was on cookies, since Isabelle is becoming quite an enthusiastic kitchen helper and there's nothing more she loves making than a batch of cookies with mom! It's fantastic to have a whole new batch of fresh, creative cookies recipes to inspire our mommy-and-me baking time. Here she is meticulously arranging raspberries over the jam-covered cookie base. She started out scattering sprinkles over cupcakes and now she's helping put cookie batter together and carefully decorating – it's been fun to see her kitchen skills grow!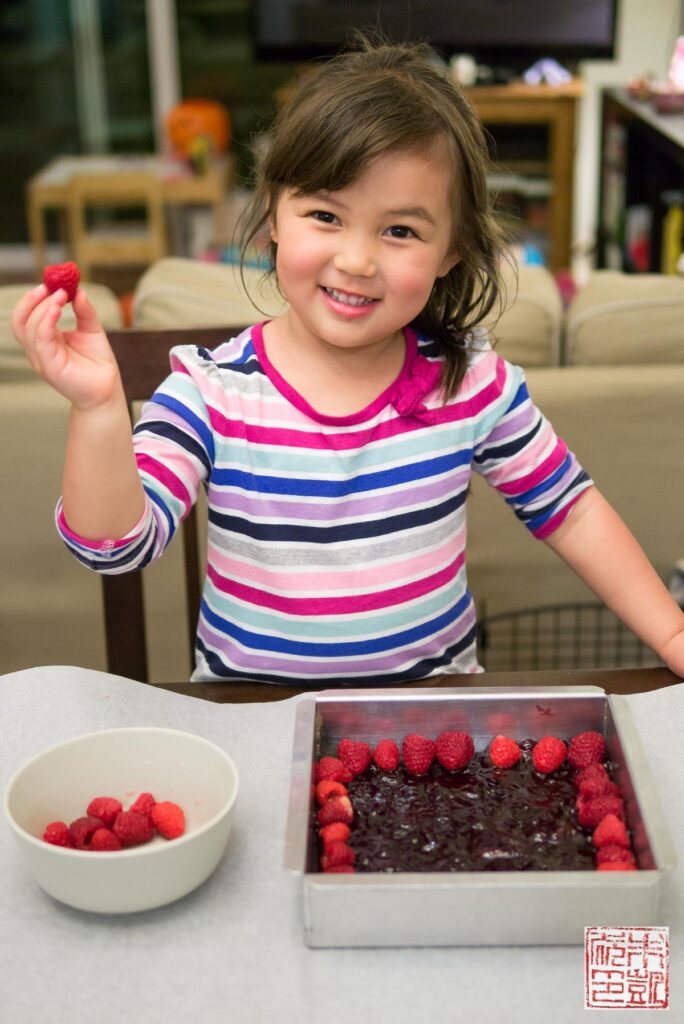 So proud of herself! There's so many other cookies from the book I can't wait to make with Isabelle, from sables to thumbprint cookies to madeleines to those chocolate Melody cookies – that might the very next thing on my list. Any holiday season that includes a new book from Dorie is always a great one, especially now. Thank you Dorie, for another lovely book sharing your love of baking with the world!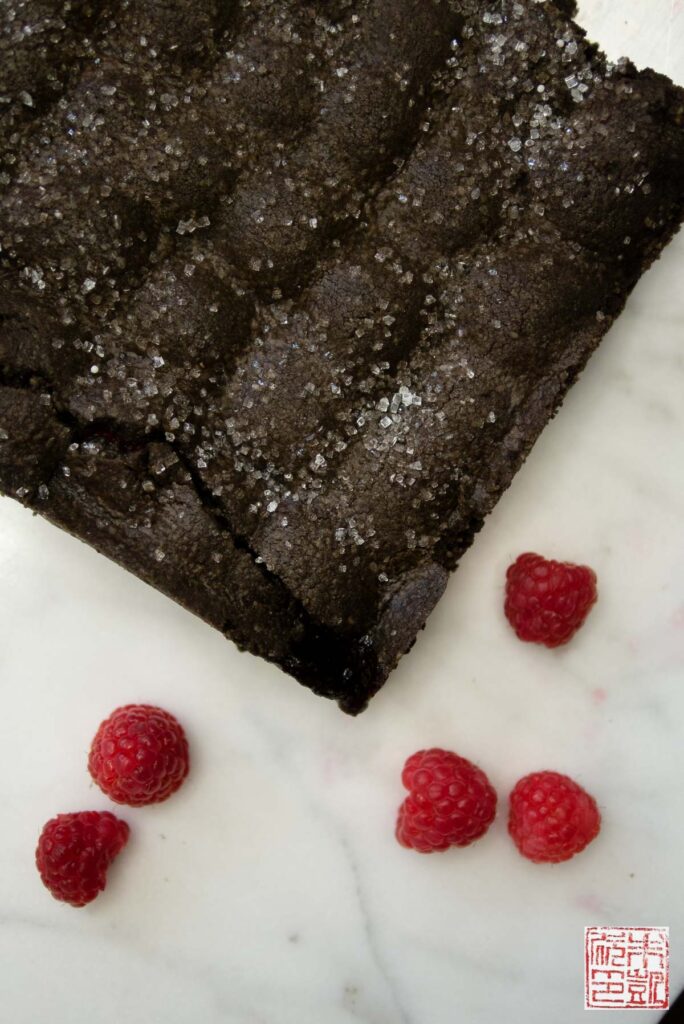 More recipes from Dorie:
Pear and Almond Frangipane Tart
Black and White Chocolate Cake
Dorie's Thanksgiving Bars from Dorie's Cookies
Ingredients
crust
1½ cups (204 g) all purpose flour
½ cup (100 g) sugar
¼ cup (21 g) unsweetened cocoa powder
¾ teaspoon fine sea salt
1 cup (120 g) walnuts
½ cup (113 g) unsalted butter, very cold, cut into small pieces
1 large egg, cold
1 tablespoon cold water
Filling
2 cups (198 g) cranberries (if frozen, don't thaw)
⅔ cup (134 g) sugar
½ cup (120 ml) orange juice
6 ounces (177 g) fresh raspberries
Sanding sugar for sprinkling
Instructions
For the crust:
Combine flour, sugar, cocoa powder, and salt in food processor and pulse just to blend.
Add walnuts and process until pulverized. Scrape sides and bottom of bowl to loosen any compacted layers that form.
Add the butter and pulse repeatedly until mixture resembles coarse crumbs.
Stir the egg and water together and add to the food processor a bit at time, pulsing after each addition.
The mixture should form into large crumbles that hold together when you squeeze them; don't let it form into a solid ball.
Turn out dough and knead gently to bring together. Divide dough in half and form each into a rough square.
Roll out dough between pieces of parchment paper until about 9 inches square. Place dough between two pieces of parchment paper and place in freezer. Repeat with other half of dough. Let dough chill in refrigerator for at least 2 hours.
for the jam:
Stir cranberries, sugar, and orange juice together in a medium saucepan. Place over medium-high heat and bring mixture to a boil, stirring frequently.
After about 5 minutes, when mixture starts to bubble and foam and the berries are popping, stir constantly until the jam thickens and the spatula leaves quickly disappearing tracks on the bottom of the pan.
Scrape jam into a heatproof bowl, press a piece of plastic wrap against the surface, and refrigerate until chilled, about 2 hours.
to finish and bake:
Preheat oven to 400 degrees F. Butter an 8-in square baking pan.
Take one piece of dough from the freezer and trim into an 8"x8" square. Fit into the bottom of the pan.
Spread the cranberry jam evenly over the dough with an offset spatula.
Arrange the berries over the top of the jam.
Take the second piece of dough from the freezer and trim into an 8"x8" square. Carefully place over the berries and press down lightly. Sprinkle the top with sanding sugar.
Bake for 35-40 minutes until the crust feels set and fruit is bubbling around the edges. Remove from oven and let cool on wire rack.
Cut into 16 2-in squares to serve.