Dorie's Thanksgiving Bars from Dorie's Cookies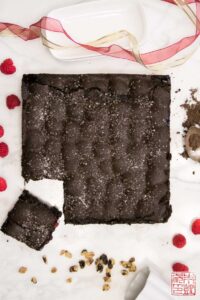 1½ cups (204 g) all purpose flour
½ cup (100 g) sugar
¼ cup (21 g) unsweetened cocoa powder
¾ teaspoon fine sea salt
1 cup (120 g) walnuts
½ cup (113 g) unsalted butter, very cold, cut into small pieces
1 large egg, cold
1 tablespoon cold water
2 cups (198 g) cranberries (if frozen, don't thaw)
⅔ cup (134 g) sugar
½ cup (120 ml) orange juice
6 ounces (177 g) fresh raspberries
Sanding sugar for sprinkling
Combine flour, sugar, cocoa powder, and salt in food processor and pulse just to blend.
Add walnuts and process until pulverized. Scrape sides and bottom of bowl to loosen any compacted layers that form.
Add the butter and pulse repeatedly until mixture resembles coarse crumbs.
Stir the egg and water together and add to the food processor a bit at time, pulsing after each addition.
The mixture should form into large crumbles that hold together when you squeeze them; don't let it form into a solid ball.
Turn out dough and knead gently to bring together. Divide dough in half and form each into a rough square.
Roll out dough between pieces of parchment paper until about 9 inches square. Place dough between two pieces of parchment paper and place in freezer. Repeat with other half of dough. Let dough chill in refrigerator for at least 2 hours.
Stir cranberries, sugar, and orange juice together in a medium saucepan. Place over medium-high heat and bring mixture to a boil, stirring frequently.
After about 5 minutes, when mixture starts to bubble and foam and the berries are popping, stir constantly until the jam thickens and the spatula leaves quickly disappearing tracks on the bottom of the pan.
Scrape jam into a heatproof bowl, press a piece of plastic wrap against the surface, and refrigerate until chilled, about 2 hours.
Preheat oven to 400 degrees F. Butter an 8-in square baking pan.
Take one piece of dough from the freezer and trim into an 8"x8" square. Fit into the bottom of the pan.
Spread the cranberry jam evenly over the dough with an offset spatula.
Arrange the berries over the top of the jam.
Take the second piece of dough from the freezer and trim into an 8"x8" square. Carefully place over the berries and press down lightly. Sprinkle the top with sanding sugar.
Bake for 35-40 minutes until the crust feels set and fruit is bubbling around the edges. Remove from oven and let cool on wire rack.
Cut into 16 2-in squares to serve.
Recipe by
Dessert First
at https://dessertfirstgirl.com/2016/11/dories-cookies-thanksgiving-bars.html