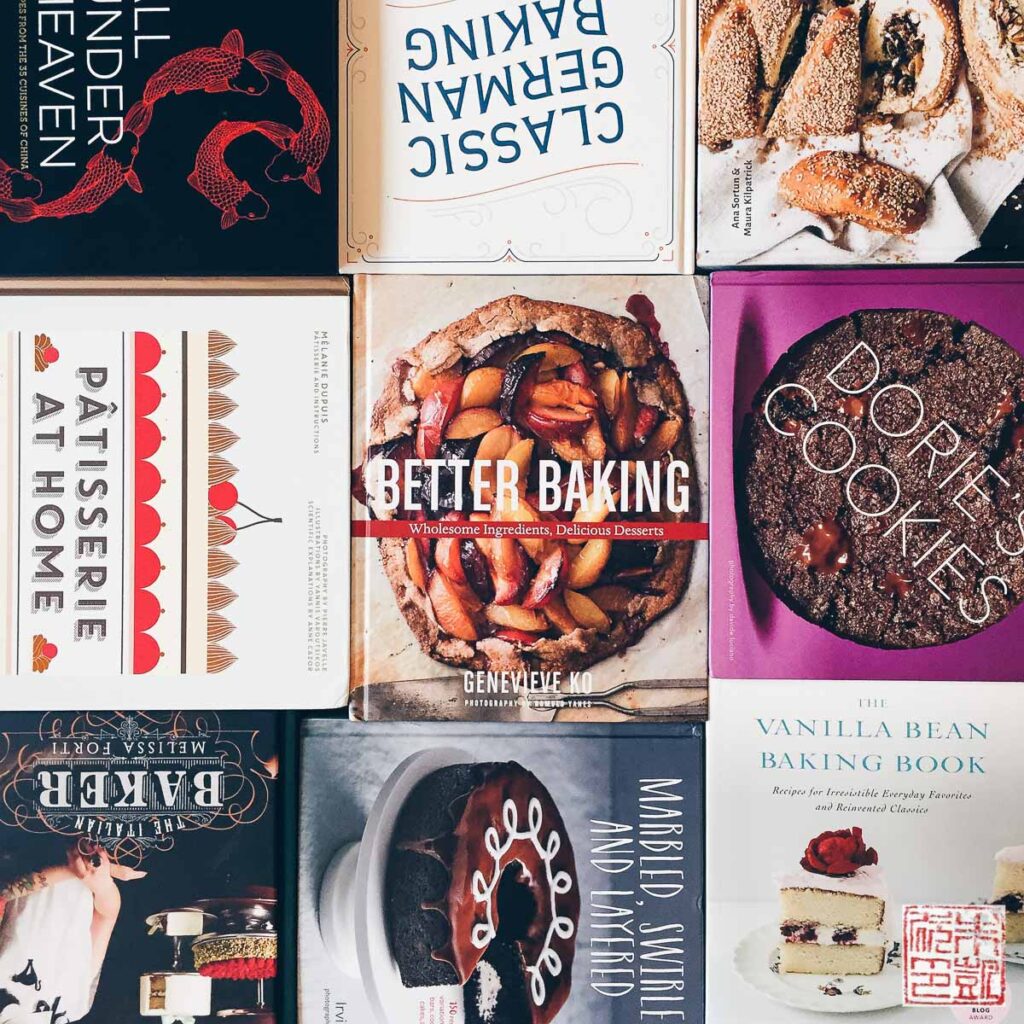 Happy December! It's time for one of my favorite posts of the year: my picks for best baking cookbooks of 2016 !
I've just returned from a couple weeks out of town – visiting family in the Midwest over Thanksgiving weekend and then flying immediately afterwards to Honduras for work meant not much time for baking. Instead, I consoled myself by leafing through my stacks of new cookbooks and tabbing dozens of recipes to try when I got home. There's a fab variety of cookbooks for the baking enthusiast this year: always-welcome new works from favorite authors, coffee-table worthy oversized tomes of eye candy when you need some inspiration, some wonderful deep dives into regional baking traditions around the world, and of course more bloggers who've made the leap to published author. Take a look down the list – I think this year it'll be hard to pick just one – or if you're gift shopping, to not be tempted to keep these books for yourself.
General

Better Baking by Genevieve Ko
I've been a fan of Genevieve Ko since she co-authored Pichet Ong's The Sweet Spot. Her first solo cookbook, Better Baking, delivers on its promise: classic baked goods like brownies and pies reformulated with alternative oils, flours and sugars to create more healthful (and intriguing updates), alongside some original creations of her own – the S'mores Dream Bars look like pure genius. There have been several baking cookbooks out, and Ko's is surely one of the frontrunners – the recipes are creative and inspired, the directions clear and helpful, and the photos beautiful. Try making the Strawberry Sour Cream Coffee Cake Muffins and the Green Tea Chocolate Cake with Matcha Marshmallow Frosting.


Dorie's Cookies by Dorie Greenspan
As I mentioned before, it's always a great year if there's a new Dorie book coming out. The name "Dorie's Cookies" perfectly captures her universal appeal: anyone who bakes at all knows Dorie's name and how awesome her recipes are. This collection of cookies seen through Dorie's vision is endlessly creative, full of riffs on all kinds of classic recipes. Check out my full review here along with the recipe for her Thanksgiving Bars. Other recipes to try: Dorie's Newest Chocolate Chip Cookies and the Coconut Lime Sablés from her Beurre and Sel collection.


Breaking Breads by Uri Scheft
I always hesitate to add another bread book to my home, because although I love eating bread I know it's not my baking forte. However, Breaking Breads is making me break that ban: the astonishing breadth of Uri Scheft's talent is just too much to resist. I haven't been to his bakeries in New York or Tel Aviv, but the recipes in his cookbook – a profusion of challahs, flatbreads, babkas, and bagels, along with sweet like rugelach and hamantaschen – make me want to book a plane ticket right area. A beautiful and through exploration of Israeli and Middle Eastern baking traditions. Try the Chocolate Babka for sure, but also the Sticky Pull-Apart Cinnamon Challah Braid.
Professional

Pierre Herme Chocolate photographed by Sergio Coimbra
Pierre Hermé's creations have long crossed the line from mere pastry to art. His pastries and macarons are always photographed in glamorous, high fashion style, perfect jewels against sleek backdrops. His latest book is half coffee table book, half cookbook. Sergio Coimbra's dramatic photos capture drips of chocolate, clouds of cocoa powder, swirls of caramel, alongside some of  Hermé's most famous chocolate recipes, To the delight of all us non-French speakers, this book is presented in English . Finally you can reproduce his iconic Miss Gla'Gla ice cream bar and macaron Plaisir Sucré.


Patisserie at Home by Mélanie Dupuis
Prettiest book definitely goes to this one. If you're obsessed with those little plating diagrams that chefs make, you will adore this book – gorgeous crisp graphics showing how classic French pastries are assembled with recipes for each component. Also lots of step by step photos for many of the recipes, so this book is definitely full of eye candy. From basics like lemon curd and meringue to croquemboche and macarons, they're all here.
Baking Around the World

Classic German Baking by Luisa Weiss
I reviewed this book previously as well and I continue to adore it even more. Luisa Weiss's clear, appealing prose captures her experiences living in Germany and brings additional depth and resonance to her lovingly researched collection of German baking favorites. Although I enjoyed finding recipes for things I recognized, like strudel and Black Forest cake, the greatest pleasure came from learning about pastries I knew nothing about, like those Railroad Track bars. Just in time for Christmas, try her Baumkuchen (Christmas tree cake) or her Lebkuchen(gingerbread).


The Italian Baker by Melissa Forti
Melissa Forti is living out another of my pastry chef fantasies: Born in Rome, a passionate world traveler, she taught herself how to bake and returned to Italy to explore her culinary heritage. She ended up opening a tea salon on the Italian Riviera, between Tuscany and Cinque Terre, where she serves modern renditions of Italian pastries. The book reflects her dramatic, Old World aesthetic: moody, artful photos of cakes and tarts arranged amongst vintage furniture, drawings, and other curios. It's a beautiful book, and the recipes are equally inviting: try making the Lemon, Raspberry, and Rosemary Cake and the Pistachio and Raspberry Cheesecake.
Fellow Bloggers Turned Authors

The Vanilla Bean Baking Book by Sarah Kieffer
I'm so excited for two fellow bloggers turned authors with two very different books reflecting their different styles. Sarah Kieffer's Vanilla Bean Baking Book nails the clean, fuss-free feel of her site, and all the recipes are similarly appealing in their pristine simplicity. Simple doesn't mean boring, though: the elegant photography that takes you step by step through recipes and the warm prose makes everything from scones to danishes seem eminently doable. Make the Braided Chocolate Swirl Bread and the Vanilla Cupcakes with Berry Swirl Buttercream.


Marbled, Swirled and Layered by Irvin Lin
I've known Irvin Lin for a long time, and seen him quickly become everyone's best friend in the blogging world, thanks to his generosity in sharing advice, and his endearing sense of humor. I remember we were talking about SEO once, and he claimed that he would never rank high enough in search engine algorithms because his recipe titles were always too long, with about fifteen different ingredients in them. Well, I'm so glad he stayed true to his style because his first cookbook is a celebration of mixing, swirling, and layering all sorts of ingredients and flavors together to create some truly original – and delicious – creations. Irvin's spent years following his vision, and I'm delighted for this latest recognition of his talent. It's far and away one of the best new books on my shelf. It's difficult to pick just a few recipes to try, but don't miss the Roasted White Chocolate Brownies with Strawberry Balsamic Swirl, the Apple Roses and Spiced Brown Butter Tart, and his famous Cinnamon Honey Bun Cookies.
Let me know if you've found any new books this year you'd add to the list of best baking cookbooks of 2016!