The lunar new year is on January 25, and I'm celebrating the Year the Rat with some cheesecake. Namely, Japanese style cotton cheesecake adapted from Joanne Chang's Pastry Love. Coincidentally, this recipe appeared in the New York Times around the time I was contemplating making it so maybe we were on the same wavelength!
Click here to jump to recipe
Although this style of cheesecake, which is very light, soft, and almost soufflé-like, originated in Japan, it's quite popular in many Asian countries including China. My mom is a particular fan, so I knew one day I'd have to perfect a version for her!
This is a particularly refined, technique-dependent cake. None of the ingredients or steps are particularly unusual, but it's definitely a cake where understanding your kitchen and what you're doing will make a big difference. For example, one of the most common complaints I've seen is that the cheesecake will bake up with a perfectly light and fluffy top layer, but the texture gets increasingly dense and gummy towards the bottom. The explanation is that the egg whites weren't properly whipped and then not evenly folded into the batter, resulting in an uneven texture. That's easy to understand, but the first few times I tried making cotton cheesecake, years ago, I had the same problem, even though I thought I being careful. It took me a while to gather up the courage to try it again!
I like Joanne's recipe because it seems pretty robust; my cheesecake was not perfect on the first attempt but it was very, very good taste-wise and texture-wise. I made it a couple more times to see if I could improve on the finished appearance, and I'm still not 100% there, but at least I know this is a good base to build on. If you follow the directions, you should get a good result; you can figure out how to refine it to reflect your own personal technique and kitchen conditions, or you can be confident that even you just stick to the recipe as it you will have a delicious cotton cheesecake to enjoy.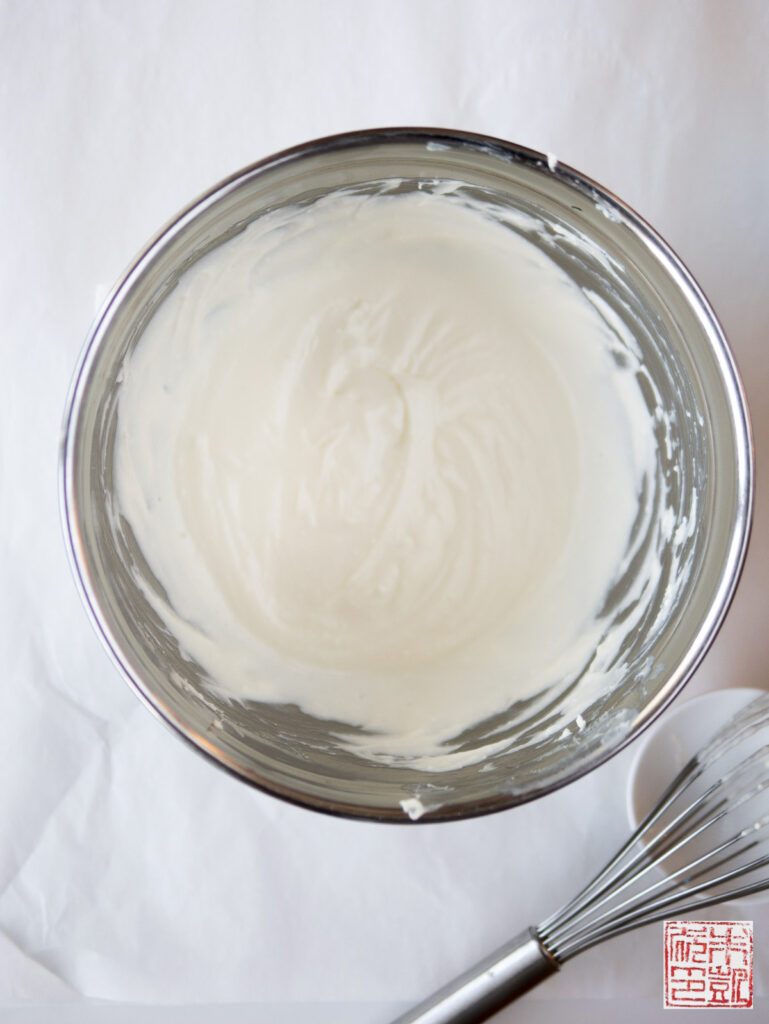 Most of the many recipes for cotton cheesecake emphasize similar tips and tricks in order to get the perfect, fluffy, cotton-soft cheesecake. Here's what worked for me:
Use an 8″ round by 3″ tall cake pan – if it's too short, the cotton cheesecake will have no space to rise and it'll spill out over the top. This is the pan I used – it's heavy, durable metal and it's light-colored, which prevents cakes from over browning in the oven. I also tried using a pan with a removable bottom, wrapped in a couple of layers of aluminum foil. Some recipes say you can use a springform pan with foil wrapped around the bottom to prevent water getting in. Although I used several layers of foil, I still had some water getting into the bottom of the pan. It didn't ruin the cotton cheesecake, but it seemed less stressful to just use a solid pan. 
The whipped egg whites are the key to the light, fluffy texture of this cotton cheesecake. Although I've seen some recipes say to whip the egg white meringue to stiff peaks, I found that whipping to soft peaks made it easier to fold evenly into the batter without deflating it. It may depend on how light a hand you have with whipping egg whites (one of my baking Achillles' heels); you don't want to have unincorporated areas of whipped egg white in the batter because then it will rise unevenly, but if you're too overzealous with folding in the egg whites, you'll deflate them. It may take a bit of practice to figure out what stiffness you like to take your egg whites, and how to fold them into the batter efficiently. Also: rap the filled cake pan firmly on the counter a couple times to get rid of any large air bubbles trapped in the batter. Again, you want the whipped egg whites to be evenly distributed throughout the batter so it rises evenly and the texture is uniform.
Oven temperature: this is another one of the important elements in baking the cotton cheesecake. I didn't have an issue with my cake not rising, but I did notice the top deflating slightly as it cooled, creating a less than ideal, wrinkled top. You can see I haven't fully solved this issue, and most recipes note that you need to have a good understanding of your oven to adjust the baking temperature as needed. The most common strategy is to lower the temperature partway through the baking time, and then to leave the cotton cheesecake in the oven for a period while the oven is cooling down. The idea is to prevent an abrupt temperature change, which is what causes the cotton cheesecake to deflate. Pastry Love's recipe doesn't have you lower the temperature during the baking time but does have you leave the cheesecake in the oven for a bit. I have tried different combinations of lowering the temperature and leaving the cake in the oven for longer, and I think I still need to figure out the right one so that the cheesecake bakes thoroughly without drying out, and doesn't deflate too much. I'm going to see if I can squeeze in one more cake before new year's – we've been eating a lot of test cheesecake this last week!
That's what I've been doing for the first couple weeks of the year – baking and eating a lot of cotton cheesecake. I'll probably have my last slice for Chinese New Year, and then I'll move on to something else for a while – say Valentine's Day? The holiday season hasn't let up at all since November! Gung Hay Fat Choy and my best wishes for health and prosperity in the Year of the Rat!
Japanese Cotton Cheesecake
From Joanne Chang's Pastry Love
Serves:
(1) 8" cheesecake
Ingredients
5 large eggs, room temperature
1 cup (225 g) cream cheese
½ cup (120 g) crème fraîche
3 tablespoons (45 g) unsalted butter, room temperature
1 teaspoon grated lemon zest
1 teaspoon vanilla extract
¼ teaspoon kosher salt
½ cup (100 g) plus 1 tablespoon superfine sugar
½ cup (65 g) cake flour
Confectioners' sugar, for garnish
Instructions
Place rack in center of the oven and heat to 400 degrees. Line the bottom of an 8-by-3-inch round cake pan with parchment paper and butter only the bottom of the pan.
Separate the eggs and place the whites in the bowl of an electric mixer fitted with the whisk attachment; place the yolks in a small bowl and set aside.
Place cream cheese in a large metal bowl or double boiler insert and place over a pot filled with 1 inch of simmering water.
Stir until cream cheese is melted and smooth. Whisk in crème fraîche and 3 tablespoons butter until well combined and smooth.
Remove from heat and whisk in lemon zest, vanilla and salt.
Whisk in egg yolks and 3 tablespoons(40 g) of the sugar.
Sprinkle cake flour evenly over the top, then whisk it in gently.
Beat the egg whites on medium speed until you start to see the wires of the whisk leave a trail in the whites. Slowly add the remaining sugar, a tablespoon at a time while beating. Continue to beat until whites are fluffy and hold a soft peak when beaters are lifted.
Gently fold about one-quarter of the whites into the yolk mixture to lighten it. Then gently fold in remaining whites, taking care not to deflate batter. Pour into prepared pan.
Place cake pan in a roasting pan or other pan that is at least as deep as the cake pan, and transfer to the oven. Fill the larger pan with enough hot tap water to come one-quarter of the way up the sides of the cake pan. (The cake is really light, so if you pour in too much water it may float.)
Bake until top of the cake is golden and doesn't give when you press it gently in the middle, 35 to 40 minutes.
Turn off oven and crack the oven door so that it cools off. Leave cheesecake in the cooling-off oven for 2 hours so it cools slowly, which keeps the top from cracking.
Lift cheesecake pan out of water and place on a wire rack. Let cool for another 2 hours. Cheesecake will deflate slightly.
Run a knife around the edges of the cheesecake to loosen it from sides of pan. Remove sides of springform pan. If you used a regular cake pan, invert the cake onto a plate, lift off pan, peel off parchment, then invert it right side up on a serving plate.
Chill cake for at least 2 hours before serving. Cake can be stored, well wrapped, for up to 4 days in the refrigerator. Sift confectioners' sugar over top of cake just before serving.