These parmesan chive scones from Pastry Love by Joanne Chang are my perfect savory scone. While I have a pile of sweet recipes to try, sometimes I need something non-sweet to cut through the all the sugary treats. These scones are wonderfully rich and fluffy, cheesy and slightly peppery, and ideal for the bread basket on your dinner table. This is also another easy, kid-friendly recipe that I made with my daughter in the afternoon; she was excited to see her contribution to the evening meal!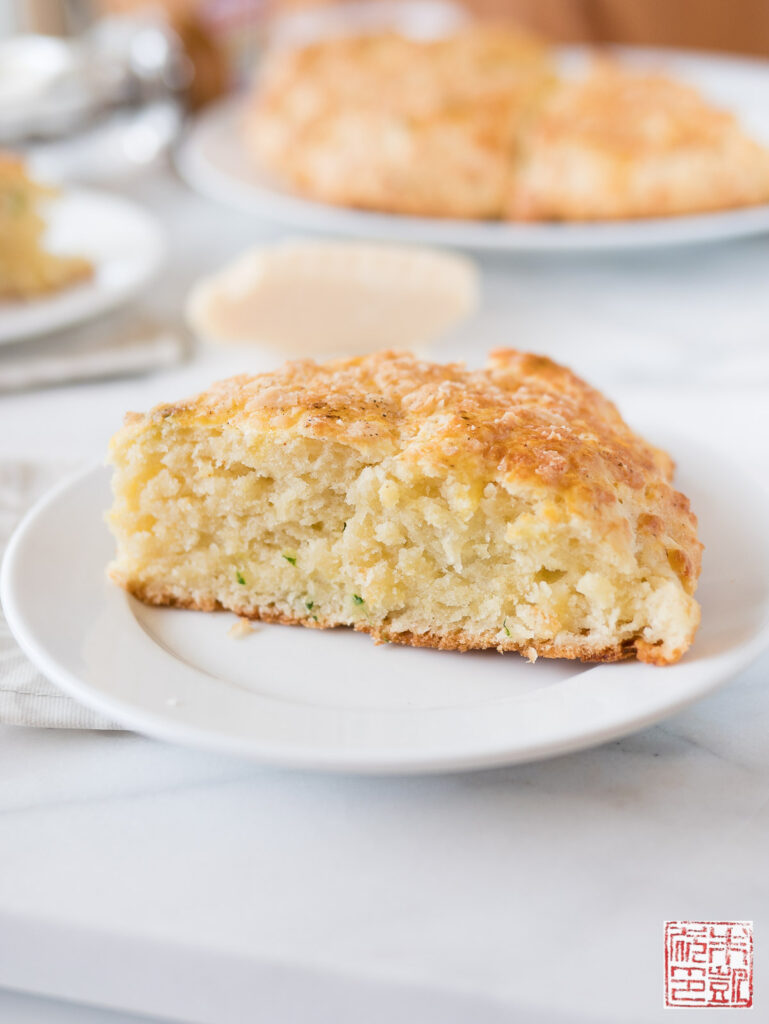 I've made many a sweet scone before, but not savory ones before. Although I usually make my scones my hand, this recipe has you make the dough in a mixer, which turned out very well. My suggestions are:
– Be careful not to overmix the dough. The key to scones is gentle handling of dough, which is why most recipes have you make the dough by hand with a pastry cutter. There's nothing wrong with using a mixer or food processor to speed up the process, just be mindful to mix/pulse just enough for the dough to start coming together. You can always do the last bit of mixing by hand.
– Be sure your ingredients are cold. You want the butter to stay in separate pieces, coated by the dry ingredients, so when the scones bake the steam created by the melting butter creates air pockets, which leads to fluffy, moist scones. Keep your butter cold right until you use it, and make the dough quickly so it stays cold. If it's a warm day, you can always chill the scones in the refrigerator for a few minutes before you bake them.
– Scone dough also freezes really well. This recipe makes eight very generously-sized scones, so if you want to save some for later (as scones are best enjoyed fresh!) you can wrap the dough well in plastic wrap and freeze for up to a week. To make it easy, you can cut the dough into wedges first and wrap individually, then place in a large ziploc bag. They can be baked straight from the freezer; just add a few minutes to the baking time.
I loved these scones with dinner, or just on their own – they're pretty filling, so as I mentioned, baking these off a couple at a time will let you enjoy them over a couple days. Or if you have a larger family, these come together in a snap for mealtime. Enjoy and hope you all continue to be safe and well!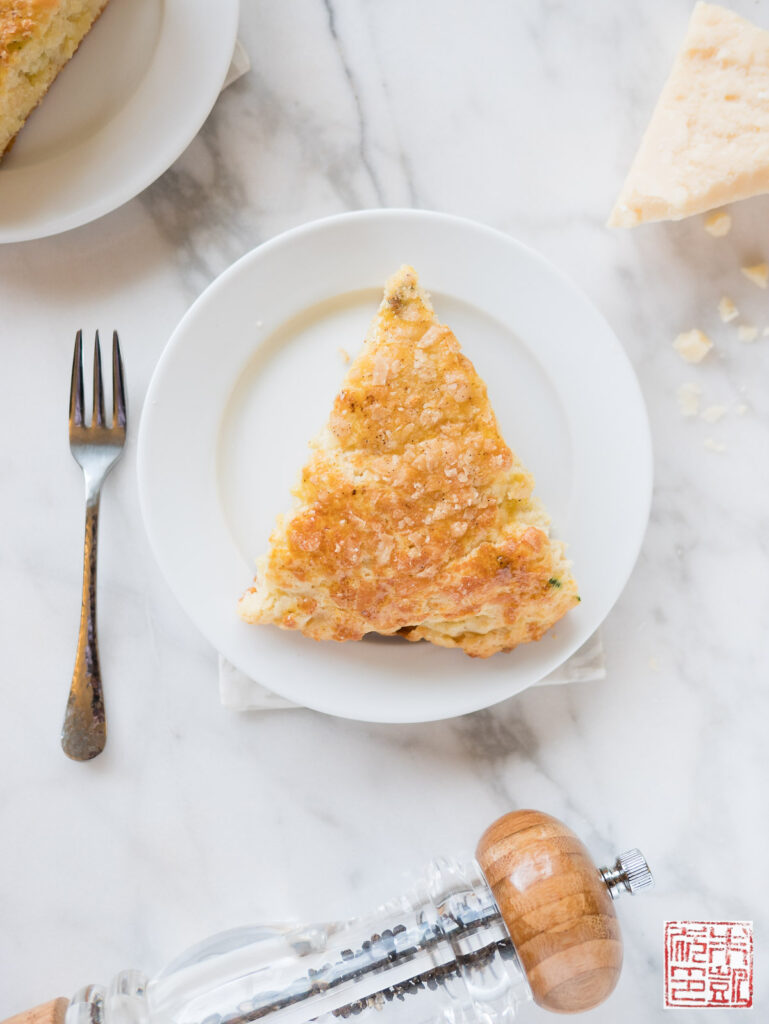 Parmesan Chive Scones
From Pastry Love by Joanne Chang
Ingredients
2 1/4

cups

(315 g) all-purpose flour

1

cup

(100 g) shredded parmesan cheese

1/2

cup

(25 g) chopped chives (about 1/2 bunch)

2

teaspoons

baking powder

1 1/2

teaspoons

salt

1/2

teaspoon

baking soda

1/2

cup

(115 g) unsalted butter, cold, cut into 1-in pieces

1

cup

plus 2 tablespoons (270 g) creme fraiche

1/4

cup

(60 g) buttermilk or whole milk

1

large egg

room temperature

1

large egg yolk for egg wash

1/4

teaspoon

freshly ground black pepper
Instructions
Preheat oven to 350 degrees F. Line a baking sheet with parchment paper.

Combine flour, 3/4 cup (75 g) of the parmesan cheese, chives, baking powder, salt, and baking soda in bowl of a stand mixer fitted with paddle attachment. Mix until combined.

Add the butter and beat for about 20-30 seconds until mixture looks like large, loose crumbs.

Whisk creme fraiche, buttermilk and egg together in a medium bowl until combined.

With the mixer running on low, add in the creme fraiche mixture and mix for just another 10-15 seconds, until dough just comes together. It may be wet and sticky.

Remove bowl from mixer and turn the dough over with your hands a couple times to fully mix in any loose bits of flour.

Turn out dough onto prepared sheet and form dough into a roughly 8 inch circle, about 1 inch thick.

Whisk egg yolk and brush over the top of the dough.

Sprinkle remaining parmesan and the black pepper evenly over the top of the dough.

Score the dough into eight equal wedges with a knife.

Bake for 35 to 45 minutes, rotating halfway through, until scones are golden brown on top.

Let cool on wire rack for 30 minutes, then cut into 8 wedges.

Serve immediately, or store in an airtight container for 2 to 3 days.