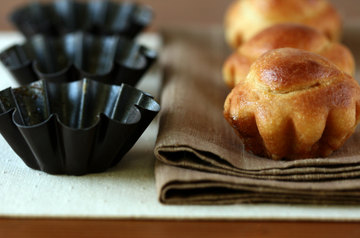 Do bad things always happen in threes? My pastry teacher told us that she would always get kitchen injuries in groups of three. While that hasn't happened to me so far (knock on wood), I did encounter a couple of technological mishaps in my attempts to bake something for World Bread Day – this entry certainly came quite perilously close to not occurring in time. First, my beloved KitchenAid broke down – is there any more awful kitchen appliance disaster, especially when you're trying to make bread? Fortunately, a trip to the repair shop revealed that the speed control was merely jammed up, and it got fixed in a couple of days (I never dreamed my kitchen could look so naked without the graceful, sentry-like silhouette of my stand mixer – I felt quite off-kilter and bereft).
With the return of a fully functional KitchenAid, I set about mixing up a batch of brioche for Kochtopf's annual salute to the glories of yeast. With the success of brioche fresh and gloriously golden from the oven, photos eagerly snapped, I was all ready to write my post. And then…my computer broke down! Fizzled out. It was about that time that I wondered if maybe I was not meant to contribute to World Bread Day and I would just sit at home and cry into my basket of brioche.
Well, my computer is still being repaired, but I have very fortunately got a temporary computer to use, so I am able to share the happy results of my breadbaking with you all, and I am very furiously knocking on wood to ward off the power going off in my building, or my oven combusting, or some other disaster.
I am very thrilled to participate again in World Bread Day – perhaps it's no coincidence that my entry last year was also brioche-based, given how much I love this ultimate way to have dessert for breakfast. This time, I seized on the chance to try out a new brioche recipe from Alice Medrich's glorious Pure Dessert
.
Adapted from her friend Desiré Valentin's (how perfect a name is that?) recipe, Medrich's brioche is luxuriously rich and meltingly delicate, like eating honey-spun,sunshine-dipped clouds. A dollop of sour cream in the dough adds to the refined texture and accentuates the warm buttery lusciousness. Most intriguingly, Medrich suggests swirling raw sugar into her brioche to create a ribbon of contrasting flavor – her new book is all about exploring new ingredients like unrefined sugars. I followed her idea and folded a streusel-like mixture of butter and muscavado sugar into the dough, then formed it into the classic brioche à tête.
Muscavado sugar, or Barbados sugar, gets its color and flavor not from molasses but from sugar cane juice. It is dark, very sticky, and smells intensely fruity, almost like grapes. It has a earthy, fruit taste quite different from regular brown sugar. Added to the brioche, it gives the bread an added dimension of rich sweetness and takes it even closer to dessert territory – if you enjoy Danishes and other filled pastries, this is what brioche laced with extra butter and sugar is like!
I used a lighter brown muscavado sugar, so it is not so apparent in my brioche, but you might be able to see parts where it appears darker or to be glistening – that would be a streak of warm, melting sugary joy running through soft, pillowy reaches of the bread. I'd love to try the brioche again with a dark muscavado sugar, or some piloncillo sugar – this is certainly a bread that needs no additional adornment, just a languid Saturday morning, freshly brewed coffee, newspaper spread over the table, and the city waking up just outside the window.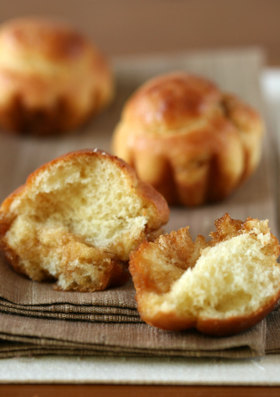 Desiré's Brioche
adapted from Alice Medrich's Pure Dessert
makes about 10 individual brioche
Dough
3 cups (15 oz) bread flour
20 tablespoons (10 oz ) unsalted butter, cold
1 envelope active dry yeast
1/3 cup plus 1 teaspoon sugar
1/4 cup warm water (105 to 115 degrees F)
5 large eggs, cold
1 tablespoon sour cream
1 1/2 teaspoons salt
Filling
3/4 cup ( 5 1/2 oz) muscavado or piloncillo sugar
1/8 teaspoon salt
4 tablespoons unsalted butter, softened
1 egg for egg wash
To make the brioche dough: Place the flour into a bowl, cover, and chill in the freezer for about 15 minutes. This will help keep the dough cool while you are mixing it and prevent the butter from melting.
Cut the butter into 1-in pieces and place in the mixer bowl. Beat with the paddle only until the butter is smooth and there are no hard lumps; do not overbeat and let it get soft and creamy. Place the butter in a bowl, cover, and store in the refrigerator while you prepare the rest of the dough.
Place the yeast, water and 1 teaspoon of sugar in a clean mixer bowl and let the yeast dissolve.
Add the 1/3 cup sugar, eggs, sour cream, eggs, and flour, and mix with the dough hook on low speed until all the ingredients are combined.
Knead the dough for about 5 minutes on medium speed until it forms a ball around the dough hook and is moist and sticky but not gooey or mushy; you should be able to form it into a cohesive ball.
Add the cold butter a few pieces at a time, letting them incorporate into the dough before adding more. Scrape the bowl down as necessary.
Scrape the dough into an oiled bowl and cover. Refrigerate overnight or for up to 24 hours.
When you are ready to make the brioche: Butter individual brioche tins or pans if you want to make loaves.
Take the dough out of the refrigerator and scrape out on a floured surface. Roll out to about 18 by 12 inches by 1/2 inch thick – the dimensions don't need to be too precise as long as you keep the thickness even.
Mix together the softened butter and muscavado sugar and salt. Spread the mixture evenly over the dough, leaving a one inch margin on one long side.
Roll up the dough on the long side, pressing down firmly on the seam to completely seal it. You can now either slice off pieces to form into the little boules for brioche à tête, or you can slice into segments and bake off in the loaf pans. If you are making brioche à tête, you may need to use a bit of flour to keep the dough from becoming too sticky as you are working it.
(I am not going into detail about making brioche à tête; if someone really wants to learn about the process, I can write about it at a later time!)
Cover the tins or pans with plastic wrap and place in a warm place. Let the dough rise until doubled, about 2 hours.
Heat the oven to 350 degrees F. Beat the egg with about a teaspoon of water to make an egg wash. Brush the tops of the brioche with the egg wash, avoiding the sides of the pan (otherwise the egg will make your dough stick to the pan and it will rise unevenly).
Bake the brioche for about 20-25 minutes, until the tops are deep golden brown and the bottoms of the tins sound hollow when tapped. If you are baking loaves it may take longer.
Cool brioche on a wire rack for about 5 minutes, then unmold and let finish cooling. They are best eaten warm, but you can easily rewarm them in the oven or toast older brioche.
Tagged with: World Bread Day 07 + brioche + Alice Medrich + Pure Dessert+ muscavado sugar