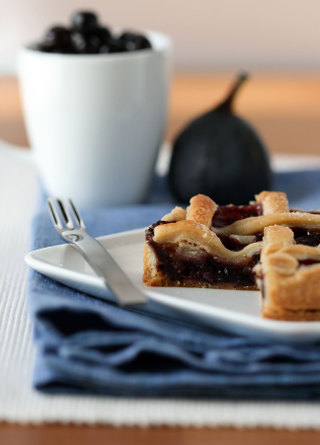 Trust Ivonne of the wonderful Cream Puffs in Venice to come up with the perfect theme for this month's Sugar High Friday: figs. I will admit that figs were never my favorite fruit; I liked them well enough but I always preferred eating, and baking, with other more familiar fruits. This might partly be because whenever I thought of figs I thought of Fig Newtons, that bar-like cookie filled with what was supposed to be fig jam, but which tasted awful to me. I took Ivonne's theme as a challenge to renew my acquaintance with the fig and discover how I could use it in my kitchen.
Well, thank you, Ivonne, because now I have yet another ingredient to incorporate into my pastry daydreams. After much deliberation, I ended up making two desserts, because I really wanted to try both of them, and I had just bought over two pounds of black Mission figs at the market. Below, the very happy results of trying something new:
Honey Panna Cotta with Grilled Figs
The Honey Panna Cotta is from Alice Medrich's excellent new Pure Dessert
, from which I can't stop baking; I saw the recipe and I thought it would be perfect paired with some figs. Indeed, the subtle, elusive sweetness of the figs, along with the slight crunch of their seeds, is a perfect foil for a silken panna cotta infused with the bright, rich flavor of honey. I had a bevy of honeys to choose from at the farmers' market; the delicately floral lavender honey was a nice match for the figs, but feel free to use your favorite.
Medrich's panna cotta is a wonder of simplicity: with cream, milk, and just a bit of gelatin, she creates an ethereal wisp of a dessert that just barely quivers under the touch of a spoon and dissolves in your mouth into pure flavor. This is about as far from Jell-O as you can get. Because Medrich is so particular about the amounts of gelatin used in order to achieve that barely-solid, on-the-verge-of-collapsing state, she prefers that this panna cotta is served in its ramekin rather than being unmolded, since it will lose its shape when it is turned out. A small price to pay for such exquisite delicacy. The warm figs, drizzled with a little more honey, taste mellow and earthy next to the panna cotta. A dreamy fall dessert.
Fig and Huckleberry Tart
This tart is one I was very excited to make, because fresh huckleberries are hard to come by in the Bay Area. I finally found some last weekend, so that triumph combined with getting the figs meant that this little number was a must. From Kate Zuckerman's The Sweet Life
, this tart is a bit of a project but the rewards are immensely satisfying: a sweet crust filled with huckleberries and figs rendered gloriously gooey and jammy in the oven, topped with a lattice of puff pastry. Yes, this recipe calls for making both tart dough and puff pastry, and, of course, forming the shells and making the latticework. If you make the doughs the night before, the tart will probably take you a morning to do and you'll have a fabulously fragrant kitchen and some very delectable dessert by afternoon!
With berries in the filling and a top crust, this tart is almost like a kissing cousin of a pie. I liked having the tart dough for the shell, though; it had a buttery sweetness and the delicate crispness of the best pâte sucrée. Instead of using my old standby Pierre Hermé for the tart dough I tried Zuckerman's recipe since her other ones have turned out so well for me. Her recipe yields a dough that is remarkably soft and supple (I did have to work quickly with it before it started melting) but that bakes into a flavorful and tender crust. It's worth trying out to see how you enjoy the results. The huckleberries and figs married wonderfully together, the softly sweet figs mixing with the tart berries (my boyfriend describes huckleberries as extra-tart blueberries, and I'm inclined to agree). Tossed with a bit of sugar and butter, they turn into a filling both homey and sophisticated. Zuckerman suggests omitting the puff pastry lattice if you are short of time, but I urge you to make it if you can; the airy, sweet crunch of buttery puff on top really pushes the tart into the realm of extraordinary.
There you have it! I will never underestimate or neglect the noble fig again. Thanks again to Ivonne for showing me what I was missing out on!
Honey Panna Cotta with Grilled Figs
adapted from Alice Medrich's Pure Dessert
makes (6) 6-oz ramekins
1 1/2 cups (290 g) milk
2 1/2 teaspoons (5 g) powdered unflavored gelatin
3 cups (700 g) heavy cream
1/3 cup (108 g) honey, plus extra for drizzling
1/8 teaspoon salt
12 figs
confectioner's sugar
Pour milk into a bowl and sprinkle the gelatin over it. Set aside for a few minutes to let the gelatin dissolve; the milk will turn spongy.
Combine the cream, honey, and salt in a small saucepan and heat on stove over medium heat until it begins to steam.
Take cream mixture off the heat and add in the milk and gelatin, stirring well to make sure all the gelatin dissolves and there are no hard bits.
Pour mixture into a clean bowl and set into a larger bowl filled with ice cubes and water. Let mixture cool to room temperature, stirring often.
Divide mixture among ramekins, cover with plastic wrap, and store in refrigerator to chill and set overnight.
When you are ready to serve the panna cotta, slice the figs in half lengthwise, sprinkle with a bit of confectioner's sugar, and place on a toaster oven tray or baking sheet if you using the oven broiler unit.
Grill for a few minutes until they are lightly colored on the edges; don't let them burn!
Serve immediately with the panna cotta.
Tagged with: SHF + SHF #35 + figs + Alice Medrich + honey panna cotta with figs+ Kate Zuckerman + fig huckleberry tart