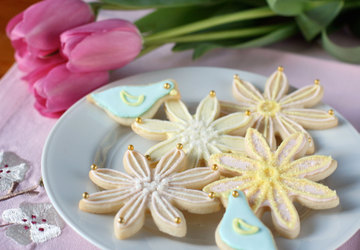 I never really thought of myself as artistic – my sisters can draw and paint, but not me. Baking is where most of my creative energies find their outlet. And when people ask if I can make one of those elaborate wedding cakes, I get nervous and tell them that's not really my specialty.
But when a copy of Cookie Craft, a book on cookie decorating, arrived on my doorstep for me to review, my curiosity was piqued by beautiful cookie flowers on the cover. I started reading and found myself, yes, awed and intimidated by the flawless creations inside, but also eager to try some decorating of my own – for once!
Cookie Craft
, by Valerie Peterson and Janice Fryer, is an engaging, and inspiring guide to the boundless possibilities of cookie decorating. Reading it is like taking a complete course on the art cookies – the authors cover everything from baking cookies to all the various decorating techniques, to suggested themes and ideas to fire your imagination, to templates for elaborate oversized cookie creations.
Whether you're a neophyte or experienced decorator, this book provides plenty of useful material and tips. What I really liked was how the authors have developed an efficient system for baking and decorating cookies, and shared it in a very straightforward and accessible way. Cookie decorating, just like the rest of baking, depends a great deal on planning and organization for success, and the authors show how simple creating a batch of gorgeously decorated cookies can be with just a little forethought.
Some of the useful tips I picked up from this book:
– Pick a theme and draw out your designs before you make your cookies. Having a guide to refer to makes it much easier to plan what shapes and colors you'll need, and makes it less likely that you'll make a mistake when decorating.
– Set up your decorating area before you start, as well – they have a helpful little diagram showing a table set up with piping bags neatly lined up, squeeze bottles full of flood icing, a tool tray with decorating implements, and racks for drying cookies. When I made my cookies, it really did make a difference to have everything on hand – I was able to focus on decorating and not on wondering where everything is.
– Toothpicks are extremely useful decorating tools – they smooth out any piping flaws, spread flood icing, clean off cookie edges, and a multitude of other useful tasks.
– #2 decorating tips are definitely the most versatile tip for piping – and it's best to have several of them so you can have multiple colors going at once. The tips are fairly inexpensive as well – in all, I was surprised how easily you can set up your decorating supply kit.
-It does take practice to get your decorating down – but that's what extra cookies are for! Imperfect cookies are perfect for decorating practice – and just as delicious.
The book is packed with lots more useful information – there are base recipes for cookies to decorate (I tried the sugar and they were quite tasty), royal icing recipes, and complete discussions on all the options in the decorator's arsenal, from imprinting to cutouts, flooding to fondant, sugaring to luster dust. To help the reader visualize how to use all these techniques, the authors provide dozens of gorgeously photographed examples with instructions, from holiday themes to special occasions. There are also sections on baking tips and tricks that are useful for any baker, not just for cookie making. Finally, to really challenge and inspire the reader, the last chapter includes what the authors call "showstoppers" – three-dimensional cookie houses, edible cookie containers, whimsical centerpieces made from cookies with some icing to hold them together.
This charming, comprehensive tome is a wonderful reference for any baking library – I highly recommend it. To test out some of the techniques in the book, I chose one of their themes, Winter into Spring. Using the same flower cookie cutter, I was able to practice some basic piping, floodwork, and decoration with drageés and sanding sugars. It's quite gratifying, really, how many variations you can come up with using just four colors of icing and a handful of sugars.
It's been a busy couple of weeks with me working on my own book; I'm missing the simpler days of just baking and blogging. It was nice to just bake a batch of cookies and spend a day with them and some icing, tracing out hopeful premonitions of the spring to come. Sometimes cookies fresh from the kitchen are all you need.
Tagged with: cookie craft + valerie peterson+ janice fryer + cookie decorating