Dear readers,
I'm back! Apologies for my extended absence, as the last few weeks were given over to finishing edits on my third cookbook. It's with a sense of relief and anticipation that I let go of the manuscript, and let the publisher take over. I'm looking forward to sharing more about the book as it gets closer to release…stay tuned for more details!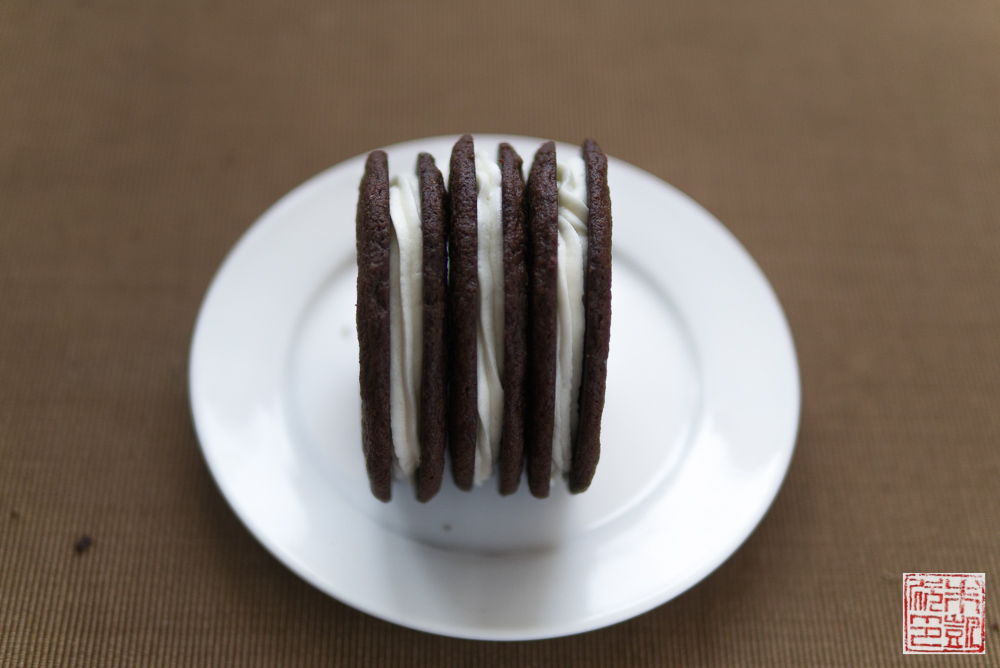 It's been a tricky juggling act trying to work on the cookbook while caring for an increasingly mobile and precocious toddler, and attempting to tend to life's other responsibilities. Although I'm a baker and food writer, I rarely binge-eat for comfort (I give away most of the things I bake to eliminate temptation most of the time!). However, during this rather intense period I found myself stuffing more than a few cookies in my face late at night, or, I have to admit, during the 45 minutes in the afternoon when Isabelle was napping and I *should* have been working, but could only find the energy to stuff cookies in my face and watch dog videos on youtube. We all need to recharge somehow…
When I was prowling the kitchen shelves looking for something to munch, these chocolate cookies became a favorite. They're based off Alice Medrich's chocolate wafer cookies with a pinch of Dorie Greenspan's Korova cookies. Anything-but-plain chocolate flavor, enhanced with undertones of brown sugar and vanilla. The dough comes together in a pinch in a food processor, and then you slice and bake them when you're ready, making them pretty much perfect for out-of-the-blue cookie cravings. Since these cookies spread out while baking, you don't have to worry about making the dough log perfectly formed – a roughly cylindrical log is fine. If you want to add in chocolate chips (a la Korova cookies) I think it'd be a peachy idea; use mini chocolate chips or more finely chopped chocolate bits to make it easier to slice the dough.
These cookies are perfectly snackable on their own, but they also make great bases for toppings and fillings. Since I can never turn down Meyer lemons when it's spring, I made some Meyer lemon-infused whipped cream that plays off the richness of the cookies really well. They turn them from a simple teatime accompaniment to dessert-worthy.
Now that I've finished the major part of my work on the book, I'm looking forward to getting back into a more regular schedule with the posts. So hope you are enjoying your spring, and expect some more posts soon!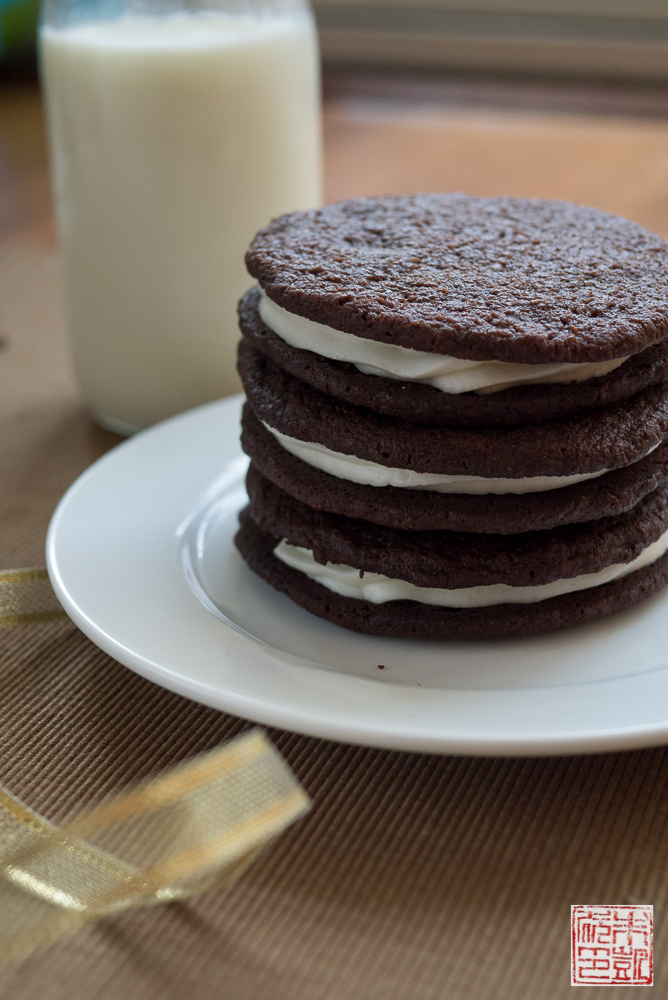 Chocolate Sandwich Cookie with Meyer Lemon Whipped Cream
Cookies
1 1/2 cups

all-purpose flour

1/2 cup

cocoa powder

1/2 cup

sugar

1/2 cup

light brown sugar

1/4 teaspoon

baking soda

1/4 teaspoon

salt

12 tablespoons

unsalted butter, room temperature, cut into 1-in pieces

1/2 teaspoon

vanilla extract
Lemon Whipped Cream
1 cup

heavy cream

2 tablespoons

sugar

1 tablespoon

fresh Meyer lemon juice
For the cookies
Place flour, cocoa powder, sugar, brown sugar, baking soda, and salt in a food processor and combine.
Add butter and process until a soft dough is formed. Add vanilla and process until combined.
Turn out dough onto the counter and form into a log about 2 inches in diameter. Wrap securely in plastic wrap and refrigerate for at least 1 hour until firm.
When you're ready to bake the cookies, preheat the oven to 350 degrees F. Line several baking sheets with silicone baking mats.
Slice the dough log into 1/4 inch thick pieces and place on prepared sheets about 1 inch apart - you can fit about 12 cookies on a regular size sheet.
Bake cookies for 14-16 minutes, rotating pans halfway through. The cookies will puff up in the oven and then deflate. Remove from oven and let cool on wire racks.
For the whipped cream:
Combine cream, sugar, and lemon juice in the bowl of a stand mixer fitted with the whisk attachment.
Whip on high speed until soft peaks form. Scoop out whipped cream into a piping bag fitted with a small star tip (Ateco #802)
Lay out the cookies flat side up, paired off by matching sizes. Pipe a spiral of whipped cream over half the cookies. Place the remaining cookies over the whipped cream to form cookie sandwiches.