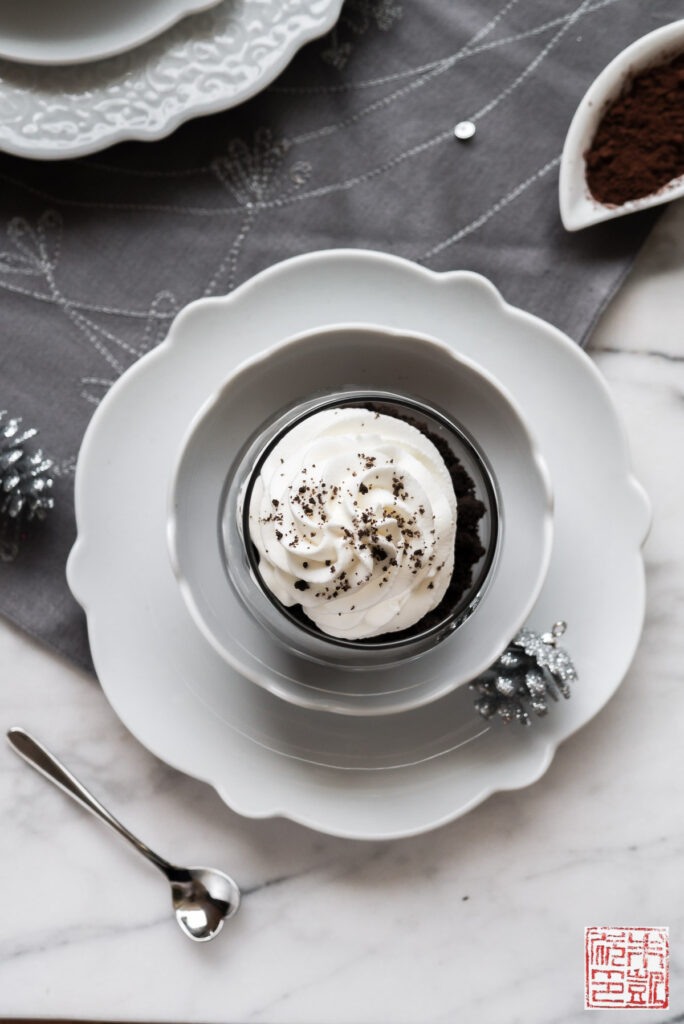 I hope you've all been enjoying the holidays! I have one last recipe to share and send out the year: a perfect dark chocolate pudding, from none other than Dorie Greenspan. After lots of elaborate holiday desserts, here's something simple, yet very easily made spectacular; a perfect dessert to pull together when you think you've run through your repertoire. Chocolate pudding these days makes me think of my daughter's school lunches, but this dreamily unctuous homemade chocolate pudding topped with chocolate crunch and a swirl of whipped cream is a true grownup dessert you can pull out for any party – including New Year's.
Click here to jump to recipe
The star of this dessert is the dark chocolate pudding. I've been making some iteration of this recipe since Dorie first featured it in her Paris Sweets and continued tweaking and updating it in her later cookbooks. As she explains in her latest cookbook, Everyday Dorie, it's essentially a very rich and luxurious chocolate pastry cream, made with cream, eggs, and butter.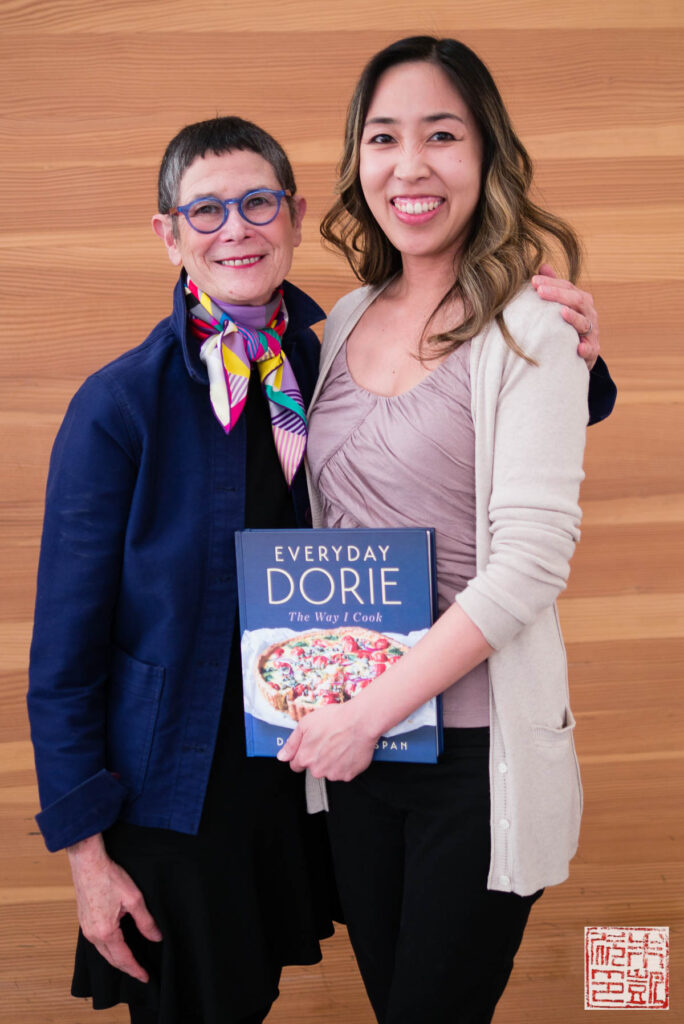 As with all things French, the refinement comes in the little details, so here are tips and tricks to elevate your chocolate pudding from simple to sublime:
– Use your favorite quality chocolate. It doesn't have to be the most expensive chocolate, but since it's the key ingredient, make sure it's a chocolate you like. Dorie usually recommends Valrhona Manjari 64%; I like to use Guittard Semisweet Chocolate Baking Wafers 66% as I usually have a lot of that on hand in my pantry.
– Strain and aerate for the ideal texture. Pushing the pudding through a strainer gets rid of any overcooked bits that may have formed on the bottom of the pan. Using a handheld immersion blender or food processor to give the pudding a last whirl both ensures its smoothness and gives it just a little bit of airiness that gives it that coveted mouthfeel that's both rich and light.
– Dress up your pudding by serving it in pretty bowls. I used stemless wine glasses in the photos for this post; in order to get the pudding in the bottom cleanly, I put the pudding in a piping bag with a large round tip and piped a mound on the bottom, then tapped to let the pudding settle.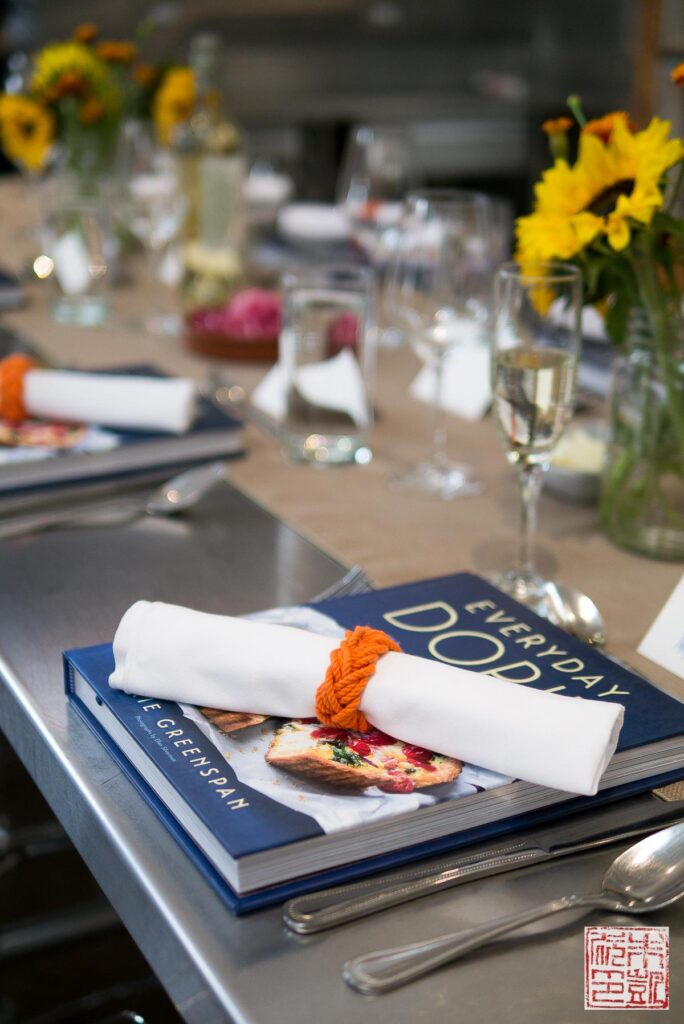 No surprise that Dorie's dark chocolate pudding was chosen by Jodi Liano and her crew at SF Cooking School when they hosted a lunch for Dorie in celebration of her cookbook release. But I have to credit their genius in taking Dorie's suggestions in the recipe for embellishing the pudding, and turning it into a full-on restaurant-worthy plated dessert. Crunchy dark cocoa streusel sprinkled over the pudding, and a generous cap of whipped cream turn this into a parfait-like creation, with the perfect balance of sweet, creamy, and crunchy. I can't imagine having my pudding any other way now. Thanks to SF Cooking School for the inspiration.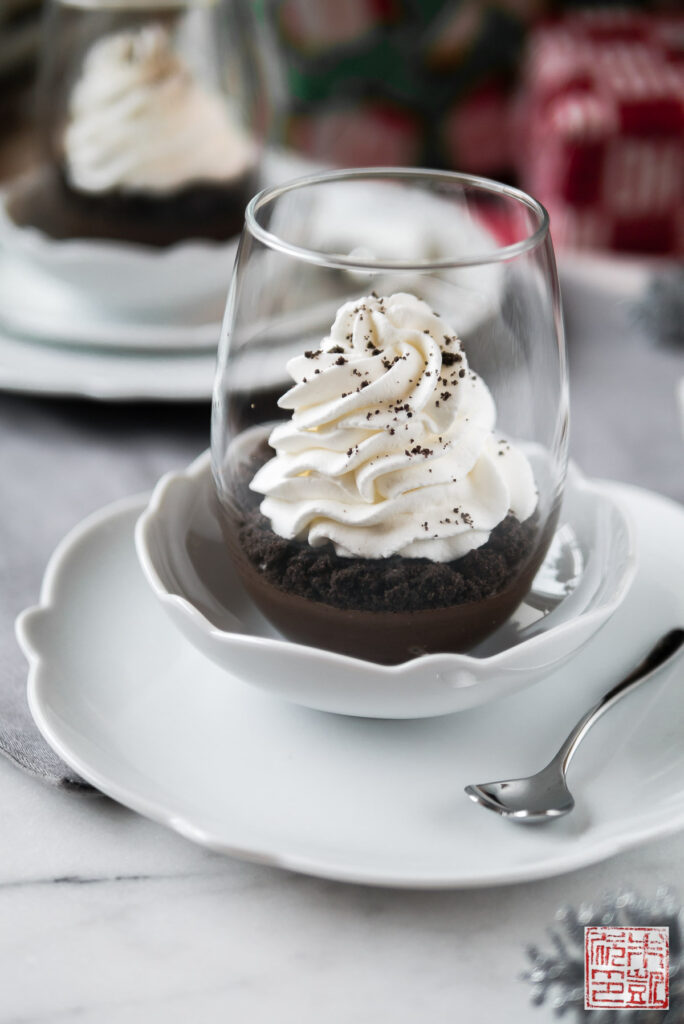 The perfect dark chocolate pudding to send off 2018 and welcome in the new year: something humble and homey, gussied up and fancy for a celebration. Whether you are celebrating with a crowd or just with loved ones, it's a guaranteed pleaser. I hope you've had a wonderful holiday, and I wish you all the best for a sweet new year!
Perfect Dark Chocolate Pudding
Adapted from Dorie Greenspan's Everyday Dorie
Ingredients
Chocolate Pudding
1½ cups (345 g) whole milk
¾ cup (173 g ) heavy cream
⅓ cup (67 g) sugar
2 tablespoons cornstarch
2 tablespoons unsweetened cocoa powder
¼ teaspoon salt
1 large egg
2 large egg yolks
¼ pound (113 g) semisweet or bittersweet chocolate (I used Guittard 66% semisweet wafers), melted and still warm
1 teaspoon vanilla extract
2 tablespoons unsalted butter, room temperature
Chocolate Crunch
1 cup (136 g) all-purpose flour
⅓ cup (67 g) packed light brown sugar
¼ cup (21 g) unsweetened cocoa powder
2 tablespoons sugar
½ teaspoon salt
5½ tablespoons (78 g) unsalted butter, cold, cut into small cubes
Assembly
1½ cups (345 g) whipping cream, whipped to soft peaks
Instructions
For the pudding:
Combine milk and cream in a heavy saucepan. Heat on stove over medium heat just until bubbles start to form at the edges.
While the milk and cream are heating, whisk the sugar, cornstarch, cocoa powder, and salt together in a medium large.
Whisk in the egg and egg yolks until well combined.
Place the bowl on a kitchen towel or potholder to keep it from moving. Pour about a quarter of the hot milk mixture into the egg mixture, whisking constantly to keep the eggs from scrambling.
Pour in the rest of the milk mixture and whisk to combine.
Pour everything back into the saucepan and return to the stove, cooking over medium heat while whisking constantly, until the mixture thickens and starts to bubble, about 3 minutes.
Cook for 1-2 more minutes, whisking constantly to prevent burning, until very thick.
Pour through strainer into bowl. Add in the melted chocolate, vanilla extract, and butter and whisk until combined and very smooth.
As a last step, run a handheld immersion blender a few times through the pudding to further smooth and to aerate slightly. You can also run through a food processor briefly.
Pour pudding into individual cups or ramekins, cover with plastic wrap, and refrigerate at least 4 hours, until set.
For the chocolate crunch:
Combine all the ingredients except for the butter in a large bowl and whisk to combine, breaking down any lumps.
Add in the butter and incorporate with your fingers until small curds and clumps form. You can also use the food processor.
Cover and refrigerate for at least 2 hours.
Preheat oven to 300 degrees F. Line a baking sheet with a silicone baking mat.
Scatter the chilled mixture evenly over the baking sheet.
Bake for 15 to 18 minutes, until it feels dry and sandy. Let cool on wire rack.
For assembly:
When you are ready to serve the pudding, scatter some of the chocolate crunch over the top, then pipe whipped cream over everything.