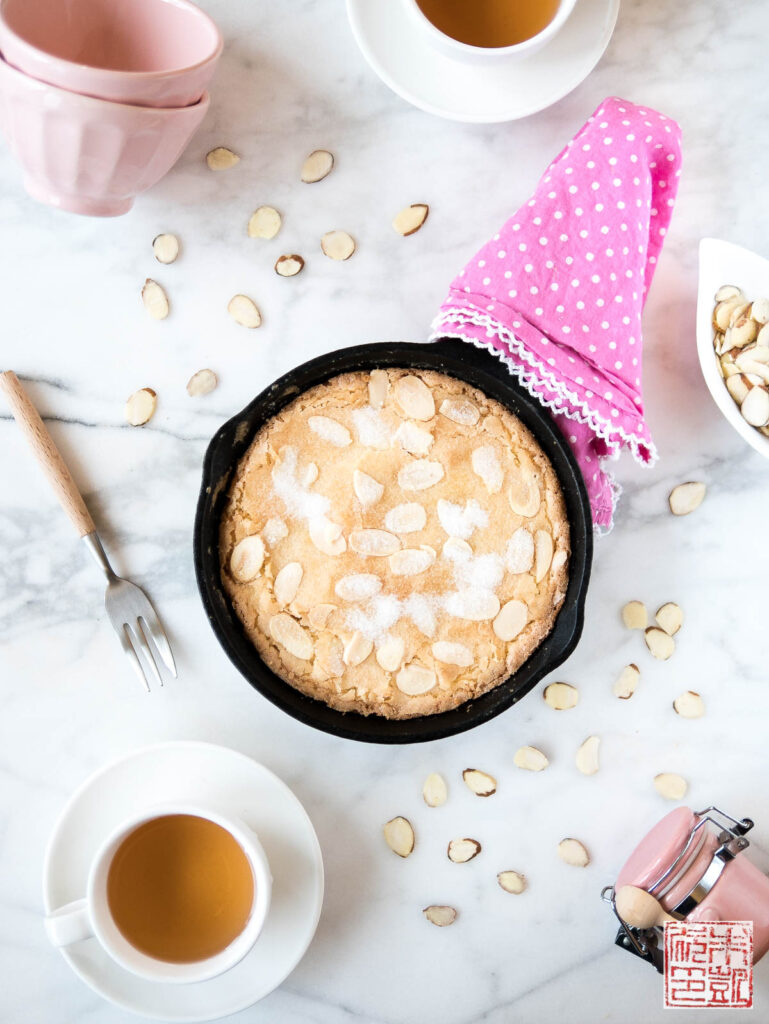 This Swedish Visiting Cake by Dorie Greenspan is one of the first things I wanted to make when thinking of comfort baking. It's been a staple in my baking repetoire ever since the first time I made it, and I made it with my daughter Isabelle this last week when we were all at home. It pretty much ticks all the boxes: it's quick to make, doesn't require special ingredients or tools (it doesn't even need a mixer!), and it's sweet, vanilla-almond flavor appeals to kids and adults alike. Older kids will be able to make this pretty much on their own, while littler ones will love helping. Isabelle is currently mastering the art of cracking open eggs, and she's getting pretty good at it!
Although it's called Swedish Visiting Cake, I love making it for myself too! It's the perfect cake to have around the house when you need an afternoon snack. It's soft but slightly chewy rather than fluffy like a sponge cake, and almost tastes like it's made from marzipan. The hints of lemon and vanilla add subtle complexity to the cake; this cake is more like a gentle hug than a boisterous shout. I can't think of anything better than a slice of this cake with a cup of tea, a book, and the soft spring rain outside this weekend.
Click here to jump to recipe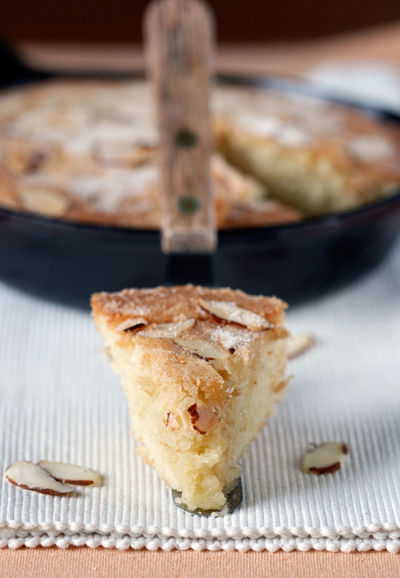 This is a photo from my original post on the recipe years ago. It's fun to see what has changed about my style and what hasn't. I still love making this cake in a cast iron skillet, but you don't need to – if you don't have one, a regular cake pan will work just fine. The one in all my photos is actually a smaller 5″ diameter pan, which is why the cake doesn't go all the way to the top of the skillet. You can halve this recipe and make it in 5″ or 6″ pan, or split the recipe between two 5″ pans, if you want to make smaller size cakes. 
My daughter gave this two thumbs up and wanted to make it again right away. If you're looking for a simple, satisfying baking project while you're at home, this definitely tops the list. I hope you are all staying well, and I'll continue to post all that we've been baking at home the last couple of weeks!
Swedish Visiting Cake
Ingredients
1 cup (200 g) sugar
Grated zest of 1 lemon
2 large eggs, room temperature
¼ teaspoon salt
1 teaspoon vanilla extract
½ teaspoon almond extract
1 cup (125 g) all-purpose flour
8 tablespoons (113 g) unsalted butter, melted and cooled
¼ cup sliced almonds
Instructions
Preheat oven to 350 degrees F. Grease a 9-in ovenproof skillet or a 9-in cake pan.
Place sugar in a medium bowl. Add the lemon zest and blend into the sugar with your fingers until combined and aromatic.
Add the eggs and whisk together until combined.
Add the salt and two extracts and whisk until combined.
Add the flour and fold in with a rubber spatula until fully combined.
Add the butter and fold in with the spatula until the butter is fully incorporated.
Pour the batter into the prepared skillet. Sprinkle the sliced almonds and some extra sugar on top.
Bake for about 25-30 minutes until the top is golden and the top is dry to the touch.
Let cool on wire rack for about 5 minutes before running a knife around the edges to loosen it before serving.