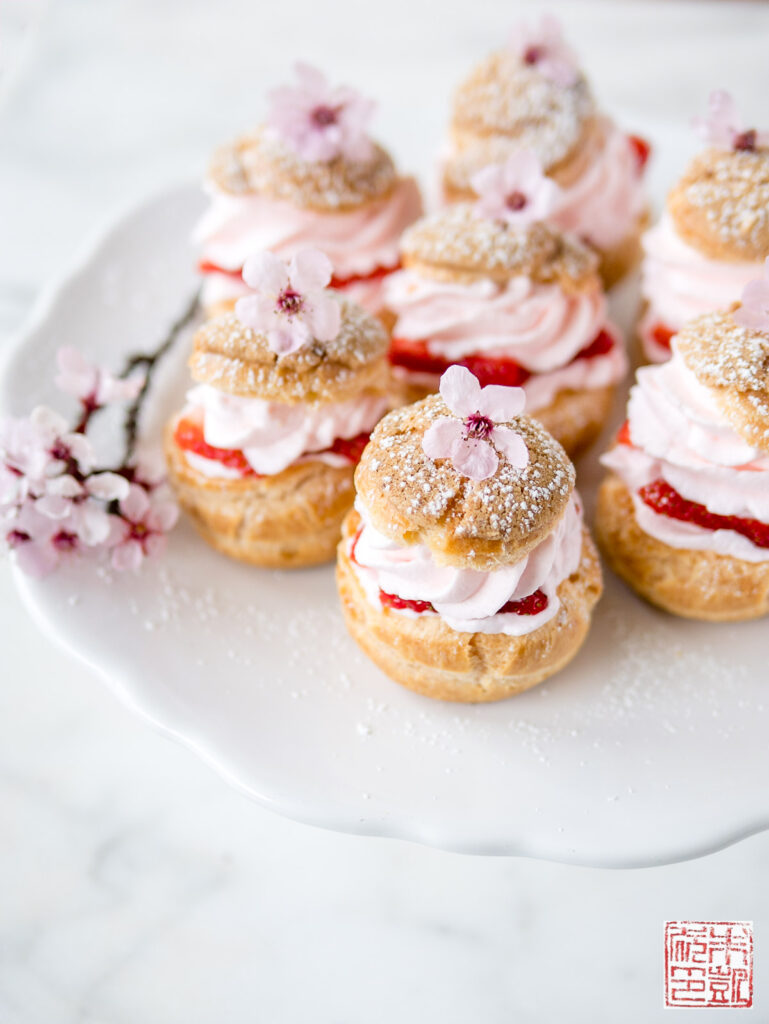 Happy Spring! These sakura strawberry cream puffs are a beautiful welcome to my favorite season!
Click here to jump to recipe
I hope you are doing well and staying safe, wherever you are. Quite a lot has changed since my last post here; if you follow my instagram you know that I am sheltering in place with my family in the San Francisco Bay Area. We're trying to do our part to stay healthy during this difficult time. While we're at home, I'm using this time to re-focus on baking, and to share some recipes that are simple, comforting, and kid-friendly (baking is a wonderful home activity to do with kids – being in the kitchen together has become one of Isabelle's and my favorite daily rituals!) Hopefully you'll enjoy seeing some more recipes in the coming days!
These sakura strawberry cream puffs were quickly deemed a favorite by Isabelle. I haven't made cream puffs in a while but this seemed like the perfect time to bring them back.The have some of her favorite sweet things, like strawberries and whipped cream, plus she loves the process of watching the pate a choux dough being made. Her current favorite thing to help with is cracking eggs, and she's getting pretty good at it! There are quite a few things that little kids can help with in the recipe, such as:
– Measuring out and adding in ingredients
– Stirring the choux dough together in the pot (supervise little kids as the pot is hot)
– Piping out choux puffs (if this is too hard for little ones they can pipe in the whipped cream instead)
– Decorating with strawberries or whatever they like!
The sakura or cherry blossom flavor in the whipped cream comes from cherry blossom extract; I've used some before but this time I used the cherry blossom extract from Amoretti, a California-based company that makes all kinds of extracts, flavorings, and other culinary ingredients. Cherry blossom extract is difficult to find here; I can sometimes find it at Asian groceries, but I was curious to try it out.
The extract is highly concentrated, so just a little bit gives a lightly sweet, floral flavor to the cream that captures the delicacy of cherry blossoms. Layered with some strawberries, this cream puff becomes a perfect little bite of spring.
There's also a layer of craquelin on top of the cream puffs which gives it a extra flavor and crunch – I'm all about the texture contrasts. It can be omitted if you don't have time, but I really like the difference it makes. I do find that chilling it beforehand makes it much easier to handle, so if it seems way too soft when you make it, just put in the refrigerator for a bit.
It's been gloomy here for most of the week, but the sun's finally come out and I'm planning to go for a walk to enjoy the sunshine and flowering trees. I hope you all stay safe and healthy, and remember during this time to find our little joys wherever we can. I'll be posting again soon with more recipes!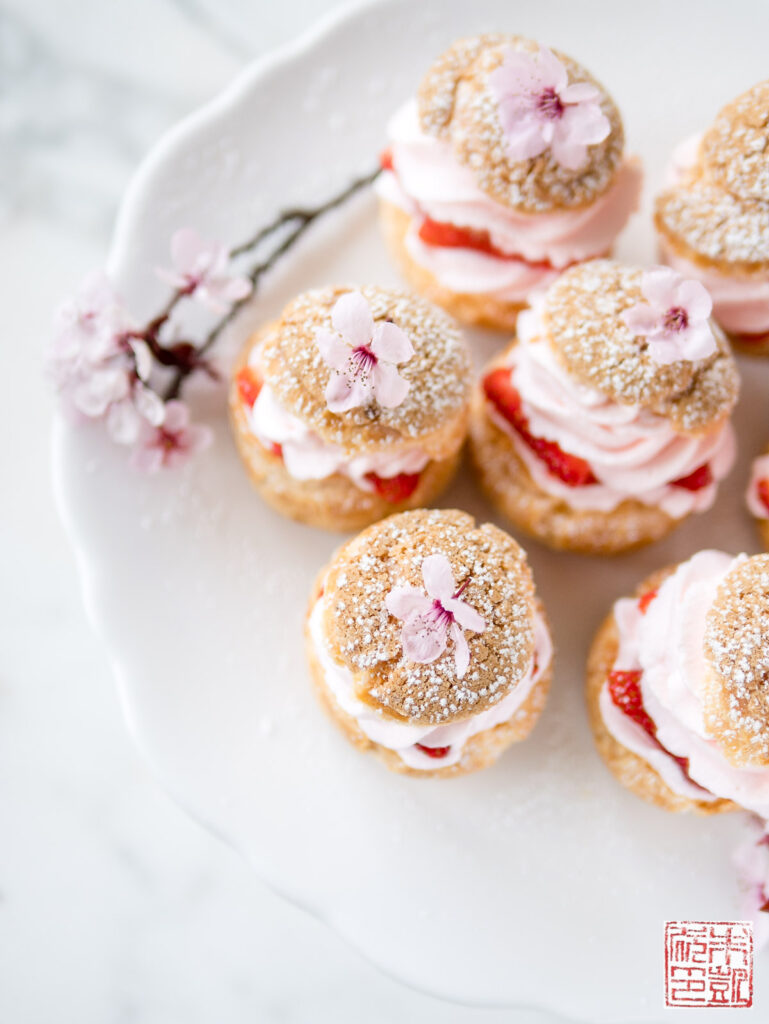 Sakura Strawberry Cream Puffs
Serves:
About 2 dozen puffs
Ingredients
Craquelin
1½ ounces (43 g) unsalted butter, room temperature
¼ cup (50 g) light brown sugar
⅓ cup (50 g) all-purpose flour
Pâte à Choux Dough
½ cup (115 g) whole milk
½ cup (115 g) water
4 ounces (110 g) unsalted butter, cut into pieces
¾ teaspoon sugar
¼ teaspoon salt
1 cup (140 g) all-purpose flour
4 large eggs, room temperature
Filling
2 cups (460 g) whipping cream
½ teaspoon cherry blossom extract
Few drops food coloring, as desired
½ lb (226 g) strawberries, hulled and sliced
Powdered sugar for dusting as desired
Instructions
For the craquelin:
Place butter, brown sugar, and flour and process until combined and smooth.
Place the dough between two sheets of parchment paper and roll the dough to about ⅛" thick.
Chill the dough in the refrigerator while you make the cream puffs.
For the cream puffs:
Preheat oven to 350 degrees F. Line a baking sheet with a silicone baking mat or parchment paper.
Combine milk, water, butter, sugar and salt In a heavy bottomed medium saucepan and heat on medium high.
Once the mixture is at a rolling boil, add all of the flour at once, reduce the heat to medium
and start to stir the mixture vigorously with a wooden spoon. The dough should come together into a ball. Continue stirring for another 3-4 minutes until it is completely smooth and soft.
Transfer the dough into a bowl of a stand mixer fitted with the paddle attachment and beat to cool it down slightly. Add in four eggs one at a time, beating after each egg has been added to incorporate it into the dough. The dough should be very thick and shiny but not liquidy.
Transfer the dough to a pastry bag fitted with a 1 inch plain tip. Pipe out mounds of dough on the prepared baking sheet, spacing about 2 inches apart.
Take out the craquelin dough from the refrigerator. Using a round cookie cutter about the same diameter of the puffs, cut out circles of the dough and set them on top of the puffs.
Bake in oven for about 40 minutes, rotating halfway through. The puffs should turn golden brown and be dry to the touch. It's easier to underbake than to overbake; make sure they are dry before taking out.
Place sheet on a wire rack and let puffs cool before slicing in half. Pull out any underbaked bits still inside.
For the filling:
Combine whipping cream, confectioner's sugar, cherry blossom extract, and food coloring as desired in a stand mixer bowl fitted with whisk attachment.
Whip the cream in a stand mixer with the whisk attachment until soft peaks form.
Place whipped cream into a pastry bag fitted with a round tip.
Fill bottom halves of puffs with whipped cream. Place layer of sliced strawberries on top and pipe more whipped on top.
Place cream puff top halves on the cream.
Serve immediately or store in an airtight container in the refrigerator for up to 2 days.