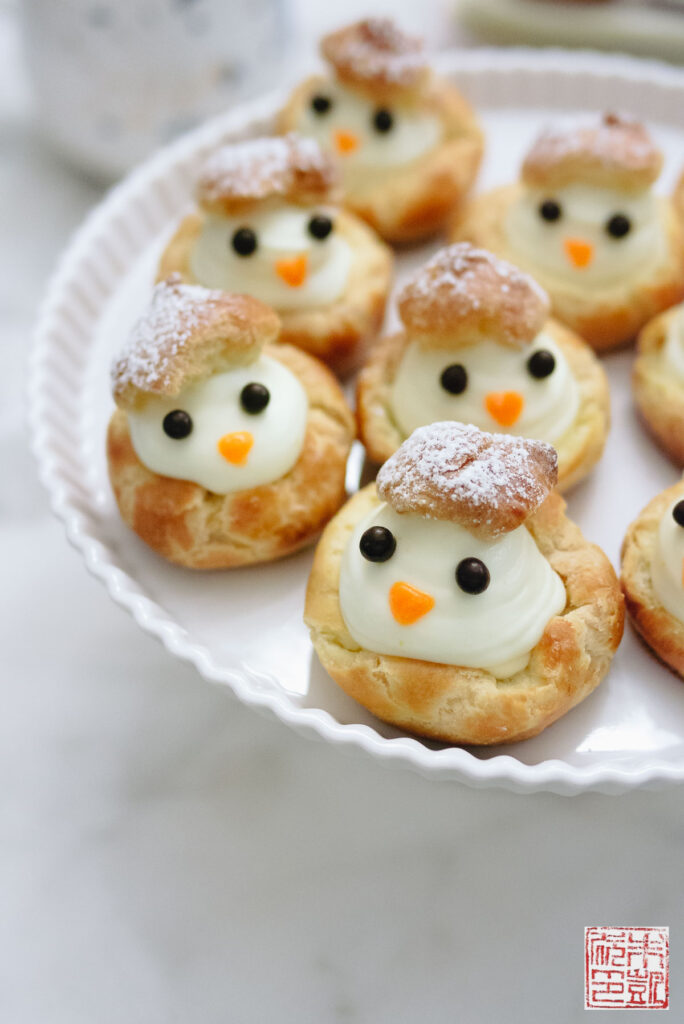 Happy April! April means Easter, and I already know what I'm making: these Easter chick cream puffs! This cute-food take on the classic cream puff uses lemon curd in the filling, which is also perfect because it's Meyer lemon season. Also, I have to admit that inspiration struck when my daughter mentioned that her class would be incubating and hopefully hatching some chicks in their classroom as their spring science project. Adorable lemony chicks hatching out of their cream puff shells – could they be cuter than real life chicks? It's a tough call.
Click here to jump to recipe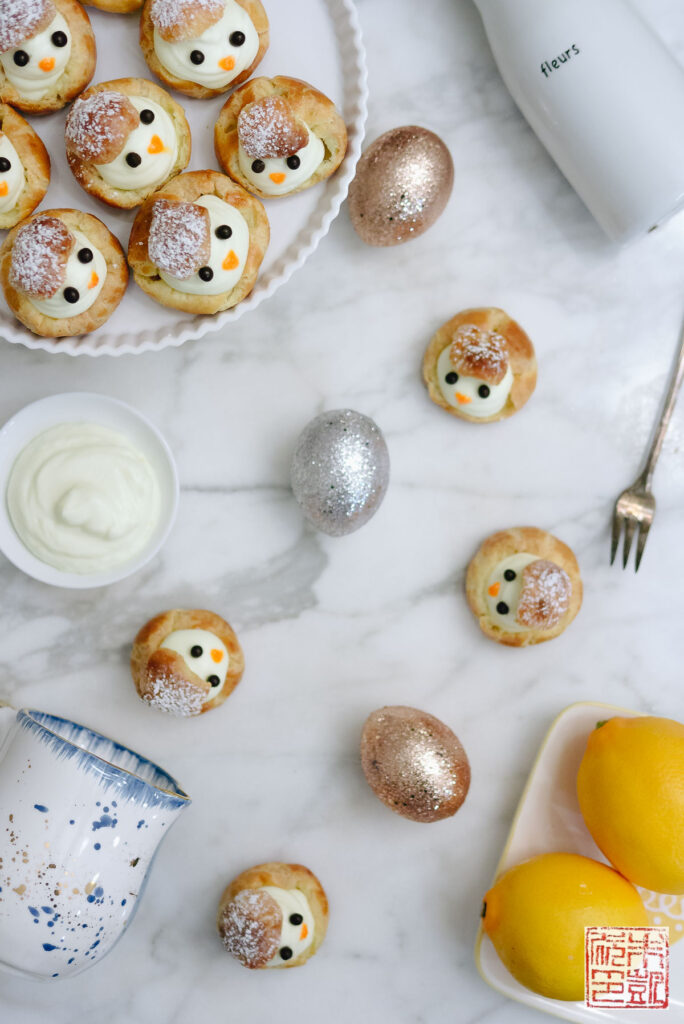 When it's Meyer lemon season, I pretty much always go nuts baking with them. The classic French lemon tart is one of my favorite desserts ever, and I also like putting the curd on my toast, or scones, or most anything. If you can't find Meyer lemons, regular lemons will also do, but if they are available, I think you'll appreciate the difference. Here in the Bay Area, I'm also lucky enough to have neighbors with Meyer lemon trees in their yards – another reason I love living here!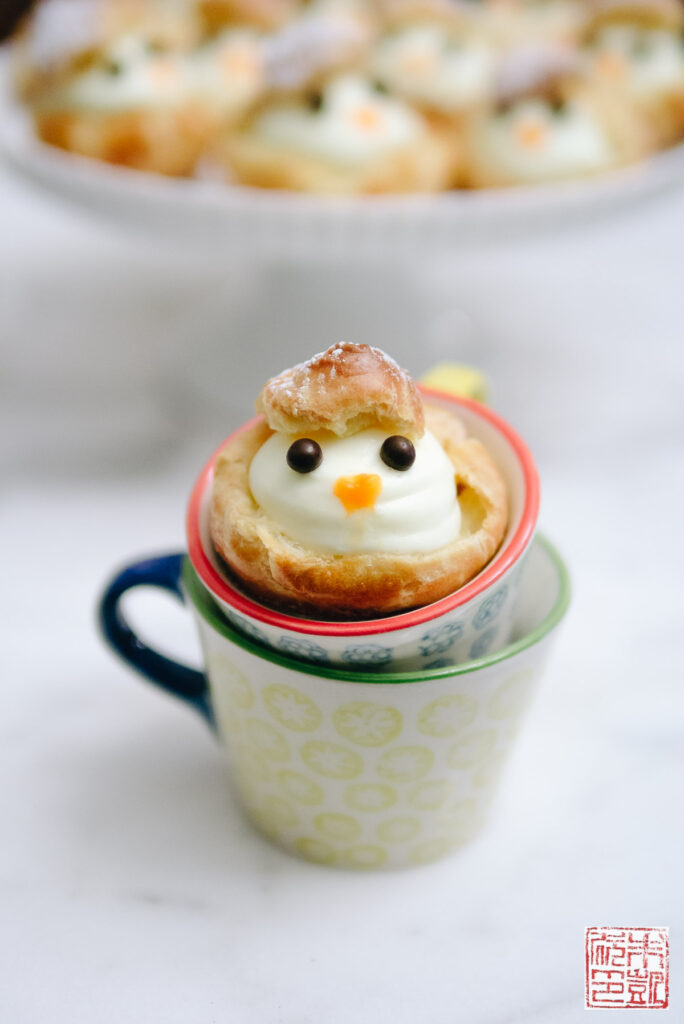 Once I made the lemon curd, I let it chill in the fridge while I made the cream puffs. Although the curd is great on its own, I folded some whipped cream into it to give it the body it needs to keep its piped shape in the puffs. The lemon whipped cream also makes a lovely filling for cakes; really, if you have some lemon curd, you likely won't run out of ways to use it.
I had some chocolate pearls that made for perfect chick eyes, but you can also easily pipe them with a bit of melted chocolate. Orange icing for the beaks and you're done!
Once they're filled, you can store the puffs in an airtight container in the refrigerator until you're ready to serve them, up to two days. You can also store the baked puffs in an airtight container at room temperature for 2-3 days until you're ready to use them, so it's really easy to either make these Easter chick cream puffs ahead of time, or make the components ahead of time and assemble them when you need them. I'm ready for them to brighten up my Easter table!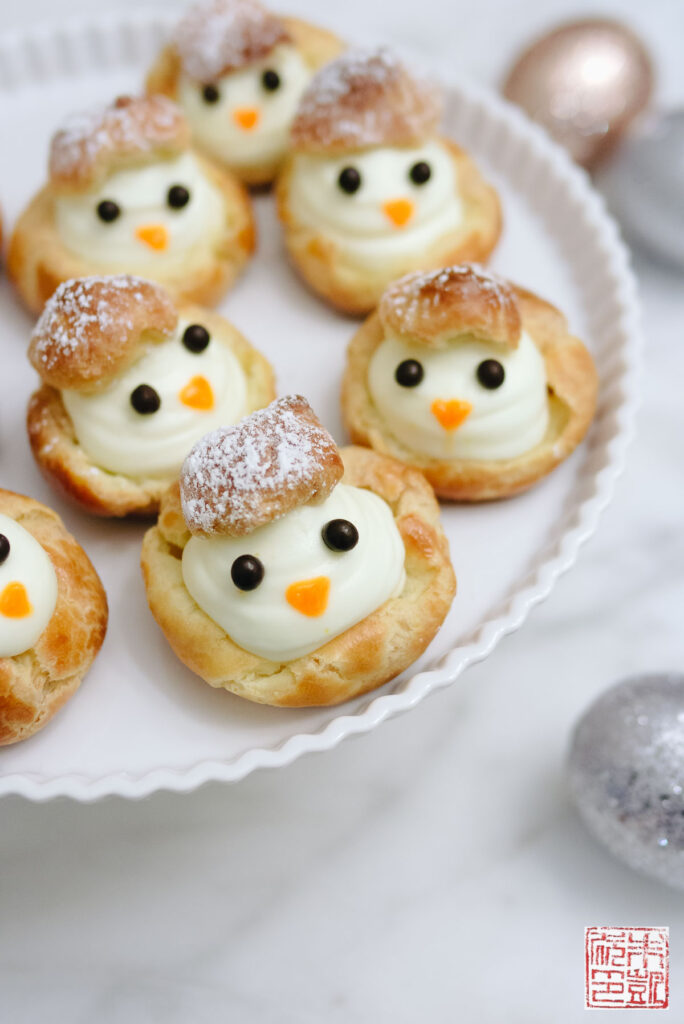 Easter Chick Cream Puffs
Serves:
Makes 20-24 puffs
Ingredients
Lemon Cream
½ cup (100 g) sugar
zest from 2 lemons (Meyer lemons if they are in season)
2 large eggs
½ cup (115 g) freshly squeezed lemon juice
5 ounces (138 g) unsalted butter, cut into 1 inch pieces, softened but not melting
1 cup (230 g) whipping cream
Pâte à Choux Dough
½ cup (115 g) whole milk
½ cup (115 g) water
4 ounces (110 g) unsalted butter, cut into pieces
¾ teaspoon sugar
¼ teaspoon salt
1 cup (140 g) all-purpose flour
4 + 1 large eggs, room temperature
Instructions
For the lemon cream:
Create a water bath by placing a saucepan of water over heat to simmer and placing a metal bowl unto the pan so its bottom does not touch the water.
Combine the sugar and lemon zest together with your fingers and add to the metal bowl.
Whisk in the eggs and lemon juice.
Cook the mixture over the simmering water, whisking constantly, until the cream reaches 180 degrees and thickens. Keep whisking while the mixture is heating up to prevent the eggs from cooking.
Once the cream is thickened – you should be able to make tracks in the mixture with your whisk – take the cream off the heat and strain it into the bowl of a food processor or blender. Let the cream rest for a bit until it cools to about 140 degrees.
Add in the butter pieces a few at the time and combine on high speed. Once all of the butter has been added, let the mixture combine for a few minutes longer to ensure the mixture is perfectly smooth.
Once the cream is finished pour it into a container and let it chill in the refrigerator for about half an hour before assembly.
For the cream puffs:
Preheat oven to 375 degrees F. Line a baking sheet with a silicone baking mat or parchment paper.
Combine milk, water, butter, sugar and salt In a heavy bottomed medium saucepan and heat on medium high.
Once the mixture is at a rolling boil, add all of the flour at once, reduce the heat to medium
and start to stir the mixture vigorously with a wooden spoon. The dough should come together into a ball. Continue stirring for another 3-4 minutes until it is completely smooth and soft.
Transfer the dough into a bowl of a stand mixer fitted with the paddle attachment and beat to cool it down slightly. Add in four eggs one at a time, beating after each egg has been added to incorporate it into the dough. The dough should be very thick and shiny but not liquidy.
Transfer the dough to a pastry bag fitted with a 1 inch plain tip. Pipe out mounds of dough on the prepared baking sheet, spacing about 2 inches apart.
Beat the last egg with a little water to form an egg wash, then brush lightly over the puffs.
Bake in oven for about 15-18 minutes, rotating halfway through. The puffs should turn golden brown and be dry to the touch. It's easier to underbake than to overbake; make sure they are dry before taking out.
Place sheet on a wire rack and let puffs cool before slicing in half. Pull out any underbaked bits still inside.
When you are ready to assemble the puffs, take the lemon curd out of the refrigerator.
Whip the cream in a stand mixer with the whisk attachment until soft peaks form.
Fold about half of the lemon curd into the whipped cream until fully incorporated. You can save the rest of the lemon curd for another use.
Place lemon whipped cream into a pastry bag fitted with a round tip.
Fill bottom halves of puffs with lemon whipped cream. Place top halves on top of the cream.
Use chocolate dots or icing to make the eyes, and orange icing to pipe the beaks. Serve immediately or store in an airtight container in the refrigerator for up to 2 days.