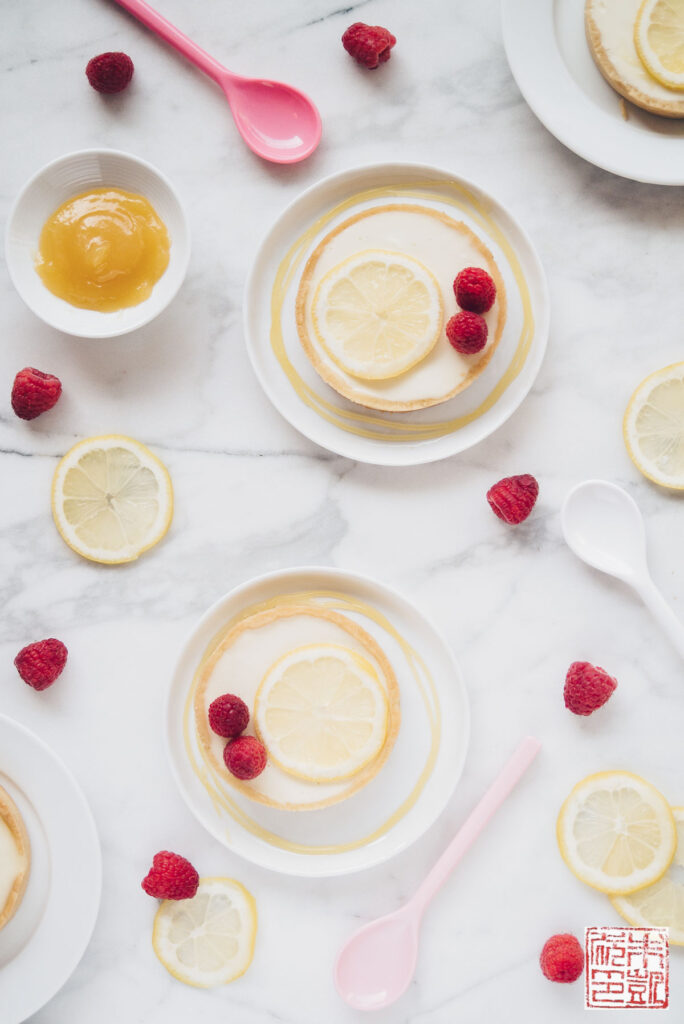 One of the clear highlights of my Alaska cruise was dinner at Palo on the Disney Wonder, the adults-only Italian fine dining restaurant on the ship. I talked about it briefly in my last Alaska post, and now I'm excited to go more in-depth on my experience. On a previous cruise on the Disney Dream, I had dinner at Remy, their French restaurant, but not Palo, so I was looking forward to making up the omission this time around. Since the food included in the standard Disney cruise package is already quite plentiful, a common question I get is, "Is Palo worth it?" The answer would be an unequivocal "Yes!"
Click here to jump to recipe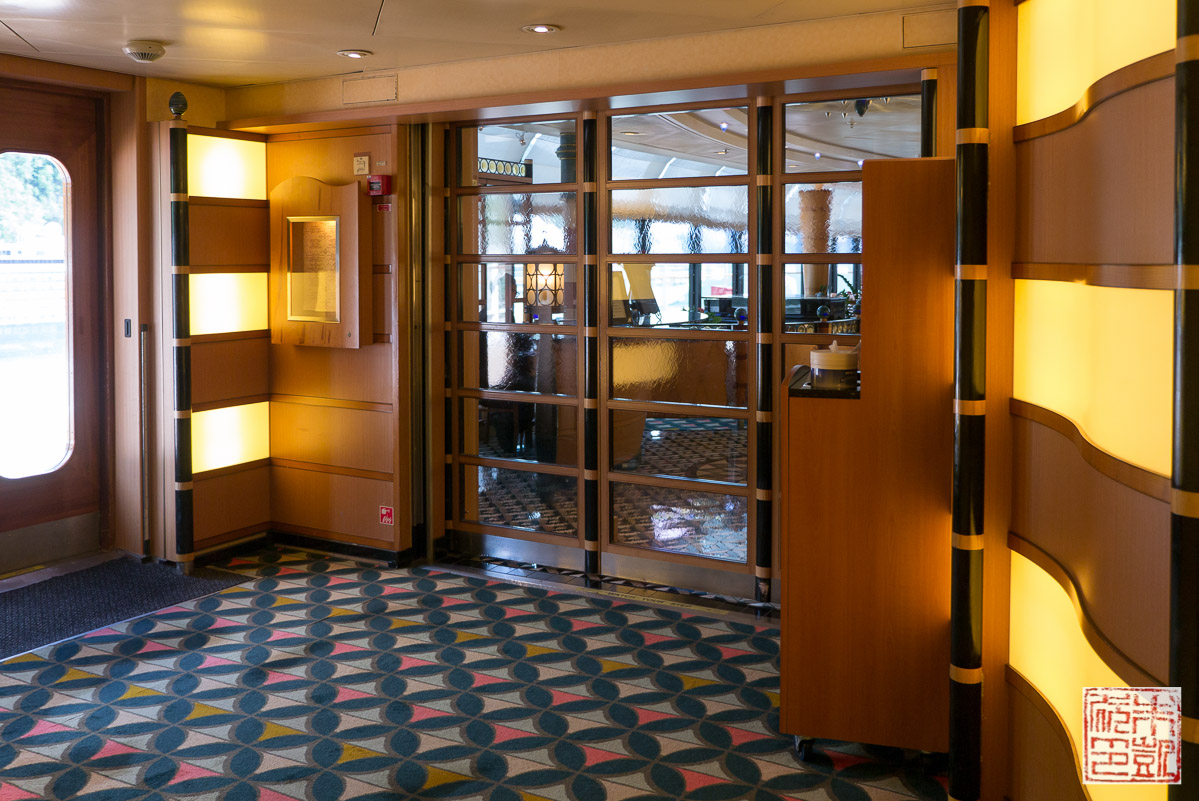 Although it's a given that Disney Cruises pull out all the stops for kids, a lesser-known fact is that they take great care of the grownups as well, from adults-only areas on the ship, evening entertainment, plus Palo, the only dining room that's specifically for adults. Above you can see the entrance to Palo, in beautiful blond wood and gold accents. Tucked away at the rear of the Wonder, it feels like a secret hideaway, far from the bustle of the rest of the ship.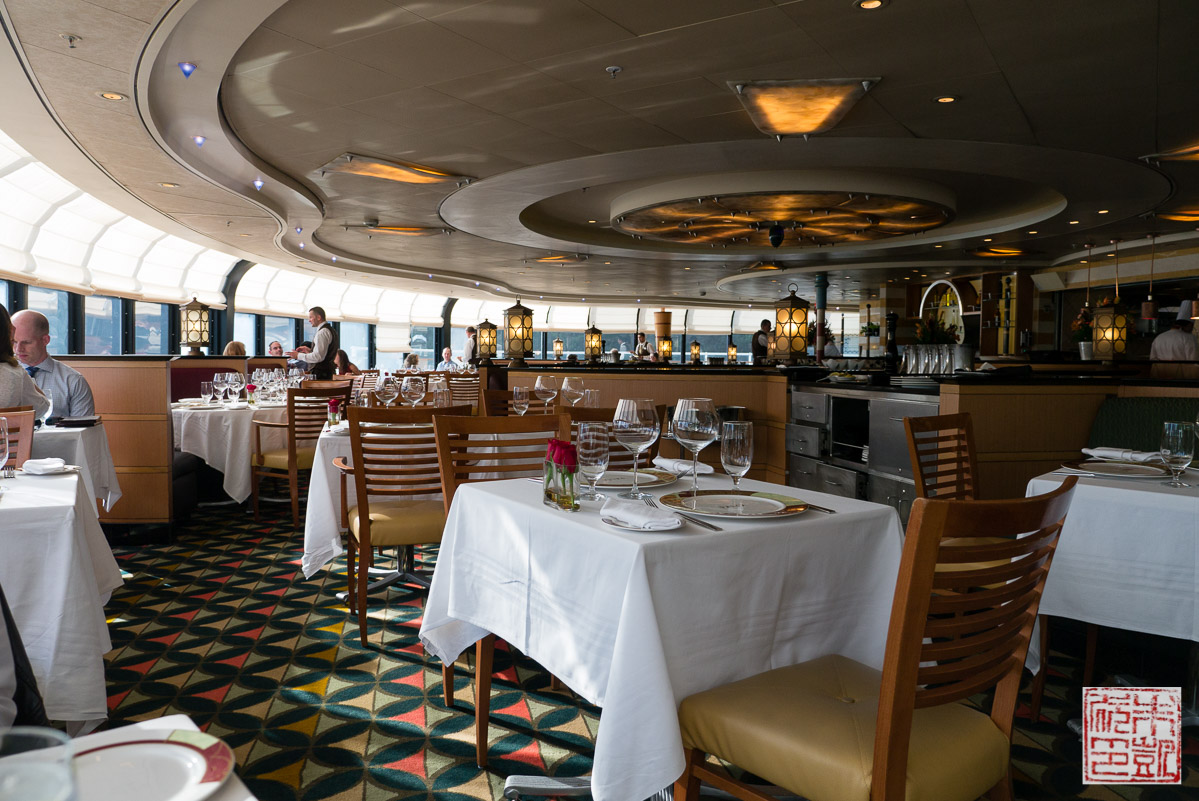 The interior is equally striking, all understated elegance. The glimmering lighting, Murano glass accents, and art are inspired by Venice, one of the most romantic cities in the world. (The name Palo refers to the poles used by gondoliers in Venice). The floor to ceiling windows offer just as stunning views outside.
While most of the time you'll get a view of the sea from the dining room windows, the night of our dinner we were docked in Skagway, with a later-than-usual departure time. It's pretty hard to beat a view like this from your table.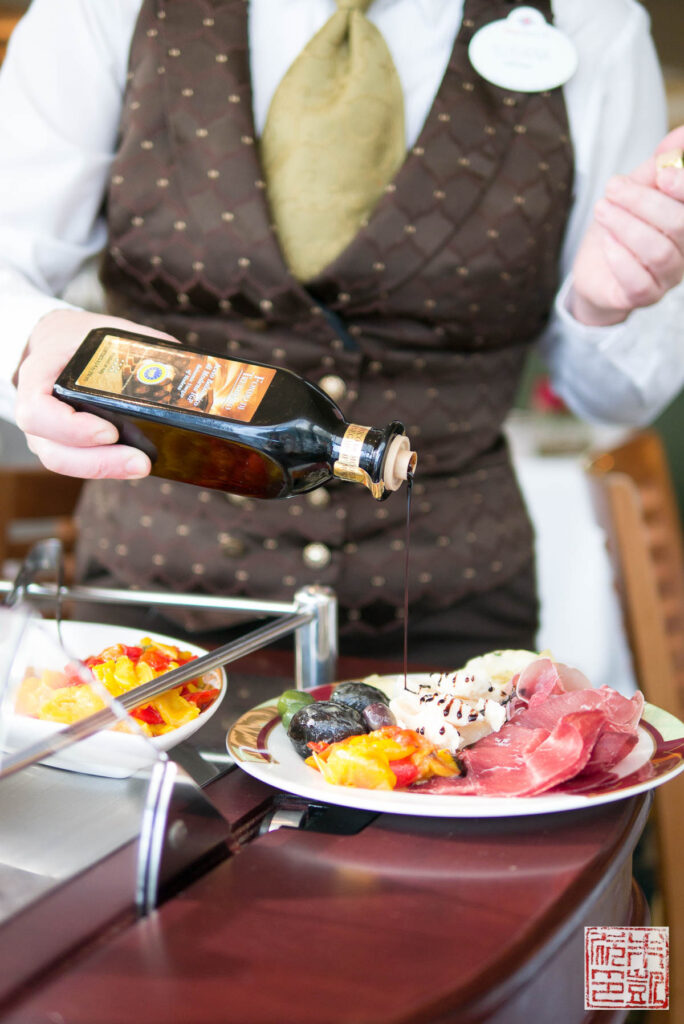 Dinner starts off with a rolling antipasti cart, with a plate composed for you tableside and dressed à la minute. Our server, Susana, was a delight, expertly assembling our plates while sharing advice about her favorite dishes. Tip: Do not fill up on antipasti, no matter how tempting it looks – you need to save room for the rest of dinner!
At Palo, you can order the "Esperienza del Vino", a six course chef's menu with a wine pairing for each dish, for $59 a person, or order from the main menu. The cost to dine at Palo is a flat $30 per person, excluding alcohol or the chef's menu. This is (to this San Francisco resident) an absurdly low price for a high-end, multiple course meal. Yes, you can order whatever you like, from two mains, extra appetizers, etc. However, for those of you dreaming of sampling the entire menu, I have to say regretfully that it's likely impossible if you're only dining with one or even a couple other people. The food is rich, and the portions quite generous, so much as we wanted to be greedy, our better sense prevailed. Between my husband and I, we had two appetizers, two pastas, a seafood main, and dessert, and just managed to avoid waddling out of the restaurant. (If you really want to indulge your inner glutton, might I suggest the Palo buffet? I did the buffet as well – photos in the next post!)
My husband's first course of cioppino:mussels, shrimp, calamari, red mullet and monkfish poached in a garlic basil, white wine, and tomato broth. I love Palo's dinnerware as well. I had the tomato and mozzarella caprese with beefsteak tomatoes and buffalo mozzarella, but forgot to take a photo before diving in!
The first pasta we shared, the Caramelle di vitello: pasta stuffed with milk braised veal, pancetta, and porcini mushrooms. Every bit as rich and indulgent as it sounds.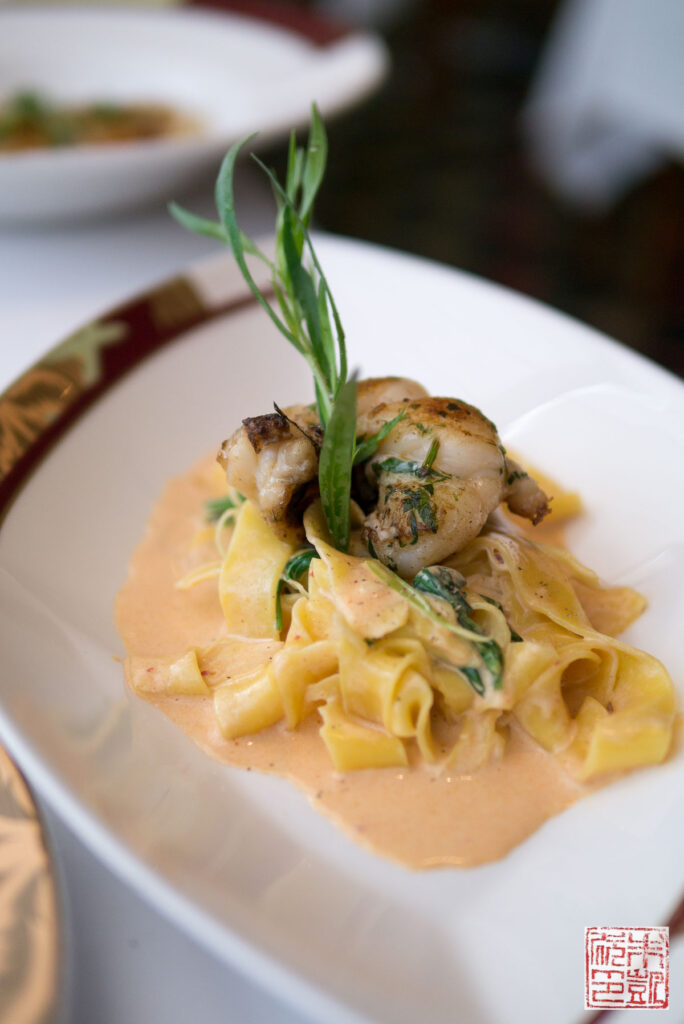 The second pasta, Pappardelle con aragosta: pasta tossed in lobster tarragon sauce with leeks, white truffle oil, and grilled lobster. Unabashed luxury. I loved the lobster sauce.
I can never ever say no to scallops. These sea scallops with celery root puree, baby leeks and crispy leeks, served with a prosecco and black truffle sauce, was one of my favorites of the already stellar dinner.
Finally, dessert: Palo's limoncello tart in an almond crust with yogurt creme and caramel citrus. After so much rich food, I was glad we picked something a little lighter and more refreshing.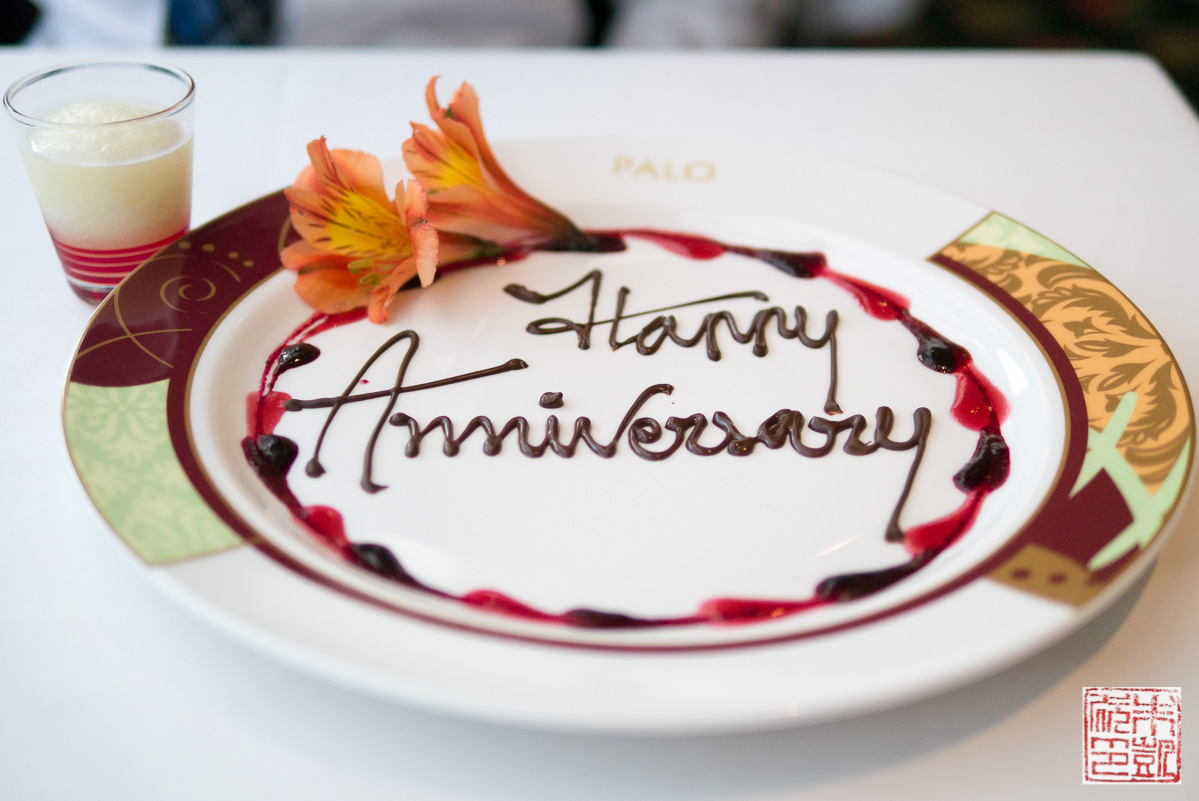 Oh, and we were also celebrating our anniversary during the cruise, so the kitchen sent out this little message to us!
I can think of few more special places to be celebrating six years together than in spectacular Alaska, on a Disney cruise ship, in their very best restaurant. A magical evening, indeed. (By the way, although it looks light outside, this was summer in Alaska, so it was already after 8! Another magical note to a night I wished would never end.)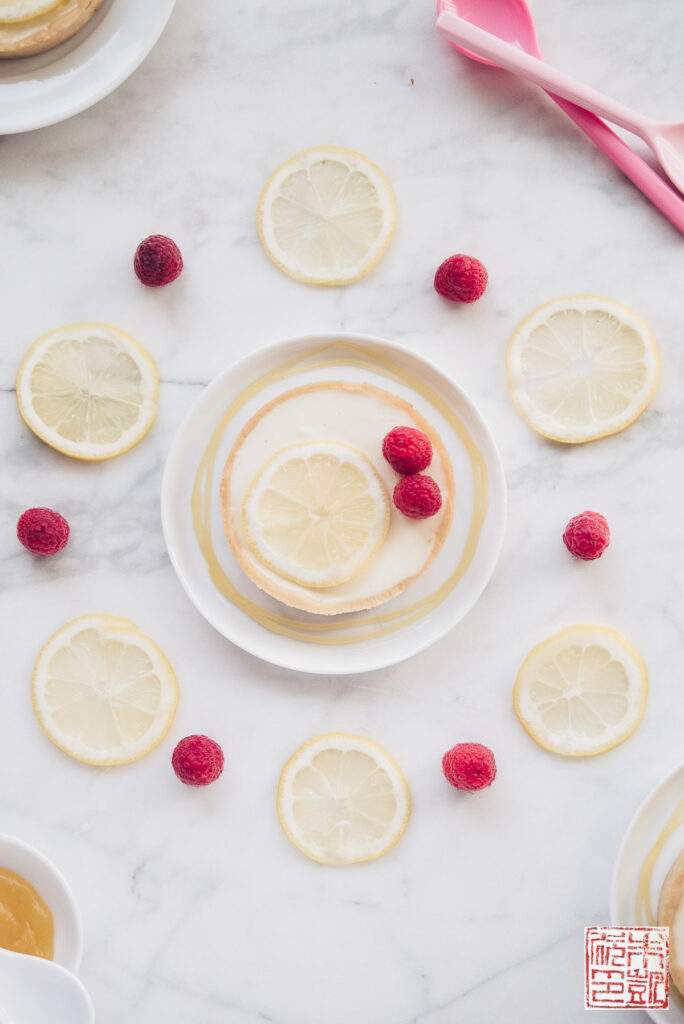 I loved the limoncello tart so much that I managed to get my hands on a copy of the recipe from Disney Cruise Lines. I've scaled it down and adapted it into a stand-alone tart. The filling is a lemon cream very similar to a magic lemon meringue pie recipe, and it topped with a thin layer of yogurt crème that provides a sweet contrast to the tartness of the lemon. If you want to imitate the Palo presentation, serve with raspberries and blackberries. A perfect summer dessert, and a perfect reminder of that wonderful dinner at Palo. Come back for my next post where I'll share photos from Palo brunch – there were just too many to fit into one post!
Check out my previous posts in the series:
Disney Alaska Cruise Itinerary Guide
Disney Wonder Cruise Ship Review
Top Things to Do Before Your Disney Alaska Cruise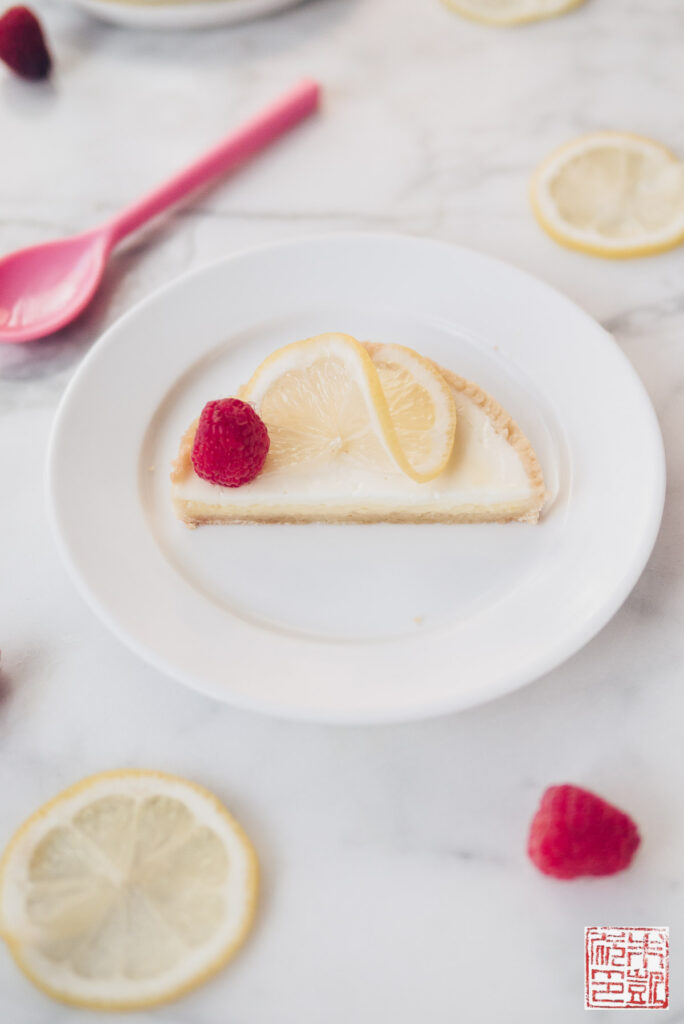 Disney Cruise Palo Inspired Limoncello Tart
This recipe is adapted from the recipe for the Limoncello Tart at Palo on the Disney Wonder.
Serves:
about (6) 4½" round tarts
Ingredients
Tart Crust
200 g unsalted butter
100 g sugar
24 g large egg
80 g almond flour or almond meal
¼ teaspoon salt
200 g all purpose flour
Lemon Filling
400 g condensed milk
100 g lemon juice
1 lemon
200 g cream
200 g egg yolks
200 g sugar
Yogurt Creme
1 teaspoon (4.5 g) powdered gelatin
250 ml cream
56 g yogurt
25 g sugar
Instructions
for the tart crust:
Place the butter in a food processor and process until soft and creamy. Add the sugar and process until well blended and smooth.
Add in the egg and process until just blended.
Add in the almond meal and salt and process until well blended; scrape the bowl down as necessary.
Add the flour and pulse just until the dough starts to come together into a ball; don't overprocess. The dough will be very soft like cookie dough.
Scrape the dough out of the food processor and make into a ball. Flatten out into a disk, wrap in plastic, and chill in refrigerator for at least 1 hour until it is firm enough to handle.
When you are ready to bake off the tart shells, take the dough out of the refrigerator – let it warm up a bit if necessary but not too much because it will start softening fast.
Roll out the dough between two sheets of plastic wrap to ⅛" thickness. If the dough gets too soft, place back in the refrigerator to firm up.
Cut out circles of dough to fit into desired tart rings. Press the dough carefully into the tart rings and up the sides, being careful not to stretch the dough or it will shrink when baked. Place the rings into the refrigerator to chill for at least 30 minutes. Trim off the excess dough from the top of the rings.
Heat the oven to 350 degrees F while chilling the tart shells. When you are ready, line the shells with parchment and fill with beans or rice to keep the shells weighed down.
Bake shells for about 15-18 minutes until they are lightly colored and the shell feels dry to the touch. Remove from the oven and place on a rack. Remove the beans and parchment and brush the bottoms of the shells with a light egg wash (made from an egg white and a bit of water).
for the filling:
Heat the oven to 350 degrees F.
Combine all the ingredients in a medium bowl and whisk together until combined.
Divide the filling among the tart shells, making sure to leave space at the top for the yogurt topping.
Bake for about 15-20 minutes until the filling looks set and jiggles just slightly in the center.
Remove from oven and let cool on wire rack.
for the yogurt topping:
Sprinkle powdered gelatin over 27 g of cold water in a small microwave safe bowl. Set aside to let bloom.
Combine the cream, yogurt, and sugar in a small saucepan. Bring just to a boil over medium heat, stirring occasionally. Remove from heat.
Place powdered gelatin in microwave and heat in 10 second increments until gelatin is melted and liquid.
Add to the cream mixture and stir to combine.
Pour the yogurt over the top of the tarts, filling to the edge of the crust.
Place in refrigerator and let set for at least 4 hours or overnight, until the topping has fully set.