Happy Monday! I'm happy to share the second post in my Disney Alaska cruise review series. This post covers the itinerary of the seven day Disney Wonder cruise up to Alaska, and what activities we enjoyed at the ports.
First, Alaska is of course a wonderful playground for wilderness adventure enthusiasts. Whether it's wildlife watching, flying, hiking, fishing, or dog sledding, pretty much every port offers numerous opportunities for you to explore the vast outdoors. Because I went with my family, with very young kids and older grandparents in our group, we didn't do many of the more physically exciting or longer adventures like whale watching tours, dog sledding, seaplane, etc. We did the shorter, less physically demanding excursions. But that's the great thing about an Alaska vacation is that the plethora of options offers something for every group. Below, I'll talk about the activities we did, but I'll also mention some other popular options that we saw or heard about from other guests on the cruise.
So, it's super easy to book Disney organized excursions through the cruise website. We did all of ours through Disney and we enjoyed them all. However if you want other options, at every port there are kiosks and visitor centers right near where you get off the ship where local tours advertise their services. It's pretty easy to browse the options and choose something you like, anything from a simple tour bus to helicopter rides and whale watching tours. Obviously we didn't use any of them but from what I read most tour outfits are quite professional as all three port towns are heavily tourism-based so they want to make customers happy.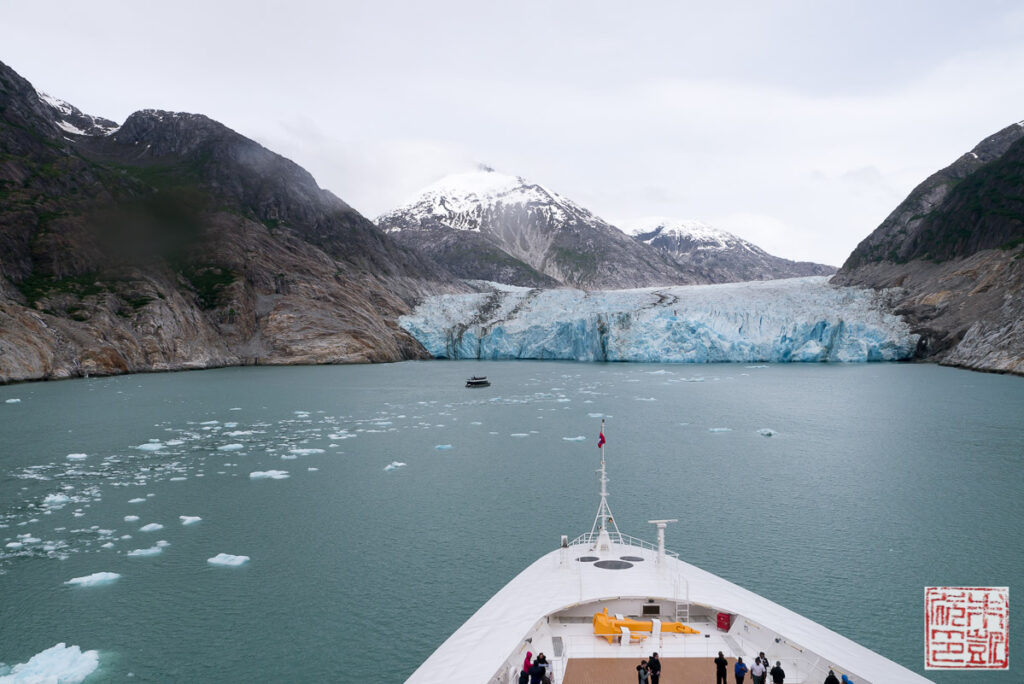 Tracy Arm/Endicott Arm
After leaving Vancouver, the first day is spent at sea. If you want an idea of what activities the ship has, check out my first post, and I'll also cover some other ones in the next post.
The first real "port", on the second day of sailing, is the Tracy Arm fjord. It's definitely one of the scenic highlights of the cruise – I really got the "we're in Alaska" feeling when we found ourselves approaching an immense wall of ice surrounded by snow and tree-capped mountains. As we sailing into the fjords, we were informed by the captain that Tracy Arm was too blocked with ice for a large cruise ship to enter, so we sailed to the nearby Endicott Arm instead. Although we were told there was less ice in Endicott Arm which allowed us to enter safely, I still saw quite a bit of ice in the water! The intense blue of the waters leading to the glacier come from minerals in the ice that color the water – it's an unreal shade of turquoise in bright sunlight.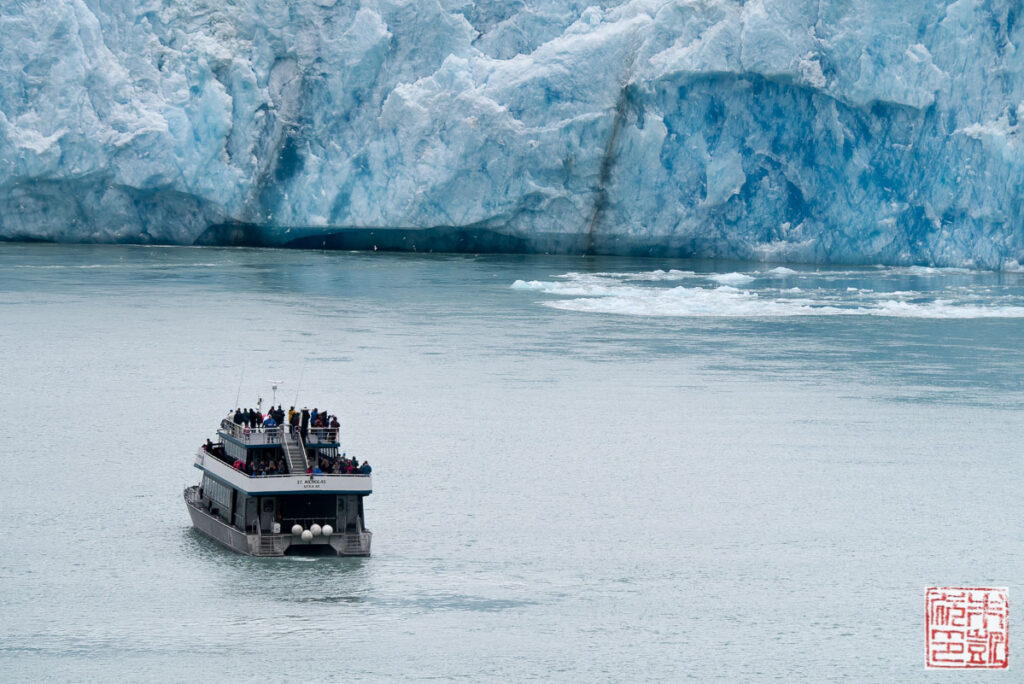 The other boat you see in the front of the cruise ship is an excursion offered by Disney Cruise Lines; you can board the smaller catamaran and get up close to the glacier face. (There are no other excursions available for these fjords). You can see some ripples in the water in the photo above from calving ice falling into the water. If you want to get as close as possible to the glacier, this looks fantastic. However, the views from the Wonder are plenty impressive on their own; we didn't feel shortchanged at all.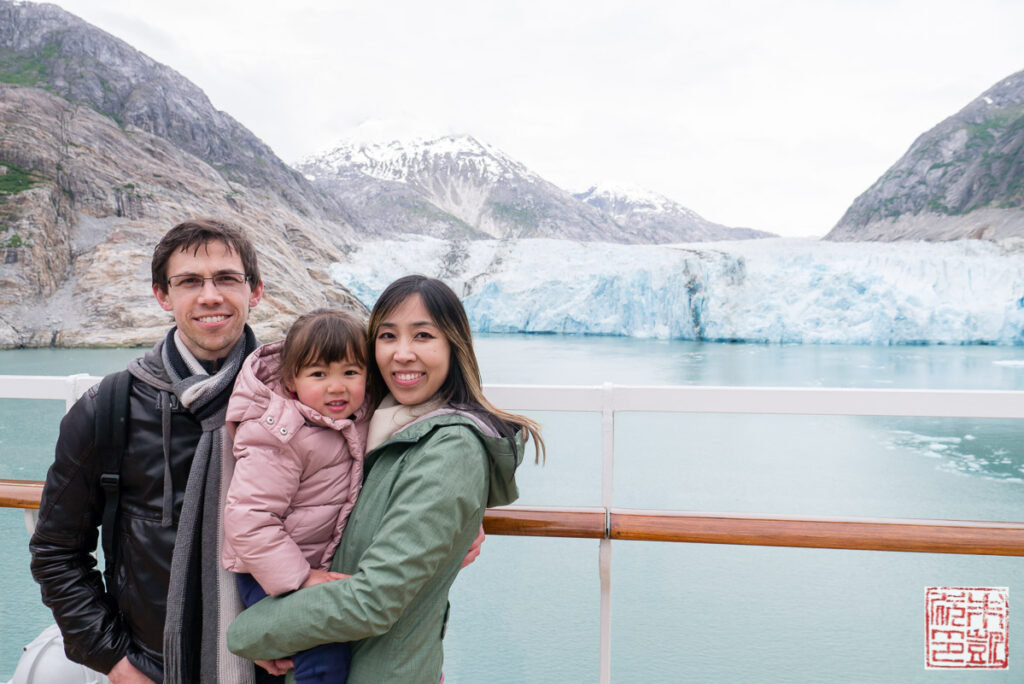 This is how close the Wonder gets to the glacier. Protip: As the ship approaches the glacier, everyone rushes to the front of the ship to stake out a spot with their cameras. It gets pretty crowded with everyone jostling for a prime location. Unless you want to record/GoPro the approach, honestly you don't need to subject yourself to the crush and the often chilly wind and/or rain blowing in your face. Once the ship reaches the glacier, it stays there for a couple of hours and rotates from one side to the other, so all sides of the ship get a view of the glacier. Hang out by a window with a cup of hot chocolate, then go up on deck later when most people have taken their fill of photos and you can grab those stellar views with little competition. I'll talk about a few more photo-taking tips in my post on Alaska cruise photography.
Skagway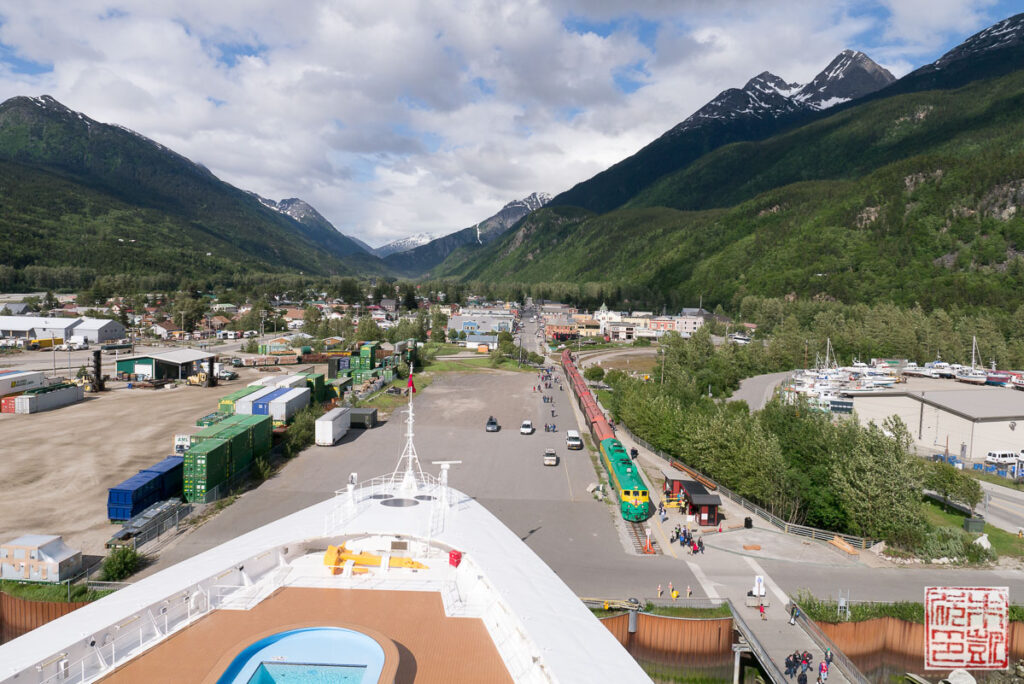 The northernmost port on the cruise and also the most rustic and frontierlike. Skagway's population hovers around 1000 people in the off season, and swells during the summer for the tourist season. You can get a good feel for the immensity of the Alaskan wilderness surrounding this tiny town. Skagway was a big part of the Klondike Gold Rush, and many of the available activities and excursion for this town revolve about this part of Skagway's history. As you can see in the photo, I love that the ship docks right at the edge of town – makes for a cool shot! You can see the green and yellow front car of the White Pass train to the right.
Recommended activities:
The most well known experience here is to take the White Pass and Yukon Railroad which takes you up to the summit of the White Pass, through some truly spectacular mountain scenery. Because the roundtrip takes about three and a half hours total, and we had some young kids in our group, we did a bus tour up to the summit, which we enjoyed thanks to our entertaining tour guide.
Not surprisingly, there are plenty of Gold Rush-related tourist activities. We went the to Klondike Gold Fields, where they taught us how to pan for gold and we all walked away with some souvenir gold! If you're looking for more action, some other guests told us they did helicopter rides through the mountains or zip lining – there's generally no lack of outdoors adventure-y activities you can do in all the ports.
The downtown can be explored in a couple of hours – don't miss Klondike Doughboy, which has a wonderful selection of jams and honeys , and sells Alaskan fry bread, a delicious version of fried sweet bread sprinkled with cinnamon and sugar. The tastiest treat in town.
Juneau
The capital of Alaska, Juneau is known for tons of adventure opportunities in the wilderness, and for rain (it is located in a temperate rainforest). We were lucky and only got a light drizzle when we were in port, but definitely pack a waterproof layer for your trip as it's likely to be wet! The ship docks right near downtown Juneau, which is very convenient. Interesting fact: Juneau is the only state capital that can only be reached by boat or plane. There are no roads connecting the city to the rest of the state.
Recommended activities:
Our main stop in Juneau was the Mendenhall Glacier, a spectacular, immense ice field just outside of town, and the only glacier in Alaska accessible by road. It's totally beautiful and worth it; besides the amazing views there is a visitor center and several hiking trails around the area where you might see wildlife. If you don't arrange for a tour from the ship there are buses and taxis in downtown Juneau that can easily take you there.
One of the hikes at Mendenhall Glacier takes you to Nugget Falls, right next to the glacier. If you look closely at the photo you can see how big the waterfall is next to all the people. This is definitely a must visit in Juneau!
We also visited the Macaulay Salmon Hatchery and then went to a salmon bake in the woods that was delicious; we also got to roast marshmallows there and explore the woods. Downtown Juneau was pretty and we could have spent a lot more time exploring it but this port had the earliest departure time so we had to leave mid-afternoon. Juneau is also known for as a mecca for viewing animals; there are dogsledding, wildlife and whale watching tours; we'll have to try them on a return visit!
Ketchikan
One of the rainiest cities in the US so be prepared! We somehow lucked out and got a day of sunshine! Locals told us the day before us was downpour and 60 mph winds! One nice thing about the itinerary is that the Wonder arrives at this port around 11 in the morning, so you can watch the ship coming into port. (For the other two ports arrival is early in the morning so if you're sleeping in for vacation or eating breakfast, you'll likely miss it).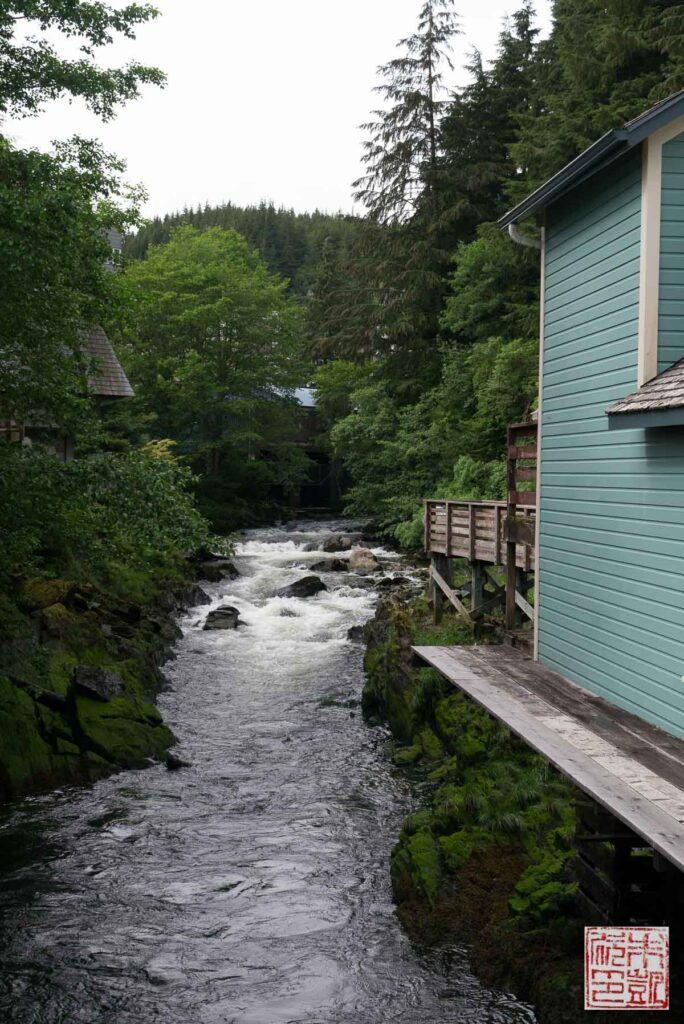 Recommended activities:
The most popular thing to do here is take a small seaplane to view the nearby Misty Fjords – we didn't go this, but fellow cruisers we spoke to said it's an amazing experience. Instead we took a duck boat tour of the city streets and harbor, and then went back to explore more of the downtown. Don't miss historic Creek Street with its buildings set over a rushing creek.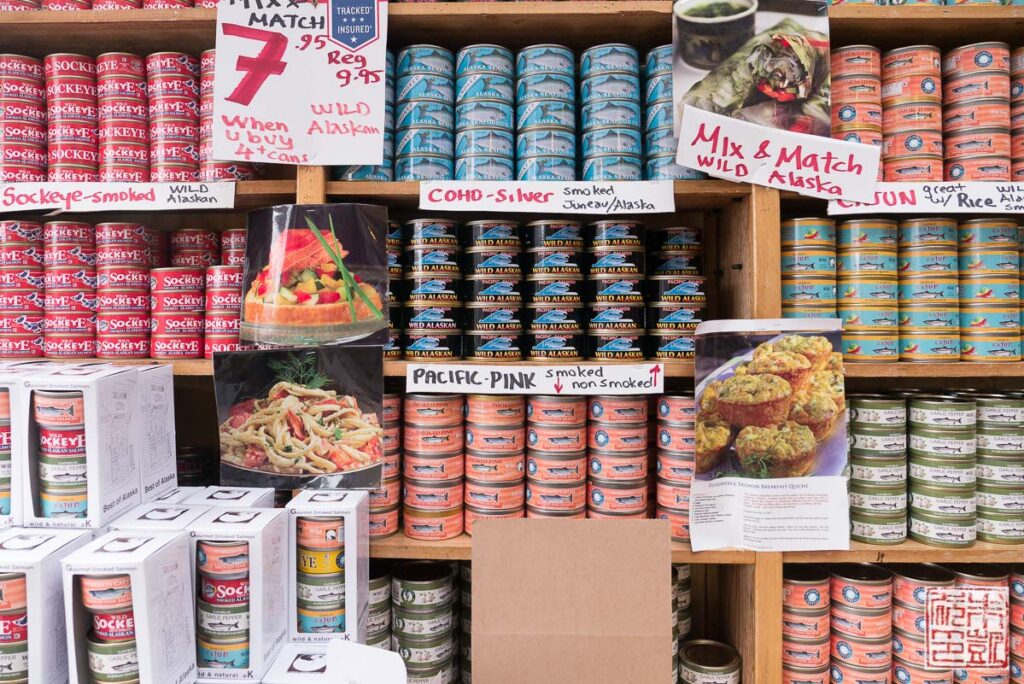 Ketchikan calls itself the salmon capital of the world so expect lots of salmon products for sale here. It's ok to buy processed (smoked) and packaged salmon products that are labeled – you won't have trouble getting through Canadian/US customs.
Because we went at end of May, early in the season, and because we didn't go on any wildlife tours, we didn't see a lot of creatures in Alaska, but I did get this shot of our national bird perched on a buoy.
Ketchikan also has the latest port departure time, so don't miss some truly glorious golden hour views as you sail away from port.
Hope you enjoyed this summary of the ports on Disney's Alaska cruise itinerary and it helps you with your own trip planning! Next travel post up I'll share my top tips on how to best prepare before your cruise. Oh, and there might be a recipe for banana bread from the Disney Wonder before that!
Check out other posts from the series:
Top Things to Do Before Your Disney Cruise