I'm so excited for these next few posts! I've been eager to do this Disney Alaska cruise review and share my favorite parts of my vacation, as well as helpful tips and secrets. Two years ago, my family and I went on our first Disney cruise to the Bahamas and enjoyed it so much we wanted to do a second one almost immediately. After some schedule-wrangling, we decided on a cruise to Alaska, because it's been on my dad's travel bucket list for almost his whole life.
I'm happy to report our entire family loved the cruise and we loved Alaska. Alaska is one of the most unique and popular cruise destinations in the world, and we found the Disney Alaska cruise was the perfect way for our large group with a wide range of ages, interests, and energy levels, to all have a good time. I could write a month's worth of posts about our trip, but I'm going to break it down into these following topics over the next couple days that I hope you'll find useful:
General Overview of the Disney Wonder
Disney Alaska Cruise Port Highlights
Top Things to Do Before Your Disney Cruise
Dining on the Disney Wonder, Including Palo Brunch and Dinner
Photography Tips for an Alaskan Cruise
The last time I covered a cruise extensively on my site was for my honeymoon cruise to the Mediterranean. I hope you enjoyed that series; for those of you who come to Dessert First just for the desserts, there will be a post dedicated to the food on the Disney Wonder, including plenty of sweets, and there will be a sweet recipe at the end of each post!
Note: This was a personal trip taken by me and family for vacation. This post is not sponsored by Disney Cruise Line – I just want to share my experience with you!
So let's get started. Here are some of the most common questions I encountered when we were deciding on our cruise, along with some insights into the Disney Wonder.
Why Choose a Disney Alaska Cruise?
This was our first trip to Alaska so we wanted an itinerary that took us to plenty of ports, but would also allow us time to relax and enjoy the ship. I've done cruises on both ends of the spectrum, from a 12 day Mediterranean cruise where I was getting up at 6 am every morning in order to maximize my time in port, to 3 day cruises to Mexico that where I was mainly relaxing on the ship. This seven day Alaska itinerary, which gave us two full days at sea, three port days, and then a final day at sea, was the ideal happy medium. It allowed us time at the beginning to familiarize ourselves with the ship, do onboard events like princess meet and greet and other character appearances, and then gave us plenty of time to explore the different ports without feeling like we were missing out on the ship. As a crowning endnote, the final day at sea as we were sailing back to Vancouver was brilliantly warm, which gave us a chance to truly relax in traditional cruise style – in swimsuits on the deck! I felt like the length of this cruise was enough for us to experience everything we wanted without feeling rushed. Of course, who doesn't want a pampering cruise to go on forever? But we were really pleased with our experience.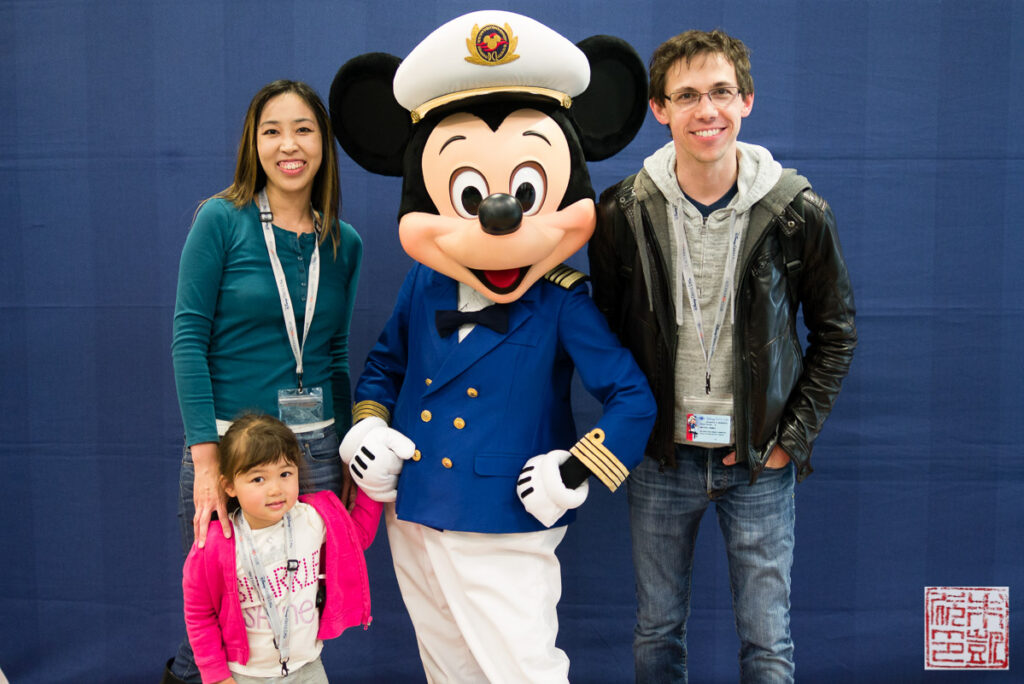 So why Disney in particular, you ask? It's true that Alaska itineraries are fairly similar across many other cruise lines. Is the pixie dust floating throughout the Wonder that special? Well, my family gives a resounding "yes!" We went on Disney because we didn't just want to see Alaska, we wanted to enjoy being on a Disney cruise ship. Some of things that made the Disney Wonder special to us were:
Opportunities to meet Disney characters – the next best thing (or even better) than going to Disneyland. Two hour wait to meet Elsa and Anna at Disney World? On the ship if you reserve your ticket online ahead of time you just show up at your assigned time and you'll wait maybe 5-10 minutes for your turn. Happy kids, happy parents.
Disney-level entertainment. Besides character meet and greets, the evening live shows were all family friendly and high quality, there were wonderful live performers in public areas (I wanted to listen to this one singing duo forever), and other fun events like a Frozen-themed deck party.
Larger than average staterooms with split bathroom – super convenient for families. Why don't more cruise ships have these? It makes it so much more efficient to get ready.
Lots of amenities for young children, including kids' menus, kids' clubs, kids' pool, and most importantly a crew that is extremely friendly to kids. For parents, you know that's huge – being in a environment that's welcoming to children takes a ton of stress away. (And for the record, most of the children on the cruise were very well behaved. Must be all that pixie dust). I'd say that if you have older children/teenagers, other cruise lines can offer similar amenities and benefits. But for young children, I haven't found a cruise ship as welcoming and comfy as Disney Cruise Line.
Quality of service. Every crew member we encountered called Isabelle "princess" whether or not she was in her princess dress. Our servers were always cheerful and accommodating. When our cruise was ending our whole family joked that we didn't want to go back to the real world where you aren't greeted with a big smile by everybody around you. It's that Disney magic – everyone on the crew seemed genuinely friendly and eager to help – that made the trip a true pleasure. A Disney cruise is priced as a premium experience, but we felt we definitely got a premium experience.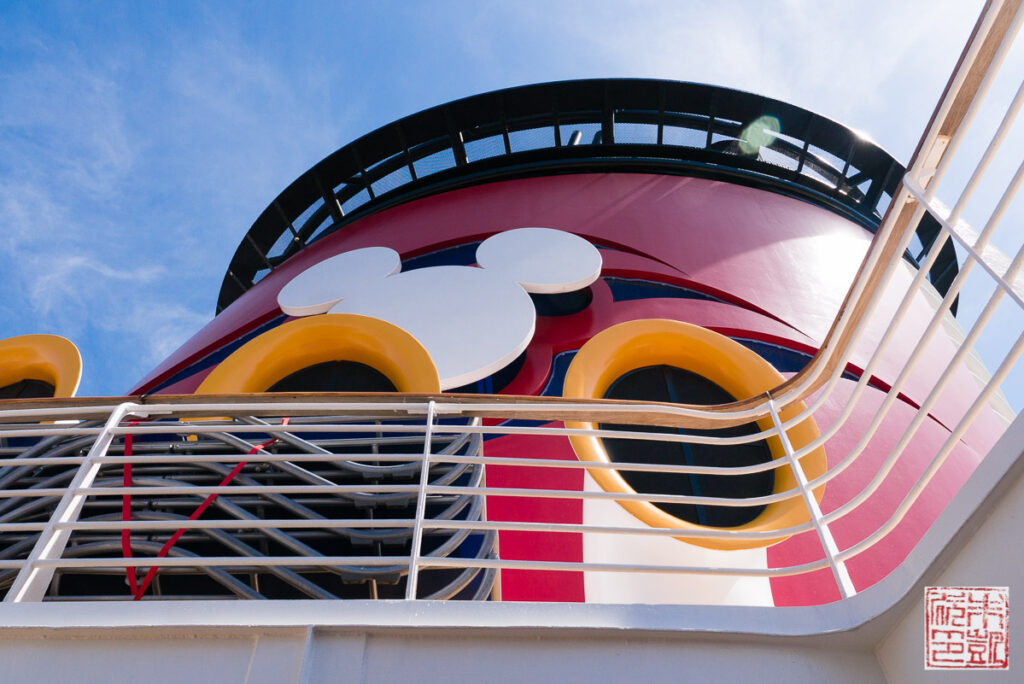 What's the Disney Wonder Like?
The Wonder was in great condition. It's one of the oldest ships in the Disney Cruise Line fleet – the Magic is older but it was renovated a couple years back. The Wonder is scheduled for her own drydock and major renovation at the end of this year, so in a way I'm glad I got to see the Wonder in its original form before it's "upgraded."
With our first cruise experience being aboard the Disney Dream, we wondered how the older, smaller Disney Wonder would compare. We found it just as comfortable and charming as her younger sister. I'm a huge fan of the Art Nouveau style and Disney captures that classic turn-of-the-century luxury liner aesthetic along with a touch of Disney whimsy. It's one of the reasons I was happy we went with Disney – their cruise ships really are some of the most beautiful in the industry. We'd spend hours just strolling around the ship examining all the theming and detailing.
The Wonder is 964 feet long and holds about 2700 passengers. This puts her on the smaller side of today's mega cruise ships, and gives her a intimate feel. We figured out the lay of the ship within the first couple days, yet we were always finding new corners and things we missed. We never felt overwhelmed by the crowd – in fact I was surprised at the number of times I went up on deck to find it relatively open.
Some of my favorite spaces were definitely the atrium, with its gorgeous Chihuly chandelier, the Promenade Lounge, and the restaurants. I'm a total sucker for restaurant design and I loved how differently the three restaurants were decorated. We also loved Palo, the adults-only Italian restaurant, which I'll cover in one of my next posts.
Are There Activities for Kids and Adults?
Yes! Even though everyone thinks of kids and Mickey Mouse when Disney is mentioned, I felt the Wonder provided plenty of things to do for everyone. Of course it helps if you like Disney; we saw plenty of grownups lining up to meet Mickey Mouse and Donald Duck. But beyond that, there are first-run movies, classes and demos, ship's tours, spa treatments, There are also adults-only areas; since we had Isabelle, we didn't get quite as much time to explore the bars and lounges as we wanted, but if you're traveling without kids, you'll find plenty of child-free zones where you can relax. The adults-only pool area always looked remarkably empty and serene every time I walked through. It would be fantastic to sit in one of the hot tubs and watch the Alaska scenery go by.
Protip: Take the "Art of the Ship" tour to learn about the making of the ships and some behind the scenes tidbits. For example, I learned that when the ships were originally designed, all lifeboats were required to be painted regulation orange, the U.S Coast Guard-mandated color for emergency craft. However, Disney took exception to this as orange was not part of their desired color scheme of dark blue, red, and "Mickey Yellow". Disney commissioned a study to show that Mickey Yellow was just as visible as the orange, and as a result they were allowed to paint their lifeboats Mickey Yellow instead. What can you say – the Mouse knows how to get his way! It's stories like this that tell you how much thought went into the design of the Disney Wonder.
For the kids, the choices are pretty much limitless. If they go to the kids' clubs, there's all kinds of programming, from themed parties to storytelling time. There are also family-friendly activities outside the clubs, such as craft sessions, trivia competitions, sports, and dance parties. My family and I were quite impressed with both the variety and quality of the onboard activities. And if you just need a little peace and quiet, here's another tip: one of my favorite spots is to lounge in one of the conveniently padded portholes on the main level and just let the ocean pass by.
What's the Best Age for Kids to Go on a Disney Cruise?
There were three kids in our group, ages 5, 3, and 1. Isabelle was about 1 ½ on her first cruise and was three for this one. I'd say this was right at the point where she was really "got" what was going on. She absolutely loved roaming around the ship and running into Disney characters. She stood patiently in all the lines to get photos with Mickey and his friends. She was absolutely thrilled to meet Elsa, Anna, and other princesses.
Kids over three can go into the kids' club, and Isabelle totally loved it. She kept asking us to let her go back, which was great as it gave Mike and I more time to relax and enjoy "us time" while she was being watched by the club staff. Also, as she was fully potty trained she was able to go into the pools, which might have been her favorite activity. (There is a splash zone for toddlers who are not potty trained, but it might be kind of cold in Alaskan weather).
So I'd say that over three is probably the ideal age – they will be old enough for the kids' clubs, plus they're probably be able to understand and enjoy more of the activities. That's not to say that kids younger than three can't have a good time, you just might not be able to take as full advantage of all the ship's activities. When we went on our Bahama cruise, one and a half year old Isabelle did really well. We just had to schedule things around her naps, and sometimes we had to leave some activities early. FYI, the ship also has a nursery where you can leave kids under the age of three, but there is an additional hourly rate charge. We preferred keeping baby Isabelle with us, especially as we were also sailing with my family, and my parents often offered to watch her if Mike and I wanted to do something like watch a movie in the theater or get a drink at the lounge.
My best advice would be to either consider if your child is old enough and has the personality to enjoy going to the kids' clubs, or to travel with your family or a group of friends so people can trade off child-watching duties. Then everyone will get a chance to relax and enjoy themselves.
In my next post: a detailed look at the ports on the itinerary and my favorite excursions!
Check out my other posts in this series:
Disney Alaska Cruise Itinerary Guide
Top Things to Do Before Your Disney Cruise