I love planning and researching for trips. When we're making vacation plans I'm the one who has fifty different tabs on her browser open to check hotels, airlines, weather, and of course restaurants; the one with travel guides piled high on her dresser; the one looking up photos and travelogues to find the most photogenic locations and don't-miss spots. It's fun – for some I know it's a burden but for me it's half the enjoyment of the trip.
Preparing for a cruise is a unique challenge, especially for first-timers, since once you're at sea you're away from the safety nets of shore – no drugstores to run to if you forgot something, limited ability to change plans. To that end, here are some of my top tips for preparing for a Disney cruise – some of them are Alaska specific but many of them can apply to cruises in general. And as a bonus, at the bottom of the post is my adaptation of the banana bread from Disney Cruise Lines – one of the best versions I ever had. I adapted a recipe I found here for a smaller, home baking pan-sized batch and it came out pretty close to what we enjoyed on the ship!
Top Things to Do Before Your Disney Alaska Cruise
Download the Disney Navigator App for your smartphone. It gives you a schedule of ship's events for each day, so you don't have to carry the paper schedules around with you. Even better, the app has a chat feature that lets you message other people on board for free. It makes it a lot easier to keep in touch with your party members when you're all over the ship – and you don't have to give up your texting habit just because you're at sea outside of your coverage range! And look at all the cute little Disney emojis you get to use! Make sure you (and all the other people in your party) get the app before you board the ship, otherwise unless you paid for coverage at sea with your cellphone provider you'll be paying for Disney ship internet access to download the app.
Pack a rain jacket/waterproof outer layer. The one consistent fact I found about weather in Alaska is that…it's inconsistent. You can go from sunny skies to rain in the course of one day.  When we went, at the end of May, we had three overcast cloudy days, two days of light sprinkles, one rainy day in Juneau, and two beautiful clear sunny (almost hot) days. Alaska veterans will tell you that weather forecasts will change practically by the hour – in the weeks before our cruise, it showed heavy rain all week, then changed to just a few rainy days, and from mild to hot weather. Just be prepared and go with the flow. It gets rainier as summer gets on, so if you plan to go in July-September, definitely bring a rain jacket. I found a light waterproof jacket layered over a fleece jacket or sweater is more versatile than bringing one heavy outer coat.
Make dinner/spa/special event reservations online as soon as you are able. You can make reservations for many cruise activities like shore excursions, spa treatments, and specialty dining before your cruise date on the Disney Cruise Line site. However, one recent change that we found out right after our cruise was that Disney now lets you reserve spots for special ticketed events online as well. Previously certain ship events, including the Princess Meet and Greet, Frozen Meet and Greet, and Character Breakfast required tickets that you could get only after you boarded the ship. Now, you can reserve tickets for those events on the Disney Cruise Line site as well. This is a huge timesaver and also makes it much easier to snag those coveted tickets before they run out. These events are often the only chance you'll have to meet special characters like the Disney Princesses and Anna and Elsa, so if you have a child who want to meet them, don't forget to reserve your tickets as soon as you can!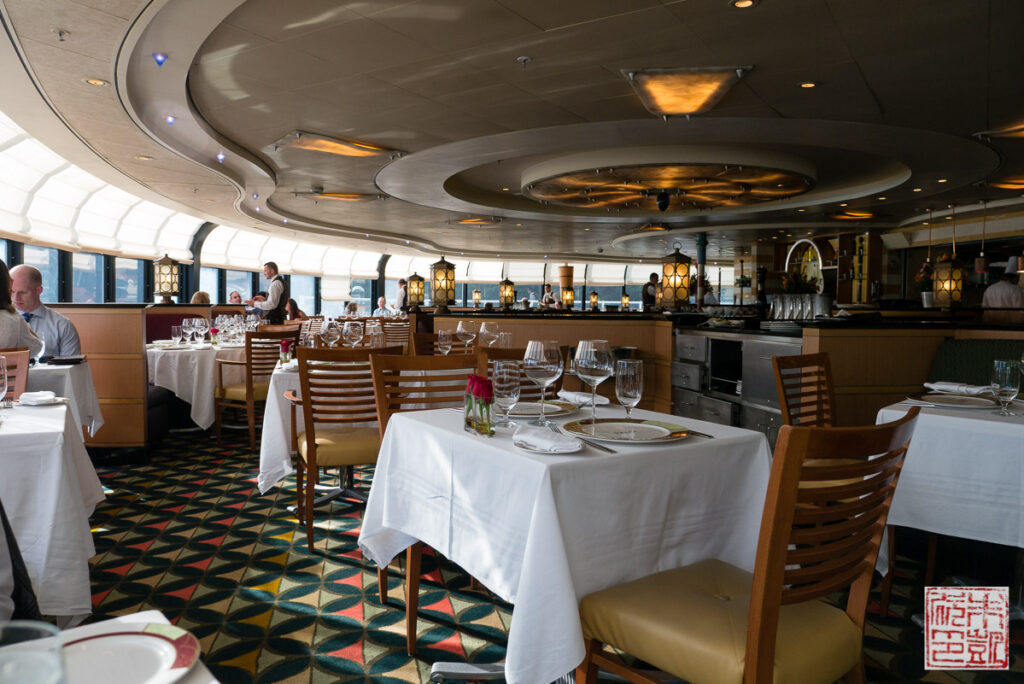 Make reservations at Palo. I'm expanding off the previous tip, but since this is a food blog, and since I loved Palo so much, I thought it worth a special mention. I've been to Palo on the Disney Wonder, and Remy on the Disney Dream, and I think the specialty restaurants on the Disney cruise ships are definitely don't miss experiences. Palo is the prettiest restaurant on the Disney Wonder, bar none, and offers a stellar take on Northern Italian cuisine in form of a brunch buffet or a multi-course dinner menu. Reservations for Palo go very quickly, so definitely check your reservation on the Disney Cruise Line website to see when they open up. I did both the brunch and dinner on the Alaska cruise (for research purposes, of course!) so look for a complete report in my next post!
Make sure you have enough memory cards/batteries for your camera or memory on your cameraphone. There is tons to photograph in Alaska and on the ship. So don't be caught unprepared! Although there are official ship photographers that roam the ship and who are present at Disney character appearances, they are totally fine with people taking photos with their own cameras and will even help you take them. I'll cover my tips on cruise photography in my final cruise post.
Bring a day bag or duffel bag for essentials. When you board the ship, they take your suitcases away and deliver them to your stateroom. Until your stateroom is ready (usually around 1:30) or so you can't get to your suitcases, so if you pack your swimsuits in your day bag you can go the pool and start relaxing already! Similarly, at the end of the cruise they request you leave your packed suitcases outside your cabin door by 10 PM the night BEFORE debarkation. They take the suitcases away and you retrieve them at the port after you get off. If you don't do this you have to carry your luggage by yourself off the ship. So have a bag that you can stuff your PJs and toiletries into in the morning so you don't have to drag all your luggage around on debarkation morning.
Those are my top tips or lessons learned from my cruise experiences – hopefully they'll make your Disney cruise a little smoother and more enjoyable. Finally, to end this post here's a recipe for one of my favorite things I ate on the cruise (and it's a long list of delicious things I ate). There are three regular dining rooms on the Disney Wonder: Triton's, Animator's Palate, and Parrot Cay (to be reimagined as Tiana's Place in the upcoming Wonder drydock). You rotate through the restaurants so every night you're in a different restaurant with a different menu. One of the special touches I liked was that even the bread served was different every night, instead of the same old dinner rolls. Our first night in Parrot Cay we had a Caribbean themed menu accompanied by baskets of warm banana bread served with honey butter. We all enjoyed it so much our waiters took note and brought us more the next night! That's the Disney magic for you. Hope you enjoy!
Check out my previous posts in the series:
Disney Alaska Cruise Itinerary Guide
Disney Wonder Cruise Ship Review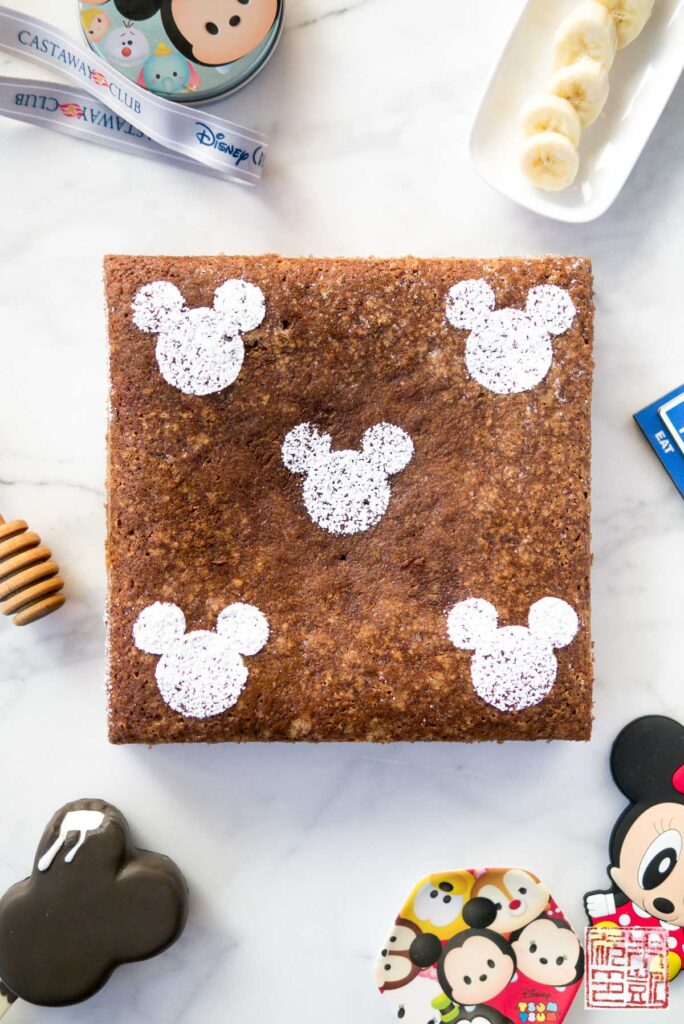 Disney Cruise Inspired Banana Bread
This recipe is adapted from magicalrecipes.net and is inspired by the Banana Bread served at Disney Wonder's Parrot Cay (now Tiana's Place!)
Ingredients
2 cups all-purpose flour
1 teaspoon baking soda
½ teaspoon baking powder
⅛ teaspoon salt
2 large eggs
1 cup sugar
1½ cup mashed bananas (about 3 ripe bananas)
½ cup vegetable or canola oil
¼ cup milk
½ teaspoon ground cinnamon
1 teaspoon vanilla extract
Instructions
Preheat the oven to 350 degrees F. Grease a 9 x 5 inch loaf pan or an 8 x 8 square baking pan.
Whisk together flour, baking soda, baking powder and salt in a medium bowl and set aside.
Stir together together the eggs and sugar in a large bowl. Stir in the mashed bananas, oil, milk, cinnamon and vanilla. Mix until all combined.
Add in the flour mixture and stir just until combined. It will still be lumpy - don't overmix or the bread will be tough and chewy.
Pour the batter into prepared pan. Bake for about 1 hour.
Let cool completely before slicing.