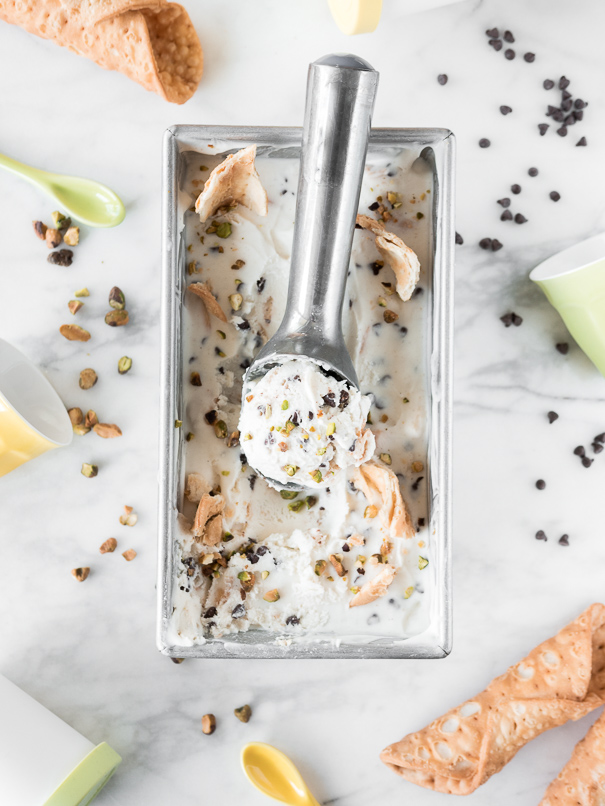 Hello readers, hope you've been enjoying your summer! I was in Europe for two weeks in June, visiting France and Italy, if the photo of cannoli ice cream above didn't give you a clue. I'm still going through vacation photos and making tons of ice cream in the last few weeks in an attempt to hold on to that lovely vacation buzz. Below, a few favorite snapshots from our time in Rome.
Click here to jump to recipe (in case you don't want to scroll through vacation photos)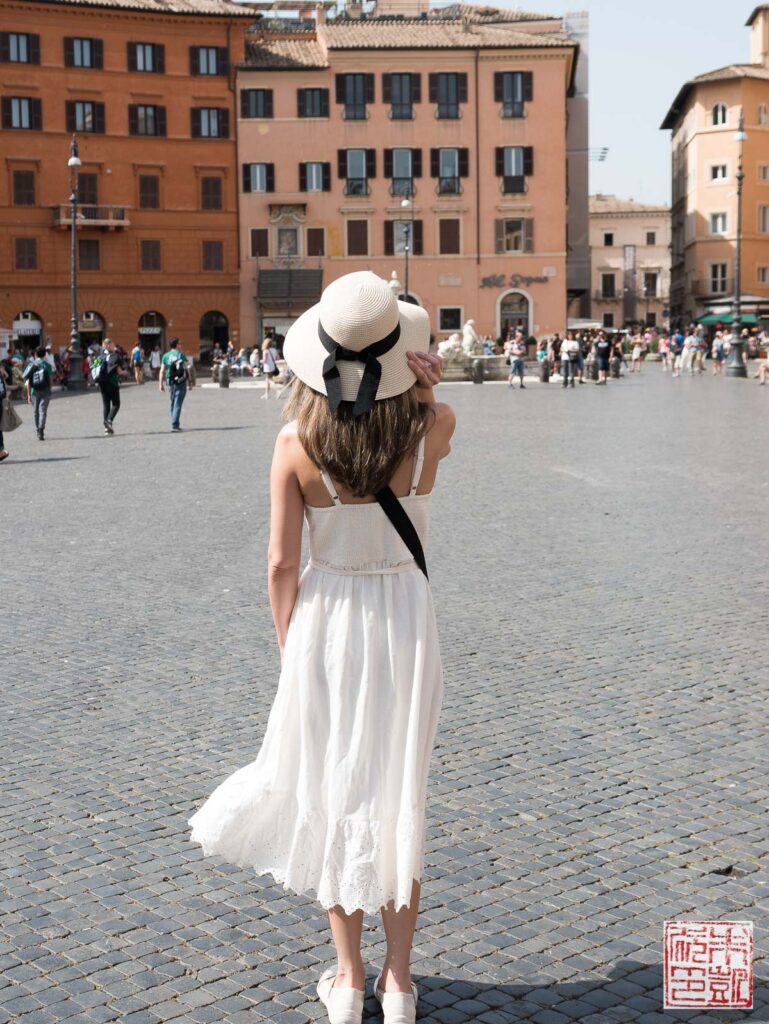 I haven't been to Europe, and Rome, in eight years. The last time I went was on my honeymoon, so it was a bittersweet yet fulfilling experience to come back to one of my favorite cities in the world. Bittersweet since I realized how long it's been since I've visited, but so fulfilling since it was pretty much just how I remembered it (quite hot, unbelievably photogenic, and intoxicatingly lively), and now I was able to share it with my family. Since several of my family members hadn't been to Rome before, we did have to make the obligatory rounds of the tourist hotspots, but what I love about Rome is that all their most famous attractions are so amazing, it doesn't matter if you've seen them before; you've amazed all over again each you see them. Also, around the corner from every major attraction is a quiet, winding alleyway with little shops and cafes to explore. You don't have to feel lost amongst the crowds all day.
Back to the famous Piazza Navona. This photo was taken around 8 in the morning – can you believe there were so few people? The best tip for beating the masses is, of course, to wake up earlier than everyone else. I kind of expected that by 8 the place would already be filled with even-earlier-risers who'd risen before dawn, so I was pleasantly surprised! Luckily, our hotel was literally minutes from the piazza, so it was easy to get there.
The view from our hotel – we had the top floor suite with its own balcony. There's nothing better than being outside as the sun goes down and the air finally starts to cool, and you can see all the tables outside the restaurants start to fill up with people. Evenings in Rome are the best. Despite its closeness to Piazza Navona, the hotel was tucked away down a quiet street – another example of Rome's seemingly magicial geography – so it was pleasantly peaceful while being conveniently located. A list of all the places we visited is at the bottom of this post before the recipe.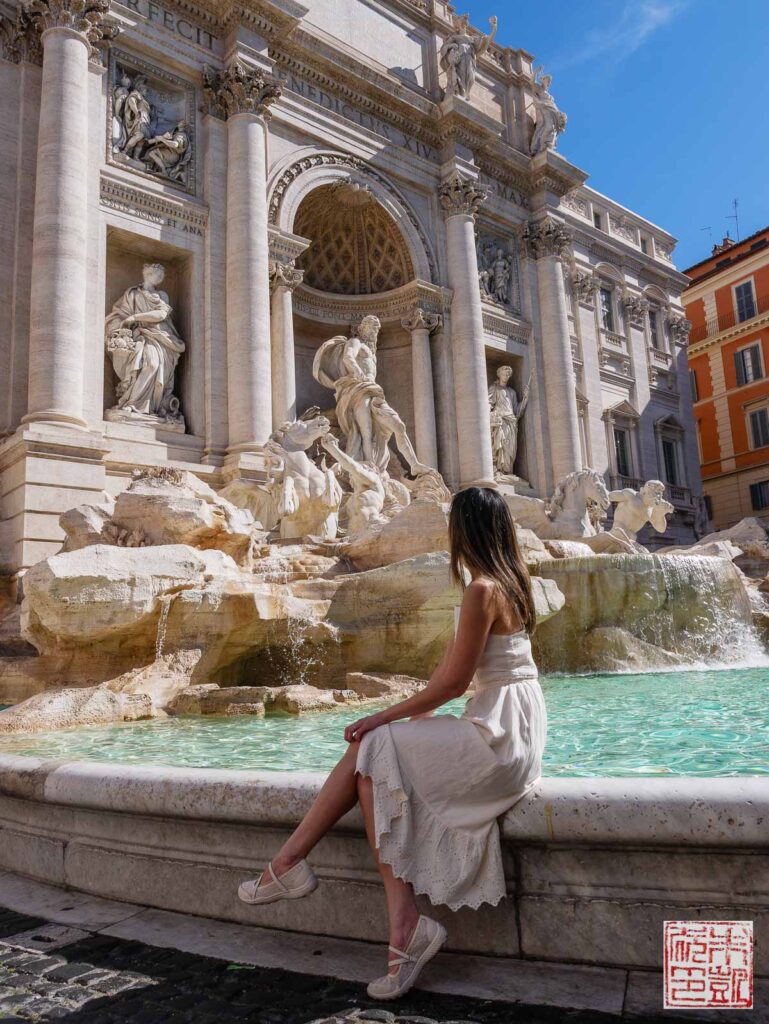 We also enjoyed quite a bit of luck at the famous Trevi Fountain: I also expected that since we didn't get there right at sunrise that we'd be fighting to get through all the other tourists here, but it was surprisingly open when we arrived mid-morning. We were able to get right up to the edge of the fountain and sit for photos, and throw that all-important coin over the shoulder in with no issue. Our local guide was also shocked at the lack of crowds and said the gods must have been smiling on us. Perhaps that was true – as we were leaving I could see the brief window of quiet ending as a large group arrived at the fountain. Sometimes despite all your vacation planning, you can just get lucky! Or maybe it was the coin I threw in last time.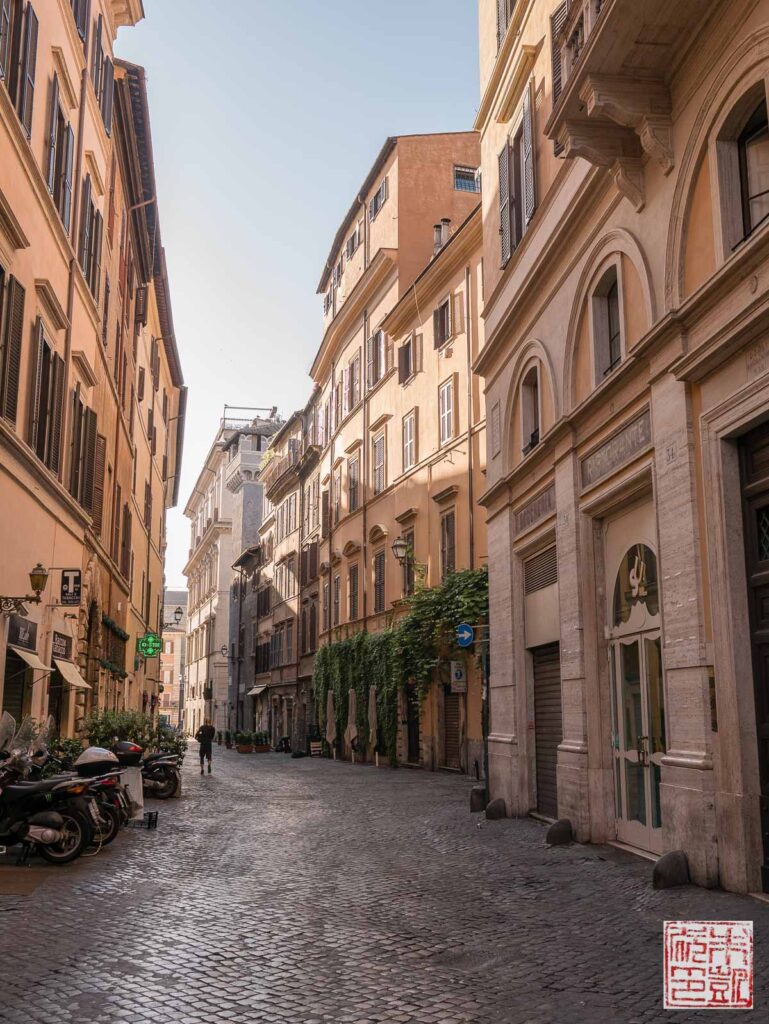 I love wandering the streets, especially in the early morning before it starts getting really warm.
At the bottom of the photo: the masses. We didn't make it there until midday so we didn't beat the crowds here. Still, the Colosseum is never unimpressive. Since we went with a local guide who pre-purchased group tickets, we were able to skip the majority of the line and got inside almost right away. With several young kids in our group who were close to melting down in the noon heat, there really wasn't any other way we'd want to do it. I'd suggest the same if you go; the thought of standing in the (very) long line for tickets under the blazing Rome sun is not how you want to spend your precious time there!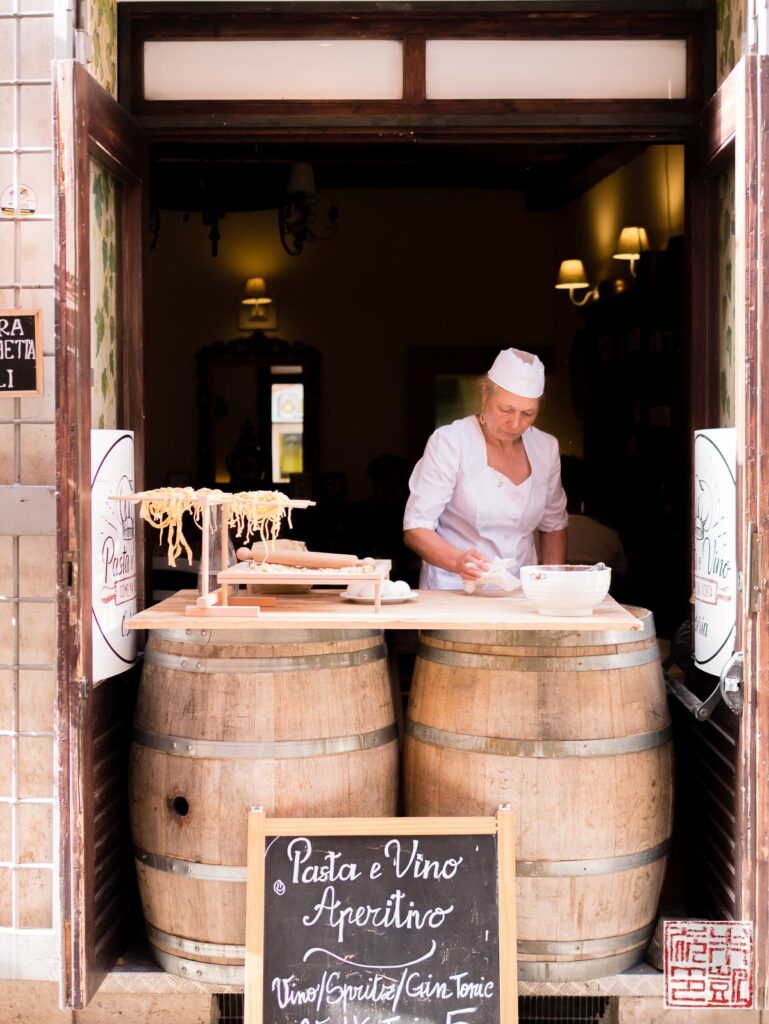 There's no shortage of restaurants and cafes inviting you to dine alfresco, but I think if you're looking for some authentic good food, seeing pasta being handmade in the window is a good sign. Pasta e Vino sells their handmade pasta and uses it in all their dishes as well at their restaurant.
You can choose your pasta and the sauce, which is fun. This is the fettucine gricia, with crispy bacon, pecorino cheese, and black pepper. Pasta e Vino is in the Trastevere district, so wander around and explore this beautiful neighborhood before or after dinner.
There's always something beautiful to photograph in Rome.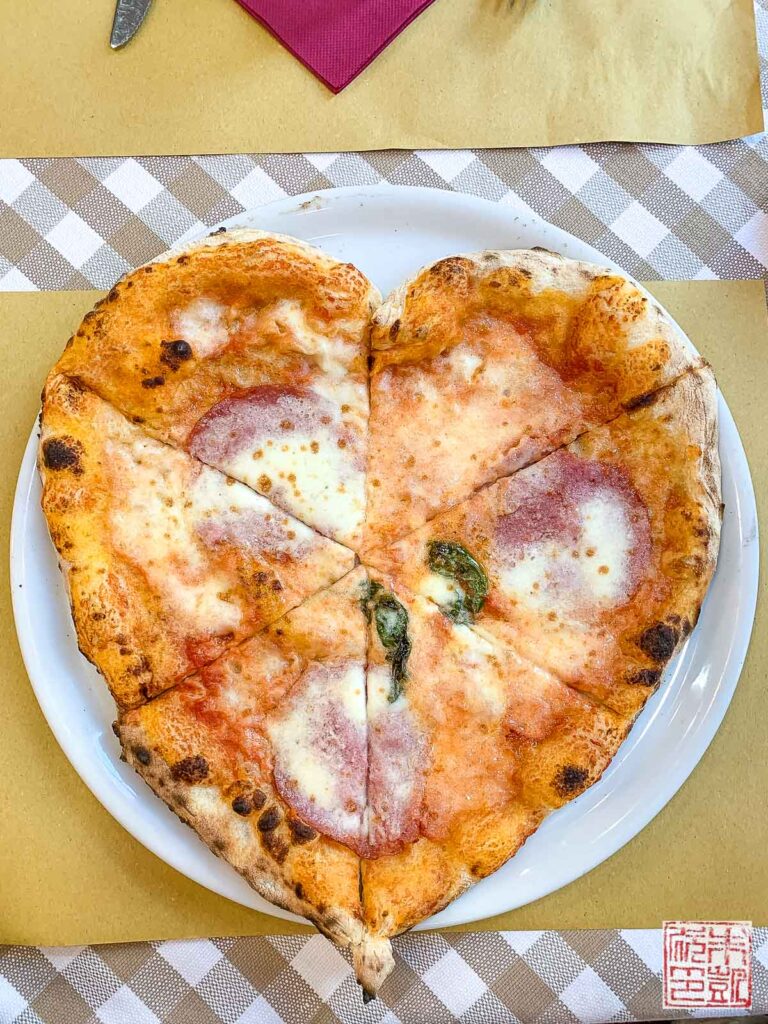 We also did a pizza making class for the kiddies and look how my daughter's turned out! (She had some help from the pizza chef in shaping the heart). The pizza was also very tasty; I'd recommend Jazz Cafe for some excellent food and some good music too – they do play jazz in the background!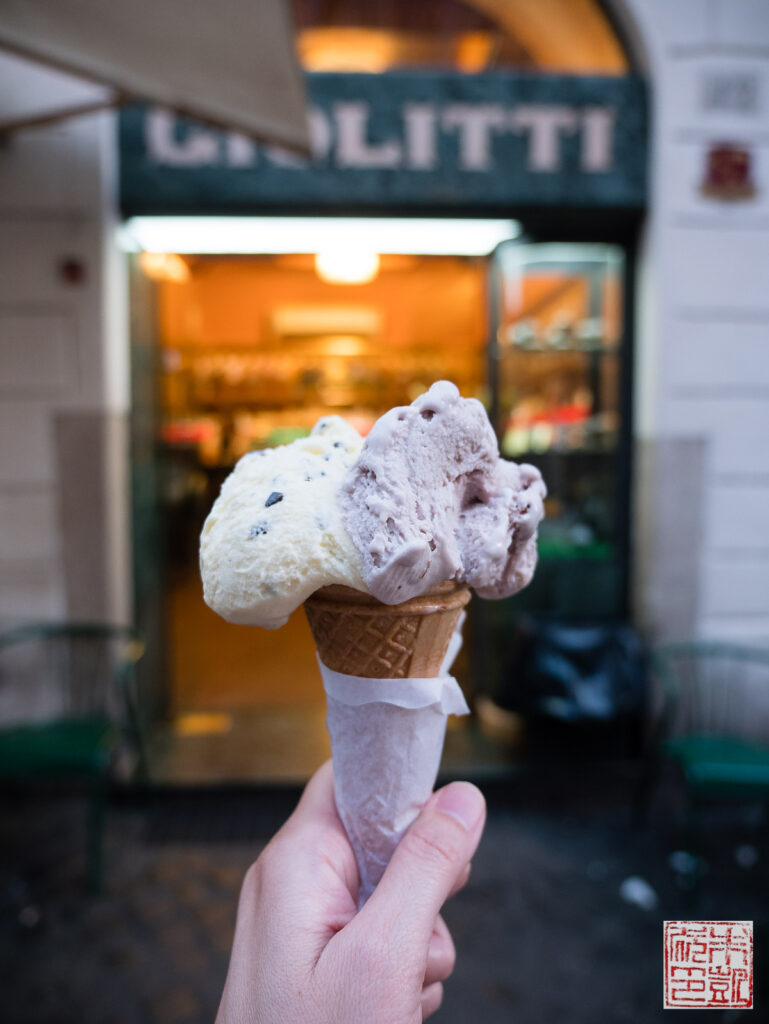 No visit to Rome – actually no day in Rome – complete without some gelato. We visited as many as we could possibly fit in, but I do have a soft spot for Giolitti, since I visited it the last time I was here. The shop is still the same, with the gleaming dark wood counters, the pastry cases full of desserts, and the long line for gelato. The combination above is straciatella and black cherry – a favorite of mine and just as good as I remembered.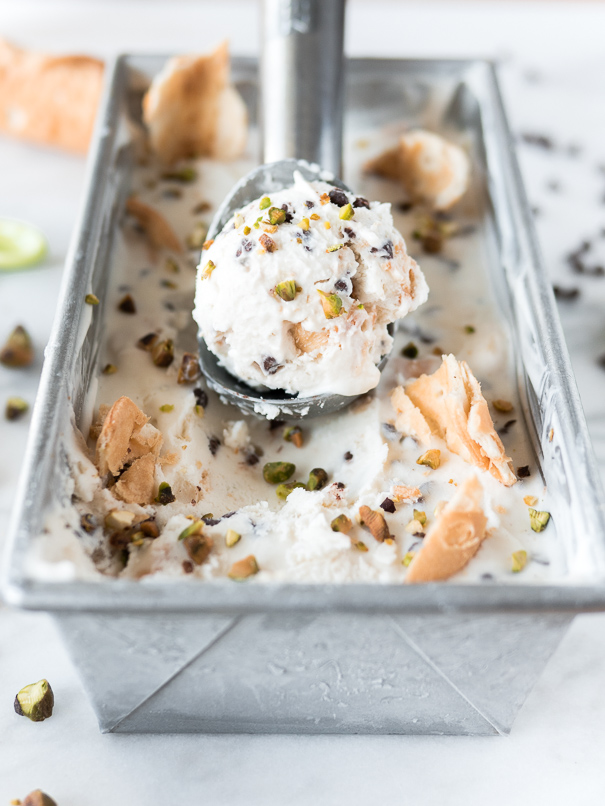 Although it was hard to not eat just gelato while we were in Rome, we did squeeze in some other Italian desserts like tiramisu and cannoli. A really tasty cannoli from a bakery we just happened to walk by is the inspiration for this cannoli ice cream, made with ricotta, vanilla, and cinnamon, and studded with mini chocolate chips, pistachios, and pieces of cannoli shells. The most common traditional fillings for cannoli are chocolate chips, pistachios, and candied orange peel; I skipped the orange peel but if you feel like it you can add some in.
I was actually lucky enough to find cannoli shells at my local Italian bakery, but if you can't find them, you can also use ice cream waffle cones as an easy substitute. You can, of course, also make your own cannoli shells – I don't have the metal tube molds but that might be a future project!
Since there's no cooking required for this ice cream, it's super quick to put together and easy for a hot summer day when you want to imagine you're on a Roman vacation. Ciao Roma, it was wonderful to visit you again!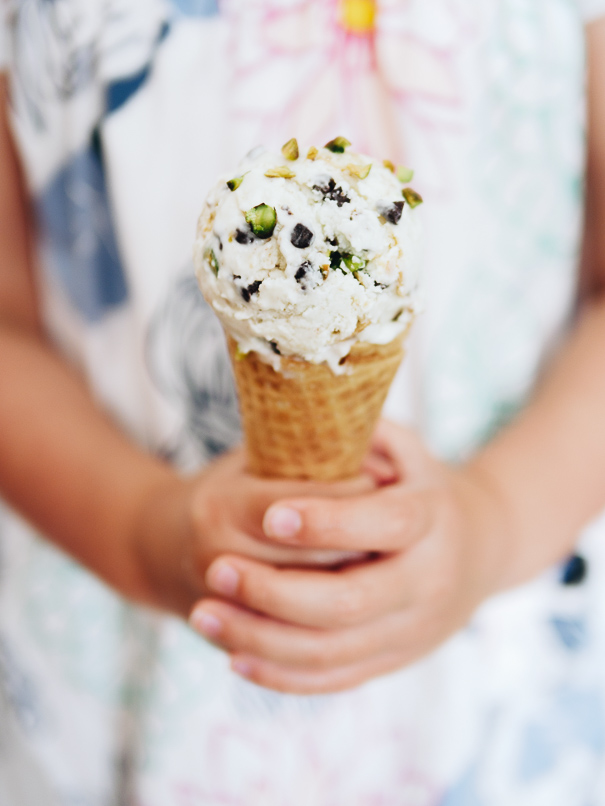 Guide to Rome
Navona Palace Luxury Inn
Via della Pace, 36
Rome, Italy
Pasta e Vino Osteria
Via della Pelliccia 13
Rome, Italy
Jazz Cafe
Via Giuseppe Zanardelli 12
Rome, Italy
Giolitti
Via Uffici del Vicario, 40
Rome, Italy
Rome4Kids Tours
Best Roman Adventure Walk and Drive
Pizza Making Class at Jazz Cafe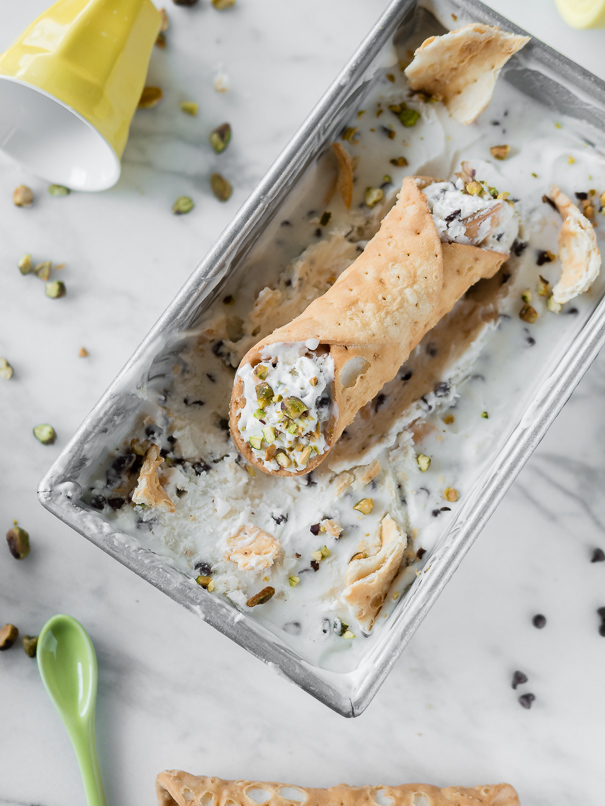 Cannoli Ice Cream
Ingredients
2 cups (454 g) whole milk ricotta cheese, drained
¾ cup (150 g) sugar
½ teaspoon vanilla bean paste
½ teaspoon ground cinnamon
1 cup heavy cream
¼ cup (40 g) mini chocolate chips
½ cup roasted, unsalted pistachios, roughly chopped
½ cup cannoli shells, broken into pieces
Instructions
Combine ricotta, sugar, vanilla bean paste, and ground cinnamon in a food processor and process until very smooth.
Add the cream and process until fully combined.
Transfer mixture to ice cream maker and freeze according to manufacturer's instructions.
After the ice cream has finished, scrape it out into a freezable ice cream container. Stir in the chocolate chips and pistachios.
Gently fold in the cannoli shell pieces. You can reserve a few pieces to decorate the top of the ice cream after it's fully frozen.
Freeze ice cream overnight to let it fully firm up. Take out and place in refrigerator for about 10 minutes to let it soften before serving.