Happy Valentine's Day! These rose raspberry lychee parfaits are inspired by my recent trip to Hong Kong, where this flavor combination seemed to pop up everywhere. I shared some of my favorite finds in my last post, but there were so many other places I didn't get to mention that they're spilling over into this one.
If you're just here for the recipe, click here to jump directly to the end. If you're in the mood for a few more travel photos, here are some more shots from my photo album that didn't make it into my last post – images from one of my most favorite places to visit.
Lady M 's Rose Mille Crepes cake – one of my favorite new desserts I tried this last trip.
Xiao long bao from Crystal Jade – always one of my first stops when I go to Hong Kong.
Hong Kong lit up for the holidays, as seen from the harbor. The best way to view the lights is from a boat – there are numerous harbor cruises nightly.
Isabelle's second time around as flower girl. She's a pro now.
Repulse Bay and the South China Sea, as glimpsed from the gondolas at Ocean Park. This amusement park has some of the most amazing views in all of Hong Kong.
Chances are pretty good that your dessert in Hong Kong will have a cute face on it. Party bear cakes from Agnes B Cafe.
Heaven for Hayao Miyazaki/Studio Ghibli fans: Donguri Republic has outlets in Hong Kong now, meaning Totoro merchandise galore.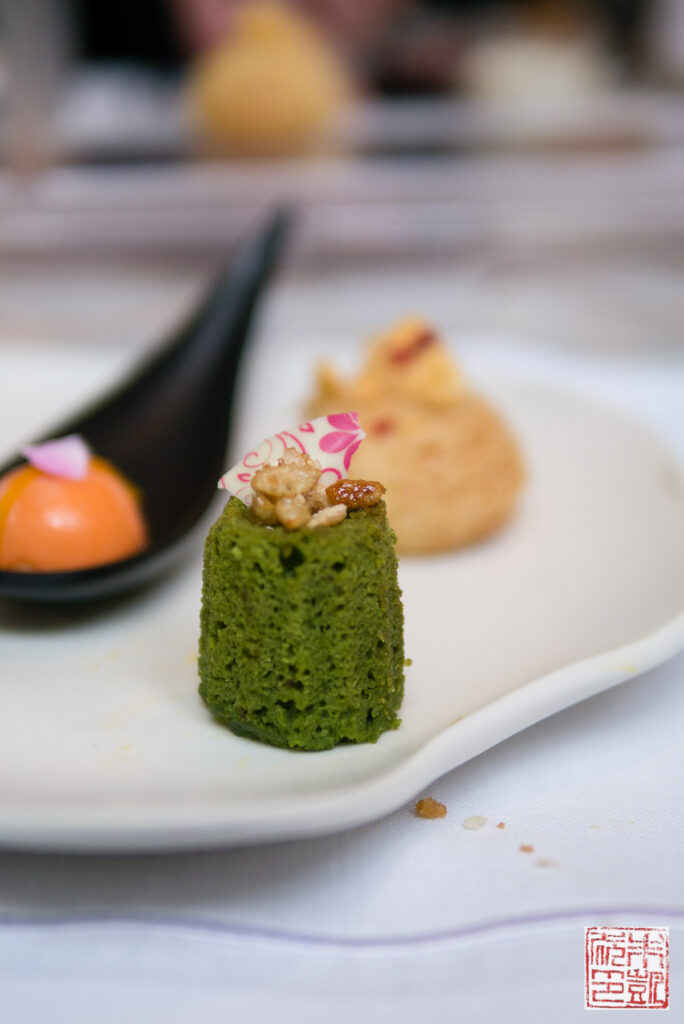 Matcha financier from Cobo House's artisanal cha chaan tea set. Little works of art.
Peking duck is usually on my must-eat list in Hong Kong too. Zither Garden in Wan Chai has a stellar version, and the rest of their menu is excellent as well.
A visit to Big Buddha on Lantau on New Year's Day. Go early or the lines for the gondola get very long, very quickly.
More giant cute stuffed animals, this time the uber-popular Line Friends at Langham Place in Mong Kok.
The open kitchen at Yum Cha. I love the little bird cages hanging up on the rail, a nod to old tradition.
I didn't get to do a lot of urban exploration while in Hong Kong (too little time!) but I did get to visit the Yick Fat Building and capture this iconic spot. A stunning example of the old Hong Kong tenements.
Back to dessert. Rose, raspberry, and lychee has been a classic pastry flavor combination ever since Pierre Hermé invented the Ispahan. Here the flavors show up in a ombre rainbow of cream, coulis, and cookie. The entire dessert is fairly quick to put together, unless you're making the cookies from scratch. I recommend this chocolate cookie recipe from Serious Eats, which bakes into nice, chunky crumbles, but if you prefer, store bought cookies work fine as well. Serve these parfaits the day they're made so the cookie layer doesn't become soggy.
Happy Valentine's Day to you and yours. I hope you celebrate what you love today, tomorrow, and all the days after.
Rose Raspberry and Lychee Parfaits
Ingredients
Raspberry Coulis
6 oz raspberries
¼ cup (50 g) sugar
Chocolate cookies, about 24 (see blog post for notes)
Lychee cream
200 g lychee puree (some specialty stores carry lychee puree, or you can buy canned or fresh lychees and puree them in the food processor)
⅓ cup (80 g) sugar
4 g (2 leaves) leaf gelatin or 2 teaspoons powdered gelatin
1 cup (230 g) heavy cream, whipped
Rose Whipped Cream
1 cup (230 g) heavy cream
2 tablespoons sugar
2 teaspoons rose water
pink food coloring as desired.
Instructions
For the raspberry coulis:
Combine raspberries and sugar in a small saucepan.
Cook over medium-low heat on the stove, stirring occasionally to prevent burning, until raspberries soften and burst into liquid.
Strain into a small bowl. Let cool while you make the other components.
For the chocolate cookies:
Crush the chocolate cookies by hand or in a food processor into small pieces - you don't want to turn them into crumbs, but larger chunks.
For the lychee cream:
Combine pureed lychees and sugar together in a bowl. Bloom gelatin in water. Heat in microwave and mix into lychee mixture.
Whip cream in stand mixer with whisk attachment to soft peaks. Add in lychee mixture and mix until combined - it will turn back into a liquid with the added lychee mixture.
Divide the cream among the glasses, filling between halfway and two thirds full.
Place in refrigerator for about 15 to 20 minutes to let the cream start setting.
For the rose whipped cream:
Combine cream, sugar, and rose water together in bowl of a stand mixer. Whip with whisk attachment to soft peaks. Add food coloring as desired and mix in.
To finish the assembly:
Spread a thin layer of the raspberry coulis over the lychee cream.
Mound some of the whipped cream on top of the raspberry coulis. Serve immediately or you can chill in refrigerator for a couple hours further.
SaveSave
SaveSave
SaveSave