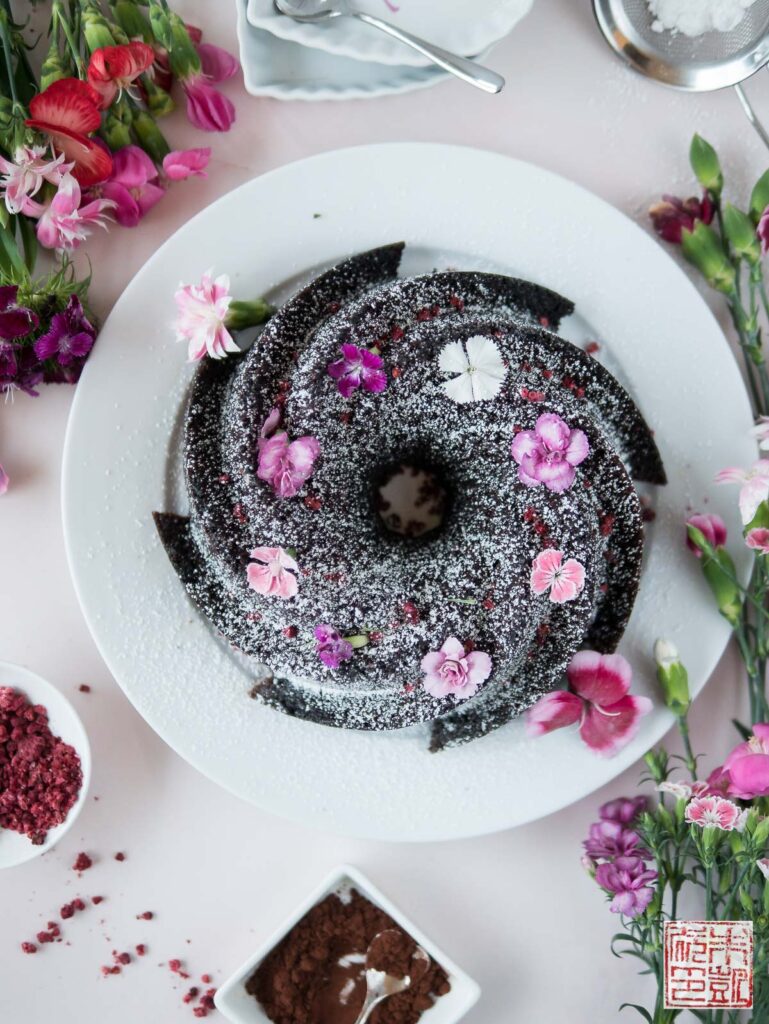 Happy Valentine's Day! No fancy restaurant outings for us this year but I'm not skipping out on dessert. Sometimes you just need a slice of really rich, deep dark chocolate bundt cake, and I'm sharing the best recipe I have for a bundt cake that is pure chocolatey bliss. It uses a generous helping of cocoa powder, boosted by a dose of coffee, and plenty of butter and sour cream to give it a moist, dense crumb. It's so rich that it needs no other embellishment than a dusting of powdered sugar. It's also so delicious that although I told myself I only needed a slice, I find myself going back again and again for another.
Click here to jump to recipe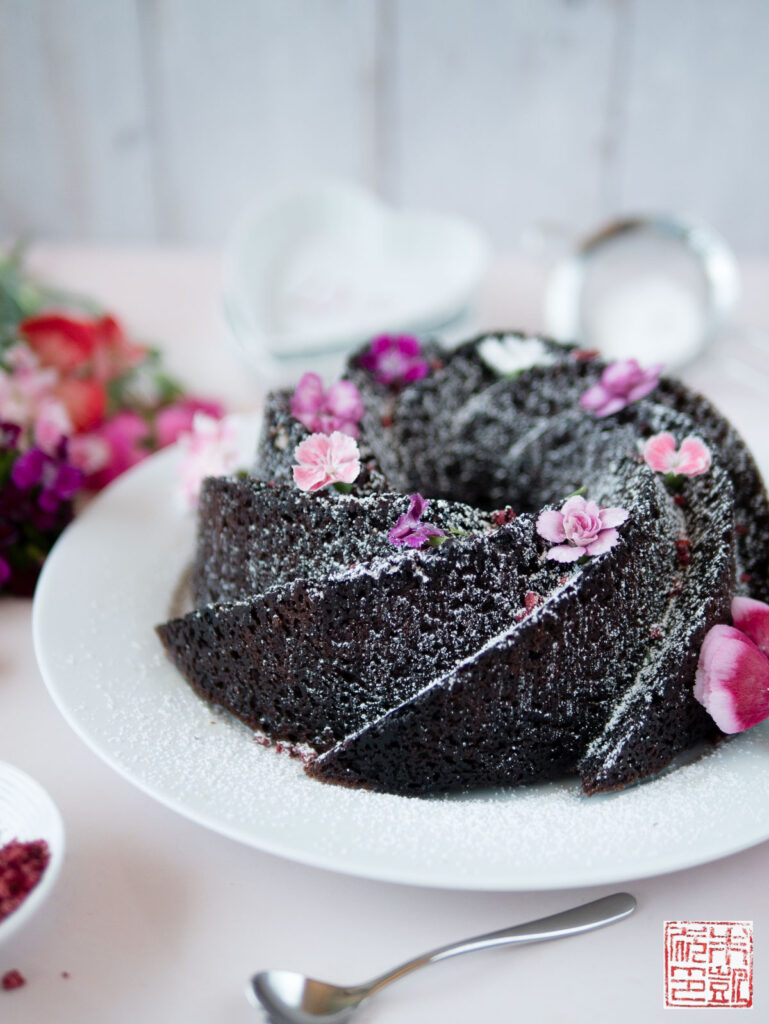 I used my 6-cup Nordicware bundt pan for this cake; it's one of my favorites because of the striking design and because it releases easily. I always grease the pan generously with cooking spray and let the baked cake sit for about 5 minutes cooling on a wire rack before unmolding it, and it seems to come out clean. You can also make 12 mini bundts with this; I would lower the baking time to about 25 minutes and check at 20 minutes. 
My favorite cocoa powder to use is Valrhona; absolutely use your favorite cocoa in this cake as that's the flavor that will shine through. I also love using coffee to boost the intensity of the chocolate: you don't really taste it but it adds an extra dimension of richness and complexity to the flavor. I recently was lucky enough to try some coffee from Mr. Espresso, an Oakland-based coffee roasting company dedicated to sharing their love of Italian espresso with the Bay Area and beyond. Their coffee is slow roasted over oak wood, a very traditional method from Italy that imparts a fuller flavor and smoother finish. That also makes their coffee a lovely choice for baking, if you want to avoid any of the harsher acidity of other coffees. Their Seven Bridges single serving bags are ideal for brewing a cup of coffee that I combined with the cocoa powder and butter to form the intense base for this cake.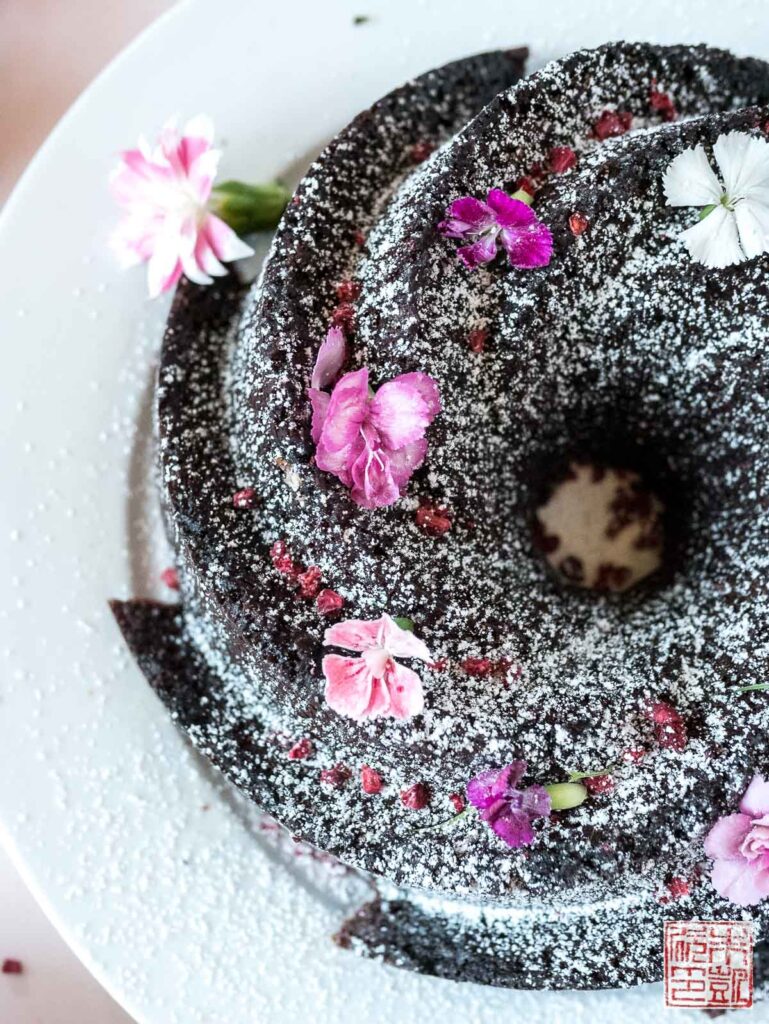 I think the cake is chocolatey enough on its own, but if you're looking to take it over the top, here's a recipe for a chocolate glaze – plus you can also top it with whipped cream. If you're really looking to indulge, why not?
I hope you have a lovely Valentine's Day and don't forget to show love to the most important person – yourself! We could all use a little more love during these times.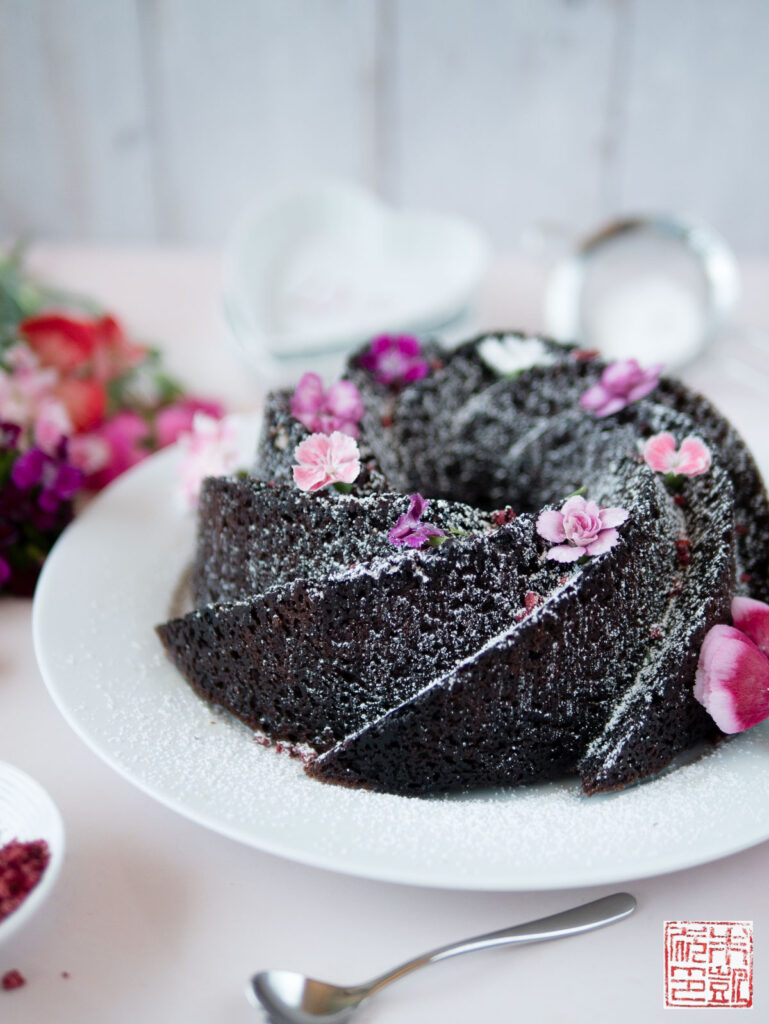 Deep Dark Chocolate Bundt Cake
Serves:
(1) 6 cup bundt cake
Ingredients
1 cup (226 g) unsalted butter, room temperature, cut into 1-in pieces
½ cup (115 g) brewed coffee
⅓ cup (30 g) natural cocoa powder
1 cup all-purpose flour
1 cup sugar
½ teaspoon baking powder
⅛ teaspoon baking soda
½ teaspoon salt
1 large egg, room temperature
¼ cup (55 g) sour cream, room temperature
1 teaspoon vanilla extract
Instructions
Preheat oven to 350 degrees F. Spray inside of a 6-cup bundt pan very well with nonstick cooking spray.
Combine butter, coffee, and cocoa powder in a metal bowl and set over a saucepan filled with simmering water. Heat the mixture, whisking regularly to prevent burning, until butter is melted and mixture is smooth. Remove bowl from heat and set aside to cool slightly.
Combine flour, sugar, baking powder, baking soda, and salt in a large bowl. Pour the melted butter and cocoa mixture into the flour mixture and mix with a wooden spoon to combine until smooth.
Whisk egg, sour cream, and vanilla together in a small bowl. Pour into the batter and mix to combine until very smooth with no lumps.
Pour batter into prepared pan and bake 40-45 minutes, until tester inserted into center of cake comes out clean.
Let cake cool in bundt pan on wire rack for about 5 minutes, then invert pan, remove cake, and let finish cooling on wire rack.