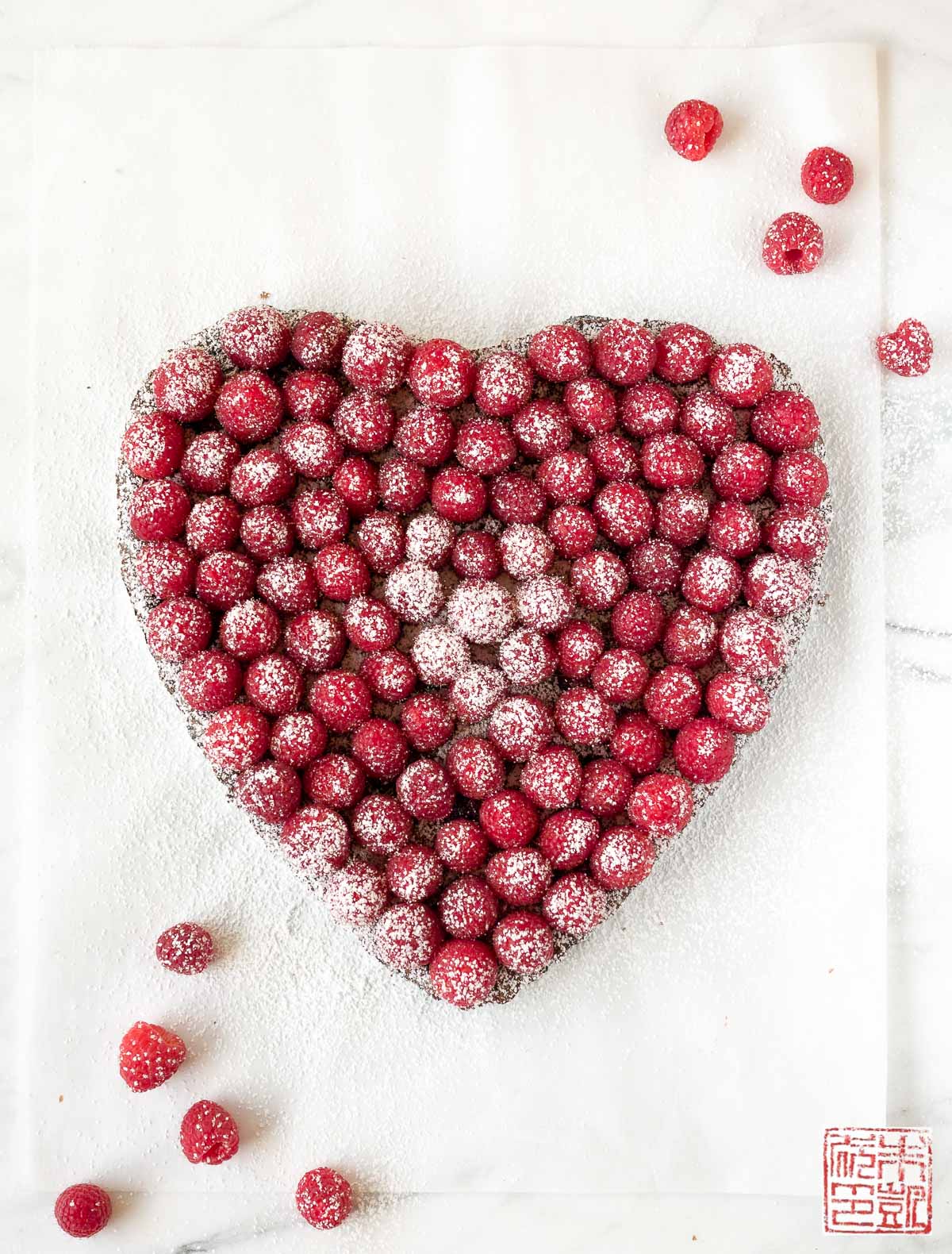 I'm catching up on past baking projects from last month. First off, was it cliché to make a brownie in the shape of a heart for Valentine's Day? What about a raspberry white chocolate brownie in the shape of a heart? My excuse is that I've never owned a heart shaped pan until recently. I've tried to cut down on the acquisition of novelty pans and baking items in the past years, because it's a fine line between buying a cute gingerbread house mold for Christmas and looking up one day to find your kitchen bursting with Halloween cookie cutters, mini donut (and donut hole) pans, and Fourth of July lollipops molds. Still, I reasoned, a simple heart is a basic, and one might say, even essential shape. When you're tasked with making treats for your daughter's preschool class, it suddenly becomes very essential. I have to admit that with a kid in the house, I have a feeling you may find aforementioned Halloween cookie cutters and Fourth of July lollipop molds appearing in my kitchen whether I will it or no in the future.
This brownie is tweaked from my favorite fudgey brownie recipe, gussied up with white chocolate chunks and whole raspberries. The nice thing about the heart pan I got is that it's actually a tart pan with a removable bottom; because the brownie is so soft, it's easier to unmold the brownie by pushing up the bottom, instead of trying to lift the foil out. This is the kind of brownie that gets better with a bit of time; if you're impatient and try to cut a piece while it's still cooling, it might be a little too soft in your hands. But wait until it cools, or even overnight, and it sets into the perfect rich fudgey texture. You don't have to decorate the top with raspberries, but it makes for an impressive presentation, doesn't it?
Another thing you can do with the brownie, instead of just cutting wedges, is you can cut smaller hearts out of it. I'm sure you can make some witty visual metaphors about sharing your heart with your loved ones, but really I was just trying to make as many cute heart-shaped things as I could. Just take a sharp cookie cutter and cut out some individual edible valentines – with a 2 ½" inch heart cutter, I was able to get about 8 little heartlets out of the big heart. Perfect for little kids to decorate with sprinkles and candies.
By the way, even if you don't have a heart shaped pan (again, I can't believe I made it this long before getting one!) you can always make a regular square-shaped pan of brownies. And I hope you do, even if it isn't Valentine's Day, because these brownies are worth enjoying anytime – after a long week, for a birthday, or because spring's just around the corner. Happy March!
Raspberry White Chocolate Brownie
Ingredients
5 ounces bittersweet chocolate
3 ounces semisweet chocolate
6 tablespoons unsalted butter
3 large eggs
1 cup sugar
¼ teaspoon salt
1 teaspoon vanilla
3 tablespoons cocoa
⅓ cup flour
100 g (4 oz) white chocolate, coarsely chopped
300 g (12 oz) raspberries
Instructions
Preheat oven to 350 degrees. Line a 8 inch square baking pan or 11 in heart pan with removable bottom with foil and grease well with butter.
Combine chocolates and butter in a metal bowl and place over a bain-marie (pot of simmering water) on medium heat. Heat until chocolates and butter are melted and combined – be sure to stir occasionally to combine and to make sure the chocolate doesn't burn.
Remove from heat and let cool while you make the rest of the batter.
Whisk eggs and sugar together in a large bowl until thick and light-colored, about 2 to 3 minutes.
Add in the salt, vanilla, and cocoa powder and whisk to combine.
Add in the melted chocolate mixture and whisk to combine thoroughly.
Sift the flour over the mixture and whisk to combine.
Add in chopped white chocolate and fold in.
Pour the batter into the prepared pan, making sure to spread it evenly into the corners. Smooth the top out with a spatula.
Press about a third of the raspberries into the batter, spacing evenly.
Bake in the oven for about 20 to 25 minutes, rotating halfway. Brownies are done when a knife inserted into the center comes out clean. Do not overbake! Let cool on wire rack.
When you are ready to serve, arrange the rest of the raspberries on top of the brownie.