There's only a couple days left to enter the HGTV® Dream Home 2017 sweepstakes – don't forget to click here for your chance to win! In case you need a little daydream fodder for things do on St. Simons Island if you won the Dream Home, here are some snapshots and suggestions from my trip on some of the pleasures St. Simons Island has to offer.
St. Simons Island is one of a chain of gorgeous, perpetually sun-drenched islands very appropriately named the Golden Isles off the southern coast of Georgia. At only 18 square miles, it is reachable by car from the mainland or you can fly into what must be one of the tiniest and cutest airports ever (there's usually only a couple flights in and out a day). With its endless beaches, mossy-oak lined lanes, and warm, tranquil waters, the island encourages a perfect state of relaxation – the epitome of Southern comfort. However, if you choose, more active visitors will find opportunities to bike, boat, kayak, fish, or even go horseback riding. Go bird watching in the marshlands or golfing at one of the island's nationally acclaimed golf courses.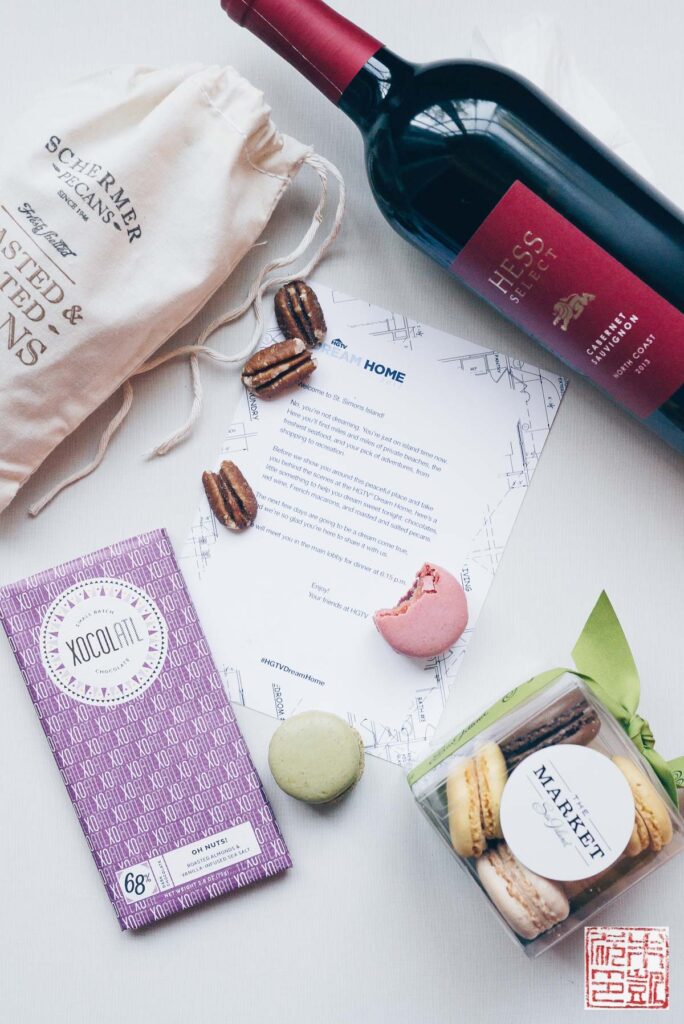 Staying at the Inn at Sea Island
My visit to St. Simons started at the Inn at Sea Island, a beautiful coastal-inspired hotel central to most of the attractions on St. Simons. Above, some goodies from the welcome basket the amazing HGTV team left for our arrival.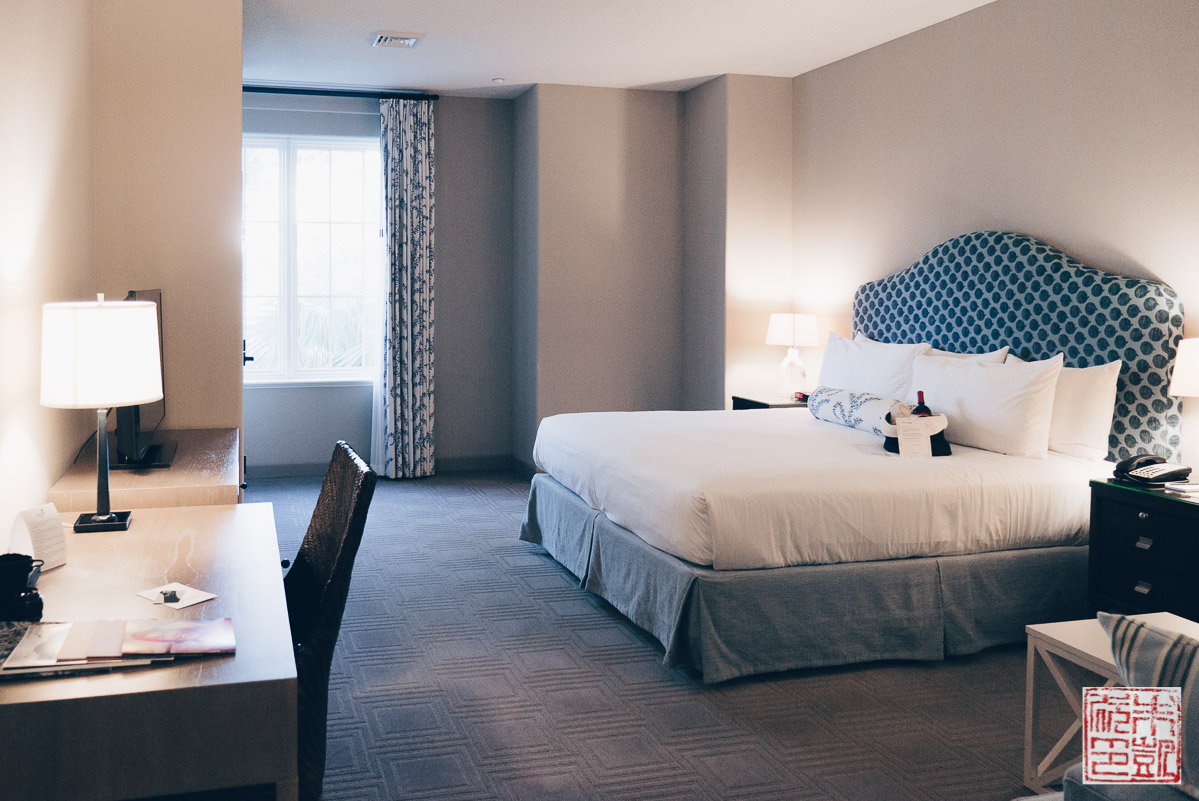 Luxuriously huge room, full amenities, continental breakfast, and that beautiful coastal light coming in through the window – what more could you ask for?
Alas, we didn't have time for lounging by the hotel pool, which was a shame since it's one of the most glamorous poolside settings I've ever seen.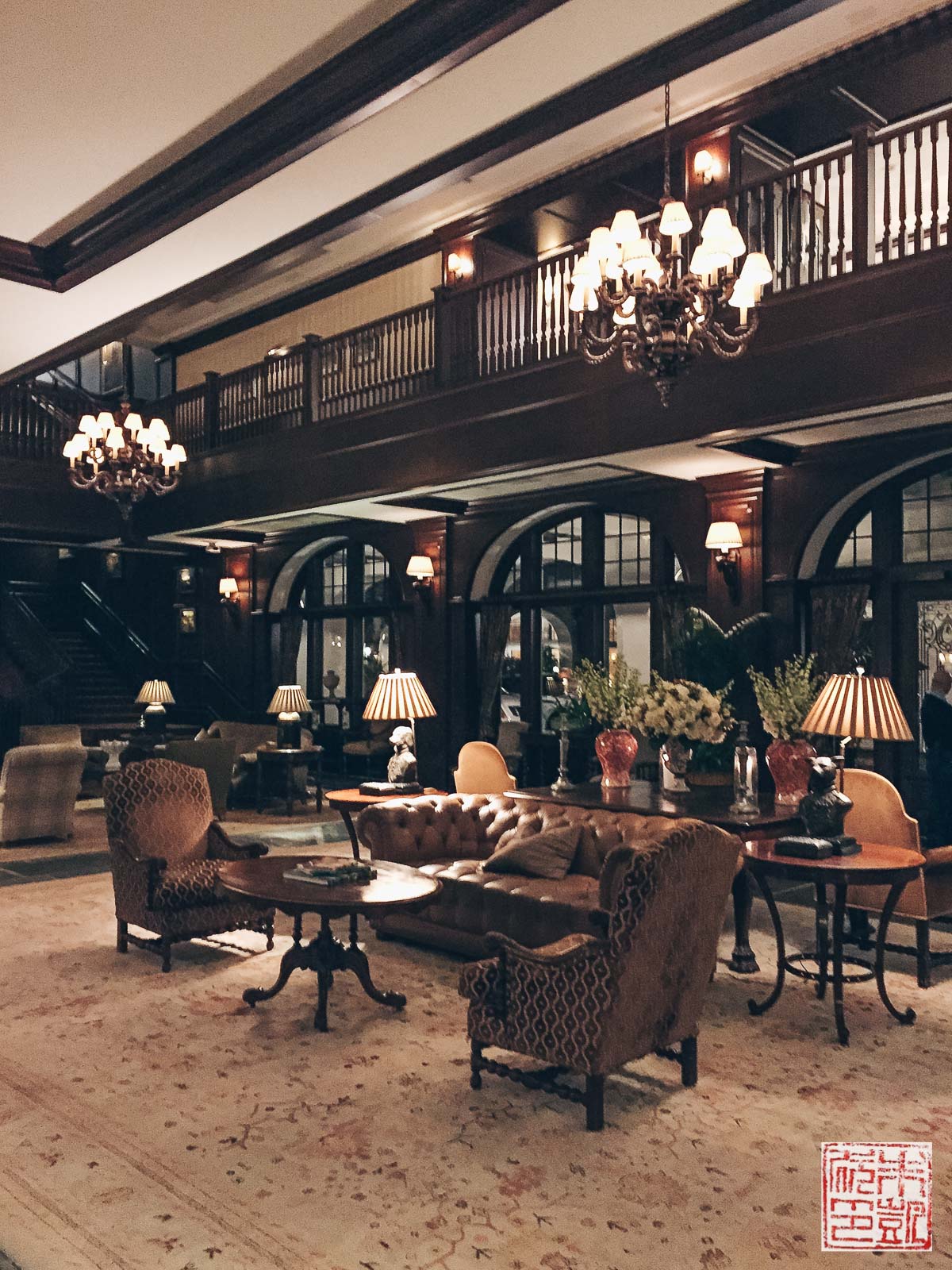 Dinner at the Lodge
Our welcome dinner the first night was at The Lodge, the Inn's sister property. This English manor-style hotel had a gorgeous lobby, all dark woods and golden light.
We had dinner, literally, in the wine cellar of the Lodge – bring a wrap or sweater as it's chilly down there to protect the wine!
The surf and turf was good but for dessert I couldn't turn down the Gold Brick Sundae, billed as a Sea Island tradition. Three flavors of ice cream with roasted pecans and whipped cream.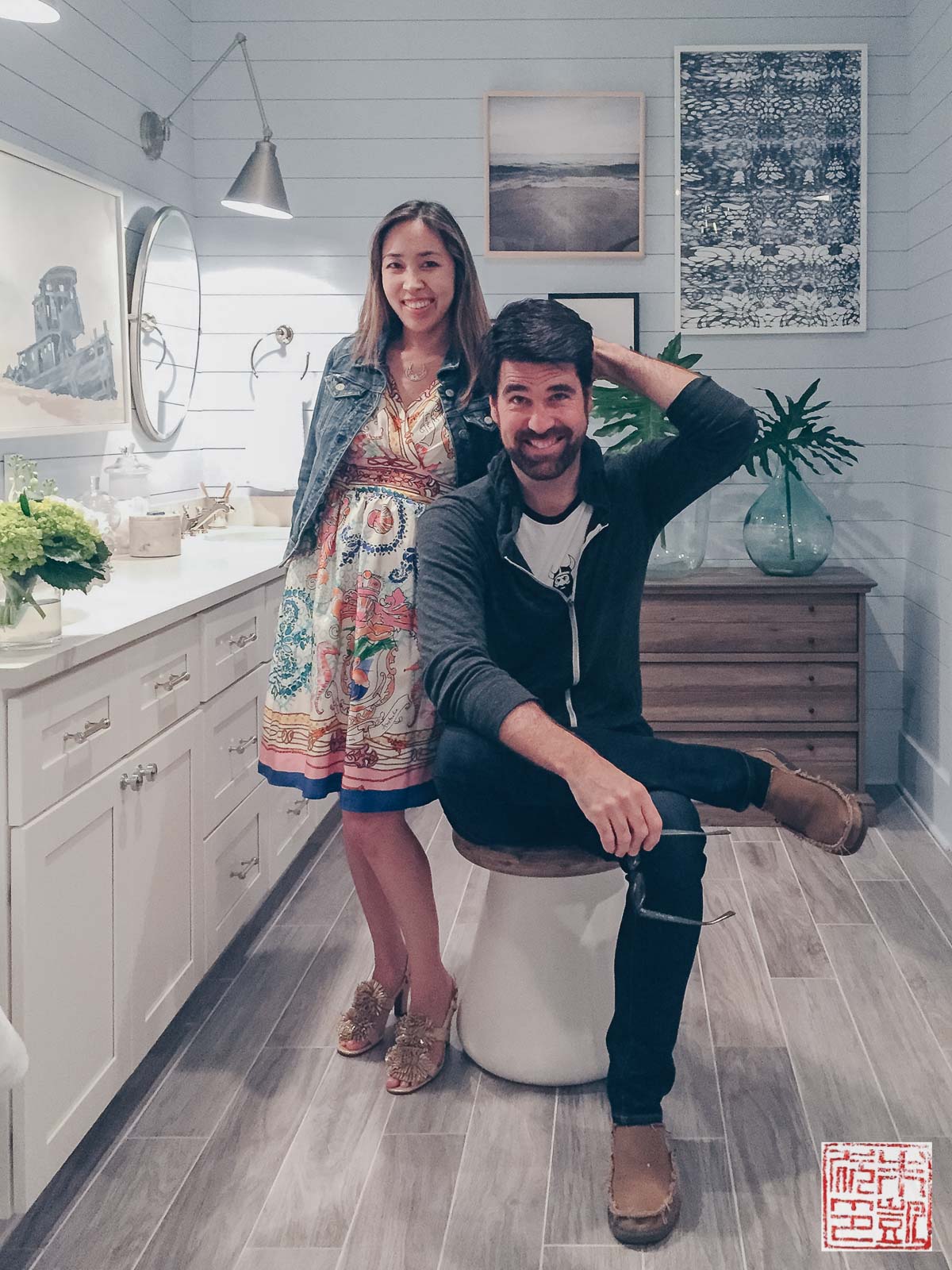 So I was lucky enough at dinner to be seated next to producer and designer Brian Patrick Flynn, who designed the HGTV Dream Home. I just wanted to mention again what an amazing guy and host he is. He mentioned right off the bat that he has an amazing memory, to which I was like, well, sure, okay. But he really does – after two days with ten bloggers whom he'd never met before, he remembered all of our names and details of our conversations. That first evening we talked about where we came from – two days later he mentioned my hometown, my daughter's name, her favorite TV show, and the fact that he and I are super slow eaters and are embarrassed about it (sorry to out you Brian). Super impressive.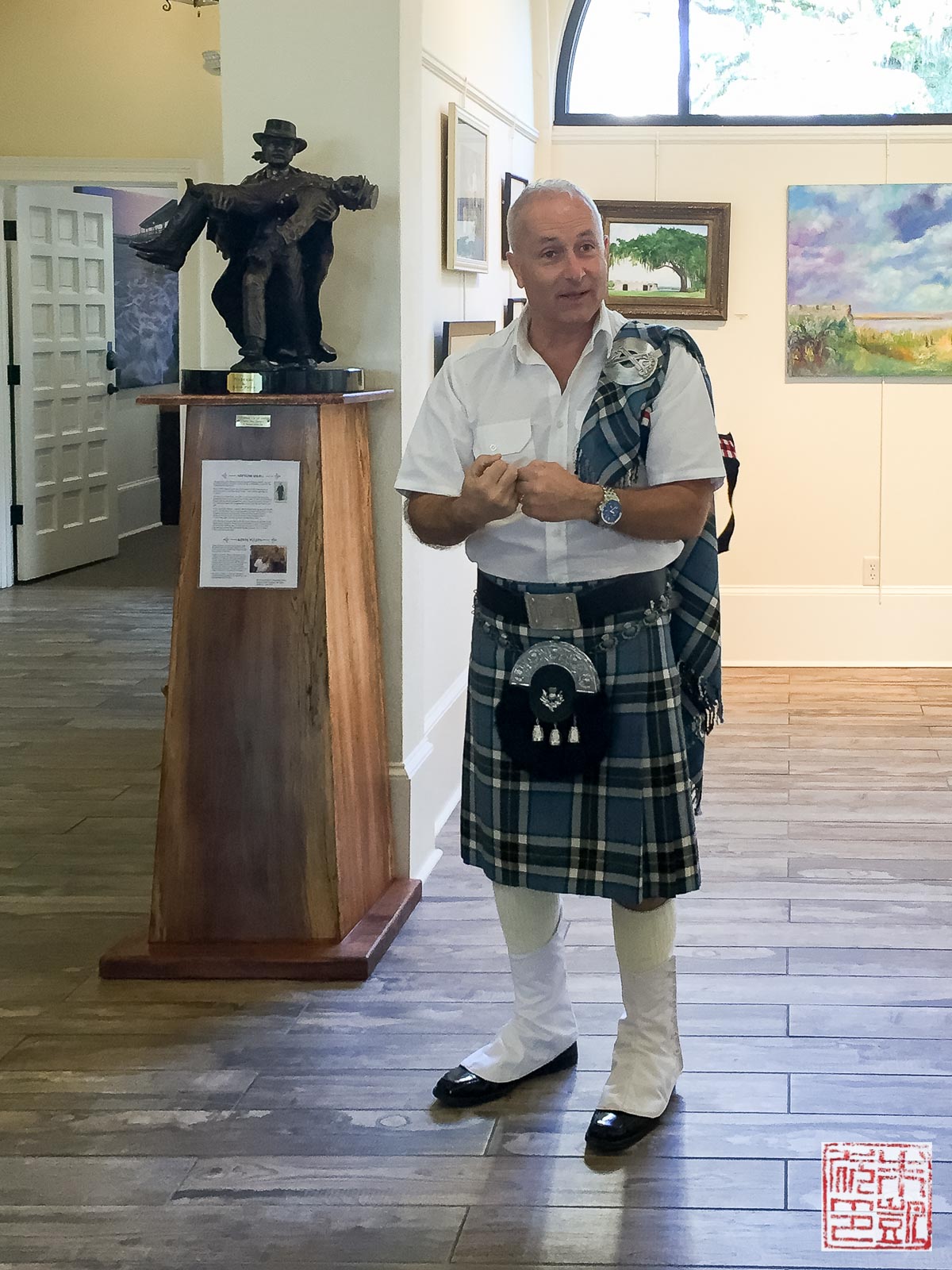 The second day of our trip had us on a trolley tour of the island, led by the inimitable Captain Rod. If you're visiting St. Simons Island for the first time, I highly recommend Captain Rod and his tour. His love of the island shows through in his encyclopedic knowledge of its history, geography, and denizens. He even dresses up for the occasion – here he is in traditional Scottish gear to celebrate his heritage. Thanks Captain Rod for sharing your passion for this beautiful place.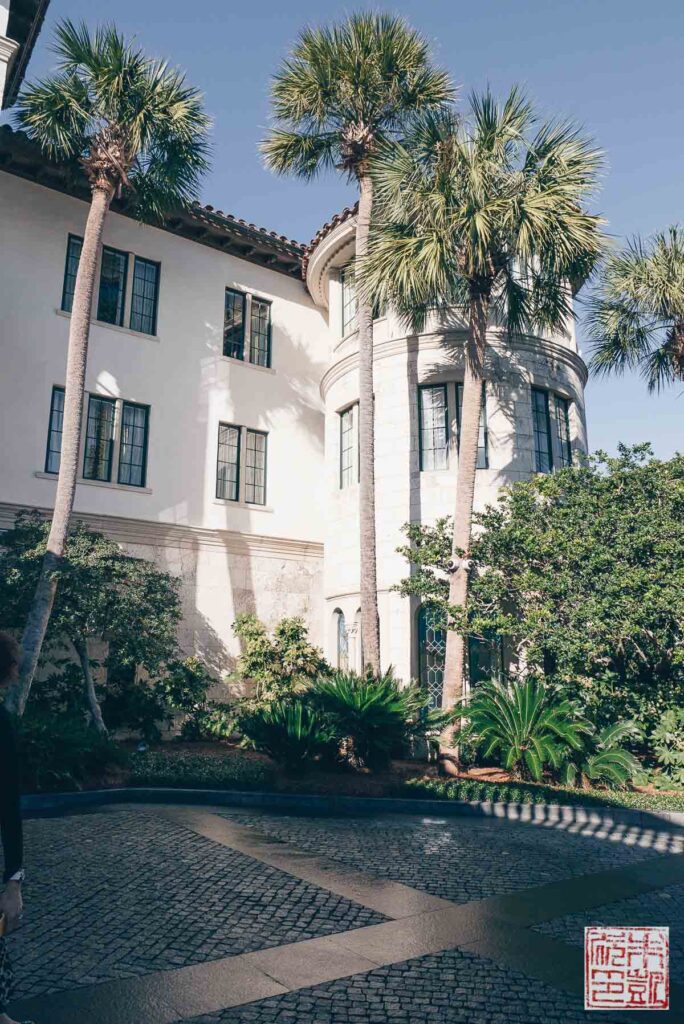 Luxury at the Cloister
Captain Rod took us to the Cloister where we boarded a yacht for a little river cruise down some of the island's many deltas, but first some shots of this truly lovely hotel (also a part of the Sea Island hotel collection along with the Inn and the Lodge).
The breathtaking lobby of the Cloister, where I could have spent the rest of my trip. So gorgeous.
The Cloister is filled with endless inviting spaces, like the light-and-greenery-filled garden room. (Spot Brian doing some Instastories in the back?)
Perfect spot for dining al fresco (plus there's a pool off to the right).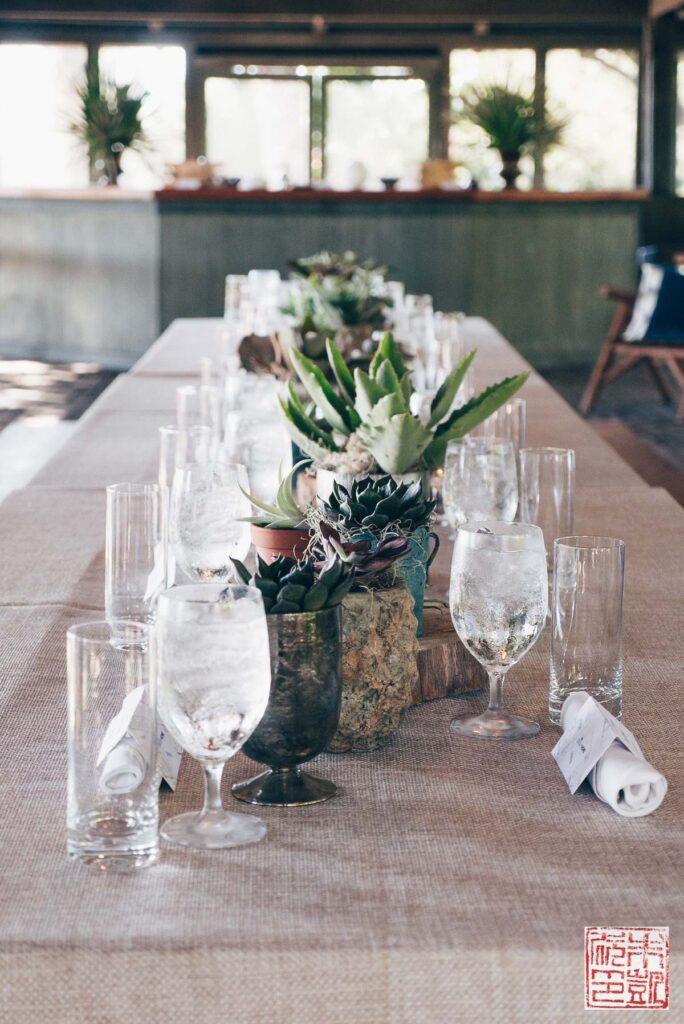 Low Country Boil at Rainbow Island
After the river cruise, we were taken to Rainbow Island where we got to experience an authentic low country boil for lunch.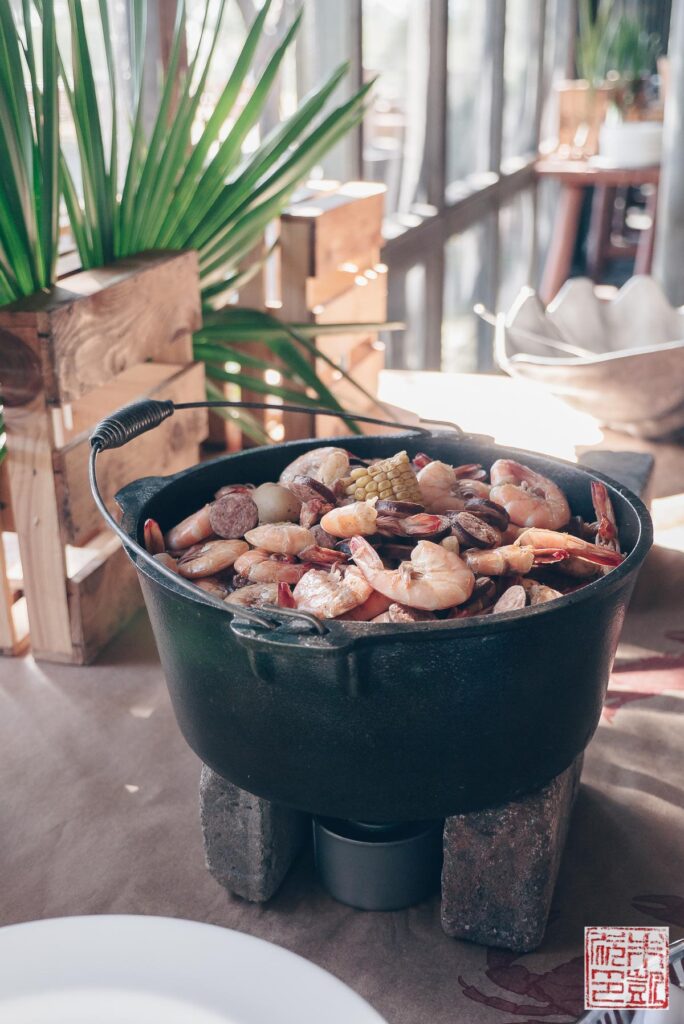 The traditional Southern dish combine shrimp, sausage, corn, and potatoes in a savory, crowd-pleasing stew.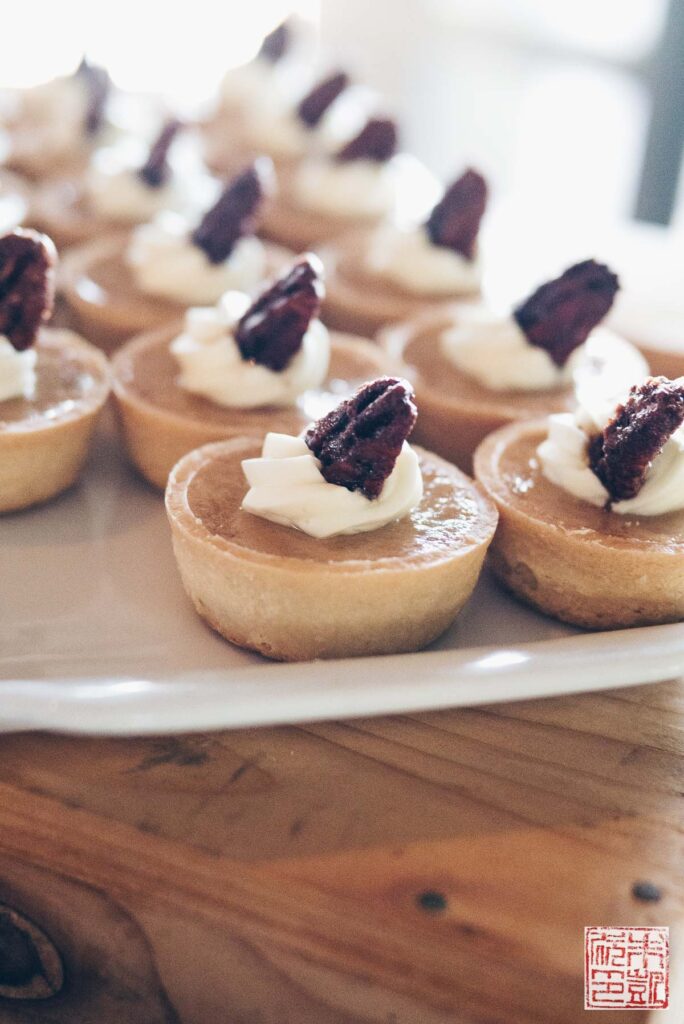 For dessert I was addicted to these sweet potato tartlets in the flakiest of crusts.
I always love options for dessert. Besides the sweet potato tarts they also had Boston cream cake.
Visit Historic Christ Church
After lunch, we hopped back on the trolley to continue our tour of St. Simons Island. One stop that every visitor to St. Simons shouldn't miss is Christ Church, a historic wood church surrounded by some truly magnificent oak trees and serene grounds. The adjacent cemetery is home to many famous Georgians, including author Eugenia Price, who wrote about St. Simons Island in many of her novels.
Spanish moss covered oaks framing the pathway to the church.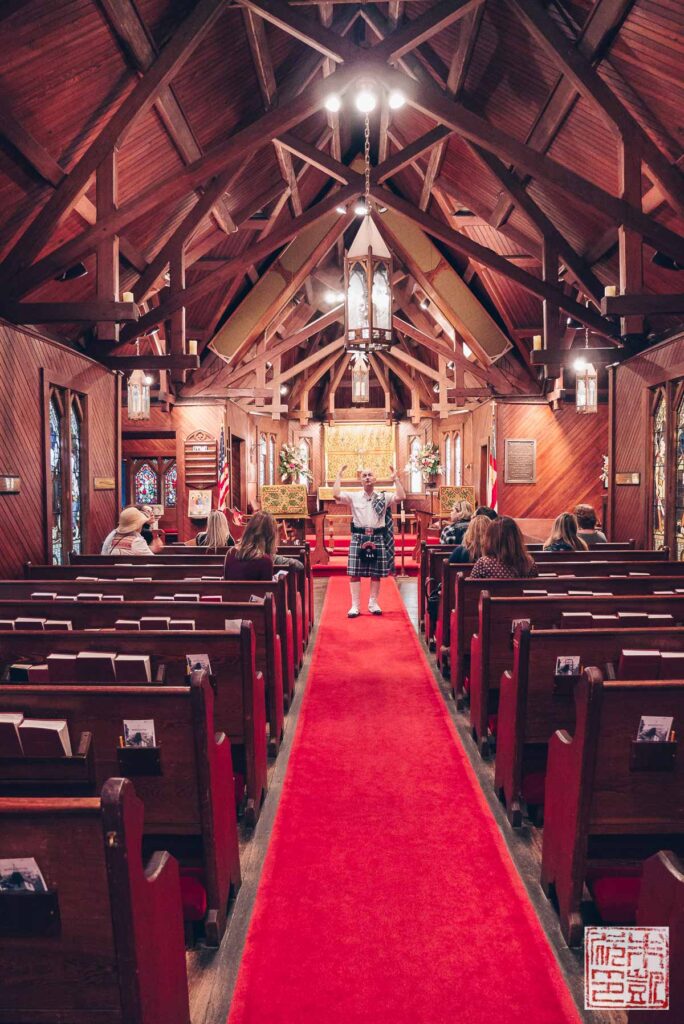 The spectacular interior shows off the amazing woodwork as well as some gorgeous stained glass windows. You can see Captain Rod pontificating about the amazing acoustics of this church near the front.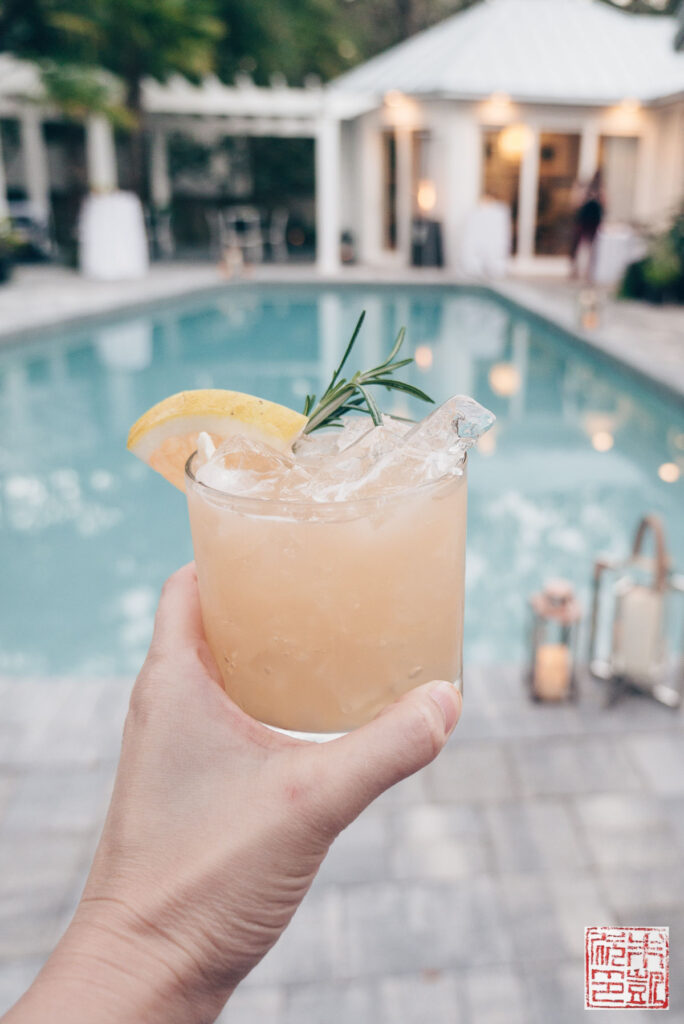 Best House Party Ever at the HGTV Dream Home
Ok, so I'm sorry this isn't something that all visitors to St. Simons Island can do, but I wanted to end this post with some photos showing just how fun HGTV made this trip for us bloggers. After a day of touring the island, we were finally brought to the HGTV Dream Home to wander through and photograph and marvel at in all its glory. Go back to my home tour post for pics of the house. They also brought in Food Network Executive Chef Rob Bleifer who created a wonderful spread of hors d'oeuvres for us to enjoy poolside. Plus this amazing rosemary and grapefruit cocktail.
Another evening shot of the Dream Home and the pool to remind you what an amazing job Brian did with this place. It is literally party perfect.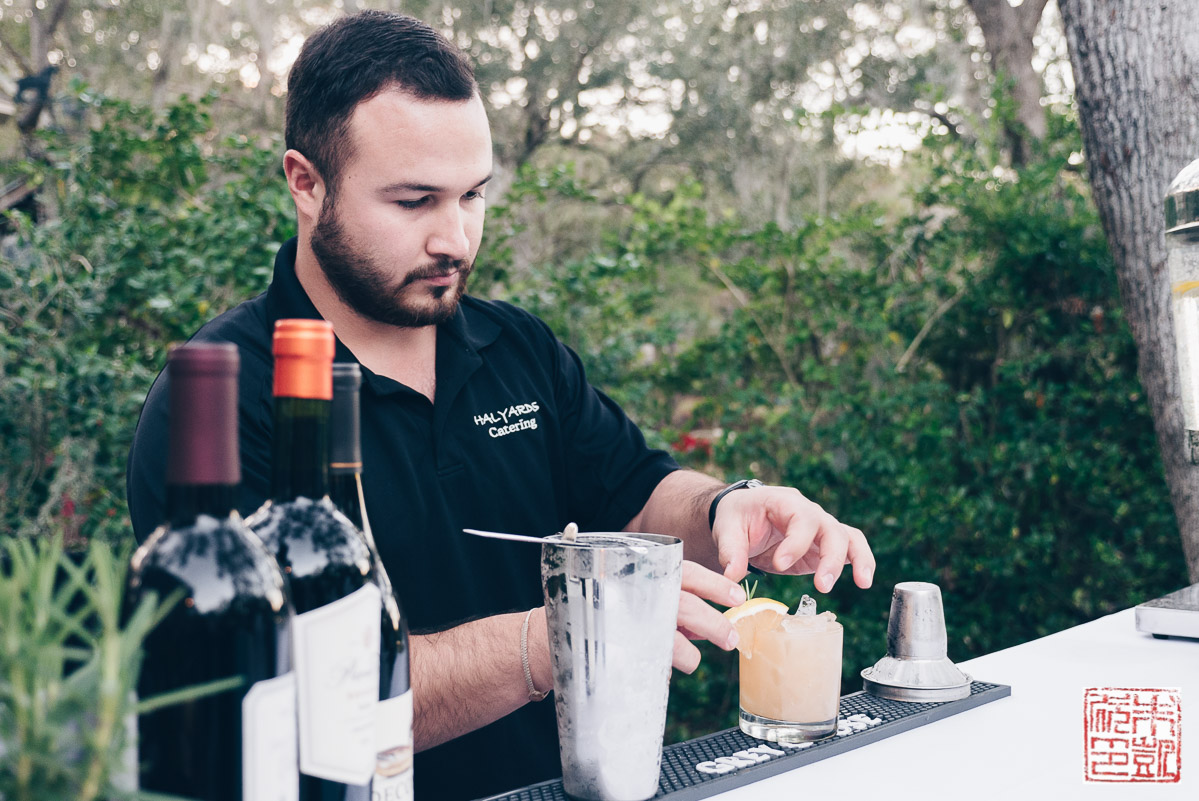 Bartender shaking up some more cocktails.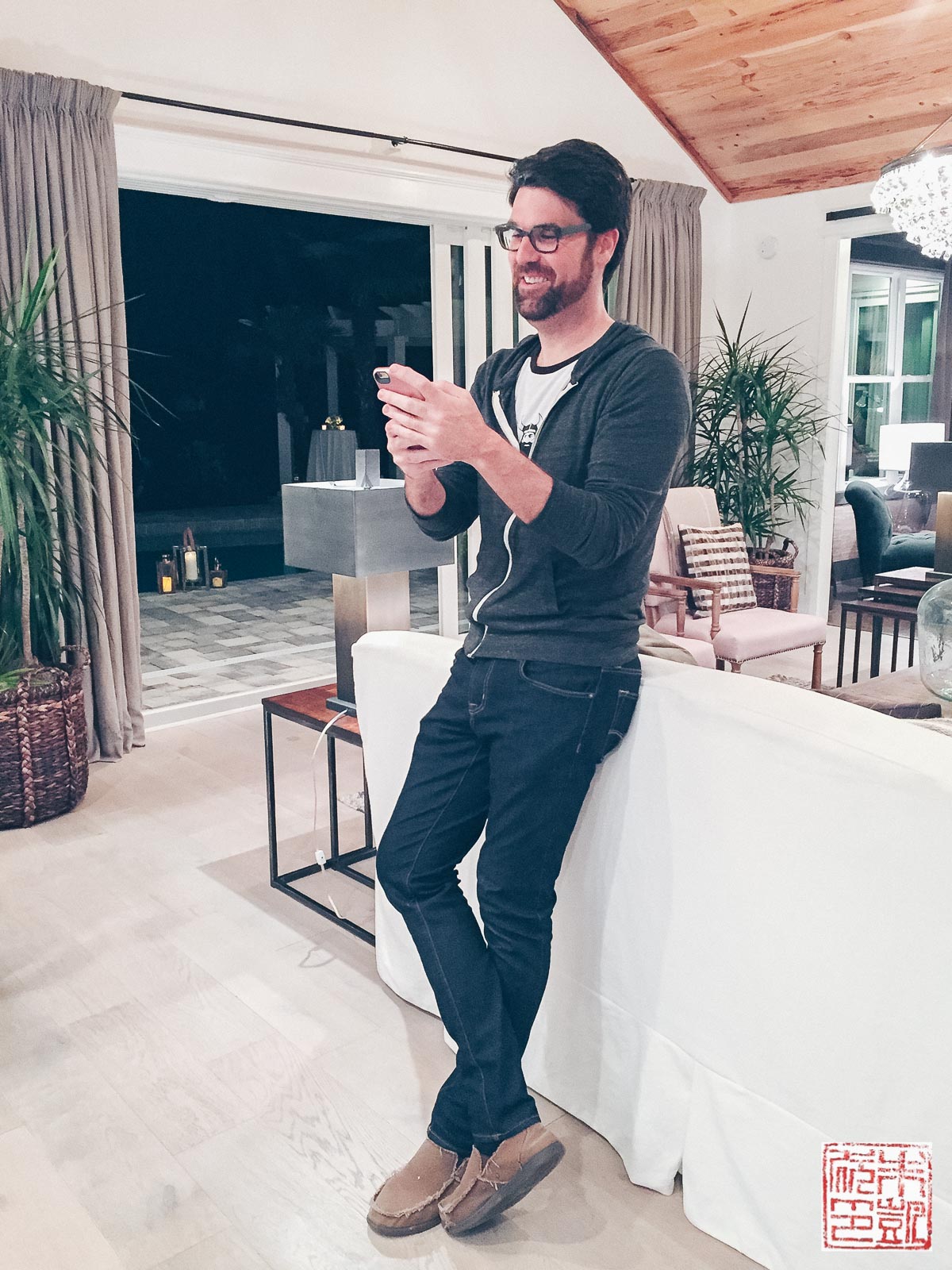 So Brian never flagged in his hosting duties – he ended up leading us in a adrenaline-filled game of Heads Up – if you caught some of the madness on his instagram or Facebook, you'll know what I mean. Brian is an endless ball of energy, quips, and inspiration, not to mention genuinely nice. I'm definitely looking forward to seeing his future work on HGTV and his other endeavors.
This shot perfectly captures the life on St. Simons – it's the South just as I imagined, in all its slow, relaxed, golden-light-gilded dreaminess. I've a long travel bucket list, but I'll happily return to St. Simons any day: it's just that lovely of an experience.
I hope you enjoyed this mini tour of St. Simons Island and that it inspired you to start dreaming of your next getaway. Don't forget that the HGTV Dream Home sweepstakes ends of February 17, 2017 so click here to enter – you can enter once a day, so don't be shy about returning!
Sweepstakes Details
The HGTV Dream Home 2017 grand prize package is valued at more than $1.7 million. In addition to the residence and all its furnishings, the grand prize package includes a new Honda Pilot and $250,000 cash prize provided by national mortgage lender Quicken Loans®.
Click here to enter – you can enter daily until February 17, 2017!
No purchase necessary. Open to legal residents of the U.S., age 21 or older. Void where prohibited. Sweepstakes ends at 5 p.m. ET on 2/17/17. Odds of winning depend on number of entries received. For full official rules, visit HGTV.comHGTVDreamHome or send a self-addressed stamped envelope to: "HGTV Dream Home Giveaway"- RR, P.O. Box 52915, Knoxville, TN 37950. Main Sponsor: Scripps Networks, LLC d/b/a Home and Garden Television.
This post is sponsored by Scripps Networks, LLC. Travel and accommodations to visit the HGTV Dream Home were paid for by Scripps Networks, LLC. All opinions are my own.