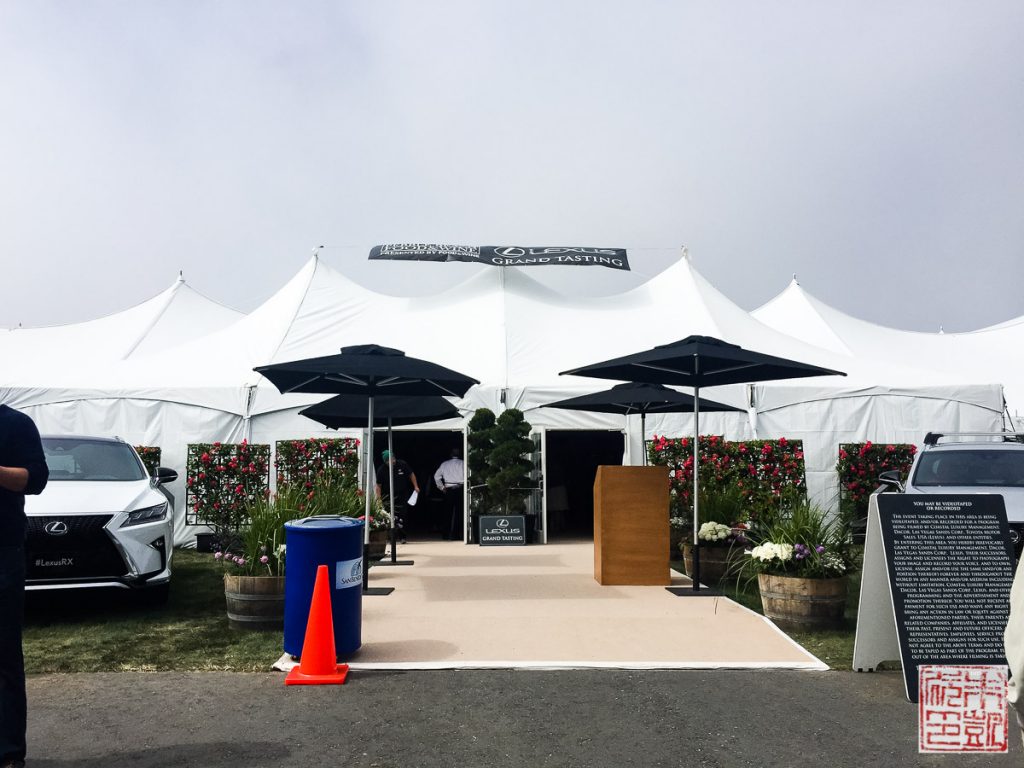 Pebble Beach Food and Wine down in Carmel has long been one of my favorite food and wine events in the Bay Area. Amazing chefs, fantastic food, top-flight wines, and that gorgeous Pacific coast view make the experience hard to miss. Every year I wasn't able to go I always end up reading the schedule of events and chef lineups enviously. This year, I was so excited to return to Pebble Beach Food and Wine 2019 as a guest of Balsamic Vinegar of Modena. On Sunday, I went to the Grand Tasting and spent a few hours in gastronomic heaven. I hope you enjoy the following highlights of my favorite dishes from the event (it was hard to not choose them all!):

First treat of the day: while we were waiting in line for the tent doors to open, attendants came around and passed out servings of Humphry Slocombe's latest flavor collaboration with Chef Melissa King, Mango Mojito ice cream. This flavor should be available in most Whole Foods stores starting in May. Also, passing out treats to people standing in line makes the wait so much more pleasant!

The beautiful interior of the tasting tent, filled with tasting booths from over 30 chefs and 100 wineries. Three hours disappear quickly when there's so much good food and wine to try. I always manage about two circuits around the tent, the first round to make sure I get to see everything before something runs out, the second round to revisit my favorites before my stomach runs out of room!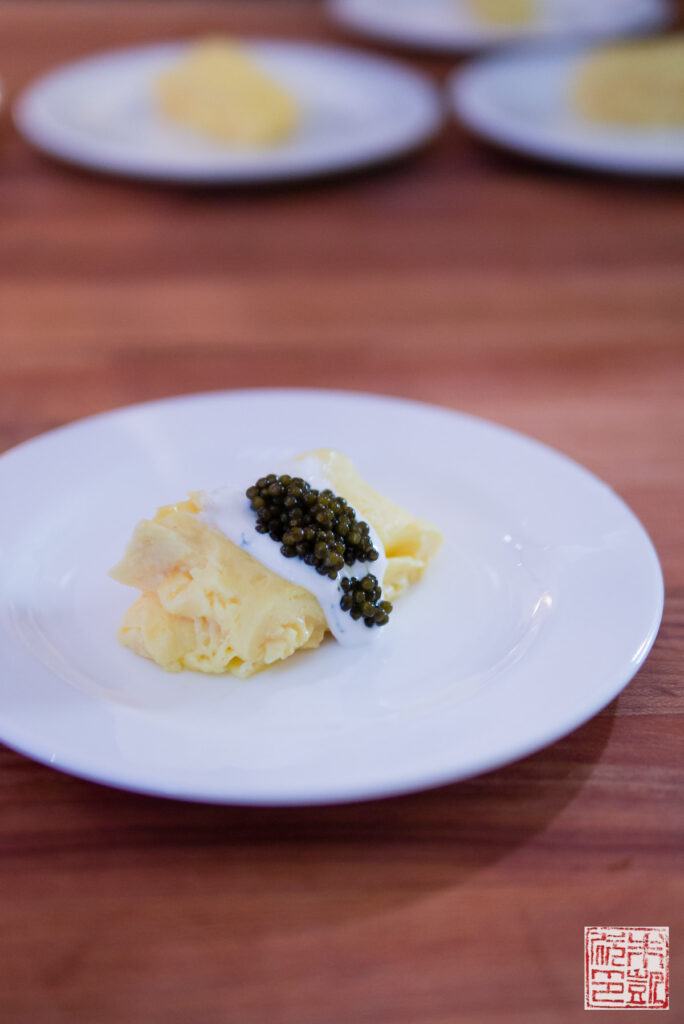 Duck egg omelette with herb-infused sour cream and caviar from Passmore Ranch, by Chef John Tesar. If only breakfast were always like this.


Lexus, one of the primary sponsors of Pebble Beach Food and Wine 2019, had an entire New Orleans-themed section decked out to look like Bourbon Street. Alongside a passion fruit slushie hurricane, they served up some grilled oysters Rockefeller, spicy Cajun crawfish boil, and a mini muffeletta. That's pretty much a meal in itself right there.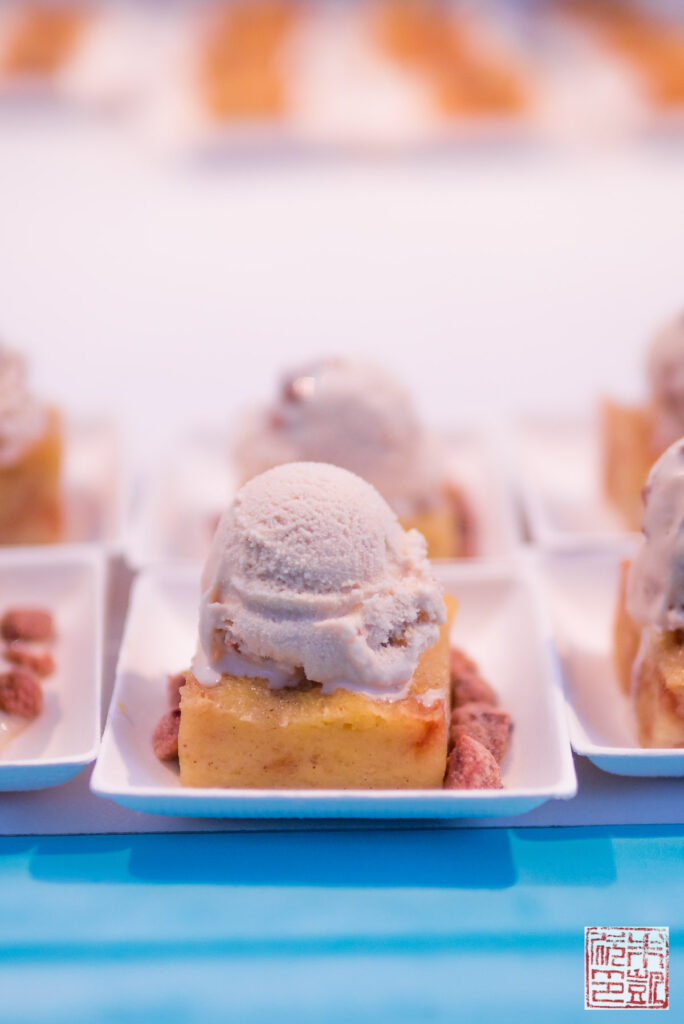 Bread pudding with bourbon pecan ice cream – second dessert of the day about 15 minutes in. It was really good, too.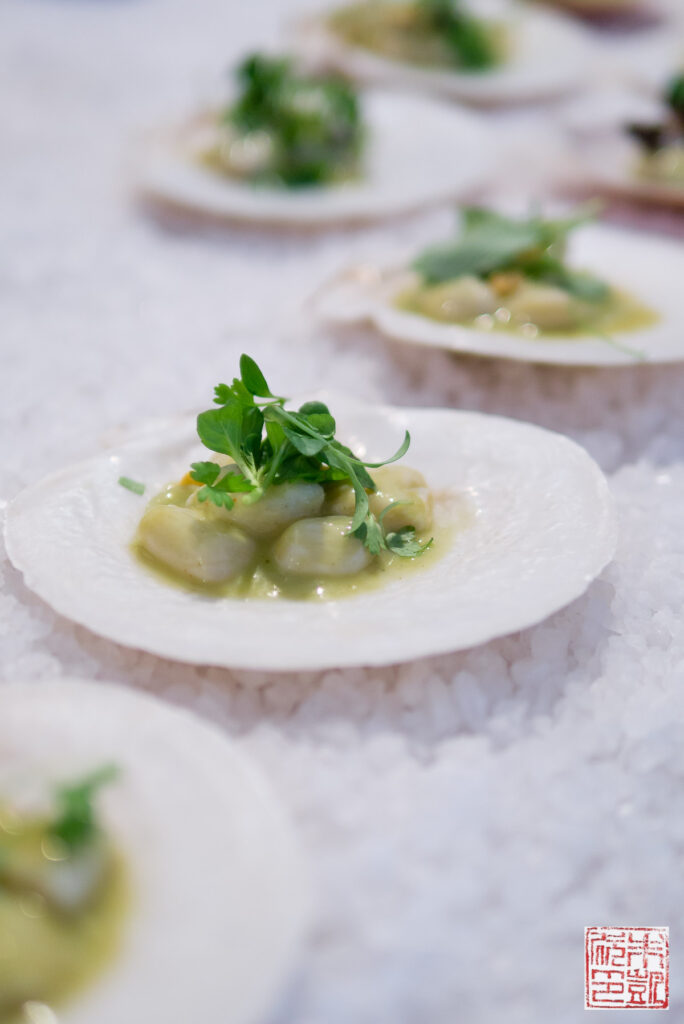 Ceviche of bay scallops with avocado, aguachile, passion fruit, and cucumber by Chef Kelly McCown of The Kitchen in Sacramento. This reminded me of my trips to South America last year.


"Gujarati petis" potato with coconut, spring peas, garam masala, black garlic, and coffee liquor by Chef Ravin Patel of The Clayton in Sacramento.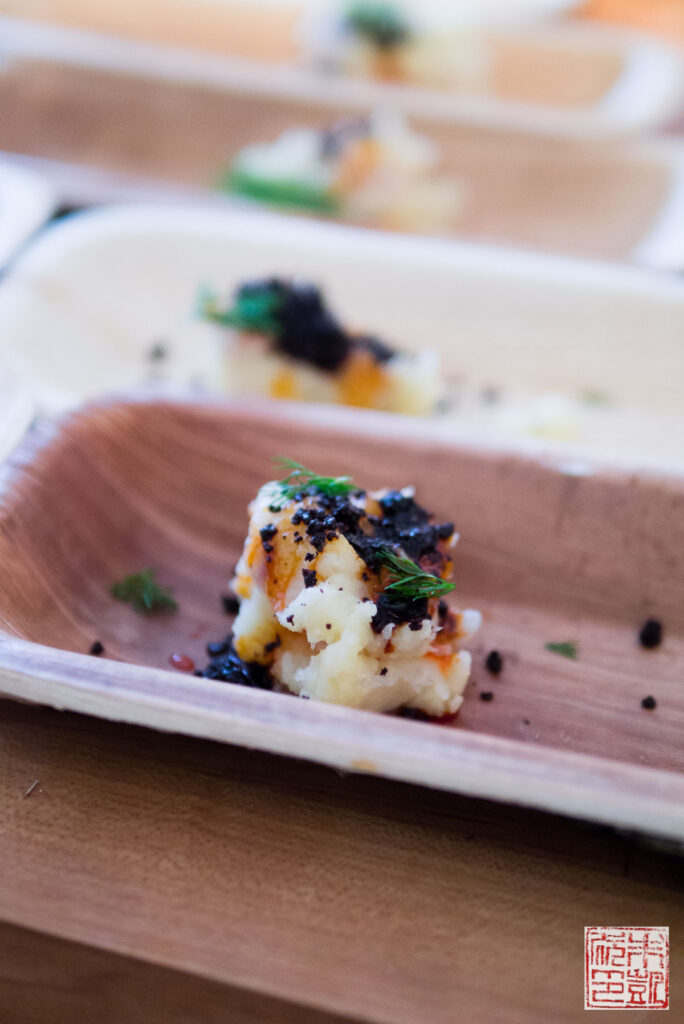 Salt cod brandade with Kalamata olive, paprika, dill, and lemon by Chefs Rupert and Carrie Blease of Lord Stanley in San Francisco. This was sublimely good.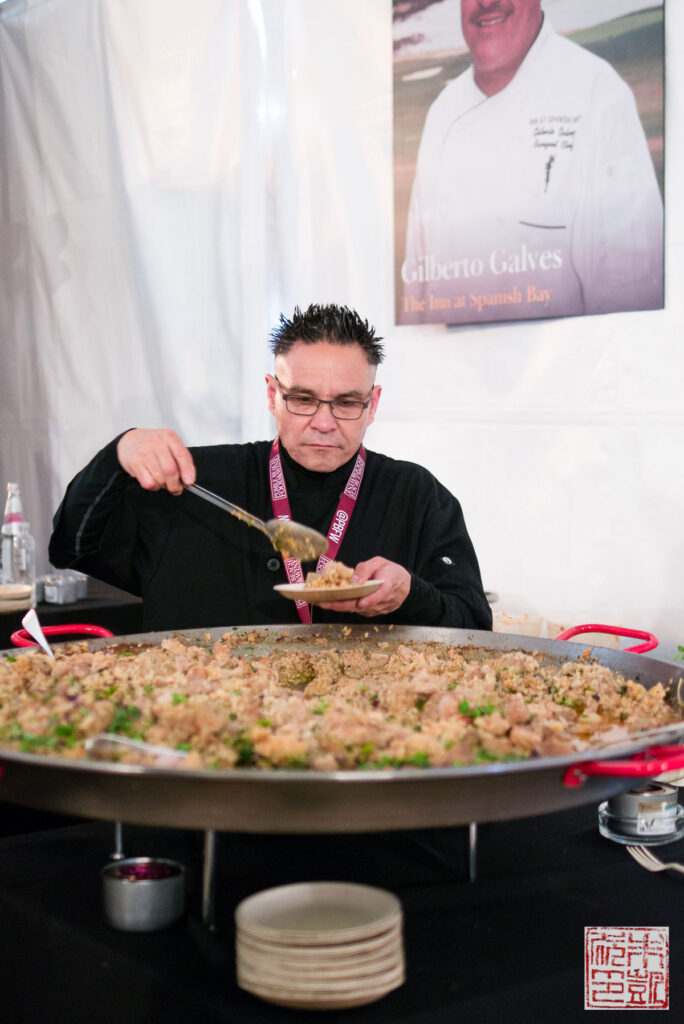 There were two impressively huge pans of paella from The Inn at Spanish Bay, one of my favorite hotels at Pebble Beach. This is the first, a Valencia-style paella with chicken and rabbit.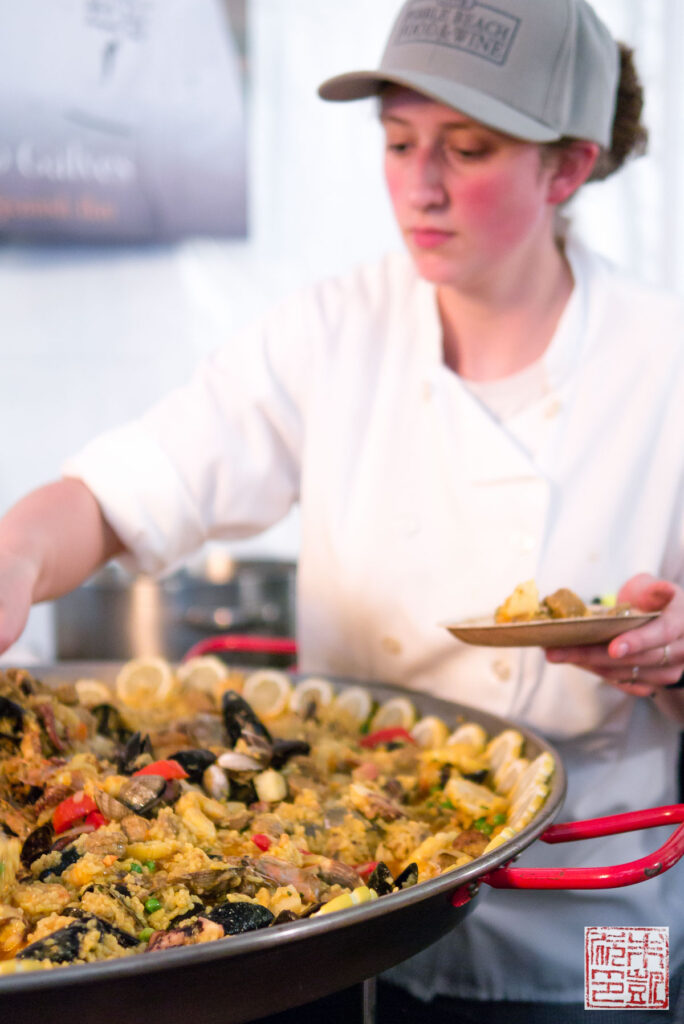 The other pan, a southern Andalusian mixta paella.


Oysters from Neal Maloney of Morro Bay Oyster Company. It was hard to move on from piles of freshly-opened oysters; I could have stayed there all afternoon.

Salmon tataki tostada with miso cured king salmon, yuzu, crunchy garlic oil, avocado-edamame puree, spicy unagi sauce, and radish, by Chef Alexander Ramirez of The Stillwater Bar and Grill in Pebble Beach.


Smoked duck breast with cherries, celery root, and toasted grains by Chef Brian Kearns of Quail Lodge in Carmel Valley.


Chef Burt Bakman offering up some amazing pastrami. It was meant for his pastrami sandwich on rye bread, but it was almost better on its own. How do you turn down freshly sliced, still warm pastrami from the chef himself?


Chef Ted Kim of Seoul Sausage in Los Angeles finishing off his kimchi fried rice balls.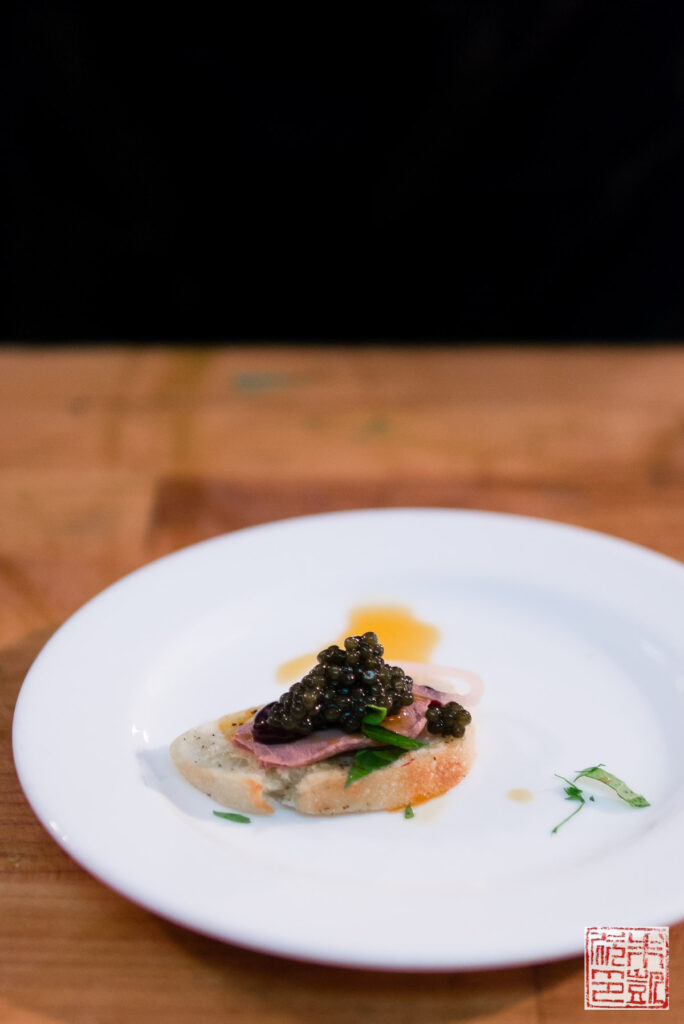 Duck liver pâté toast with Tsar Nicoulai white sturgeon caviar, blackberry currant gelée, pickled shallots, and arugula by Chef Corey Kelso of Moody's Bistro in Truckee.


One of the prettiest presentations of the event. Kobe terroir by chefs Sebastian Nobile and Obdiel Luna of La Bicyclette in Carmel.


Puffed pasta "nachos" with senise peppers and burrata fonduta by Chef Joe Sasto.


Caviar and crab arancini with smoked pea tendril pesto and preserved satsuma, assembled in your hand, by Chef Colin Moody of The Club at Pasadena in Monterey. I loved the "deconstructed" presentation of the dish.


Local halibut konbujime with foraged kelp by Chef Kyle Itani of Hopscotch in Oakland. So beautiful and unique.


Chef Ryan Mcllwraith of Bellota in San Francisco carving some gorgeous jamón ibérico de bellota. I need to visit this restaurant very soon!


More desserts at the very end. I loved these colorful strawberry and spring pea verrines from Driscoll's.


Strawberry and duck pâté brioche toasts, also from Driscoll's.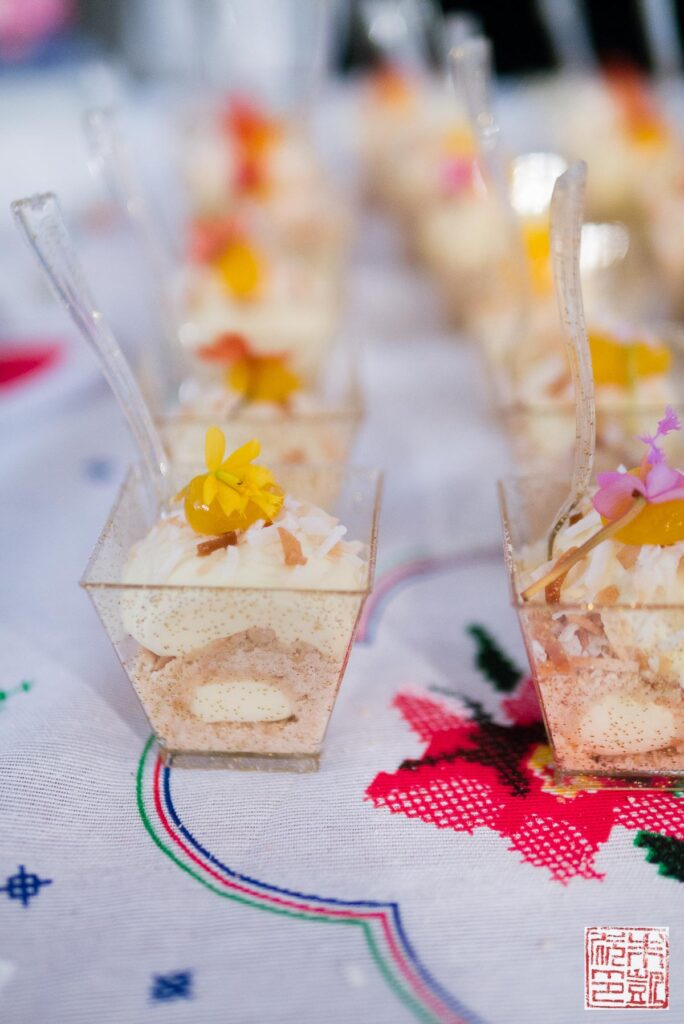 Passion fruit mousse with cookie crumbs, mango, and toasted coconut from Chef Telmo Faria of Uma Casa in San Francisco. I saw a lot of passion fruit at the event, which was lovely since it's one of my favorite fruits.

Too much wine to properly list, but I couldn't not include a shot of the Sauternes tasting, easily my favorite drink of the event!


Thanks again to Balsamic Vinegar of Modena for having me at the event. This was their first year at Pebble Beach Food and Wine 2019, and the representatives were very excited to share the love for this classic Italian product. Balsamic vinegar of Modena is recognized by the EU with a Protected Geographical Indicator, meaning it is produced in a specific region and has unique qualities which come from this region. If you've seen the blue seal on bottles of balsamic vinegar, that's what it signifies.


The beautiful velvety, syrupy texture of balsamic vinegar and its complex, tangy sweetness make it a perfect complement for many dishes, from salads to fruit to cheese. I was inspired after talking to the folks at Balsamic Vinegar of Modena to make a little dessert of my own using balsamic vinegar when I returned home, which I'll share in my next post. Until next time, Pebble Beach Food and Wine!