If you're a fan of J.Kenji Lopez-Alt – as I imagine anyone with an interest in food and the science of cooking would be – it's very exciting news to hear that he's working on a restaurant practically in your backyard. Wursthall, a collaboration between Lopez-Alt and local restauranteurs Adam Simpson and Tyson Mao, is a California-meets-Germany modern biergarten in downtown San Mateo. Instead of the more obvious culinary hotspot of San Francisco, they've chosen to join the burgeoning restaurant scene in the Peninsula, which I think is great. Although I like popping up to San Francisco on weekends when I can avoid the traffic, I like having plenty of options down south as well – the atmosphere is more relaxed down south, and you're not driving in circles looking for parking.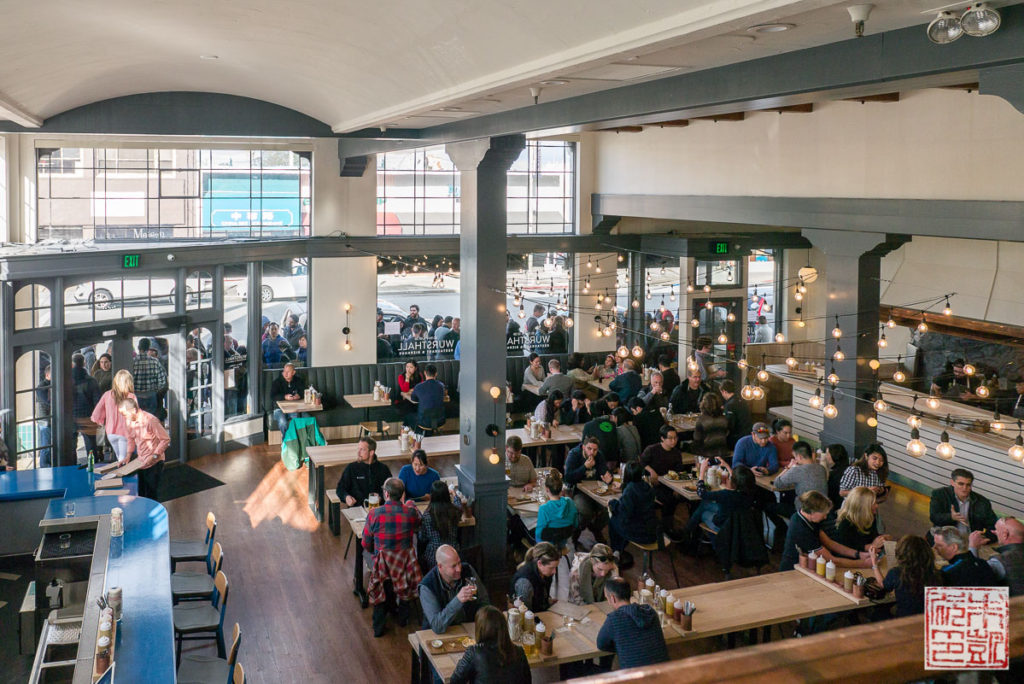 My first visit to Wursthall was for a review for Red Tricycle – pop on over if you'd like a read. The second time around, I was nose-deep in Kenji's award-winning cookbook The Food Lab (yes, although I've been a fan of his column, his book was a very tardy purchase), so I was really eager to see his famous exhaustive attention to detail in real life – in food I would get to eat! Kenji created the entire menu, which is described as Bavarian and Austrian-inspired pub fare. Lots of wursts both traditional and unusual, cool sandwiches, some intriguing appetizers, and lots of beer as well.
The Wursthall space is a tribute to the classic bierhaus, with high ceilings, long communal tables, a convivial atmosphere, and a wall full of beer taps. Although I'm not a big beer drinker, the hubby is; here are his picks from the beer selection:
Sante Adairius' Full Hands In, a sour ale
Mother Earth's Sin Tax, a peanut butter stout
Kostritzer Schwarzbier, a black lager
St. Bernardus ABT 12, a strong dark ale
Rodenbach Grand Cru, a sour red ale
If you're not a beer drinker, there's also wine, or I really like the pomegranate cider, for its gorgeous jewel-red color and clean tartness, and for how well it goes with the pretzels.
My favorite dishes include the chicken schnitzel sandwich, which has likely reached "unofficial official dish" status among patrons. The combination of juicy fried chicken with the cool tang of the lemon-caper aioli and the marinated cucumber relish is surprisingly addictive. Our group ended up fighting over the last bits of sandwich and wishing we'd ordered another one.
Pretzels, a natural companion to beer, are by local German bakery Backhaus. Get the pull-apart pain d'epi if you can, and don't forget the honey butter.
Bratkartofflen is how Germans do their fried potatoes, and it's a must-have here. The version with rosemary bacon and scallions is an eye-catcher and perfectly satisfying…
But don't overlook the "currywurst" style, studded with chunks of sausage and spiced with ginger curry, in a tribute to that iconic German dish.
There's only one dessert so far, and it's the only one needed: a pumpkin seed sundae with a fantastic pumpkin brittle and pumpkin seed oil drizzled over vanilla ice cream.
It's loud, bustling, and a lot of fun in Wursthall. A few tips before you go: lines can get quite long, so go early or later in the evening. Also, they don't take cash, so make sure you have your card.
Wursthall 
310 Baldwin Ave.
San Mateo, CA
5 p.m. – 12 a.m. daily