Cassava San Francisco calls itself a neighborhood restaurant, a humble description for this little gem in the Outer Richmond district of San Francisco. Run by husband and wife team Kris Toliao and Yuka Ioroi, it captures the local, farm-to-table sensibilities of Bay Area cuisine in a relaxed and unpretentious setting. They're focused with making guests feel welcome in their cozy, homey space, so much that you can't believe such wonderful food isn't getting more fanfare.
They have made a name for Cassava for their Japanese breakfast, a classic presentation of Japanese breakfast dishes such as miso soup, poached egg in dashi broth, pickled vegetables, koshihikari rice, and roasted fish. The rest of their menu is a mix of modern Californian with occasional Asian influences, from white sea bass with buckwheat spaetzle to a breakfast croissant sandwich made with pork shoulder and harissa confit. Kris has worked for Dominique Crenn and at a Japanese kaiseki restaurant, and it shows in the menu creativity and the precise plating. We visited for a sampling of their new fall menu, and I pretty much loved everything.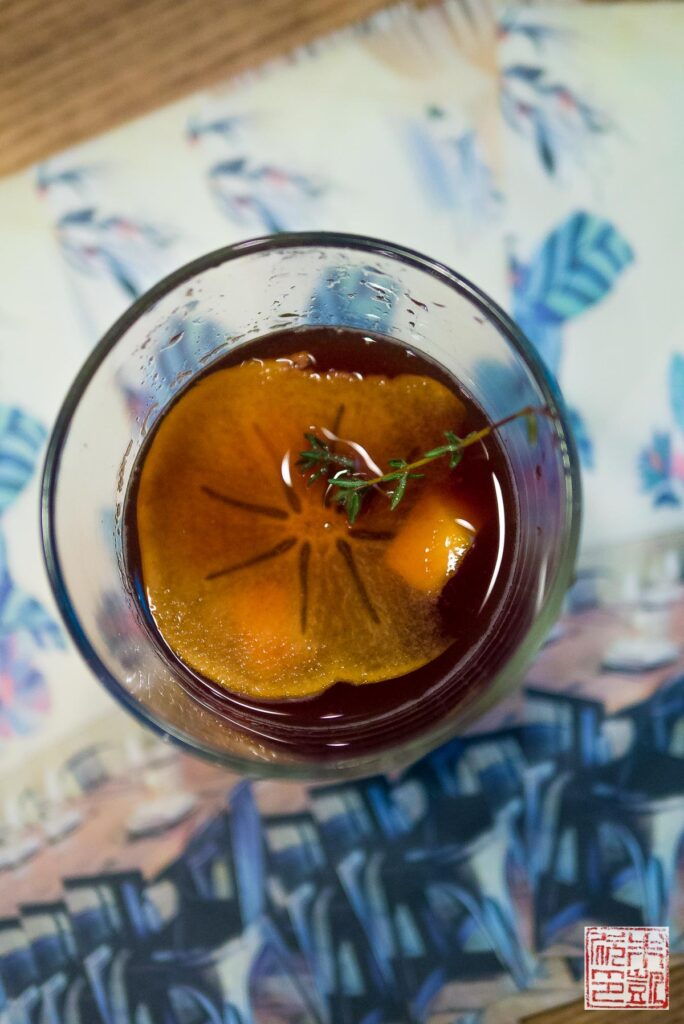 Cassava's Persimmon Pimm's Cup, made with their housemade Pimm's, ginger beer, and Angostura bitters,  is a perfect autumn cocktail and a lovely beginning to the dinner.
At dinnertime, Cassava offers a four course tasting menu, for $42/guest, which is an amazing bargain for San Francisco and for the quality of the dishes at Cassava. We got to try some of the dishes off the tasting menu as well as from their regular dinner menu, and I think either way you go you won't be disappointed.
Burrata makes everything so much better. This beautiful salad features California-made Di Stefano burrata with baby lettuce, strawberries, grapes, and pine nuts. In the background is the Early Girl tomato and chicory salad. The composition of their salads are so pretty.
One of the most intriguing dishes of the night was the quinoa porridge with curried cauliflower, grana padano, dried cranberries, and Japanese water pepper. Although it sounds like health food, it actually tasted more like a really rich and flavorful, almost mashed potato-like dish.
Yuka making one of the many cocktails she creates for Cassava. She's such a fun and cheerful personality, I loved hearing about she and Kris started Cassava as their dream. They've made a real point to turn their restaurant part of the community, and to highlight local food artisans and purveyors. It's lovely to talk with people who not only have passion for what they do, but for the place where they live.
Yuka created this amazing concoction of sake, rum, coconut syrup, and cinnamon that doesn't appear to be on the menu yet but I hope it will soon! Sweet and spicy and warming for a cool San Francisco night.
Besides their brunch, Cassava is also famous for their buttermilk fried chicken, which is first cooked sous-vide and then quickly deep fried, to keep it moist and tender with a perfectly crisp, not-too-greasy exterior. So addictive with the jalapeno aioli.
Their succulent pork chop with tomato Dijon jam was another cozy end of summer/hello to fall dish.
Dessert was an intense, nutty, black sesame panna cotta with fruit gleaming like jewels on top. I really love the aesthetic of their food, and how they seamlessly blended Asian influences into their dishes. I'm a fan of black sesame, so this was a big hit for me.
Thanks to Kris and Yuka for having us at Cassava, clearly a very personal labor of love for them. It's such a wonderful spot, the only problem is it isn't my neighborhood! I'm looking forward to returning again to try out their brunch menu and just to enjoy their lovely space. Reservations are recommended, especially for weekends.
Cassava
3519 Balboa St.
San Francisco, CA