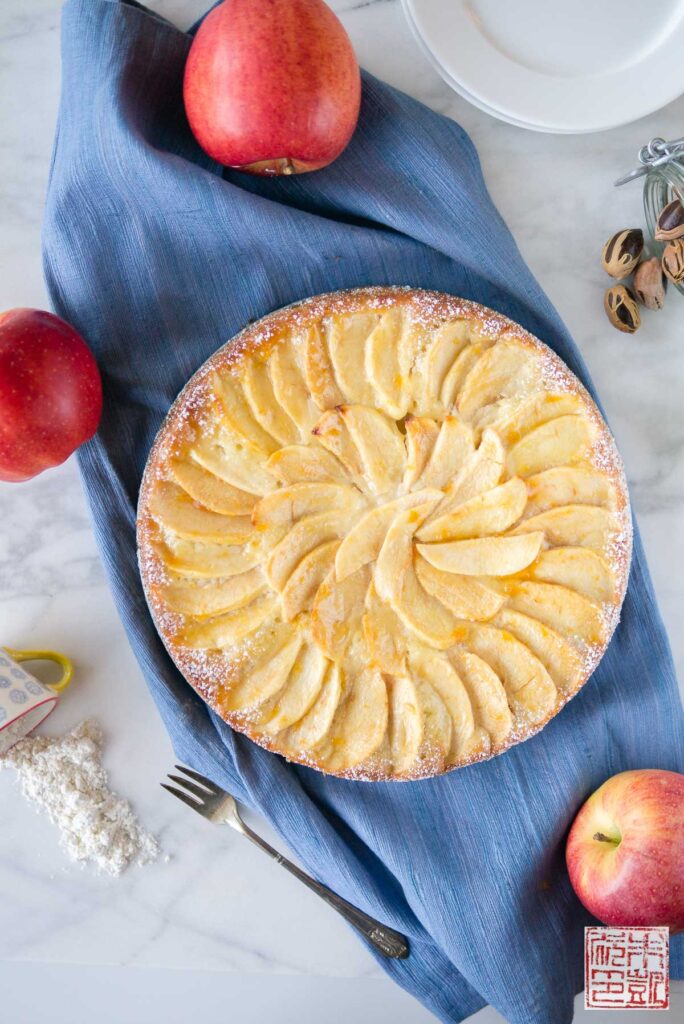 This pretty little apple marzipan cake might be one of my favorite new baking experiments. Since it's November and officially holiday season, I've been in a serious baking mood. Leafing through my cookbooks last weekend, I came across The Wednesday Chef's apple marzipan cake (or apfel-marzipan-kuchen) in her excellent Classic German Baking. The description of the perfect fluffy-tender apple cake was enticing enough, but I was also reminded of an almond cake I made a while back, and I was curious to compare the recipes. There were several key differences, including the use of cornstarch, melted butter (rather than softened), and of course apples in Luisa's recipe, so I did a bit of tweaking to my recipe to see how it would turn out differently.
Click here to jump to recipe
Even downsized and slightly modified from the original, the apfel-marzipan-kuchen is an irresistible cake indeed. It's one of those cakes that seems deceptively simple, yet yields such superlative results for seemingly little effort. The difference between this cake and my almond cake is mainly in the texture: while my recipe results in a denser, fine crumbed, more pound cake like cake, this recipe results in a very soft, tender cake – almost creamy, as Luisa describes it. It's essentially the epitome of melt in your mouth. It's a really brilliant example of how a few small changes can make something almost totally different. I also really love the apple topping; not only it is gorgeous but the flavors marry so well with the marzipan and butter cake. Be sure you find the most flavorful apples you can to get the most out of this recipe.
I do have some baking notes about this apple marzipan cake. Because of the amount of liquid in the batter, part of which comes from the apples, the cake can take a deceptively long time to bake. I found that even after the outer parts were obviously done, the center was still liquid. The original recipe has diced apples mixed into the batter, which I tried and loved, but if you don't have apples added in there it will likely also help it bake a little faster. If you find the outer edges already done and are afraid of overbrowning, you can put some foil over the edge of the pan to help protect it. This is a very moist cake, so even at full baking time or a little beyond it seems like there's little danger of it drying out. I find it best just cooled, still slightly warm, when the crumb is at peak perfection. You don't need to wait for the holidays to arrive to try this out – it's simple enough to make any day, and will certainly elevate any day into a special one.
Apple Marzipan Cake
Ingredients
2 small apples (about 250 g)
4 oz (115 g) almond paste
¾ cup (150 g) sugar
8 tablespoons (113 g) unsalted butter, melted and cooled
1 teaspoon vanilla extract
3 large eggs, room temperature
1 cup (125 g) all-purpose flour
9½ tablespoons (85 g) cornstarch
1 teaspoon baking powder
¼ teaspoon salt
Instructions
Wash, peel, and slice the apples into thin slices. Toss with a little lemon juice and set aside.
Preheat oven to 350 degrees F. Butter an 9 inch round springform pan (at least 2 inches high, I prefer 3 inches high).
Combine almond paste and sugar in a food processor and process until soft and well combined. Add butter and vanilla extract and process until fully combined.
Add eggs and process until combined.
Combine flour, cornstarch, baking powder, and salt together in a separate bowl. Add to the food processor and process until fully combined. The batter should be smooth and thick.
Pour batter into prepared pan. Arrange apple slices on top in concentric circles.
Bake for 50-60 minutes, until a toothpick inserted comes out clean.
Let cool on wire rack for about 5 minutes, then unmold and let finish cooling.