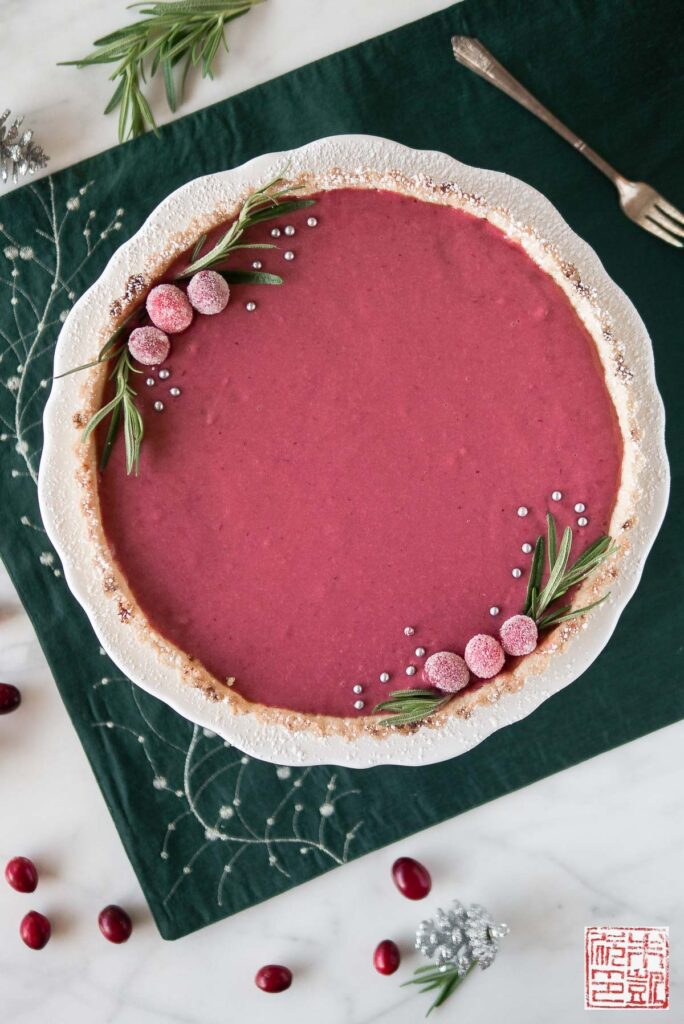 Happy Thanksgiving week! This cranberry pomegranate curd tart is making an appearance at my Thanksgiving table this year. It combines a lot of my favorite things: cranberries, buttery tart crust, and creamy, silky curd, making it a close cousin to the chocolate cream pies or pumpkin pies that regularly appear on holiday tables. This is a tart-sweet, very festive alternative to the regular Thanksgiving pie lineup.
Click here to jump to recipe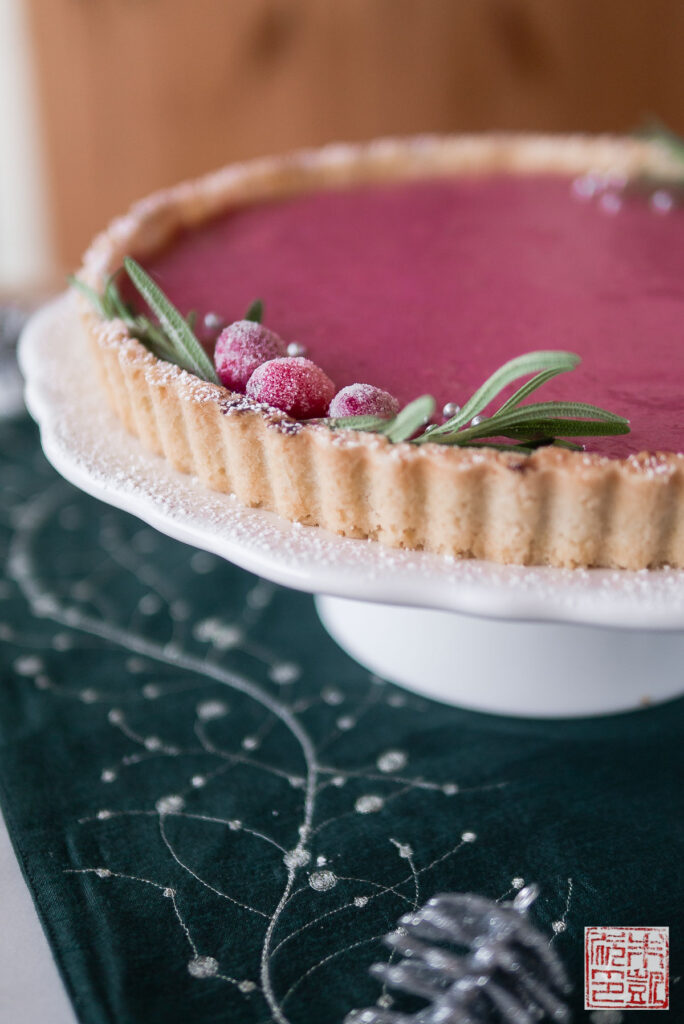 This tart actually went through several iterations – it originated as these cranberry tartlets with a gingersnap crust I made a while back. I contemplated doing a gingerbread crust for this tart, but it evolved into more a spiced version of a pate sablée. If I made this again, I might try playing around with it some more to get it more gingerbread-y: perhaps adding some molasses and more spices. Or, you can also go the easy route and do a gingersnap crust, which is more of a crumbly texture but equally delicious.
I also riffed on my cranberry curd by using pomegranate juice to give it an extra dimension of flavor. I drink cranberry pomegranate juice all the time so this is a little like a dessert version of my juice!
Finally, I originally planned to decorate the tart with cranberries, but after seeing the first few photos, I decided to make some sugared cranberries as I thought they would pop better against the tart. Hope you agree! Although you have to plan ahead to make the sugared cranberries (making them last minute like I did means you'll sacrifice some of the sweetness), they're super simple to make, and they also make a fun snack and beautiful decoration on their own for your holiday parties.
This tart is best served the day it's made, and goes wonderfully with a dollop of whipped cream. I might keep playing around with a bit more – maybe serve it with some gingerbread men next time. It's too good to not make again.
Other tart ideas for Thanksgiving:
Banana and Chocolate Cream Tart
Pear and Almond Frangipane Tart
I wish all of you a happy Thanksgiving!
Cranberry Pomegranate Curd Tart
Ingredients
Sugared Cranberries
½ cup sugar + ½ cup sugar for rolling
½ cup water
4 oz fresh cranberries
Cranberry Pomegranate Curd
8 oz (227 g) fresh cranberries
½ cup (118 g) pomegranate juice
¾ cup (150 g) sugar
4 large eggs
1 teaspoon lemon juice
⅛ teaspoon salt
6 tablespoons (85 g) unsalted butter, room temperature, cut into 1-in pieces
Pâte Sablée
1½ cups (210 g) all-purpose flour
½ cup (55 g) confectioners' sugar
1 teaspoon ground cinnamon
½ teaspoon ground ginger
½ teaspoon ground allspice
¼ teaspoon salt
9 tablespoons (128 g) unsalted butter, very cold, cut into small pieces
1 large egg yolk
Instructions
For the cranberries:
Combine ½ cup sugar with the water in a small saucepan and bring just to a boil over medium heat, stirring to make sure all the sugar is dissolved.
Remove from heat and let cool to just warm (you don't want to cook the cranberries in hot sugar syrup).
Place sugar syrup in a container and place cranberries in the syrup. Cover and refrigerate overnight.
The next day, remove cranberries from syrup and drain on a wire rack for about 30 minutes to remove excess syrup.
Roll cranberries in ½ cup sugar to cover and place on a baking sheet lined with parchment paper to dry.
For the curd:
Combine cranberries and pomegranate juice in a saucepan. Cook over medium heat until cranberries have burst.
Process cranberry mixture in food processor until smooth (don't worry, you can strain out the bits of skin later); or you can puree in a food mill.
Create a water bath by placing a saucepan of water over heat to simmer. Whisk together the sugar and eggs in a metal bowl. Whisk in the cranberry puree, lemon juice, and salt.
Place the bowl over the saucepan of simmering water, making sure the bottom does not touch the water. Cook the mixture, whisking constantly, until the curd reaches 180 degrees and thickens. Keep whisking while the mixture is heating up to prevent the eggs from cooking.
Take the curd off the heat and strain it into the bowl of a food processor or blender. Let the curd rest for a bit until it cools to about 140 degrees.
Add in the butter pieces a few at the time and combine on high speed. Once all of the butter has been added, let the mixture combine for a few minutes longer to ensure the mixture is perfectly smooth.
Pour curd into a container and let it chill in the refrigerator for about half an hour before assembly.
for the pâte sablée:
Combine flour and confectioners' sugar in a food processor. Process until combined.
Add in the spices and salt and process to fully combine.
Add in butter and process in quick pulses until the mixture resembles coarse crumbs - it should not be fully combined into a ball.
Add in the egg yolk and process in quick pulses just until the dough starts to form larger clumps. Again don't let it fully combine into a solid ball of dough. If the dough holds together when you press some small pieces together, it's done.
Butter a 9" round tart tin with removable bottom.
Gently press the dough into the bottom and sides of the tart tin. You may have some dough left over.
Freeze the tart shell for 30 minutes before baking.
Preheat oven to 375 degrees F.
Butter the shiny side of a piece of foil and press it down over the crust.
Place tart pan on a baking sheet and bake for 25 minutes, until crust is dry and lightly browned. If the crust has puffed up, press it down with a spoon or dough tamper.
Let crust cool on cooling rack.
To assemble:
Pour curd into tart crust and spread out evenly. Place back in refrigerator and chill for 2-3 hours until curd is firm.