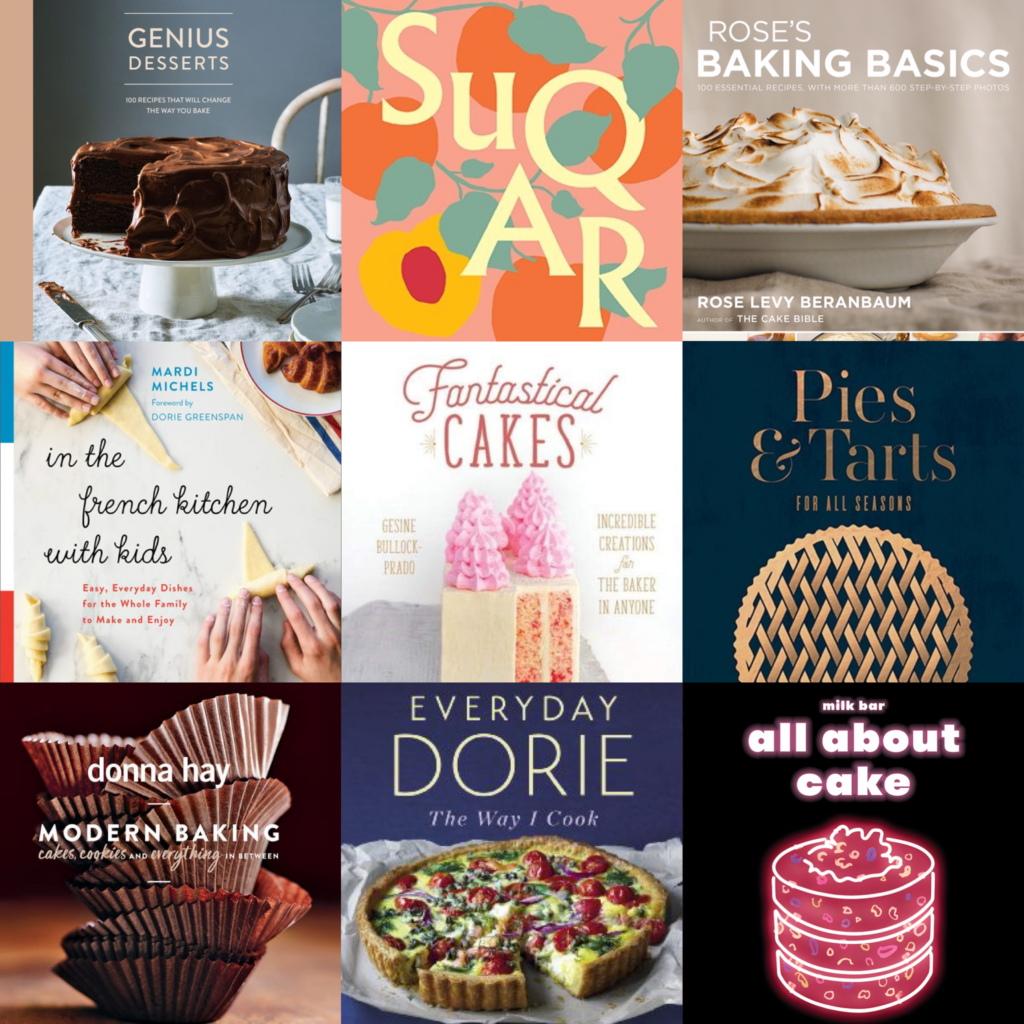 Time for one of my favorite posts of the year – compiling my list of best baking cookbooks of 2018. The only problem with this task is that it usually ends up becoming my own wish list! Due to serious bookshelf overflow at our house, I'm forced to consider all my cookbook acquisitions very carefully. Since I consider myself a collector (and not, say, a pack rat), it's nigh impossible for me to part with any book once it enters my collection (much to my husband's dismay). I've made efforts to curtail my cookbook-buying habits; consider this list kind of the ultimate temptations – the books wonderful enough to break my book-buying ban. There are tons of my favorite authors, fun new finds, and so much droolworthy photography. I think that's one reason I'll never stop buying cookbooks – there's nothing to compare with sitting cozy on the couch and leafing through some beautiful books for inspiration. I just have to find more hiding spots for books in the house…
Onward to the best baking cookbooks of 2018:

Fantastical Cakes by Gesine Bullock-Prado
Gesine Bullock-Prado is one of my favorite baking cookbook authors. She's amazingly original and creative – I always page through her books wondering "how did she come up with that?" and she has a knack for making recipes simple and accessible. Her latest book demystifies layer cakes with an extensive catalog of cake types, fillings, and frostings. It gives the book a wonderful mix-and-match feel, so it feels easy to come up with your own combinations and create your own creative layer cake. Highly recommended.

Suqar by Greg and Lucy Malouf
I'm always looking eager to learn about dessert from other cultures, and this year Suqar more than fits the bill. Greg and Lucy Malouf have created a gorgeous introduction to the sweets of the Middle East, with traditional and modern pastries, cake, confections, and other treats. It feels like a journey in a book – the desserts are filled with pistachios, saffron, rose, tahini, and apricots, while the recipe headnotes further enflame your wanderlust. The photography is absolutely stunning. Don't miss.

Pies & Tarts: For All Seasons by Annie Rigg
I'm a sucker for a good pie or tart cookbook, and Annie Rigg's Pies & Tarts is my favorite of the year. Subtitled "For All Seasons", it's pretty much pie and tart inspiration for an entire year. A lovely collection of both sweet and savory tarts, from familiar (pumpkin pie and cornish pasties) to unusual (florentine-topped tartlets and Vietnamese pork puffs), I now have a whole laundry list's worth of recipes to try. The photos are beautiful too – they make all the tarts look like works of art.

Rose's Baking Basics by Rose Levy Beranbaum
Rose Levy Beranbaum's baking cookbooks are cornerstones of the genre; her Cake Bible, Pies and Tarts Bible, and Bread Bible are indispensable if you're looking for comprehensive instruction on how to bake just about any pastry imaginable. If this all sounds too intensive,  her latest book, Rose's Baking Basics,  also gets on the simplicity trend by focusing on 100 of the most popular baked goods, from cakes to cookies to breads, with her trademark clear directions and step-by-step photos. Baking made simple, finally.

All About Cake by Christina Tosi
If you're a fan of Christina Tosi, watched her on Chef's Table, and wanted to make her amazing layer cakes, here's the cookbook. As the title implies, it's all about cake, from mug cakes to bundt cakes, pound cakes to sheet cakes, and directions for how to assemble those naked layer cakes. Her flavor combinations are creative yet homey and comforting at the same time, which is what I think all cakes should ultimately be. A fun and unique addition to your bookshelf.

Genius Desserts by Kristen Miglore
Don't miss this compendium of sweet recipes from essentially the who's who of the baking world. If you have even the smallest interest in pastry, or a baking cookbook on your shelf (which I'm sure all of my readers do!), you will undoubtedly recognize the long list of contributors to this book. Consider this a Baking's Greatest Hits – recipes from all your favorite baking inspirations collected in one volume.

Everyday Dorie by Dorie Greenspan
I was lucky enough to see Dorie recently at a lunch in San Francisco celebrating the release of this book. As always, Dorie was the epitome of sweetness and charm, reminding me that I was practically a baby when I starting following her first cookbooks. As I've grown and changed, so have Dorie's books continued to evolve, and her newest book comes at a time when I'm really favoring simplicity and speed over elaborately prepared meals (out of necessity!) It's not all dessert recipes, but you don't want to miss the baking section, with some really lovely new offerings to add to your repertoire, like a killer chocolate pudding.

Modern Baking by Donna Hay
Donna Hay has long been one of my baking and food styling inspirations; back when I first started blogging, it seemed like everyone was imitating her light, bright, and clean photography. Sadly her magazine ceased publication earlier this year; she is planning to re-launch it under her new independent publishing brand. Until that happens, we can make do with her latest book, a magnificent 400+ page tome to baking, with recipes for every category of dessert and her signature gorgeous photos. She considers it her new baking bible, and you might too.
In the French Kitchen with Kids by Mardi Michels
I've been dreaming of a book like this, and it turns out that Mardi Michels already wrote it! This charming book makes French food seem easy enough that your kids could do it – and they can! Mardi's teaching background really shines through in this book, with clear directions that make French classics like croque-monsieur, omelettes, roast chicken, and pastries like galettes, strawberry tart, and eclairs, and even croissants. A wonderful way to get your kids into the kitchen and introduce them to French cuisine.
What are your favorite cookbooks from 2018?