Happy December! I'm proud to join in again on Rodelle's yearly holiday cookie campaign with these spiced Christmas sablés. These simple cookies that are rolled and then cut out with cookie stamps have started a new holiday tradition in our household!
Click here to jump to recipe
These cookies were inspired by the French Christmas cookies I've seen in books and online: simple, crisp, buttery, and stamped in beautiful festive designs. They're like sugar cookies dressed up for the holidays. I've spiced these up just a bit with some ground cinnamon and ginger from Rodelle, and a bit of nutmeg so they taste even more like Christmas. Unlike other sugar cookies, there's no leaveners in this dough, so the cookies won't lose their shape, or the designs imprinted on them. It's wonderfully versatile; if you don't have cookie stamps or you want to mix it up, regular cookie cutters work just as well. If you're curious, I used these cookie stamps and these cookie stamps and they both worked perfectly. This is a great activity for kids too: check on my Instagram and you can see my daughter used some of my other Christmas cookie stamps to make mini cookies out of the dough scraps. We'll probably repeat this recipe next year – maybe by then she'll almost be able to make these herself!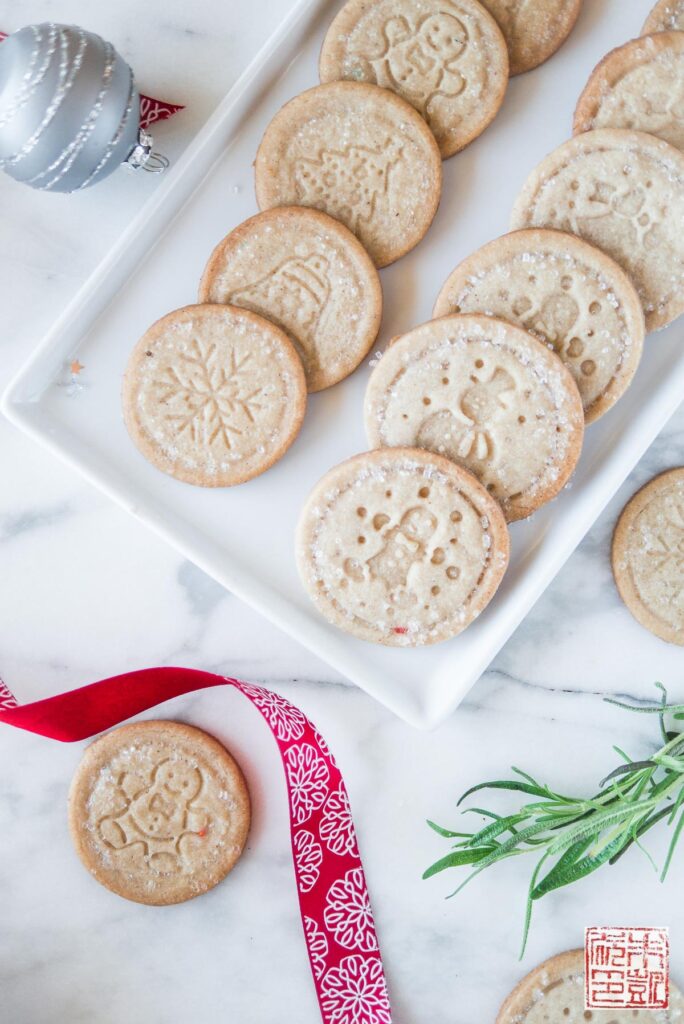 This dough can get soft quickly, especially if your kitchen is warm. My favorite method bar none, is to roll out the dough between two silicone baking mats. It's super helpful as it reduces the amount of flour you have to sprinkle over the dough to keep it from sticking, plus if the dough does get too soft, it's easy to slide the mat onto a baking sheet and slip into the refrigerator to chill. If you don't have silicone baking mats, a cold surface like marble works best. Be sure to dust the dough and rolling pin with flour to prevent sticking. Dipping the cookie stamps in flour also helps them stamp cleanly and prevent dough getting stuck in the crevices.
A little sprinkle of sparkling sugar before baking and these spiced Christmas sablés are ready for the holiday table or for gift giving. Thanks again to Rodelle for inviting me to be part of the holiday cookie campaign, and for creating wonderful ingredients to inspire and elevate our baking. Be sure to check out their cookie page to plenty of sweet inspiration. Now turn on the holiday music and go bake!
Spiced Christmas Sables
Ingredients
2⅔ cups (300 g) all-purpose flour
1 cup (200 g) sugar
¾ teaspoon Rodelle ground cinnamon
¾ teaspoon Rodelle ground ginger
½ teaspoon ground nutmeg
½ teaspoon salt
1 cup (8 oz) unsalted butter, room temperature, cut into 1-in pieces
2 large eggs
1 tablespoon Rodelle vanilla extract
Instructions
Combine the flour, sugar, spices, and salt in the bowl of a stand mixer fitted with the paddle attachment. Mix until combined.
Add in the butter and beat until incorporated and the mixture looks like rough crumbs. It doesn't have to come together into a ball yet.
Add in the eggs, one at a time, and beat until the mixture starts to come together.
Add in the vanilla and beat to combine.
Turn out the dough onto a piece of plastic wrap, flatten, and wrap well. Refrigerate for about 1 hour.
Preheat oven to 350 degrees F.
Roll out the dough to about ⅛" thickness. Because this dough can become soft and sticky quickly, my favorite method is to roll out between two silicone baking mats.
Dust the top of the dough lightly with flour to prevent the cookie stamps from sticking.
Press the stamps into the dough to make designs and cut out with a round cookie cutter. If the dough has become too soft, place back in the refrigerator for 30 minutes.
Place cookies on baking sheets lined with silicone baking mats.
Bake for 10-12 minutes until edge are light brown. Remove and let cool on wire rack.