Merry Christmas and happy holidays to all my readers! Thanks for visiting my site and for all the lovely comments you leave here and on my social media – I appreciate them all! For my Christmas cookies this year I was inspired by the beautiful cookie box trend that's been around for a while on social media, and My Neighbor Totoro, one of my favorite childhood movies. When I introduced Isabelle to the film she fell in love with it, and she still asks to see it again regularly. If you have kids, I'm pretty sure they'll love it, and I know adults will love it too – the stunningly gorgeous animation and its sweet, gentle story about the innocent joys of childhood make it a timeless classic.
I was already inspired by Totoro to make these Totoro linzer cookies a few years ago, so I brought them back and came up with a a bunch more cookies inspired by the characters and themes from the movie, for a full Totoro cookie box: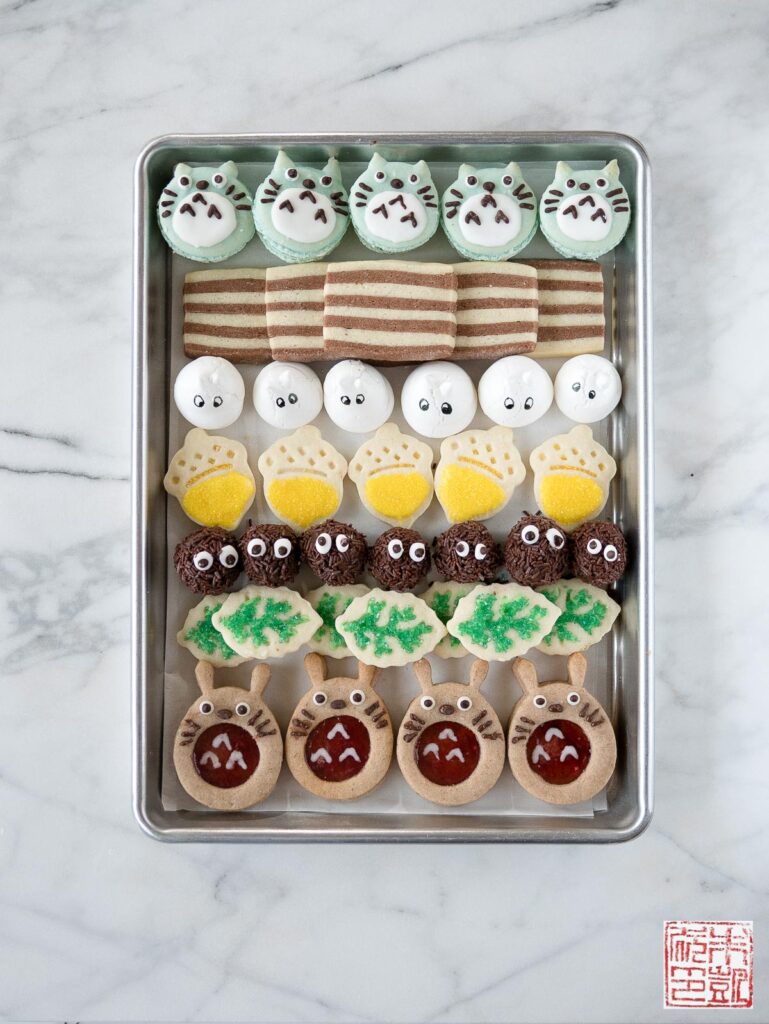 Almost all of them are adapted from recipes I already have on this site. I had grand plans to create some step by step tutorials but alas, with the holiday craziness I wasn't able to set aside the time. Let me know if you'd like to see tutorials and I'll see if I can create some in the new year!
Blue Totoro Macarons: These Totoro macarons are based off my classic italian mernigue macarons with swiss meringue buttercream filling. I typically use a round piping tip with a 1/2″ diameter (Ateco #805) to pipe the round bodies, and then a smaller round piping tip, Ateco 800 or 801, to pipe the ears. If you're skilled you might be able to do them all with just one size tip, but I found for me using a smaller tip for the ears gave me better control. The bellies and other decorations are piped on afterwards with a combination of royal icing and melted chocolate.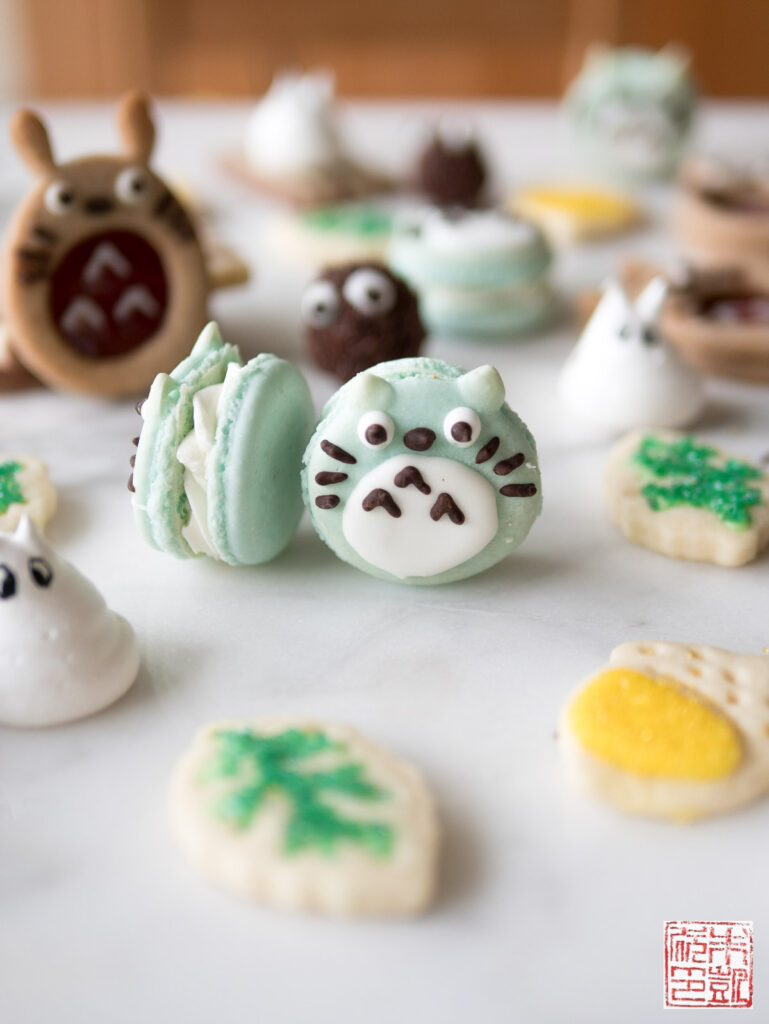 Striped Icebox Cookies: These are meant to be reminiscent of the famous catbus from the movie, with his striped legs and tail. I could have done just a sugar cookie cutout of him with cookie cutter but I wanted to vary up the cookie assortment. This is also the only cookie I haven't made before! Although it looks complicated, it's pretty simple to put together and like most icebox cookies, it's great to make ahead and store, then bake when you feel like fresh cookies. Since this is only cookie without a similar recipe, I've put it in this post.
Chibi Totoro Meringues: Chibi Totoros are the smallest form of Totoro in the movie, white and without a visible mouth. I made these by making a batch of swiss meringue, then piping them out into Totoro shapes on a baking sheet lined with parchment. I baked them at 190 degrees F for about 2 hours, until they were dry, and then painted on eyes with food coloring. You can substitute peppermint extract for the vanilla extract as I did, to make them more festive, or use any flavoring you want. As with any meringues, making them on a dry day is better; on a humid day it may take them longer to fully set. Don't turn up the oven temperature too high as this will make the meringue brown before it dries; if that happens lower the oven temperature for the next batch and let them sit in there for longer.
Leaf and Acorn Sugar Cookies: Totoros eat acorns and use leaves to shield themselves from the rain. They're pretty iconic symbols and I was excited to have the right cookie cutters to make some simple sugar and spice cookies. They're decorated with some icing and sprinkles.
Soot Sprite Chocolate Truffles: The soot sprites, or soot spirits, are magical animated balls of soot that live in old or abandoned houses. They're a little bit like sentient dust bunnies. Making them chocolate truffles seemed the obvious choice; you can make any flavor ganache you want, but instead of rolling them in cocoa powder or dipping them in tempered chocolate, I rolled them in chocolate sprinkles and piped eyes on with royal icing to make them resemble the spiky little sprites.
Big Totoro Linzer Cookies: These were my original Totoro cookies and I still love making them. My original post has the full recipe and some tips on how to fill and decorate them. They make a perfect centerpiece for this cookie box.
I'm pretty happy with how my first Totoro cookie box turned out and I'm looking forward to coming up with more ideas next year. I hope your holidays are merry and bright, and best wishes for a delicious 2020!
Striped Icebox Cookies
Ingredients
1½ cups all-purpose flour
¼ teaspoon baking powder
¼ teaspoon salt
½ cup (113 g) unsalted butter, room temperature
¾ cup sugar
1 large egg, room temperature
1 teaspoon vanilla extract
1 ounce bittersweet chocolate
Instructions
Combine flour, baking powder, and salt in a medium bowl and set aside.
Cream butter in stand mixer with paddle attachment until smooth. Add sugar and mix on medium until fully combined and smooth.
Add the egg and vanilla and beat until combined.
Add in dry ingredients in three additions, beating on low speed just until combined.
Melt chocolate in microwave or on stove in double boiler.
Divide cookie dough into two equal portions. You can use a kitchen for best accuracy.
Mix the melted chocolate into one of the portions until it's fully combined.
Shape each portion of dough into a ¼" thick rectangle and wrap in plastic. Refrigerate for 1 hour or until firm enough to work with.
Remove dough from refrigerator and divide each portion into two, so you have four pieces total.
Roll each piece to roughly 6 inches by 7 inches by ¼" thick between sheets of parchment paper or wax paper. Try to make each piece the same size and shape so you can layer them. Chill the pieces again in the refrigerator, between sheets of parchment paper, if they are getting soft.
When the pieces of dough are stiff enough to work with, remove top layer of parchment paper from a vanilla piece. Lay a piece of chocolate dough on top and press down slightly to adhere them. Repeat with the other pieces of vanilla and chocolate dough.
Cover the stack in parchment paper and chill for another hour to let the layers set together.
Preheat oven to 350 degrees F. Line baking sheets with silicone baking mats or parchment paper.
Remove cookie dough from refrigerator and trim off edges all around to make the sides even. Slice a ⅛" thin strip parallel to the stripes in the dough. Cut the strip in half depending on the size cookies you want.
Lay the cookies flat on the sheets. Bake for about 9 to 11 minutes until the cookies are just set and firm to the touch.
Remove from oven and let cool on wire racks.