It's full on cookie baking time and I'm excited to be part of Rodelle's annual Christmas Cookie Campaign again! Visit Rodelle's page to see the collection of cookie recipes my fellow Rodelle ambassadors have created for this holiday season: there are some delicious choices to fill out your holiday table and your gift baskets.
I'm sharing a riff on an old holiday classic, thumbprint cookies. I turned my gingerbread/molasses spice cookie into a round base, and then filled the centers with a creamy salted caramel. It's a perfect mix of sweet and spicy. There's plenty of other fillings you could use as well: chocolate ganache, buttercream, jam…gingerbread makes for a surprisingly versatile base.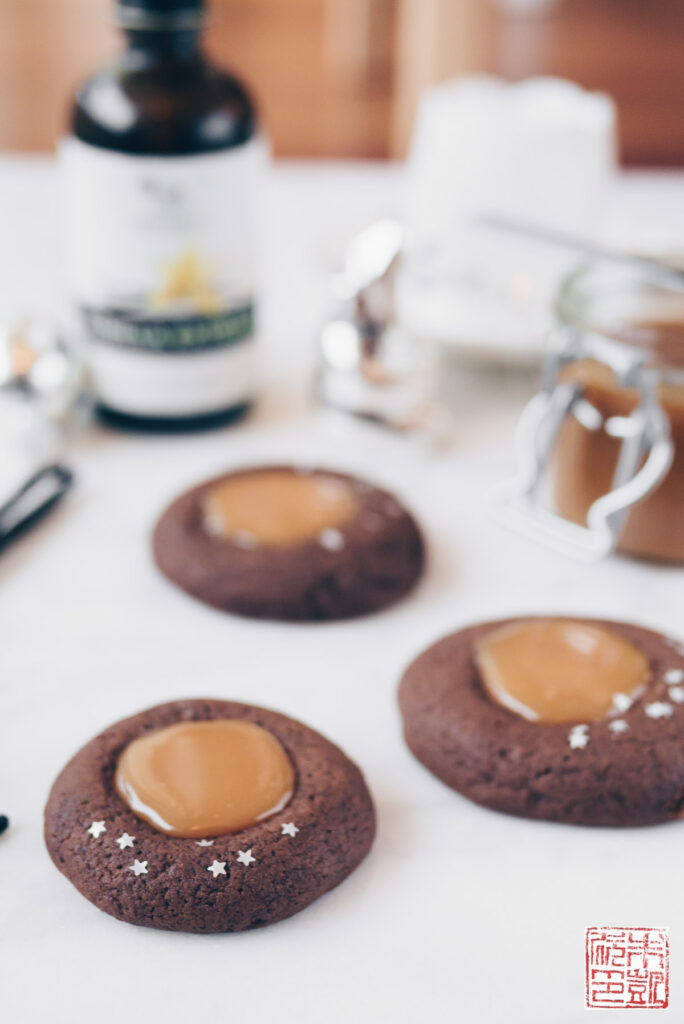 Interesting discovery made while baking: If you make the indentations in the dough before baking, the cookies will spread out a bit more but will have a smoother appearance (like in my photos). If you bake the dough as balls (as I've seen in many thumbprint cookie recipes) and make the indentations after pulling them out of the oven, the cookies will naturally be more compact but the surfaces will crack more as you push the cookie in (plus be careful not to burn your fingers on hot,  just-pulled-out-of-the-oven cookies!) Either method works, it just depends on how your prefer the final appearance of the cookies.
If you don't want to make the salted caramel, you can always use salted caramel topping from the store, but I think making it from scratch is worth the extra effort. Add some edible glittery stars for some holiday sparkle, and there you go. Since the caramel does stay a bit ooey-gooey, one nice gift idea could be to wrap up several of these cookies unfilled, along with a jar of the salted caramel. Instant thumbprint cookie package, ready to assemble and devour.
Happy baking!
Gingerbread Thumbprint Cookies with Salted Caramel
Ingredients
Gingerbread cookies
3 cups (375 g) all purpose flour
2 tsp ground ginger
2 tsp ground cinnamon
1 tsp baking soda
¼ tsp ground nutmeg
¼ teaspoon ground allspice
¼ tsp salt
¾ cup (165 g) unsalted butter, room temperature
1 cup (200 g) light brown sugar
½ cup (130 g) molasses
1 large egg
½ teaspoon vanilla extract
Salted caramel
1 cup (200 g) sugar
½ cup (115 g) heavy cream
4 tablespoons (57 g) unsalted butter, room temperature
½ teaspoon salt
Instructions
for the cookies:
Preheat oven to 350 degrees F. Line a couple of baking sheets with parchment paper or silicone baking mats.
Combine flour, ginger, cinnamon, baking soda, nutmeg, allspice, and salt in a large bowl. Set aside.
Place butter and brown sugar in bowl of stand mixer. Beat on medium speed with paddle attachment until light and fluffy.
Add in molasses and beat until combined. Add in egg and vanilla and beat until combined.
Add in flour mixture in three additions, beating on low speed just until combined.
Form dough into 1 inch balls and place 2 inches apart on the prepared sheets. (If the dough is super soft and sticky you can place into the refrigerator for 10 minutes to firm it up a bit).
Press down into the center of each ball to make an indentation. Bake for 8 to 10 minutes, until the edges of the cookies are firm and browned. Remove from oven and let cool on wire racks.
For the salted caramel:
Combine sugar and ¼ cup water in a medium, heavy-bottomed saucepan. Bring to a boil over high heat.
Meanwhile, bring the cream to a simmer in separate small saucepan, stirring to combine. Turn heat to low and keep warm.
Continue cooking until sugar mixture is dark amber, about 6-8 minutes. Do not let the mixture burn!
Remove from heat and add the cream slowly; mixture will bubble up furiously and settle down. Stir to combine. Add in butter and stir until melted and incorporated.
Remove from heat and stir in the salt.
Let cool to room temperature before using.
Pour caramel into a glass measuring cup or other container with a pouring spout. Fill each of the thumbprint cookies with some caramel. They will set slightly.