It's way past Christmas but I still feel like I'm opening presents. Shortly before the end of last year I was gifted a delivery from Nonna Box: a subscription box full of gourmet foodstuffs from Italy. Every month a different area of Italy is featured; in December sweet treats from Marche, a region on the eastern coast of Italy, was the theme. See all the goodies from the box below:
Nonna Box December
Clockwise from top left: caffe d'orzo, an energy drink made from Marche-grown barley; salame di cioccolato, a salami-shaped confection made from hazelnuts and gianduja; strozzapreti pasta, a popular regional pasta whose name translates to "priest-choker"(!); tart visciole cherries, also known as morello cherries, local artisan chocolate (mine was spiced with chili); and beer jelly, inspired by the growing microbrewery trend in Marche.
It's a fun and useful mix of pantry items and unique treats. The beautiful informational cards included give history on the region, background and source information for the food items, recipes for cooking with them, and even suggested wine pairings. We've used the pasta, the cherries, and the jelly, and I may or may not have nibbled up the chocolate bar. Although the Bay Area is full of gourmet grocery stores, there is something exciting about getting a curated box of goodies – it encourages you to try things you may not have tried on your own, and I learned a lot more about Italy and many of the food items than I would have just by searching online.
You can do a monthly subscription or get a one-time box. Go to the shop to check out the previous monthly boxes that now can be bought as a one-time  purchase. You'll get a good idea of what Nonna Box might contain, plus it's fun to just peruse the boxes learn about the different areas of Italy through a gastronomic lens.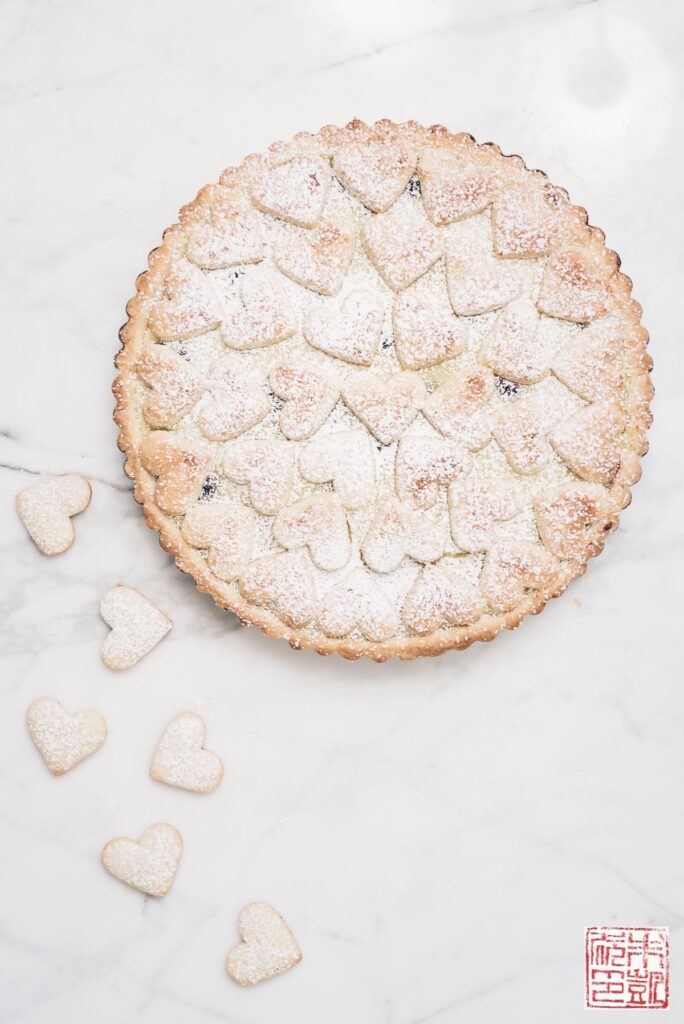 Italian Cherry Tart
One of my favorite items from the box was the visciole, wild sour cherries. The included recipe was for a crostata di crema e visciole, or cherry and cream tart. Above is my adapted version of an Italian cherry tart, covered in hearts for Valentine's Day.
In researching online and in my various Italian cookbooks, there appear to be several closely related versions of this tart. Some have a ricotta cheese filling instead of pastry cream; some have a solid top crust while others have an open lattice crust, and still others have just a bottom layer folded up over the top, in true crostata style. Cherries are a very popular filling, from Amerena to Puglia to Marche. Every version looks delicious in its own way, and they're all relatively simple to make as well.
The tart base and topping is made from pasta frolla, the basic Italian sweet shortcrust pastry, similar to pate sucree. My version is based on the one in Southern Italian Desserts, one of my favorite references on modern Italian baking. With plenty of butter and eggs, it's rich and delightfully tender. The amount of butter also makes this dough very soft and sticky, so it definitely requires chilling. However, it also makes it very forgiving to work with; you can dust it with flour without affecting the final texture too much, and if you have holes in your dough you can patch it up easily.
The visciole cherries were small and perfectly sweet, and are wonderful on their own or as part of a dish. If you're looking for them in a store, you can also use jarred Amerena or morello cherries – not maraschino cherries. I can see how they would go well with either pastry cream or ricotta; layered with the pastry cream and covered with more of the pasta frolla crust, it makes a rich, not too sweet, but very special dessert.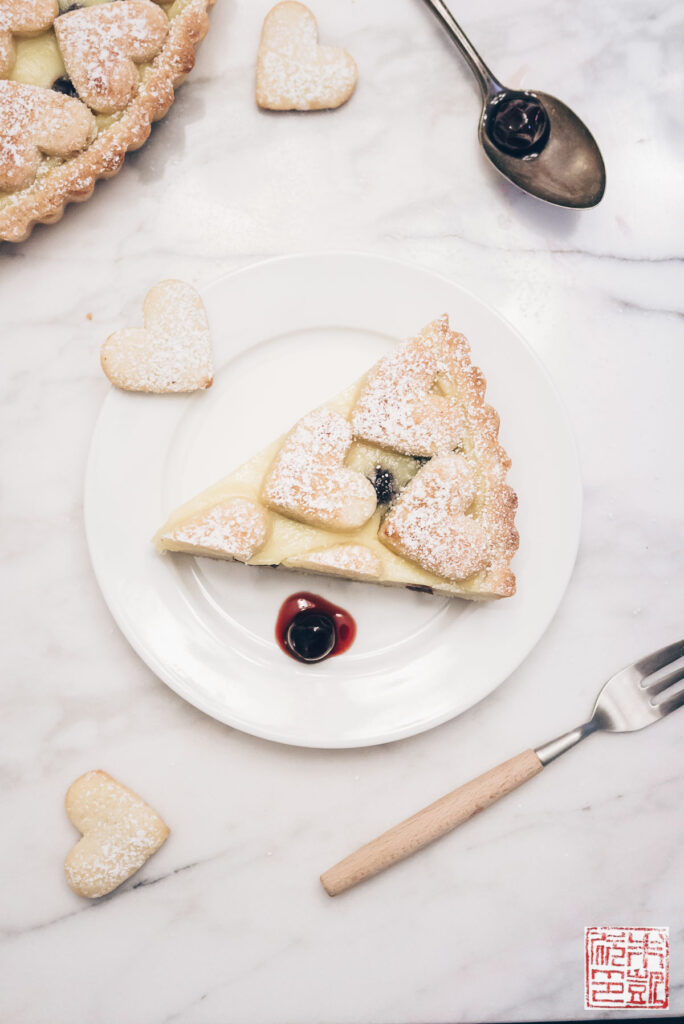 The styling for this tart is based of this image from this website. It's such a clever and gorgeous way to cover a tart, and is way less stressful than rolling out a top layer of dough or weaving a lattice of dough strips, for those of you that have dough phobia. Anyone can cut out cute little hearts with cookie cutter and arrange them over a filling, and you won't want to admit how easy it was when people ooh and aah over the presentation. Although you can use any shape cutter you want, the hearts make it perfect for Valentine's Day.
Thanks to Nonna Box for letting me try their service. And don't forget to bookmark this tart for Valentine's Day – what better way to show your loved one how you feel than a heart-covered tart?
Italian Cherry Tart
Serves:
(1) 9" round tart
Ingredients
Pasta Frolla (sweet shortcrust pastry)
3 cups (396 g) all purpose flour
¾ cup (150 g) sugar
1½ teaspoons baking powder
¼ teaspoon salt
¾ cup (170 g) unsalted butter, cold, cut into 1-in pieces
2 large eggs
1½ teaspoons lemon zest
Pastry Cream
2 cups whole milk
4 large egg yolks
¾ cup (150 g) sugar
¼ cup (32 g) cornstarch
¾ teaspoon vanilla extract
1 9-oz jar of cherries in syrup, drained
1 egg white for egg wash
Instructions
for the pastry:
Combine flour, sugar, baking powder, and salt in a food processor.
Add in butter and process until pea sized.
Add in eggs and lemon zest and pulse until dough comes together.
Divide dough into two and form each into a flat disk. Wrap in plastic wrap and refrigerate at least 1 hour to let firm up.
for the pastry cream:
Place milk in a small saucepan. Heat on the stove over medium heat until bubbles appear on the edge of the pan - do not let come to full boil.
Meanwhile, whisk together the egg yolks, sugar, and cornstarch in a medium bowl.
Pour the hot milk into the egg mixture, whisking constantly to prevent the eggs from cooking.
Return the entire mixture to the saucepan and cook over medium heat, whisking constantly until the mixture thickens. Stir in the vanilla.
Scrape the pastry cream into a bowl, press a piece of plastic wrap to the surface, and refrigerate until needed.
for the tart:
Preheat oven to 375 degrees F. butter and lightly flour bottom and side of a 9" tart pan with removable bottom and at least 1-in high sides.
Roll out one pastry disk between two pieces of parchment paper to about 12 inches round and ¼" thick. Use flour as necessary. Invert dough into tart pan and press into bottom and sides. Trim pastry with a knife so it is even with pan edge. Place back in refrigerator to chill.
Roll out second pastry dish between to pieces of parchment paper to about ¼" thick. Use a 1" heart cookie cutter to cut out about 40 hearts. Place back in refrigerator to chill while you fill the tart.
Spread half of the chilled pastry cream over the bottom of the tart.
Distribute the cherries evenly over the pastry cream. Spread the remaining pastry cream over the cherries - they will not be fully covered but that's ok.
Arrange the pastry hearts over the pastry cream,
Brush the top of the hearts and tart crust with the egg was.
Bake tart for about 32-35 minutes, until the pastry cream is set and the top of the tart is golden brown.
Cool tart completely on wire rack. Dust with confectioners' sugar before serving.