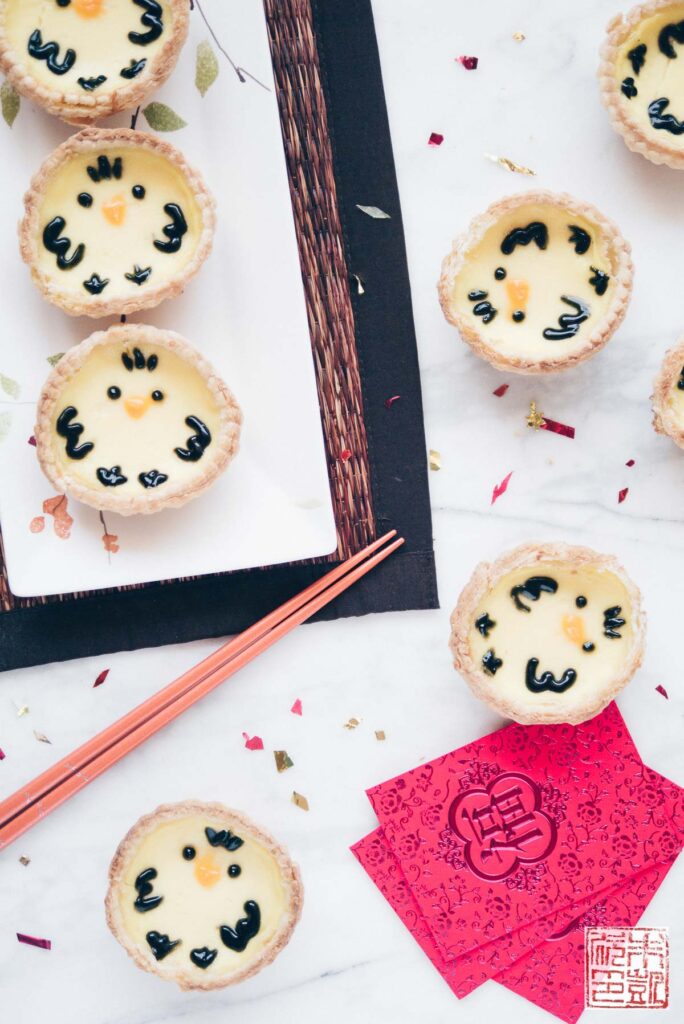 Happy Year of the Rooster! Saturday, January 28 is the first day of the lunar new year and my family in Hong Kong will be celebrating with a lot of good eating. Although eating is pretty much the official pastime in Hong Kong, it's never pursued more vigorously than at Chinese New Year, when every restaurant and eatery is packed to bursting with happy, reveling families.
I'm doing my own bit of feasting back over in California: I was invited by Christine of Vermilion Roots to join in a virtual Chinese New Year party. I and twenty-six other bloggers made some sweet treats to celebrate the holiday, and to give you a peek into what we're making in our homes for the festivities.
My contribution is a tribute to the Year of the Rooster: some egg custard tarts, or dan tat, decorate to look like chicks. I've been obsessed with #cutefood lately (partly because of my daughter, but I also have to admit because of me!) and this seemed like a perfect opportunity.
Although egg custard tarts are ubiquitous in Chinese bakeries, they aren't difficult to make at home. This version features a pâte sucrée crust (simpler to make than the flaky puff pastry style) and a rich, just set custard. The most important key to a silky smooth custard is to strain the custard through a fine mesh sieve before filling the tarts, so make sure you don't miss that! Once the tarts are baked and cooled, I used some melted chocolate and bit of orange icing to pipe on eyes, wings and feet. Almost too cute to eat!
Check out all of the other participants in the virtual #ChineseNewYearParty 2017 below:
Snow Fungus Soup by Vermilion Roots
Indonesian Honeycomb Cake (Bingka Ambon) by What To Cook Today
Chinese Peanut Cookies by Wok & Skillet
Vietnamese Steamed Rice Cakes by A Taste of Joy and Love
Gluten-Free Chinese Almond Cookies by Grits & Chopsticks
Black Sesame Shortbread Cookies by Little Sweet Baker
Ice Cream Mooncakes by Brunch-n-Bites
Coconut Red Bean Pudding by The Missing Lokness
Korean Caramelized Sweet Potatoes (Goguma Mattang) by What Great Grandma Ate
Cashew Nut Cookies by Anncoo Journal
One Bite Pine Nut Cookies by Yummy Workshop
Baked Coconut Walnut Sticky Rice Cake by Jeanette's Healthy Living
Black Sesame Cream Puffs by Pink Wings
Cashew Nut Cookies by Roti n Rice
Mini Peanut Puffs (Kok Chai) by Malaysian Chinese Kitchen
Thousand Layer Cake (Lapis Legit) by Daily Cooking Quest
Pineapple Cookies (Nastar) by V for Veggy
Almond Orange Spiral Cookies by Butter & Type
Three Color Dessert (Che Ba Mau) by The Viet Vegan
Year of the Rooster Mochi by Thirsty for Tea
Korean Tea Cookies (Dasik) by Kimchimari
Sweet Sticky Nian Gao (Kuih Bakul) by Lisa's Lemony Kitchen
Sweet Rice Balls with Peanut Butter (Tang Yuan) by Omnivore's Cookbook
Candied Ginger (Mut Gung) by Plant Crush
Red Bean Soup with Black Glutinous Rice by Nut Free Wok
Orange Scented Sweet Red Bean by Lime and Cilantro
I love all of the creative and unique spins on traditional Chinese desserts. Happy Chinese New Year, and may the Year of the Rooster be a delicious one for you!
Chick Egg Custard Tarts for Chinese New Year
Ingredients
Crust
90 g unsalted butter, room temperature
45 g powdered sugar
½ large egg
½ teaspoon (2.5 g) vanilla extract
165 g all purpose flour
¼ teaspoon (1 g) salt
Custard filling:
120 g sugar
120 g water
3 large eggs
2 teaspoons custard powder (can substitute cornstarch)
50 g evaporated milk
1 teaspoon (5 g) vanilla extract
melted chocolate for decorating
Instructions
for the crust:
Combine butter and powdered sugar in a food processor and process until well combined. Add in egg and vanilla extract and process to combine.
Add in flour and salt and process just until incorporated. Scrape out dough onto a piece of plastic wrap, flatten out into a rectangle, wrap and refrigerate for about an hour until firm.
Preheat oven to 375 degrees F. Place six 4" tart tins on a baking sheet.
Roll out dough to 1/16" inch. Cut circles and carefully fit into tart tins, pressing into bottom and sides. The dough should reach up at least 1" on the side. Refrigerate tart tins for about 10 minutes.
Bake for 15 minutes until crusts are dry and just turning golden on the bottom. Remove from oven and let cool while you are making the filling.
for the filling:
Combine sugar and water in a small saucepan. Bring to boil over high heat on stove. Remove and let cool to room temperature.
Preheat oven to 400 degrees F. Whisk eggs and custard powder together in a medium bowl. Add in evaporated milk and whisk to combine.
Add in sugar syrup and vanilla extract and whisk to combine.
Strain mixture into a measuring cup to get rid of any lumps and foam on top.
Fill tart crusts about 80% full. Bake for about 10 minutes in the oven.
Turn heat down to 375 degrees F. Bake for 5 minute increments, checking to see if filling has set. It should take about 10 minutes more. If the filling starts to bubble, crack the oven door open a couple inches to let the filling deflate. If the crusts are browning too much, you may need to put some foil over the crusts to protect them.
The top of the filling should look mostly set. The center may still look slightly jiggly. If a toothpick inserted into the center will stand up, it is done. Avoid overcooking the custard - if it looks completely set and firm, it's overcooked.
Remove from oven and let cool a couple minutes before unmolding.
Pipe chick faces and other decorations on the tarts with melted chocolate.
They are best fresh!