Chick Egg Custard Tarts for Chinese New Year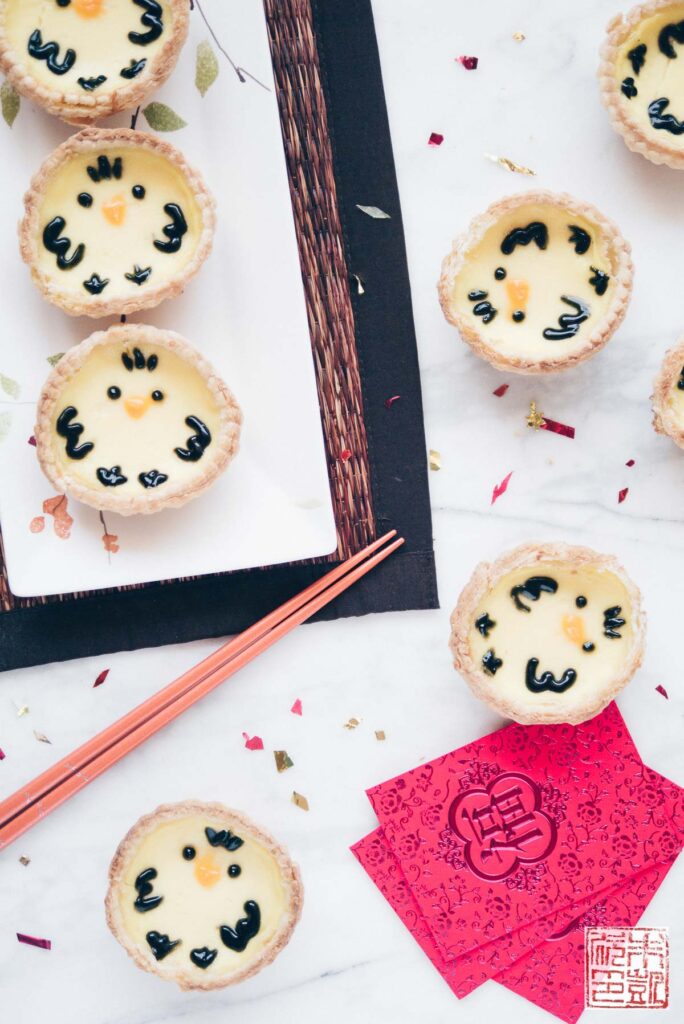 90 g unsalted butter, room temperature
45 g powdered sugar
½ large egg
½ teaspoon (2.5 g) vanilla extract
165 g all purpose flour
¼ teaspoon (1 g) salt
120 g sugar
120 g water
3 large eggs
2 teaspoons custard powder (can substitute cornstarch)
50 g evaporated milk
1 teaspoon (5 g) vanilla extract
melted chocolate for decorating
Combine butter and powdered sugar in a food processor and process until well combined. Add in egg and vanilla extract and process to combine.
Add in flour and salt and process just until incorporated. Scrape out dough onto a piece of plastic wrap, flatten out into a rectangle, wrap and refrigerate for about an hour until firm.
Preheat oven to 375 degrees F. Place six 4" tart tins on a baking sheet.
Roll out dough to 1/16" inch. Cut circles and carefully fit into tart tins, pressing into bottom and sides. The dough should reach up at least 1" on the side. Refrigerate tart tins for about 10 minutes.
Bake for 15 minutes until crusts are dry and just turning golden on the bottom. Remove from oven and let cool while you are making the filling.
Combine sugar and water in a small saucepan. Bring to boil over high heat on stove. Remove and let cool to room temperature.
Preheat oven to 400 degrees F. Whisk eggs and custard powder together in a medium bowl. Add in evaporated milk and whisk to combine.
Add in sugar syrup and vanilla extract and whisk to combine.
Strain mixture into a measuring cup to get rid of any lumps and foam on top.
Fill tart crusts about 80% full. Bake for about 10 minutes in the oven.
Turn heat down to 375 degrees F. Bake for 5 minute increments, checking to see if filling has set. It should take about 10 minutes more. If the filling starts to bubble, crack the oven door open a couple inches to let the filling deflate. If the crusts are browning too much, you may need to put some foil over the crusts to protect them.
The top of the filling should look mostly set. The center may still look slightly jiggly. If a toothpick inserted into the center will stand up, it is done. Avoid overcooking the custard - if it looks completely set and firm, it's overcooked.
Remove from oven and let cool a couple minutes before unmolding.
Pipe chick faces and other decorations on the tarts with melted chocolate.
They are best fresh!
Recipe by
Dessert First
at https://dessertfirstgirl.com/2017/01/chick-egg-custard-tarts.html