Happy Chinese New Year! The new lunar year begins on February 12 and to celebrate I made this black sesame cake with tangerine buttercream. We could all celebrate another chance for a fresh start, couldn't we? It's going to be the year of the Ox, which usually symbolizes hard work, discipline, and stability. Working towards normalcy sounds like a good theme for this year. 
Click here to jump to recipe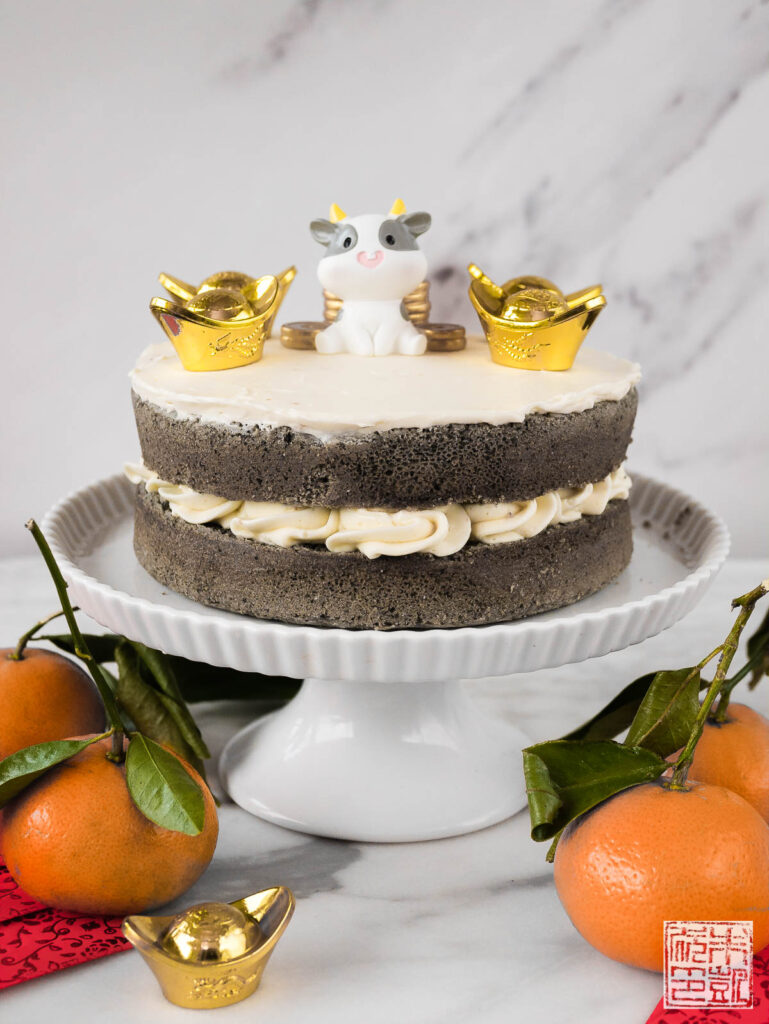 Black sesame is one my favorite flavors when I go to Asian bakeries and dessert shops. My mom used to make black sesame soup with glutinous rice balls as a Chinese New Year's dessert for us (another thing I have to replicate!). It's most commonly made by grinding black sesame seeds into a fine powder, then cooking with sugar, glutinous rice, and water. Instead of using the powder for making a soup, I mixed it with sugar instead to make a black sesame sugar for my reverse-creamed white cake. The cake has the same gorgeous, fine crumb I love, and an intensely nutty, smoky flavor from the black sesame seeds.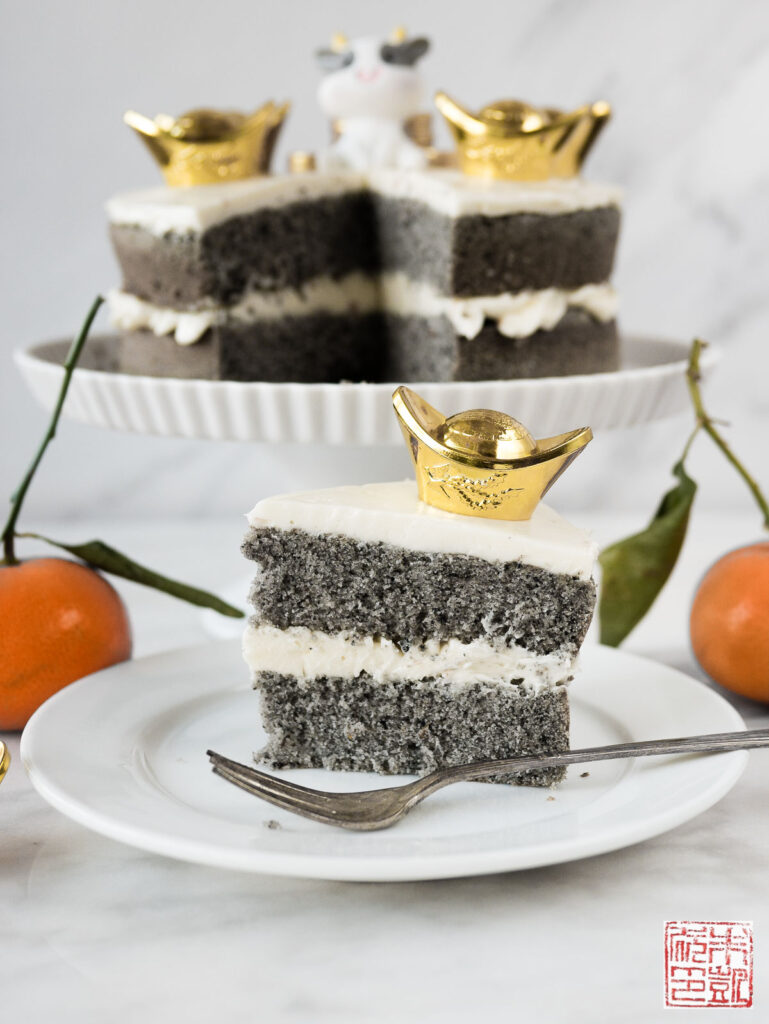 Tangerines are also a popular item at Chinese New Year, given the Chinese word for tangerine sounds like "luck", so I put a bit of tangerine juice into my swiss meringue buttercream and a splash of Cointreau for good measure. The sweet, citrusy cream offsets the smoky, slightly bitter notes of the cake perfectly. Having just made almost the same recipes for Isabelle's birthday cake, I really liked seeing how a few small additions made this a completely new dessert. The recipes for the buttercream makes enough to frost the entire cake completely, so feel free to do that, but I left the sides exposed just to show off the soft charcoal color of the cake. Although we can't do our traditional large family gathering to feast and celebrate, I'll be enjoying a slice of this cake as we call our relatives to give them our best wishes.
Happy Chinese New Year and best wishes for a year of health and prosperity!
Black Sesame Cake with Tangerine Buttercream
Serves:
(1) Two layer cake
Ingredients
Black Sesame Cake
1 cup (200 g) sugar
½ cup (2½ ounces) roasted black sesame seeds
1½ cups (190 g) cake flour
2 tsp (9 g) baking powder
½ tsp salt
3½ ounces (100 g) unsalted butter, room temperature
3 large egg whites, room temperature
½ large egg yolk, room temperature
¾ cup (183 g) whole milk
1 teaspoon vanilla extract
Tangerine Swiss Meringue Buttercream
⅝ cup (125 g) sugar
2½ large egg whites
7½ ounces (213 g) unsalted butter, room temperature, cut into 1-in pieces
2 tablespoons tangerine juice
1 teaspoon Cointreau
¾ teaspoon vanilla extract
Instructions
For the cake:
Preheat oven to 350 degrees F. Grease and flour two 6" round cake pans. Line the bottoms with parchment paper.
Combine the black sesame seeds and sugar in a food processor and process until fine.
Combine cake flour, black sesame sugar, baking powder, and salt in a stand mixer fitted with the paddle attachment.
Add the butter and beat until a crumbly mixture forms, just starting to come together.
Add the egg whites one at a time, and beat to combine. Add the egg yolk and beat to combine.
Combine milk and vanilla extract together in a measuring cup. Add to the mixer in three additions, beating well after each addition.
If you want to be precise, weigh the batter so you know how much to put in each pan.
Divide batter evenly between the two prepared 6" pans.
Bake for about 24-28 minutes, rotating halfway. The cakes should be set and a skewer inserted in the center should come out with a few crumbs on it.
Remove and place on wire racks. Run a knife around the edges for easier removal. Let cool for about 20 minutes and then invert pans to remove cakes. Let them finish cooling before decorating.
For the buttercream:
Combine the sugar and egg whites in a medium metal bowl and place over a pan of simmering water.
Whisk the sugar mixture constantly over heat until the sugar is dissolved and the mixture looks smooth and shiny. Continue whisking until the mixture reaches 160 degrees F.
Remove mixture from heat and pour into a stand mixer bowl. Whisk on medium speed for about 5 minutes until the mixture has cooled.
Switch to the paddle attachment and with the speed on low, add the butter a few pieces at a time, beating until smooth. Do not add the butter too quickly or beat too quickly or the buttercream may break.
When all the butter has been added, beat the buttercream on medium-high speed for about 6-10 minutes until it is very thick and smooth. It may appear to separate briefly but continue beating and it should come back together.
Add in the tangerine juice, Cointreau, vanilla extract and and beat to combine. Add food coloring as desired.
The buttercream is ready to be used. Place a piece of plastic wrap against the surface until you are ready to use it to prevent it from drying out.
To assemble the cake:
Level off cake layers if necessary. Place one cake layer on a cake board or cake decorating stand.
Spread some of the buttercream over the cake layer evenly. Place the second cake layer on top and spread some more buttercream over the cake layer.
Spread a crumb coat of buttercream over the top and sides of cake if you want to frost the entire cake. Refrigerate for about an hour to let the frosting set.
When you are ready to finish the cake, spread the rest of the buttercream over the top and sides of the cake with an offset spatula. Finish decorating as desired.