A mermaid birthday cake for a swimming party: every little girl's birthday dream, judging from the popularity of mermaid parties lately. Although Isabelle's birthday was in January, holiday craziness usually means we don't end up having her birthday party until February. This year she was very clear on her desired party theme: she'd been to her first birthday pool party last summer and she wanted the same for her own party. Well, a pool party is all well and good in July, but holding one in the middle of winter is a different story.
Click here to jump to recipe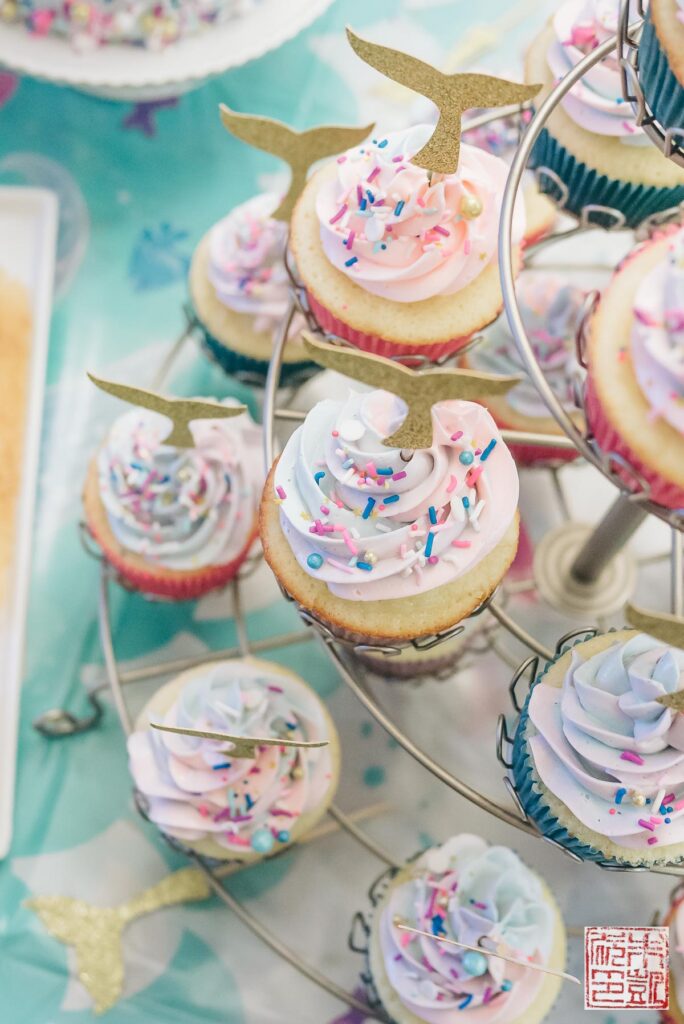 Fortunately, we ended up finding an indoor (heated!) swimming pool with party facilities, and Isabelle got to splash and swim to her heart's content, and even go down the water slide (Here's the party location, for all you Bay Area parents). I'd say it was a big success, and will be hard to top next year!
Isabelle started kindergarten last fall, and I was completely shocked to realize last month that she's already halfway through the school year. Once they're in school, time really seems to zip by at warp speed. She has her little circle of friends that she loves seeing every day, she loves math and art, and she's a bona fide reader now, as in she's reading everything she sees, not just her homework. As a lifelong voracious reader, seeing my daughter "get" reading, and get into reading, has been one of the most satisfying parts of this parenting journey so far.
Isabelle's got her first wiggly tooth (about to fall out any day!), and she's just under chest height for me; every time she looks up and says she wants to be as tall as me I tell her wistfully that it won't be much longer (I'm positive that some of the fifth graders at school are taller than me – yikes!) Swimming is still her favorite sport; if we had a pool I know she'd be in there every day. As someone who's never been more than okay at swimming (meaning I won't drown – probably), it's also unexpectedly satisfying to see my daughter swim through the water like a fish – or a mermaid.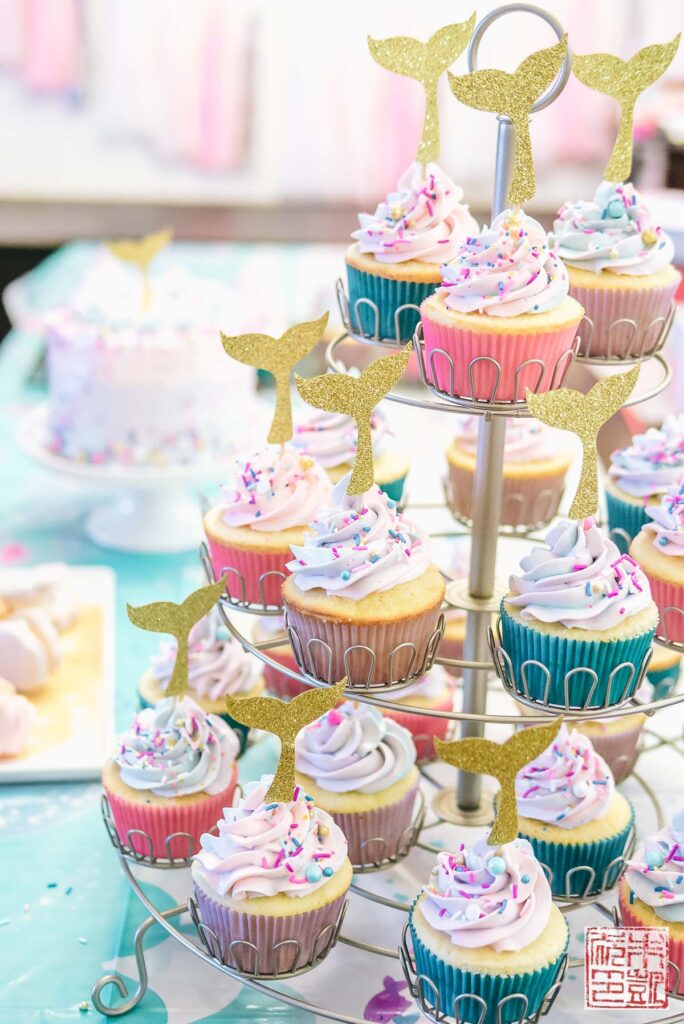 The birthday party was a little smaller this year, so I didn't go as overhead with the sweets. Some of the party treats I made included: vanilla bean cupcakes with swiss meringue buttercream in a mermaid-y swirl of pink, teal, and violet; seashell macarons with pearly centers, and the mermaid birthday cake, of course. Isabelle is so used to both cupcakes and a cake for her birthday now, I'm not sure if I'll be able to get away with only making just one of them again!
The cupcakes are my trusted go-to recipe; although I really wouldn't mind branching out, what the birthday girl wants, she gets, so it's vanilla cupcakes all around at her birthday. I really enjoyed making the swirled frosting; although there are all sorts of fancy piping bags and tools now to make different frosting effects, I found the simple DIY method worked just fine. I split the frosting into three bowls and added food coloring to each one, then spooned portions of the three different frostings into one bag, making sure each portion was spread from top to tip of the bag. I twisted the bag shut, and when I started piping the three frostings automatically swirled themselves together. I did make more frosting than typical – 1.5x the recipe, just because I wanted to have plenty for each color, and there's nothing worse than running out of frosting when you're assembling and decorating your cake. The sprinkles are the Vintage Kitten medley from Sweetapolita's sprinkle shop.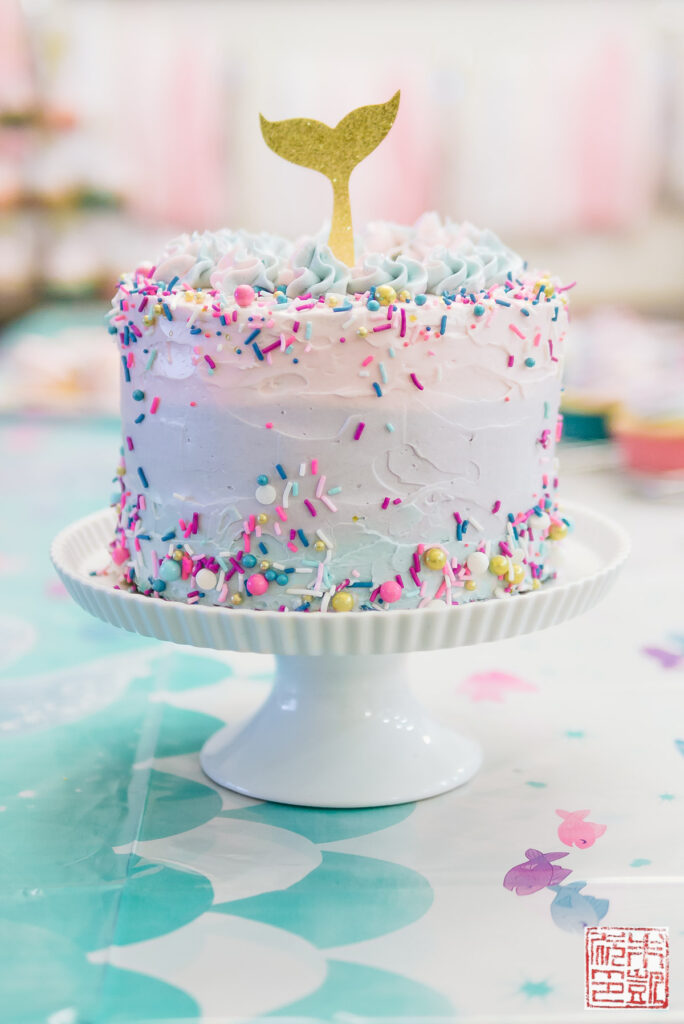 I used the same sprinkles for the mermaid birthday cake, a four layer vanilla cake made via the reverse creaming method. I was so focused on envisioning the ombre frosting for the outside, that I didn't think to make the layers different colors as well. Thus no photos of the cut cake as it's just all white cake and white buttercream. Since we had both cake and cupcakes, I always make a smaller 6″ round cake, as I don't expect it to serve a whole party. I like to use 2″ high pans – this set actually has exactly four pans, which is perfect for this recipe. You can bake the leftover batter in a cupcake tin or loaf pan for extra snacking cake!
Here are links to some of the other items I used for Isabelle's party:
The cake topper in the last photo below is from Etsy; due to a slip-up in my party planning it didn't arrive until the last minute, so that's why it doesn't appear in the other photos. But it made it on the cake by party day, which is the most important thing. Happy 6th birthday to my little mermaid!
Mermaid Birthday Cake
This makes five 6" cake layers. One of the 6" layers is not used in this recipe. You can bake it in an extra pan or make cupcakes.
Serves:
(1) 6" round 4 layer cake
Ingredients
Vanilla Cake
2¾ cups (380 g) cake flour
1¾ cups (380 g) sugar
1 tbsp + 1 tsp (18 g) baking powder
1⅛ tsp salt
7 ounces (200 g) unsalted butter, room temperature
5 large egg whites, room temperature
1 large egg, room temperature
1½ cups (366 g) whole milk
2 teaspoons vanilla extract
Swiss Meringue Buttercream
1¼ cups (250 g) sugar
5 large egg whites
15 ounces (425 g) unsalted butter, room temperature, cut into 1-in pieces
1½ teaspoons vanilla extract
1 teaspoon almond extract
Instructions
For the cake:
Preheat oven to 350 degrees F. Grease and flour four 6" round cake pans. Line the bottoms with parchment paper.
Combine cake flour, sugar, baking powder, and salt in a stand mixer fitted with the paddle attachment.
Add the butter and beat until a crumbly mixture forms, just starting to come together.
Add the egg whites one at a time, and beat to combine. Add the egg and beat to combine.
Combine milk and vanilla extract together in a measuring cup. Add to the mixer in three additions, beating well after each addition.
If you want to be precise, weigh the batter so you know how much to put in each pan.
Pour one-fifth of the batter into one of the prepared 6" pans. Repeat with the other 6" pans. You will have one-fifth of the batter left over. You can bake an extra layer or make some cupcakes!
Bake for about 24-28 minutes, rotating halfway. The cakes should be set and a skewer inserted in the center should come out with a few crumbs on it.
Remove and place on wire racks. Run a knife around the edges for easier removal. Let cool for about 20 minutes and then invert pans to remove cakes. Let them finish cooling before decorating.
For the buttercream:
Combine the sugar and egg whites in a medium metal bowl and place over a pan of simmering water.
Whisk the sugar mixture constantly over heat until the sugar is dissolved and the mixture looks smooth and shiny. Continue whisking until the mixture reaches 160 degrees F.
Remove mixture from heat and pour into a stand mixer bowl. Whisk on medium speed for about 5 minutes until the mixture has cooled.
Switch to the paddle attachment and with the speed on low, add the butter a few pieces at a time, beating until smooth. Do not add the butter too quickly or beat too quickly or the buttercream may break.
When all the butter has been added, beat the buttercream on medium-high speed for about 6-10 minutes until it is very thick and smooth. It may appear to separate briefly but continue beating and it should come back together.
Add in the vanilla and almond extracts and beat to combine. Add food coloring as desired.
The buttercream is ready to be used. Place a piece of plastic wrap against the surface until you are ready to use it to prevent it from drying out.
To assemble the cake:
Level off cake layers if necessary. Place one cake layer on a cake board or cake decorating stand.
Spread some of the buttercream over the cake layer evenly. Place a second cake layer on top and spread some more buttercream over the cake layer. Repeat the process with the third layer. Top with the fourth layer.
Spread a crumb coat of buttercream over the top and sides of cake (see here for tips on doing a crumb coat). Refrigerate for about an hour to let the frosting set.
When you are ready to finish the cake, spread the rest of the buttercream over the top and sides of the cake with an offset spatula. Finish decorating as desired.