Johanna of The Passionate Cook announced a most interesting theme for this month's Sugar High Friday: local specialties. While living in the Bay Area affords me the luxury of having many famous local goods to choose from, I really wanted to pick one that was close to my heart: Chinese egg custard tarts, or dan tat.
When I was young, my family lived about an hour south of San Francisco, and back then they didn't have many stores around that sold Asian groceries – Chinese vegetables, dried herbs and mushrooms, fish and meat fresh and butchered to the customer's order. (As a lifelong resident of this area, it's amazing to me how much the gastronomic landscape has evolved over the years – now Asian shopping centers dot the Bay Area like pearls along the necklace of highways that encircle the bay.) So every weekend our parents would pile us kids into the station wagon and we would drive up north on the highway to the big city, and to the venerable Chinatown on Stockton Street where they could find the ingredients to make the dishes they remembered from Hong Kong, their homeland.
I remember Chinatown being a cacophonous kaleidoscope to the senses: boxes overflowing with lychees and Chinese broccoli and all sorts of things I never saw in my local Safeway; shoppers jostling and bumping around the stands, assiduously picking through the produce to select only the best specimens; tiny old ladies in smocks unloading even more produce from the back of delivery vans, proclaiming the quality and inexpensiveness of their goods (if you walk through Chinatown and you don't speak Chinese, you may wonder why the grocers appear to be screaming at the top of their lungs at you – they're actually urging you to buy their cherries/peaches/item of the day, which are of course much better and cheaper than any other place on the block, so why don't you buy some now?)
Chinatown was a sort of farmers' market before farmer's markets came into vogue: although nobody threw around words like "sustainable" or "organic" back then, everyone who went shopping in Chinatown showed a passion and care for the food they bought that mirrors the spirit of sustainable agriculture today. No one would be caught buying ragged, limp greens or bruised, unripe fruit or less-than-fresh fish; indeed, the person who tried to sell such inferior goods probably wouldn't be patronized for very long!
My mother would adroitly navigate the streets of Chinatown, going to the places she knew and trusted: the stand with the best bok choy and lotus roots; the butcher who gave her the best chickens and cuts of beef; the dried goods store with the bins of dried shrimp and scallops and seaweed she used in her soups. I'm embarrassed to admit that although I spent years watching my mother bargain with and haranguing the shopkeepers in her quest for the best, I have nowhere near her shopping skills; even today, when I go to Chinatown with her, I always stand back and watch her mastery on display, as she somehow cajoles and convinces the grocers to give her the good stuff they're holding back, and to charge her just a little less.
It was fun, as a child, to see the incredible excitement and bustle in Chinatown, but sometimes I would get tired of getting bumped around by pushy shoppers, or waiting as my mother conducted another interminable bargaining session. I would start tugging on her arm and whine about when we would be done, or better yet, when we would get to eat. My mother would tell me to be patient, just one more stop, and then we would go the bakery and I could get something sweet (I have always, always had a sweet tooth).
Chinese bakeries are like any other business in Chinatown: microcosms of incredible chaos and efficiency at once. While I am inspired and delighted by the pâtisseries of Paris, I have the utmost admiration for my local bakeries in Chinatown, which produce a staggering amount and variety of breads, cakes, tarts, and other pastries day in and day out. Every time you walk in the door of a bakery, you are greeted with case upon case of meat-stuffed pastries, custard-filled buns, elaborately frosted cakes, fruit-covered tarts, loaves of bread…and there are more trays coming out of the kitchen in a constant stream.
Although you may want to stand there goggle-eyed at the overwhelming array of choices, the counter staff and regular customers are seldom indulgent; it's best to know what you want or the salesgirls will most likely move on to someone in less of a dither. Stepping up and speaking your order loudly will usually get you fast service; if you hover indecisively in the background you might never get served at all. However, the staff will usually give a quick description of any item you are curious about, and they are also quite good at pushing freshly baked items on you; if you're not careful, you may end up walking away with a dozen piping hot something-or-others in a pink box.
The most amazing thing is, though, how inexpensive everything is. Most of the buns, which are usually a soft, fluffy, sweet bread with either a sweet or savory filling, are less than a couple of dollars. Other items in the cases are similarly priced, which is mind-boggling considering they are all homemade and you can find coffee shops selling a factory-made cookie for 4 dollars or more. To me, this affords one the incredible freedom to try almost anything since it will only cost you a dollar or two and you will quickly find your favorites. My boyfriend, who does not speak Chinese, has successfully bought many things at Chinese bakeries simply by pointing; he's often come home with a six or seven different items which I have to explain to him and then he will happily try them all and decide which one he likes best.
My favorites? The cocktail bun (named not because of when it's meant to be served but because its oblong shape resembles a rooster's tailfeathers), a plain little bread filled with a creamy, coconut-flecked custard, and the egg custard tart, the actual subject of this entire post – thank you for your patience, dear reader!
Egg custard tarts are thought to have sprung from the British influence in Hong Kong; custard tarts with a smooth milky filling in a shortcrust pastry are a classically British dessert. There is also a Portuguese variant, the lovely pastéis de nata, which have a similar custardy filling but a caramelized, crème brûlée style top. Hong Kong residents often go on day trips to Macau, a former Portuguese colony about a 45 minute hydrofoil ride from Hong Kong, and a can't-miss activity there is to sample the authentic pastéis de nata still made by local bakers. However, egg custard tarts in Hong Kong have evolved into their own unique and delicious creature, and a staple of Chinese bakeries and dim sum houses everywhere.
What distinguishes an egg custard tart is its flaky, tender shell (the most authentic ones are made with lard)that resembles puff pastry at its crisp and buttery best, cradling a bright yellow custard that teeters flan-like, just on the edge between set and gooey. Fresh from the oven, it is the sunniest, most comforting piece of bliss I can think of. An old dan tat, with limpid gummy crust and rubbery Jello-y filling, is a tragic thing indeed.
In San Francisco's Chinatown, one of the oldest and most famous Chinese communities in the world, there are many bakeries and restaurants selling egg custard tarts, but there is one place that stands above the rest – one that people in the know like my mother would go to – Golden Gate Bakery on Grant Ave.
Such is the reputation of the egg custard tarts at Golden Gate Bakery that lines r outinely snake out the door into the street. As the scent of butter and vanilla wafts outside, you can see people shifting their feet, hoping to reach the front of the line soon enough to snag some of the freshly baked tarts before they are gone. I know of no other bakery in Chinatown that has the audacity to close down for several weeks at a time while the owners go on "extended vacation"; making excellent egg custard tarts must have proven very profitable for them indeed!
Golden Gate Bakery's egg custard tarts are considered on the "expensive" side at about $1.25 a piece – this is one of the reasons very few people make them at home because it really is so much cheaper to buy them. The tart shell pastry is also notoriously difficult to duplicate – although most recipes for Chinese flaky pastry involve a "water dough" and "oil dough" similar to the détrempe and beurrage used in puff pastry and the execution seems straightforward, somehow the tarts from the good bakeries always seem to have a supernatural flakiness and crispness that is, so far, out of my reach. If anyone has managed to penetrate the secrets of the egg custard tart, let me know!
If you do make it to San Francisco and visit Chinatown, do wander down Stockton Street and take in the amazing bustle of its denizens shopping, working, and living shoulder to shoulder in one of the most densely populated neighborhoods in the US. You'll see stores and restaurants that have been around for years with yellowed menus taped to the walls, delis with whole barbecued pigs and roast ducks hanging in the windows, giant delivery trucks unloading produce at all times of day to the hands of waiting shoppers. Don't go onto neighboring Grant Street unless you want a hefty dose of cheesy touristy silliness; wait until you get to Jackson Street to turn onto Grant, because Golden Gate Bakery will be just a few stores down. There will probably be a line, and be sure you bring enough cash because that's all they accept. But it's worth it for those sweet happiness-inducing handfuls – I'm as enamored of them now as I was years ago as a small child.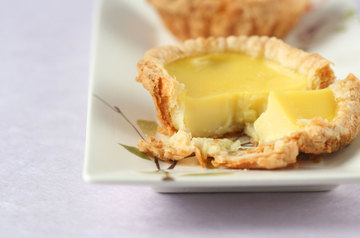 Golden Gate Bakery
1029 Grant Avenue
San Francisco, CA 94133
415-781-2627
For those of you wanting to brave egg custard tart making at home, here are a few online recipes as well as a dedicated eGullet thread. Several of these recipes use a shortcrust pastry, which is considerably simple and can yield delicious results as well – I've had more successes with them than with the flaky pastry.
Tagged with: dan tat + egg custard tart + Golden Gate Bakery