No, I know it's not fall yet, but it's hard to believe it's already the end of August and the waning of the year is just around the corner. Labor Day holiday, especially, snuck up on me this time: I'm definitely not ready to celebrate summer's last hurrah just yet.
Fortunately for us San Francisco residents, Mother Nature balances out the wintry cold summers she bestows on us with a shimmering, balmy Indian summer that usually happens sometime in September and can often last into November. Never let it be said we don't have seasons out here on the West Coast – they're just a little different than seasons elsewhere!
Along with a few more golden weeks to ease the pain of passing summer, we've also got figs – figs at their most lovely and voluptuous peak.
I'll admit I wasn't a natural-born fig lover. Like many children, I was drawn to the straightforward, simple fruits: the sturdy, crisp crunch of an apple, the crayon-red color of strawberries, the comforting roundness of an orange. Those firm-fleshed, cleanly sweet fruits, pears and cherries and peaches, were reassuring in their distinctive shapes and feels. I had a fear of squishy: soft meant unripe, or overripe, or yucky and sticky. Persimmons, longans, figs – they all fell outside my fruit "comfort zone" and were thus resolutely ignored.
Well, thank goodness for growing up and learning to give things a second chance. I'm happy to say that I managed to outgrew childish prejudices and view foods both old and new with a an unjaded eye and open mouth. Most foods, at least…I'm still working on durian…
Figs are very interesting to me. They aren't an easy fruit to love, and what I mean by that is they're not simple. You don't just pop figs in your mouth like grapes. When I eat a fig, I look at it resting in the fruit bowl, cupped in the palm of my hand, suspended from my fingers in midair. I study its asymmetrical, pendulous shape, its slightly wrinkled, aubergine or verdant skin, its velvety, sinuous contours. It is fragrant, its ripe, intense scent filling the air. I put it to my lips, and bite through the just-barely resisting skin. The flesh beneath is dusky, rosy red; pulpy, soft as a whispered secret. There are little seeds scattered like stardust in the gleaming fruit, and as I bite through I hear little pops, feel the bursts of crunchiness in my mouth. The fig is sweet, yes, rich and honeyed, intensely fruity. Eating a fig is, and should be, a luxurious experience, as it demands the full attention of all your senses.
Like summer and all good things, figs should be enjoyed at their peak before they disappear: they are best eaten within a couple days of purchase as they should already be very ripe when you buy them. While eating them out of hand is an undeniable pleasure, baking with them has proven a happy challenge as well.
I'd been tweaking my basic vanilla cupcake recipe for a while, and the perfect opportunity presented itself: Vanilla Bean Cupcakes with Fresh Fig Filling and Orange Blossom Honey Frosting.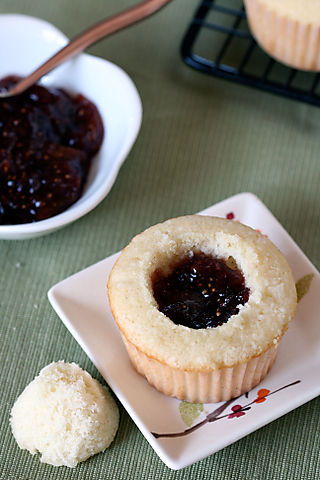 Figs make lovely jams, which are a perfect way to preserve their flavor for the rest of the year. This fig filling follows the same idea, cooking figs with sugar into a lovely thick puree, perfect for filling a cupcake or spreading on toast (Since it's not a true jam it obviously won't keep as long). I used brown sugar to enhance the deep, layered flavor of the figs, and because I often find that in many fig fillings the figs are overpowered by too much added white sugar. I used a mixture of Black Mission and Kadota figs in this filling, but any figs would work well – just adjust the sugar to your taste.
The vanilla cupcake is my latest iteration: light, fluffy, with a crisp sugary top. I used egg whites in the batter to let the vanilla flavor shine through, and also because it gives the cupcakes a lighter texture. They make a wonderful base for any number of frostings, and the well-behaved crumb lets you cut through it or cut out the top easily, as you can see.
Finally, I wanted the frosting to have honey in it, to harmonize with the figs. I settled on an orange blossom honey, mixed into a basic cream cheese frosting. I didn't want a buttercream because I was afraid it would be too overpoweringly sweet for the figs – although the cream cheese frosting meant I couldn't pipe it as decoratively as buttercream I think it was a good compromise. The tartness of the cream cheese helps cut through the sweet honey and combines well with the vanilla and fig to make a sweet little late-summer dessert.
I hope wherever you are, dear readers, that you enjoy a beautiful last weekend of August, and that you find time to eat a fig or two – like summer, they'll be gone before you know it.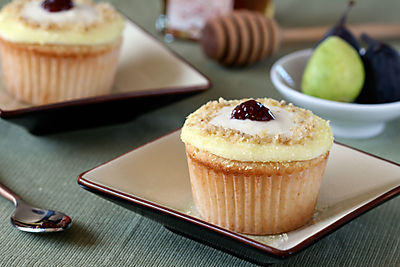 Vanilla Bean Cupcakes

Makes about 12 cupcakes
1 1/2 cups flour
1/4 teaspoon salt
1 1/4 teaspoons baking powder
1/2 cup butter, room temperature
1 cup sugar
1 egg plus 2 egg whites
1/2 cup whole milk
1 1/2 teaspoons vanilla bean paste
Preheat oven to 350 degrees F. Line a muffin tin with cupcake liners.
Sift flour, salt, and baking powder into a bowl and set aside.
Beat butter and sugar in a stand mixer on medium speed until very light and fluffy, about 3 to 4 minutes.
Add in the egg and beat to combine. Add in the egg whites, one at a time, and beat to combine.
Combine milk and vanilla bean paste together in a cup.
Add the flour mixture and milk mixture to the batter in alternating additions, starting and ending with the flour. Once the last bit of flour has been added. beat just to combine – do not overbeat.
Divide batter among the muffin tins. Bake in the oven for about 15 to 20 minutes, until the tops are lightly golden and a toothpick inserted in the center comes out clean. Let cool on wire rack.
 
Fresh Fig and Brown Sugar Filling
Makes about 3/4 cup
1 cup (about 8) fresh figs, washed and cut into small pieces
1/4 cup water
1/4 cup brown sugar
2 teaspoons lemon juice
Combine all the ingredients in a medium saucepan and cook over medium heat, stirring occasionally, for 15-20 minutes, until the mixture thickens. The figs should turn soft and mushy; mash them with a spoon. Remove from heat and let cool. If you don't like the little pieces of fig skin left, you can process the mixture quickly in a food processor, but I find it doesn't bother me; the chunks give the filling more texture and thickness.
Orange Blossom Honey Cream Cheese Frosting
makes about 1 cup
8 ounces cream cheese
2 ounces (1/2 stick) butter, room temperature
3/4 to 1 cup confectioners' sugar, sifted
1/4 cup orange blossom honey
Beat the cream cheese and butter in a stand mixer just until combined – do not overbeat.
Add in the sugar and honey and beat until combined. If it seems a little runny, add more confectioners' sugar but be sure to taste so you don't make the frosting too sweet.