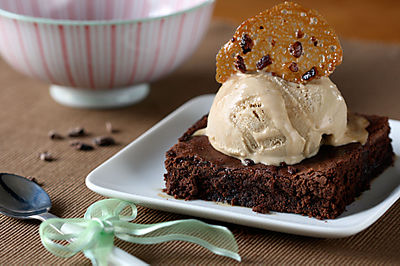 Back when I did my little poll on what all of you would like to see more of, the winner (by a few cake crumbs) was back to basics: the best chocolate cake, the best tart crust, etc…
Well, here's my first attempt to fulfill that promise: my best brownie recipe! However, as we're doing back-to-basics Dessert First style, this is not just a basic brownie, but a brownie with aspirations: a brownie that's more than just a brownie. What do I mean by that? Keep reading…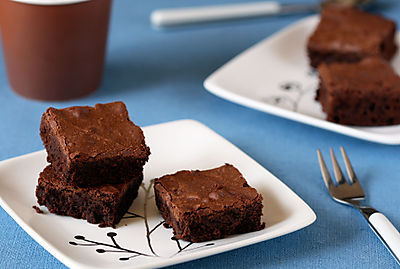 My favorite type of brownie is what is commonly described as fudgy: it bridges that heavenly, elusive gap between cake and well, fudge. It should be rich, moist, intense, a showcase for chocolate, hindered as little as possible by sugar and flour and everything else. And that crackly, paper-thin crust on top, like the finest of tissue paper covering the perfect present beneath – what brownie could be complete without it?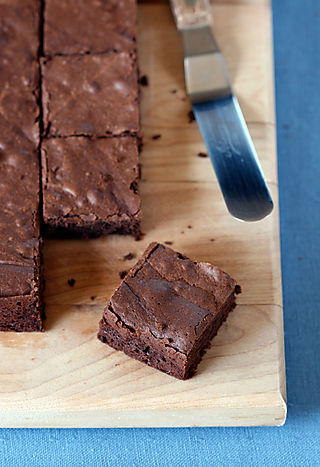 In testing out numerous permutations and iterations of recipes, I've discovered something else I like about brownies: they're best made by hand, in a bowl. What more perfect choice for a back-to-basics recipe? No fancy equipment or techniques required, just a bowl, spoon, and your arm power. I think this has something to do with the nature of fudgy brownies: the ingredients need to be beaten together, but not overbeaten, and since the batter becomes so thick, a stand mixer would have to work pretty hard to mix it, which leads to overbeating and the brownie losing that dense velvety texture when baked. 
I've found that a combination of bittersweet and unsweetened chocolates work best; semisweet chocolate doesn't have the depth and richness of flavor I need. Do use your best, favorite baking chocolate: after all, that's what your brownie is supposed to be all about! You can increase the sugar if you want a sweeter brownie; I was afraid this recipe might be a tad on the dark and intense side, but it met with positive public reception, so I'll let you be the final judge! I also didn't add nuts, as I fall very definitely on the "no nuts" side of the brownie fence, but should your loyalties lie in the other direction, you can add ½ – ¾ cup of nuts to the batter.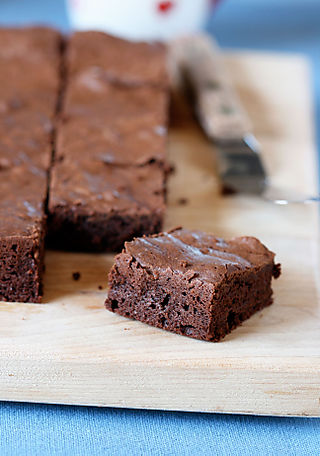 Which leads me to my next point: this may be my best basic brownie recipe, but it's certainly open to adaptation and revision! If you want to add chocolate chips, cocoa nibs, add more sugar, try a different chocolate, go right ahead! To me, a basic recipe should be like a basic black dress: always reliable but easily jazzed up or down as inclination dictates. It should give you the freedom and confidence to experiment, so as you play with it and tweak the ingredients to your tastes, you make it yours. I'm inspired by Alice Medrich, who, after coming up with seemingly every brownie recipe possible in her Bittersweet
book, revisited the concept again in her Pure Dessert
again, and presented another stellar brownie recipe. There might be one day you feel like mint brownies, or cheesecake brownies, or you find a new chocolate and wonder how it will work in your baking. How wonderful to have a basic recipe that you understand and trust, to use as a base!
So that's why my basic brownie is a brownie with aspirations: he a great little guy all on his own but he can be capable of much, much, more. And I decided to show an example of how far he can go by serving him with a scoop of espresso caramel swirl ice cream and a cocoa nib lace cookie topper.
The espresso caramel ice cream is a smoky, sultry little number: ground espresso gives the ice cream a coffee kick while the ribbon of buttery caramel sweetens it up and prevents the dessert from becoming too dark and bitter. The lace cookie, with nutty cocoa nibs suspended in an airy filigree of caramelized sugar, provides a crisp exclamation point to the dessert. All together, these three pieces combine to create a very elegant, adult dessert, about as far from licking the bowl in Mom's kitchen as you can imagine, and yet, as you scoop some ice cream and brownie in your mouth, you'll get the same happy feeling. I hope you enjoy these brownies!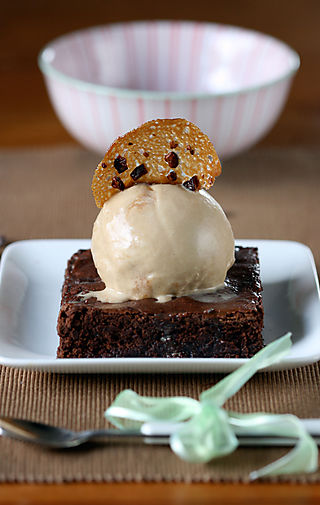 Dark Fudgy Brownie
about 16 squares
5 ounces bittersweet chocolate
3 ounces unsweetened chocolate
5 tablespoons unsalted butter
2 eggs
1 cup sugar
1/4 teaspoon salt
1 teaspoon vanilla
3 tablespoons cocoa
1/3 cup flour
Preheat oven to 350 degrees. Line a 8 inch square baking pan with foil and grease well with butter.
Combine chocolates and butter in a metal bowl and place over a bain-marie (pot of simmering water) on medium heat. Heat until chocolates and butter are melted and combined – be sure to stir occasionally to combine and to make sure the chocolate doesn't burn.
Remove from heat and let cool while you make the rest of the batter.
Whisk eggs and sugar together in a large bowl until thick and light-colored, about 2 to 3 minutes.
Add in the salt, vanilla, and cocoa powder and whisk to combine.
Add in the melted chocolate mixture and whisk to combine thoroughly.
Sift the flour over the mixture and whisk to combine.
Pour the batter into the prepared pan, making sure to spread it evenly into the corners. Smooth the top out with a spatula.
Bake in the oven for about 20 to 25 minutes, rotating halfway. Brownies are done when a knife inserted into the center comes out clean. Do not overbake!
Let cool on wire rack before cutting into pieces.
Espresso Caramel Ice Cream
makes about 1 quart
½ cup whole milk
½ cup heavy cream
1/8 teaspoon salt
1 ½ tablespoons ground espresso
4 egg yolks
½ cup sugar
Combine milk, cream, salt, and espresso in a heavy saucepan and bring just to a boil over medium heat. Stir occasionally to prevent burning.
While the milk is heating, whisk the egg yolk and sugar together in a medium bowl.
Pour about half the hot milk mixture into the egg yolks, whisking constantly. 
Pour the egg yolk mixture back into the saucepan and return to the stove. Cook over medium-low heat for about 8-10 minutes, stirring constantly with a wooden spoon, until the mixture reaches 180 degrees and the mixture is thickened and coats the back of the spoon.
Strain the base into a clean bowl and set in an ice bath. Let the mixture cool to room temperature before chilling in the refrigerator for at least 4 hours or overnight.
Freeze base in an ice cream maker per manufacturer's instructions. Right when the ice cream is finished, pour the caramel sauce over and fold in with a few strokes – there's no need to completely mix them together as you want a swirl. Scrape the ice cream into a container and freeze for another 2 hours before serving.
Cocoa Nib Lace Cookies
makes about 2 dozen
4 tablespoons unsalted butter
6 tablespoons dark brown sugar
1/4 cup light corn syrup
3 tablespoons flour
1 1/2 teaspoons heavy cream
1/2 teaspoon vanilla extract
1/8 teaspoon salt
¼ cup cocoa nibs
In a small saucepan, melt butter, sugar and corn syrup together over medium heat, whisking constantly until the mixture begins to boil.
Remove from heat. Add flour and stir to combine.
Add cream, vanilla, and salt and stir to combine.
Add in nibs and stir until fully combined. Let mixture cool for about 15 to 20 minutes.
Preheat oven to 350°F. Line several cookie sheets with parchment paper or silicone baking mats. 
Drop teaspoonfuls of dough onto cookie sheet, about 4 per sheet as they will spread.
Bake for 6 to 8 minutes until they are golden brown and stop bubbling.
Cool sheets on wire racks for a few minutes before removing cookies with a metal spatula. Cookies will be very fragile so work carefully. Move cookies to parchment paper or wax paper to finish cooling.