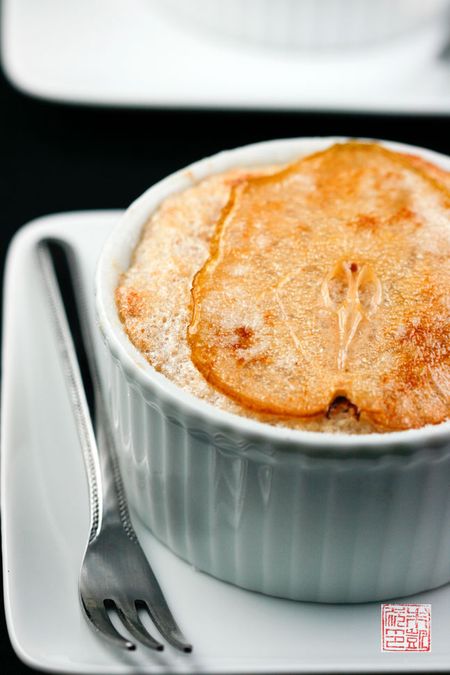 Do you ever feel like you have so many things to do you don't ever actually accomplish anything?
I'm talking about something slightly more intangible than just the overflowing to-do lists that fill all our lives. I'm thinking of the muse, the creative impulse, how sometimes it can fall distressingly dormant, or sometimes, grow unruly and unchecked, like an out of control wildfire. Creativity requires both talent and discipline to fully flower. I'll leave the matter of the first for others to judge, but as for the latter, I feel like I've become a little lax; my focus has become almost mayfly-like – or magpie-like? as I conceive and drop ideas half-formed, unable to concentrate on a single goal.
During the day I talk to architects and juggle decimaled numbers and draw lines and arcs that become the floors of hospitals, the walls of museums, the ceilings of homes. At night I pile the sink with dirty bowls, scatter flour and sugar over the counters, pull cakes and tarts out of the oven, photograph them, cataloging them in the annals of my website.
I take photos of souffles and I realize they've supplanted ice cream as perhaps my least favorite foodstuff to photograph. I take photos and I imagine other ones in my mind's eye, and wonder if they'll ever materialize. I see photos of faraway places and I think of all the far countries I haven't been to yet. I argue to myself about the satisfaction of new camera lenses, against the pleasure of travelling somewhere new and yet unknown on my personal map. I wonder if when I go to sleep I'll dream that mortgages don't exist. I have fruits on my counter waiting to be turned into dessert. I have images on my computer waiting to be turned into posts.
So yes, the discipline thing. I just need to do some buckling down, pare away the distractions, get down to what I want to do first. I love making lists, by the way. I dropped the habit after the wedding (does _that_ ever make a person never want to see a list again in her life!) but maybe it's time to pick it up again.
It's also about a shift in perspective, I think. Sometimes I feel like the urge to be creative becomes subsumed by the need to have been creative, the whole process turning inward, consuming itself, ouroboros-esque. A fear that one might never create anything worthy again. The whole rat-race thing, yes? The curse of never being satisfied once you've reached one pinnacle, because all you see are the other, higher ones ahead.
Oddly enough, this fear gets broken when people tell me I'm lucky, that I lead a charmed life. My natural tendency is to scoff and reel off a litany of things I have yet to do. But the other day I realized that, wait, I am really lucky and I have had a great life and I've done many things I'm happy about. Of course I still want to accomplish things, because I believe the day you stop having dreams is the day you're done, but it's a good thing to stop every once in a while and take a look back at everything you've already achieved.
So this Thanksgiving, I'll remember to be thankful for all that I already have. Health, the love of family and friends, a warm place to come home to, food on the table. The rest is – pardon the pun – really just icing on the cake.
Have a good Thanksgiving!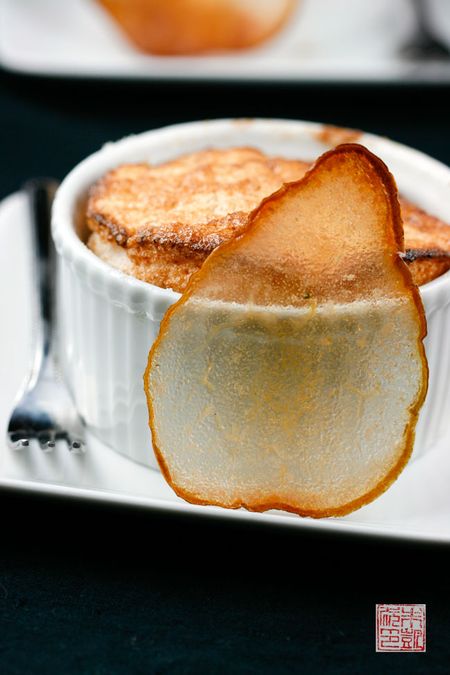 Pear Wafers
1

ripe medium pear

1 cup (200 g)

sugar
Souffles
2 1/4 cups (450 g)

sugar

3 1/3 cups

water

8

ripe medium pears

1/4 cup

pear eau-de-vie

1 1/2 tablespoons

unsalted butter

8

large egg whites
For the wafers:
Heat oven to 250 degrees F. Line a baking sheet with a silicone mat.
Wash pear and use a mandolin to slice into thin slices.
Place sugar on a flat plate and dip both sides of pear slices into sugar to coat. Place slices on baking sheet. Place another silicone mat on top, sandwiching the pear slices. This will keep them from curling up in the oven.
Bake about an hour until the slices have turned dry and crisp.
Peel wafers off the silicone mats and transfer to a wire rack to cool and harden.
For the souffles:
Combine 1 1/3 cups of sugar with 3 cups water in a saucepan, and heat on stove until sugar dissolves. Remove from stove.
Peel, core, and quarter the pears. Place in the saucepan with the sugar syrup, adding more water if necessary to cover the pears.
Simmer gently over medium heat for 12 to 15 minutes, until pears are tender. Drain the pears and discard the syrup.
Dice 8 of the pear quarters and reserve. Puree the remaining pears in a food processor until smooth.
Place puree in a saucepan and cook over medium heat until it has reduced to 2 cups. Remove from heat.
Dissolve 2/3 cup of remaining sugar in remaining 1/3 cup water in a clean saucepan and cook over medium high heat until the syrup turns golden caramel.
Make sure the puree is still warm or it will set the caramel too fast. Pour the hot caramel into the puree and stir to combine. Add the eau-de-vie and stir to combine.
Preheat the oven to 475 degrees F. Grease (8)-8 ounce ramekins with the butter on bottom and sides. Dust with the remaining 1/4 cup sugar. Divide the diced pears among the ramekins.
Whip egg whites in a stand mixer until they reach firm peaks. Fold egg whites into the pear puree. Divide the mixture among the ramekins.
Bake for 8 to 10 minutes, until the souffles are puffed and light brown. Serve immediately.