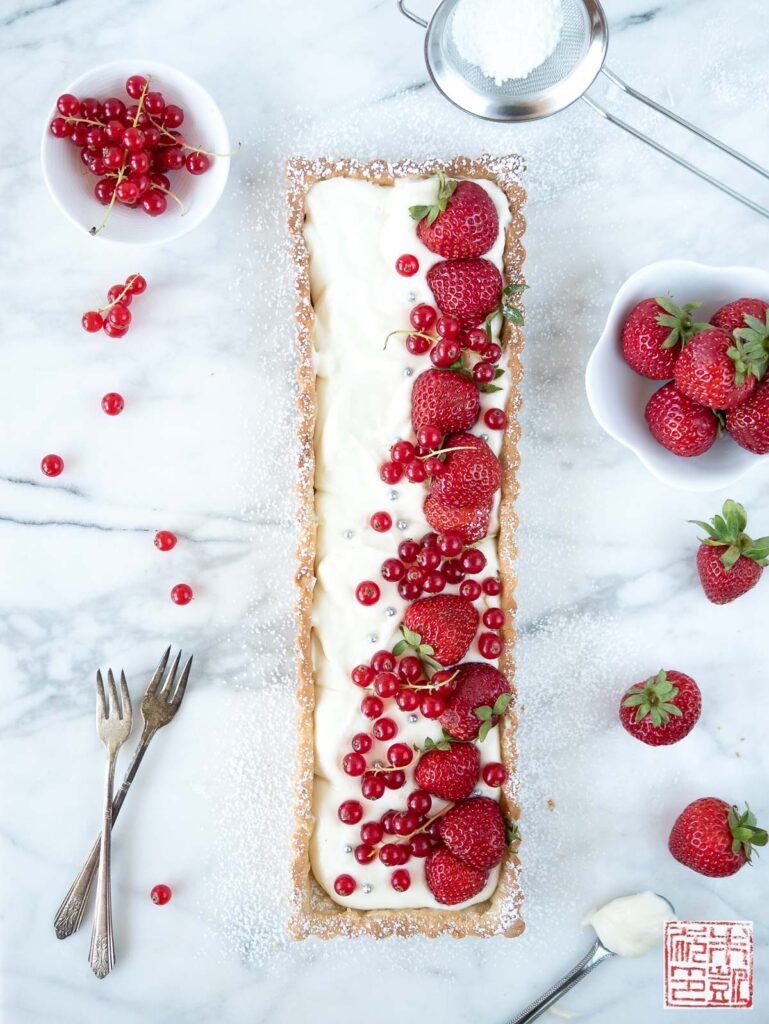 This summer berry ricotta tart is the perfect mid-to-late summer dessert: refreshingly simple, minimal baking time in a hot kitchen, and so delicious. It's sort of a minimalist version of a cheesecake, featuring a delightfully plush and flavorful ricotta that needs little embellishment to make it the star of the tart.
Bellwether Farms is a family owned farm in gorgeous Sonoma County (I love visiting Sonoma as often as I can), where they make their award-winning range of cheese and yogurts from their dairy cows. I've had their cheeses before and used their crème fraîche and fromage blanc in my baking, but I'd never tried their whole milk basket ricotta before. I was excited to be invited to a virtual tasting by Liam, one of owners of Bellwether Farms, to learn more about this cheese. 
The most common way to make ricotta at home is to combine milk or cream with an acid like lemon juice or vinegar, which will cause the milk to separate into curds and whey. The whey is drained and the remaining curds become ricotta. Bellwether Farms' ricotta is unique in that they don't use any vinegar, but instead add cultures to the whole milk and let the flavors develop slowly while it's heated and constantly stirred. The resulting ricotta is super soft, almost cloud-like in texture, and you can literally eat it with a spoon.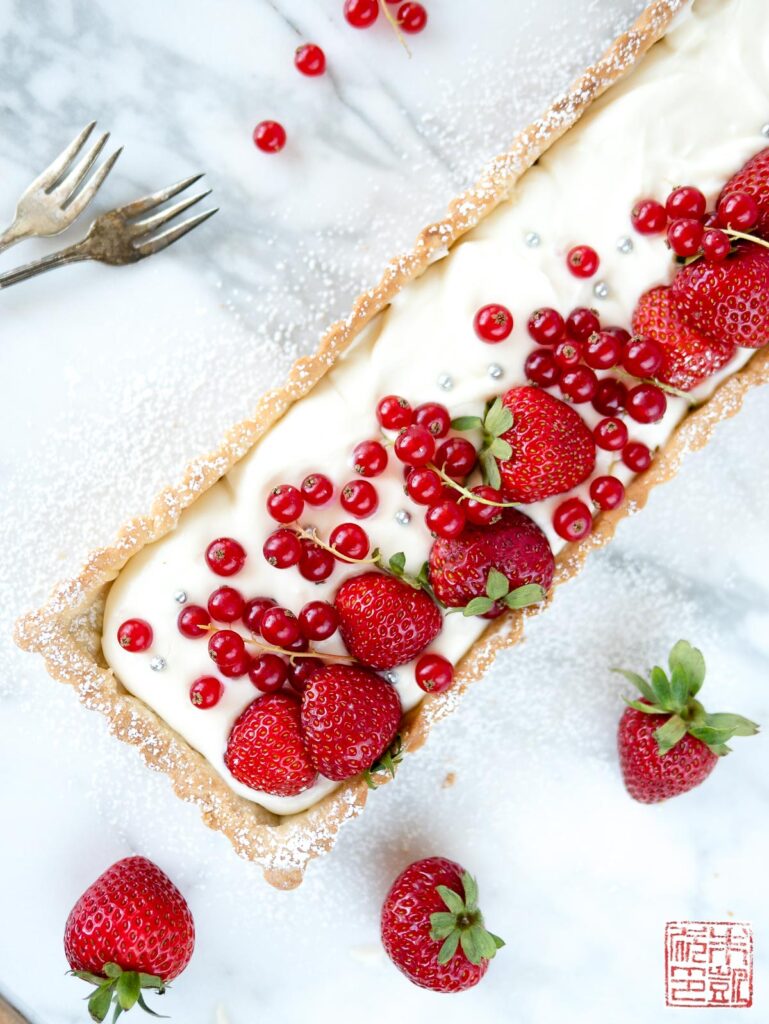 Bellwether Farms recommends enjoying their ricotta straight from the basket with honey, apricot jam, red pepper jelly, or with some fresh fruit. I took it a step further and, following this recipe from Donna Hay, made a simple summer berry ricotta tart with a crisp tart shell filled with whipped, lightly sweetened ricotta, and topped with summer berries. The pâte sablée tart crust holds up perfectly to the creamy ricotta. I used strawberries and redcurrants, but any berries, cherries, even figs would go wonderfully on top. A drizzle of honey over this would not go amiss either. If you serve it fresh, you'll enjoy that lovely cloudlike texture. If you chill it, it'll firm up a bit and be even more cheesecake-like. Perfect for these waning golden summer afternoons.
Summer Berry Ricotta Tart
Serves:
(1) 4"x13" rectangular tart
Ingredients
Pâte Sablée
1½ cups (188 g) flour
½ cup (60 g) confectioner's sugar
½ teaspoon salt
9 tablespoons (128 g) unsalted butter, very cold, cut into small pieces
1 large egg yolk
Filling
2 cups (480 g) fresh ricotta
¼ cup (40 g) confectioners' sugar
1 teaspoon vanilla extract
1-2 cups strawberries
Instructions
For the tart shell:
Put the flour, confectioner's sugar, and salt in a food processor and pulse a few times to combine.
Add the pieces of cold butter and pulse until the butter is cut into pea-sized pieces.
Add the egg yolk and combine in several pulses until the dough starts to turn from dry to clumpy. Do not let the dough form one giant ball or it will be be overworked – just keep checking after every pulse and when the dough pieces looks like they will stick when you press them together, stop.
Butter a 4 inch x 13 inch rectangular tart tin with removable bottom. Turn the dough out into the tin and press into the bottom and up the sides with your fingers. You probably will not need all the dough – save the extra for patching the shell after you bake it. Do not press the dough too hard or it will become tough – just enough for it to form to the tin.
Freeze the tart shell for at least 30 minutes. When you are ready to bake it, preheat the oven to 375 degrees.
To partially bake the tart shell, take a piece of foil and butter the shiny side, then press the buttered side tightly to the shell. You do not need pie weights.
Place the tart shell on a baking sheet and bake for about 25 minutes, until the shell is dry and lightly colored. If any places have cracked, repair with the extra dough. Let cool on a rack until room temperature.
For the filling:
Place the ricotta, sugar and vanilla extract in the bowl of a stand mixer fitted with the whisk attachment.
Whisk for 4–5 minutes until light and fluffy.
Spoon the filling into the tart shell.
Wash and hull the strawberries, and arrange on the ricotta filling as desired. Serve immediately.