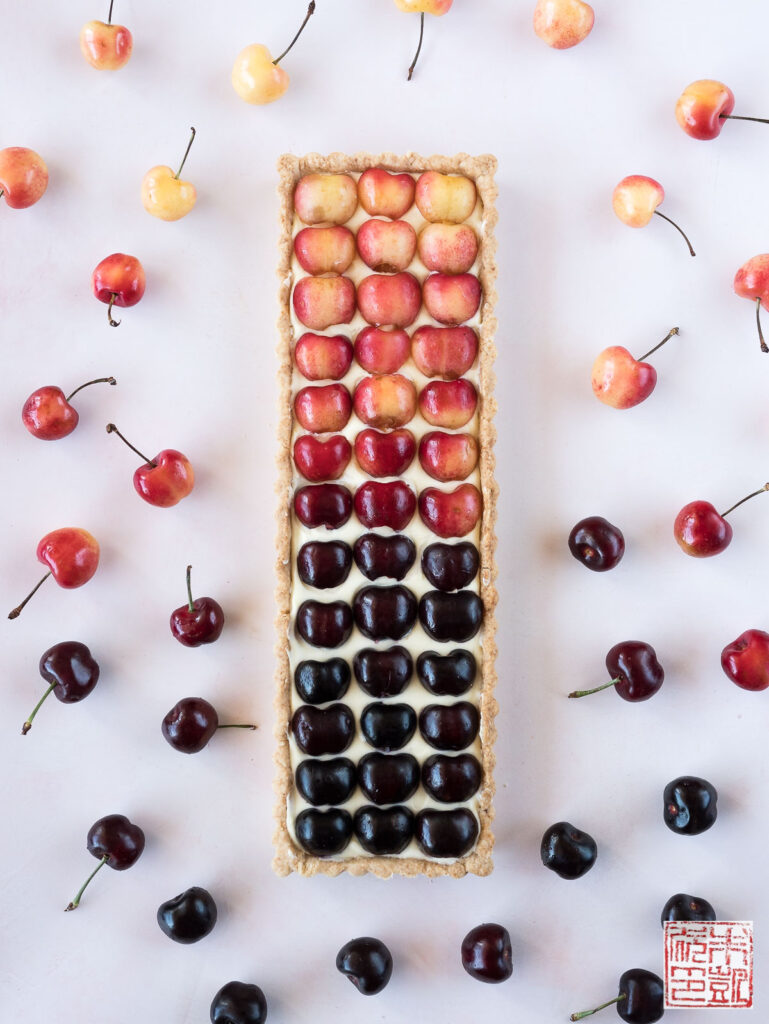 It's cherry season, and I made this ombre cherry tart to celebrate. There's actually quite a lot of things to celebrate besides cherries: the end of school, the advent of summer, making plans to see friends and family, and of course all that beautiful summer produce to bake with in the kitchen.
Click here to jump to recipe
This last year and a half has been a trial for everyone, I know. My family and I have been lucky to have been relatively unaffected compared to many, but I won't deny that there have been many days when I've felt low, and all the things that used to bring me joy like baking, no longer interested me. Not when the world felt so heavy and sad. So it's lovely to be able to find happiness in the pleasures of life again, even something as simple as putting together a tart. I hope you find the zen exercise of picking out and arranging ripe cherries as relaxing as I did.
This ombre cherry tart is a take on your classic French fruit tart filled with pastry cream and topped with all manner of fresh fruit. I added almond extract to both the tart shell and the pastry cream instead of the typical vanilla, since cherry and almond are such a lovely combination.
The cherries are a mix of dark red Bings and red/yellow Rainiers. I washed and pitted them, cut them in half, and then arranged them on a cutting board in the order I wanted before placing them on the tart, to get the color gradation I wanted. It's less messy and stressful for my OCD nature than trying to create the pattern directly on the tart! Of course if you can only find one kind of cherry this works just as well, but the rainbow of fruit makes for an eye-catching dessert.
Here's to sunnier and sweeter days ahead!
Ombre Cherry Tart
Serves:
(1) 4"x13" rectangular tart
Ingredients
Tart Crust
1 cup (140 g) all purpose flour
1 tablespoon sugar
¼ teaspoon salt
½ cup (113 g) unsalted butter, cold, cut into 1-in pieces
1 tablespoon cold water
¼ teaspoon almond extract
Pastry Cream
1 cup (218 g) whole milk
2 Tablespoons (30 g) + 3 Tablespoons (44 g) sugar
3 large egg yolks
2 Tablespoons (14 g) cornstarch
1 teaspoon vanilla extract
½ teaspoon almond extract
1 cup (230 g) heavy cream
Topping
½ pound cherries, a mix of Bings and Rainiers
Instructions
For the crust:
Combine flour, sugar, and salt in a food processor. Pulse to combine.
Add in butter and pulse until butter is in pea-sized pieces.
Combine water and almond extract and drizzle over the mixture. Pulse to combine until the mixture resembles coarse crumbs – it should not be fully combined into a ball.
Turn out mixture onto the clean kitchen counter and gently press together. If you have trouble making it stick together add a few more drops of water.
Gently press dough into a 4 inch x 13 inch rectangular tart pan and press into the sides to form.
Chill pan with dough in refrigerator while preheating the oven to 375 degrees F.
Line the dough with foil and fill with pie weights. Bake tart crust for 15 to 20 minutes.
Remove the foil and bake until golden, 12 to 15 minutes more. Remove from oven and let cool.
For the pastry cream:
Combine ¾ cup (172g) of the milk with 2 Tablespoons (30g) of sugar in a small saucepan. Heat on the stove over medium heat until the sugar is dissolved and bubbles appear on the edge of the pan.
Meanwhile, whisk together the egg yolks and 3 Tablespoons (44g) sugar in a bowl.
Whisk the cornstarch and remaining ¼ cup (46g) milk in a small bowl and then add to the egg yolk mixture, whisking to combine.
Pour the hot milk into the egg mixture, whisking constantly to prevent the eggs from cooking.
Return the entire mixture to the saucepan and cook over medium heat, whisking constantly until the mixture thickens. Stir in the vanilla and almond extracts.
Scrape the pastry cream into a bowl, press a piece of plastic wrap to the surface, and refrigerate until needed.
When you are ready to use the pastry cream, whip the cream in a mixer to soft peaks, and then fold gently into the pastry cream to lighten.
To finish the tart:
Spoon the pastry cream into the tart shell and spread evenly. Fill the tart shell to just below the top; you may have some pastry cream left over.
Wash and pit the cherries, and slice in half. Arrange cherry halves by color on top of the pastry cream. Serve immediately.