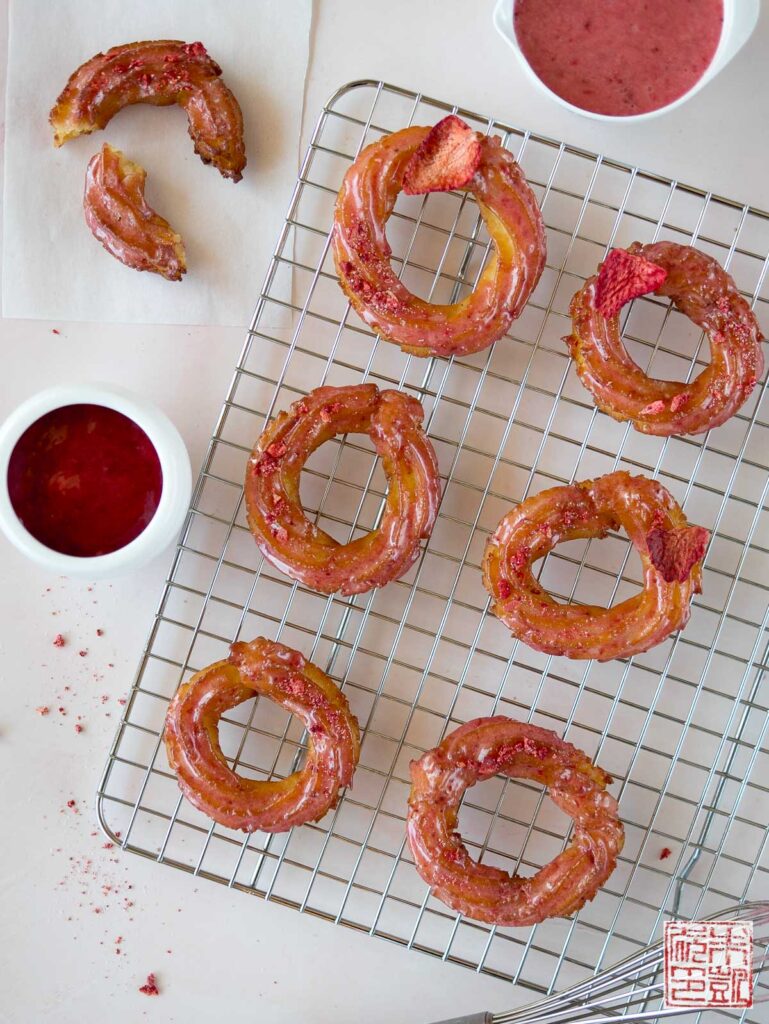 These strawberry crullers are a delightful way to celebrate strawberry season, and sweeten up your weekend breakfasts. I've always been a big fan of making donuts, particularly crullers. Adding a vibrant strawberry glaze was inspired by Feast Magazine's recipe and made for a fun Sunday baking project.
Click here to jump to recipe
French crullers are made from piped pâte à choux that's then deep fried. Although you can typically pipe the batter in a swirly circle for crullers, you can also pipe out in straight lines for churros, or simply drop the batter in heaping dollops that will puff up gloriously into beignets. Yes, you can make all these pastries from the same dough! Afterwards, a quick dip of the crullers into a glaze made from fresh strawberries and confectioner's sugar. I also sprinkled a few bits of freeze-dried strawberries on top for decoration and extra flavor.
Look how beautifully golden the dough is from the eggs. I piped the dough onto cut squares of parchment paper to make it easier to move them and drop them into the frying oil. You can peel of the parchment paper with tongs after a few moments of frying. 
I like to fry my donuts around 350 degrees F – about a minute and half per side of a regular-sized donut seems to produce optimal results. If the oil is too hot, the donuts will of course burn. If the oil is not hot enough, it will take too long for the donuts to finish cooking, and they'll absorb too much oil in the process and turn greasy and soggy. Once your oil reaches 350, remember to turn the heat down but not off – as you add donuts to the oil, they will cool the oil down. Periodically check the temperature to make sure it the oil hasn't cooled down or overheated. 
I let the crullers cool down a little bit before dipping them in the glaze, then let them set and serve as soon as possible to enjoy the bite of the crisp crust and the warm, soft interiors. Almost immediately we finished eating them my daughter asked if we could make them again. Why not? These strawberry crullers deserve to be made as often as possible while strawberries are here.
Strawberry Crullers
Ingredients
Pâte à choux dough
½ cup (115 g) whole milk
½ cup (115 g) water
8 tablespoons (113 g) unsalted butter, cut into pieces
1½ tablespoons (21 g) sugar
¼ teaspoon salt
1 cup (140 g) all purpose flour
3 large eggs, room temperature
1 large egg white, room temperature
vegetable oil for frying
Strawberry Glaze
1 cup strawberries
¼ cup (50 g) sugar
1 teaspoon lemon juice
1 cup (110 g) confectioner's sugar
2 teaspoons milk
Instructions
For the crullers:
Combine milk, water, butter, sugar and salt in a heavy bottomed medium saucepan and heat on medium high.
Once the mixture is at a rolling boil, add all of the flour at once, reduce the heat to medium and start to stir the mixture vigorously with a wooden spoon. The dough should come together into a ball. Continue stirring for another 3-4 minutes until it is completely smooth and soft.
Transfer the dough into a bowl of a stand mixer fitted with the paddle attachment and beat to cool it down slightly. Add in the eggs and egg white one at a time, beating after each egg has been added to incorporate it into the dough. The dough should be very thick and shiny but not liquidy.
Cut a sheet of parchment paper into 4 in x 4 in squares. Fill a piping bag fitted with a ½ inch star tip half full with the batter. Pipe rings of batter onto each square.
Heat at least 2 inches of oil in a heavy bottomed pot to 350 F. Carefully place a few doughnuts in a time, parchment side up. After about 30 seconds, use tongs to pull the parchment paper off. Fry until cooked through and crispy, about 1 – 2 minutes, flipping them over about halfway through the cooking time. Remove from the oil with a slotted spoon and place on paper towel-covered wire rack to drain and cool slightly before dipping in glaze.
For the glaze:
Wash, hull, and roughly chop the strawberries. Place into a medium saucepan.
Add in the sugar and lemon juice. Cook on medium heat, stirring with a wooden spoon, until strawberries are soft and broken down, about 5 minutes.
Pour strawberries into a food processor and puree until smooth. Let finish cooling before making glaze.
Place about ¼ cup of the pureed strawberries in a bowl. Whisk in confectioner's sugar and milk until a smooth glaze is formed. Add more confectioner's sugar to thicken or milk to thin out as needed.
Dip the tops of the doughnuts in the glaze and place on a wire rack set over a baking sheet to set.
Serve immediately.