Happy end of 2020, and happy beginning of 2021! I made these raspberry vanilla panna cotta tarts to usher in the new year. I know we all couldn't wait for this year to be over and I'm looking forward to a more hopeful 2021. My last tart this year is an adaption from Helen's beautiful cookbook Pie Style, an adaption of her New Year's Raspberry Champagne Tart. It's a beautiful way to welcome in 2021.
Click here to jump to recipe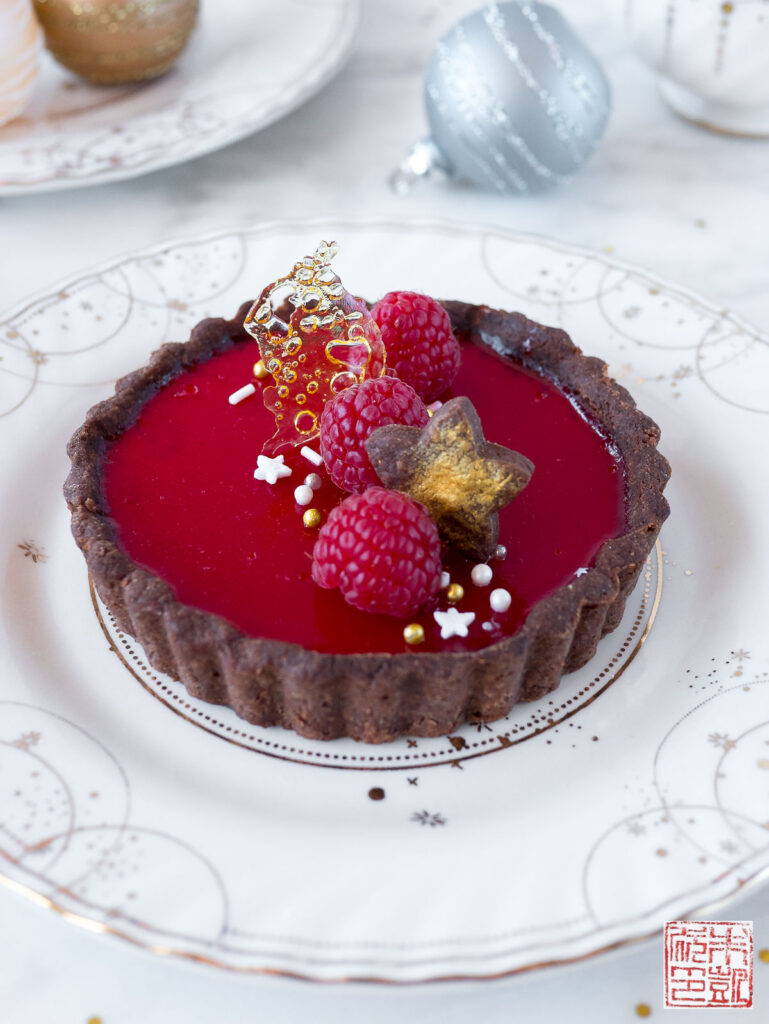 The original recipe in her cookbook calls for an 8″x11″ tart pan to create a single large tart, but since I didn't have that size pan on hand I decided to modify it into several small tarts. The tart dough recipe should be enough to make four 4 1/2″ round tart shells if you're careful with the dough. There will probably be leftover panna cotta custard but you can pour them into individual glasses to make a classic panna cotta.
The crisp chocolate tart crust holds a layer of creamy, just-set vanilla panna cotta, covered with a vibrant layer of raspberry gelée. It's sweet and unctuous, just a little tart from the raspberries, and grounded by the richness of the chocolate crust. Since it's a quiet end to the year, I kept the decorations minimalist, and to allow the raspberry layer to show, but feel free to decorate as elaborately as you like. The chocolate stars are cut from scraps of the tart dough, and I made the bubble sugar decorations using this recipe. 
Thanks to Helen for this lovely celebratory tart. And thanks to all my readers and friends near and far. It's been a difficult year, but one of the silver linings is that it's brought me closer (virtually) to my friends and family, and taught me to cherish these invisible connections holding us together and keeping us up. I wish you all a safe and happy new year, and look forward to brighter days on the horizon. 
Raspberry Panna Cotta Tarts
Serves:
(4) 4½-in round tarts
Ingredients
Tart Dough
1 cup (128 g) all-purpose flour
2 tablespoons (30 g) sugar
2 tablespoons (14 g) cocoa powder
½ cup (113 g) unsalted butter, cold
2-3 tablespoons ice cold water
Vanilla Panna Cotta
2 teaspoons (6 g) powdered gelatin (about 1 packet)
2 cups (460 g) heavy cream
½ cup (115 g) half and half
⅓ cup (67 g) sugar
1 teaspoon vanilla extract
Raspberry Gelee
1½ teaspoons (4.5 g) powdered gelatin
1½ cups (185 g) raspberries
¼ cup (50 g) sugar
1 teaspoon lemon juice
Instructions
For the tart crust:
Combine flour, sugar, and cocoa powder in a food processor and processor just to combine.
Cut butter into 1 inch pieces and add to food processor. Process until mixture resembles coarse crumbs.
Add in water a tablespoon at a time and process just until dough begins to come together (should not turn into a ball of dough).
Gather dough together and press into a disk. Wrap in plastic wrap and chill in refrigerator for about 30 minutes to let firm up.
To bake the tart shells, take out dough and turn out onto a lightly floured surface. Roll out to about ¼" thickness. Gently press and form into the bottom and sides of four 4½" round tartlet pans. Make sure to spread the dough out and up evenly to prevent an overly thick bottom or sides.
Chill tart pans in refrigerator while preheating the oven to 425 degrees F.
Line the dough with foil and fill with pie weights. Bake tart shell for 15 minutes.
Remove the foil and bake until golden, 12 to 15 minutes more.
Remove tart shells from oven and let cool.
For the panna cotta:
In a small bowl, sprinkle the gelatin over 2 tablespoons of cold water and let stand until softened, about 2 minutes.
In a large saucepan combine cream, half and half, sugar, and vanilla extract, and bring just to a simmer over medium high heat. Let simmer for about 15 minutes, stirring regularly to prevent scorching.
Remove saucepan from heat and strain into a bowl. Stir in gelatin mixture until melted and fully incorporated.
Divide mixture among the four tart shells.
Cover and refrigerate for at least 2 hours or overnight until the mixture has set.
For the raspberry gelee:
Place ¼ cup of cold water in a medium saucepan and sprinkle the powdered gelatin over it and let sit for a couple minutes.
Add in the raspberries, sugar, and lemon juice and bring to a simmer over medium heat, stirring occasionally to break down the berries.
Remove from heat when berries have softened and mostly broken down, and press mixture through a sieve into a clean measuring cup. Let cool for about 10 minutes.
Carefully pour a layer of raspberry gelee over the tops of the set panna cotta tarts. Let tarts set in the refrigerator for another 2 hours before serving. Serve within a day.