Happy holidays! These Chinese almond snickerdoodles are part of a sweets box filled with versions of some of my favorite Asian treats. It's my take on a cookie box this year. Although there are many holiday traditions and activities that we had to take a break from, at least hopefully only until next year, the holiday cookie baking marathon is going strong in our house.
Click here to jump to recipe
This holiday season,  I was inspired to make some of my favorite Chinese/Asian sweets for a sweets box. From left to right, there are:
– Five spice gingerbread men – I know gingerbread isn't Chinese, but ginger and five spice are, so I put a few teaspoons of five spice powder into my gingerbread cookie recipe.
– Taiwanese pineapple cakes – I've made this before as well, but this time I found this super cute pineapple shape mold and it turns out these adorable cakes in the perfect size.
– Black and white sesame candy – this is a very popular Chinese candy made from sesame seeds, sugar, and maltose. I used Lisa Lin's recipe which uses honey instead of maltose, and instead of cutting it into the traditional thin rectangles, I cut circles out with a cookie cutter. If you want to get fancy, you could also try dipping these in melted chocolate.
– Chinese almond snickerdoodles – Chinese almond cookies are a traditional Chinese-American treat; they're often served at Chinese restaurants or given in boxes as gifts. I combined them with a some cinnamon to make a cross between almond cookies and snickerdoodles.
– Chinese peanut candy – this is another popular Chinese candy, sort of their version of peanut brittle. It's often given as a gift at Chinese New Year. I used this Woks of Life recipe which includes sesame seeds with the peanuts – this is also traditional but I left out the sesame seeds since I already had the sesame seed candy.
Lots of goodies to fill up the box!
Just a couple shots of the pineapple cakes on their own and the molds. I used about 30g of dough for each mold, put a dollop of filling in the center, and formed the dough around it. The dough is fairly tender, so if you see the jam breaking through the dough in places, you can patch it with some more dough. Once you have the dough packed into the mold, tap it gently against the counter to flatten out the surface and help it bake up smoothly.
I actually used a pineapple-passion fruit jam I found for the filling and it worked beautifully; combined with the pineapple shape it gave these cakes a really tropical feel, and I know we could all use a tropical vacation right now!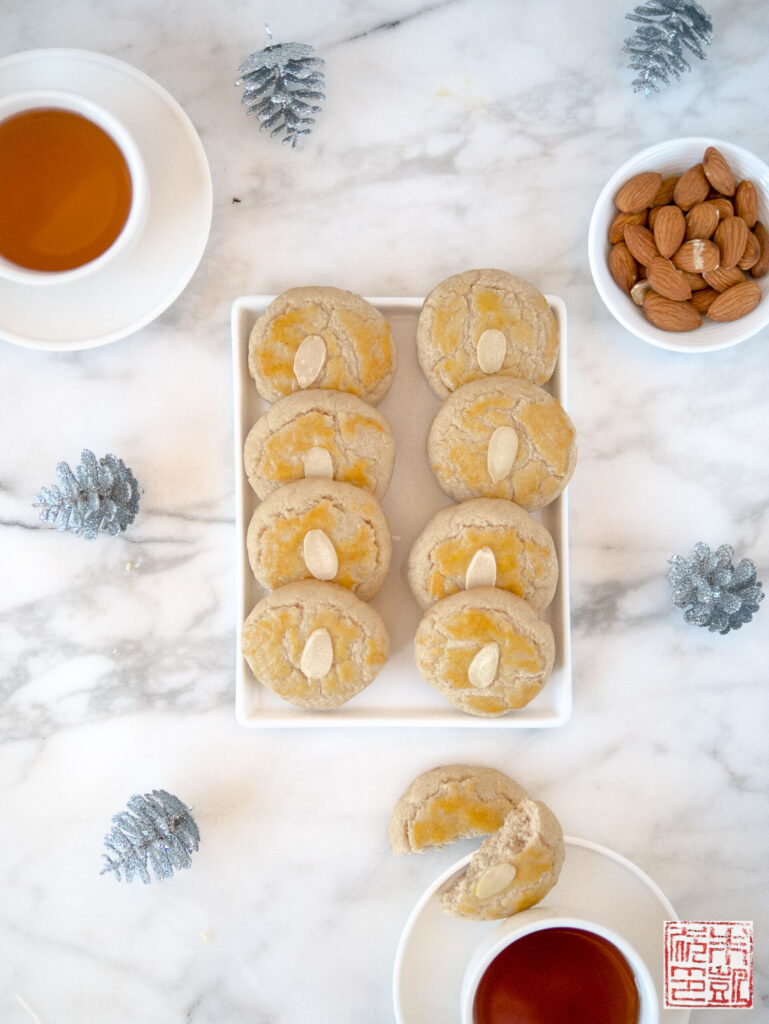 I linked to recipes for all the other cookies and candies, but the recipe for the Chinese almond snickerdoodles is below. The traditional Chinese almond cookies are made with lard and are very crisp and crumbly. This version definitely has more of a snickerdoodle texture because of the butter, and I also used shortening to give a melt-in-your mouth delicacy. The combination of cinnamon and almond makes this a warm hug of a cookie. These went super quickly in the house!
Wishing you and yours a safe and beautiful holiday.
Chinese Almond Snickerdoodles
Serves:
about 3 dozen cookies
Ingredients
Cookies:
2½ cups (355 g) all-purpose flour
1 cup (200 g) sugar
1 teaspoon ground cinnamon

1/2 teaspoon (4 g) baking soda
½ teaspoon (4 g) baking powder
½ teaspoon (4 g) salt
½ cup (113 g) unsalted butter
½ cup (113 g) shortening
1 large egg

, room temperature


1 1/2 teaspoons almond extract
½ cup toasted sliced almonds for decoration
1 egg, beaten, for egg wash
Instructions
For the cookies:
Sift flour, ground cinnamon, baking soda, baking powder, and salt together in a medium bowl and set aside.
In a stand mixer with the paddle attachment, beat butter and shortening together on medium speed until smooth.
Add the egg and almond extract, and mix until combined.
Add the flour mixture and mix on low speed until combined.
Turn out dough onto a piece of plastic wrap and form into a disk. Wrap up dough and refrigerate for about 20 minutes until firm.
Preheat oven to 350 degrees F. Line several cookie sheets with parchment paper or silicone baking mats.
Roll the dough into 1-in balls and place on the sheets about 1 inch apart. Flatten them with the palm of your hand.
Place a sliced almond in the center of each ball of dough. Brush a little egg wash over the top of each cookie.
Bake for 16-20 minutes, rotating cookie sheets halfway through, until the edges are golden. Cool sheets on wire racks for a few minutes, then transfer cookies to wire racks to finish cooling.