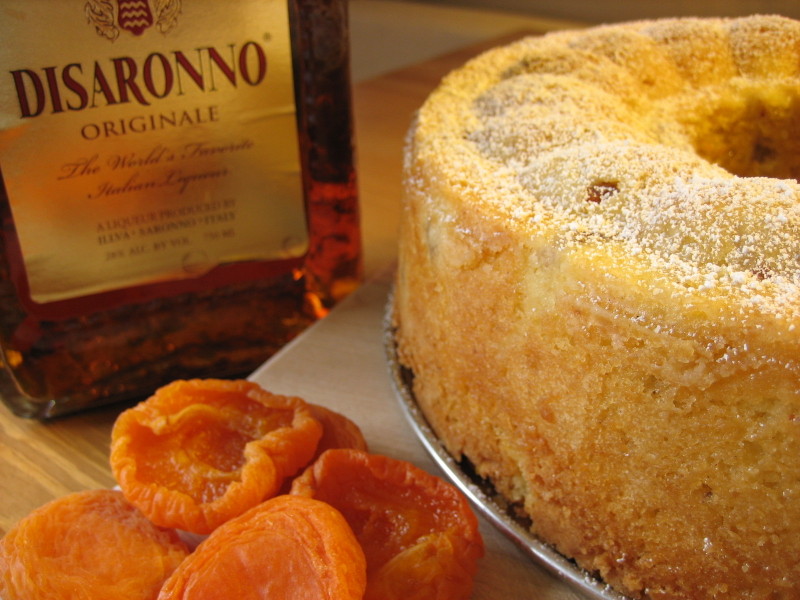 I have a confession to make.
Although I have no aversion to pretty, colorful mixed drinks when I am out, my liqueur collection at home has been constructed entirely from my baking needs. The very first alcoholic ingredients to grace my shelves were, I believe, Kahlua and brandy, which were called for in the tiramisu recipe I was using. After the baking was over the bottles were relegated to the back of the pantry, until a visiting friend queried me in incredulous disbelief, "You mean you have no alcohol in this apartment at all?" (We were, after all, in college), to which I replied, "I think I have some Kahlua somewhere." Suffice to say I was not exactly equipped to host wild parties at my place. However, I did manage to add to my paltry beginnings as time went on and I learned the usefulness of having wines and spirits around to add dimensions of flavor to my cooking.
When I saw the topic for this month's Sugar High Friday, I knew where I would look. Regan Daley's In the Sweet Kitchen
is both a tempting cookbook and a useful reference on baking ingredients – fully half of the book is devoted to discussions on fats, sugar, flours, etc, as well as flavorings such as liqueurs. Daley writes that "…liqueurs and spirits add depth, dimension, and complexity of flavor (not to mention a pleasant little kick, where desired)." This is how I prefer to use my collection of spirits – to add that extra fillip to flavor to my baking.
I picked one of her recipes I'd been meaning to try for a while: Almond Apricot Pound Cake with Amaretto. Almond is one of my very favorite flavors, and I find its scent in the kitchen heavenly, even more than vanilla. Adding Amaretto is quite intuitive, since the liqueur is made not just from bitter almonds but from apricot pits, and thus enhances both those flavors in the cake. Although the recipe also calls for apricot brandy, I could not find any in the store that appealed to me so I left it out, preferring to emphasize the almond aspects.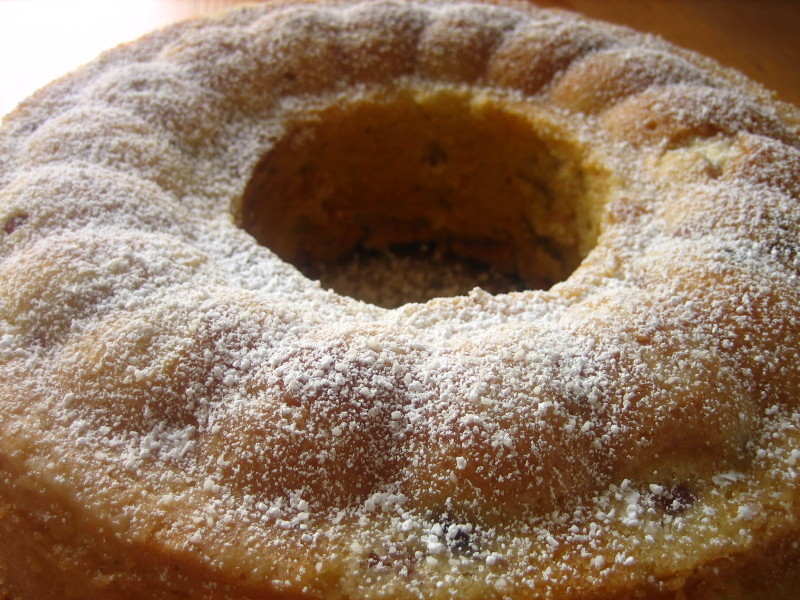 This dessert is pound cake at its best: firm, with a tight but delicate crumb that collapses easily in the mouth into velvety goodness. It is also quite moist, most likely from the sour cream and the almond paste (The original recipe called for marzipan, but I prefer making almond paste from scratch; I've found the stuff in stores often has an odd tinned scent to it and has more sugar than almonds). Dried apricots studded throughout add bursts of chewy sweetness. The layering of flavors, from toasted almonds to almond extract to the Amaretto and the almond paste, create a marvelous complexity to the taste. It is quite sweet, more than most pound cakes, so it is very fitting for a dessert. As it is also a large cake, it will work quite well for the party I will be attending tomorrow. If I don't eat it all myself, first…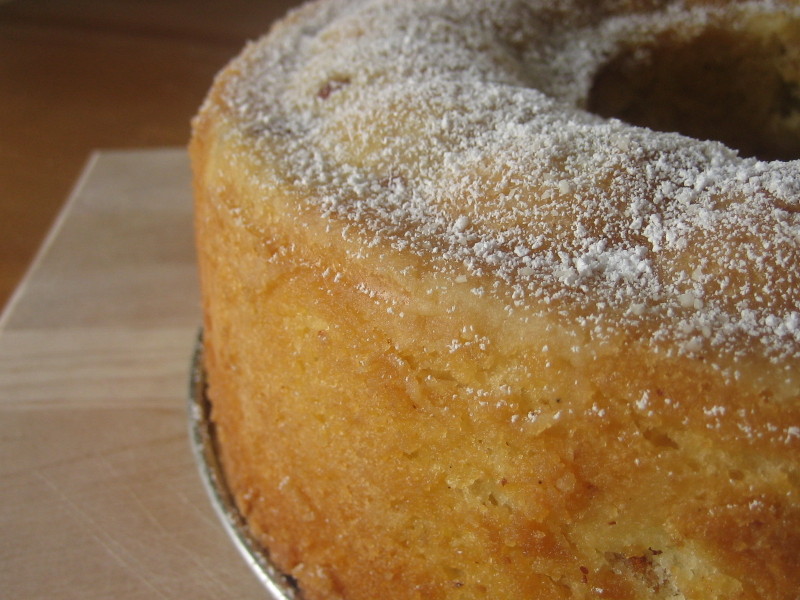 adapted from In the Sweet Kitchen by Regan Daley
makes about 16 to 20 servings
1 1/2 cups sliced almonds, toasted
3 cups sugar
1 cup butter, room temperature
4 ounces almond paste, room temperature
6 eggs, room temperature
2 teaspoons almond extract
1 1/2 teaspoons vanilla extract
1/4 cup Amaretto
2 1/2 cups flour
1/2 cup cake flour
3/4 teaspoon salt
1/2 teaspoon baking soda
1 cup sour cream
2/3 cup chopped dried apricots
Preheat the oven to 325 degrees. Grease and flour a 10-inch tube pan. (I used a 9-inch springform pan with a bundt-style bottom; it made it easier to unmold the cake and there was enough batter left to fill a regular loaf pan).
Grind the toasted almonds and 3 tablespoons of sugar together in a food processor until very fine.
Combine the flour, cake flour, salt and baking soda together in a bowl and set aside.
In the mixer bowl combine the butter and sugar together on medium speed until very fluffy and pale. Add the almond paste and combine until well blended. (It is best to add the almond paste in small pieces to allow it to incorporate more easily. Be sure it is soft enough to blend; you don't want to break the mixer!) Add in the ground almond-sugar mixture.
Add the eggs one at the time, scraping down between each addition. Add the almond and vanilla extracts, and the Amaretto. The mixture should be very fluffy by now.
Add the flour mixture in three additions, alternating with sour cream in two additions. Be careful not to overbeat the mixture at this point or the cake will become overly dense and flat.
Fold in the apricots. Turn the mixture out into the tube pan, filling it up a little over three-quarters of the way.
Bake the cake in the oven for about an hour to hour and a half, or until a wooden skewer inserted into the cake comes out clean and the cake is beginning to pull away from the sides of the pan.
Cool the cake on a wire rack for about 15 minutes. Run an offset spatula or knife around the edge of the pan and the center tube. Unmold the cake unto the rack and let it finish cooling. You should wait until it is cool before serving because the cake is quite crumbly and delicate while it is still warm. However, I could not resist eating some of the bits that fell off – and they were very delicious!
Store the cake either in a cake container or wrapped in plastic.
Tagged with: SHF # 18 + Sugar High Friday + Almond Apricot Pound Cake + Amaretto