Happy holidays! These chocolate dipped chocolate gingerbread cookies are my take on this classic holiday treat. They're a perfectly sweet treat to send to family and friends far away this holiday season. I spent a peaceful, wintry-sunlight-lit afternoon over the long weekend making these little guys in my first (and definitely not last) baking session of the month.
Click here to jump to recipe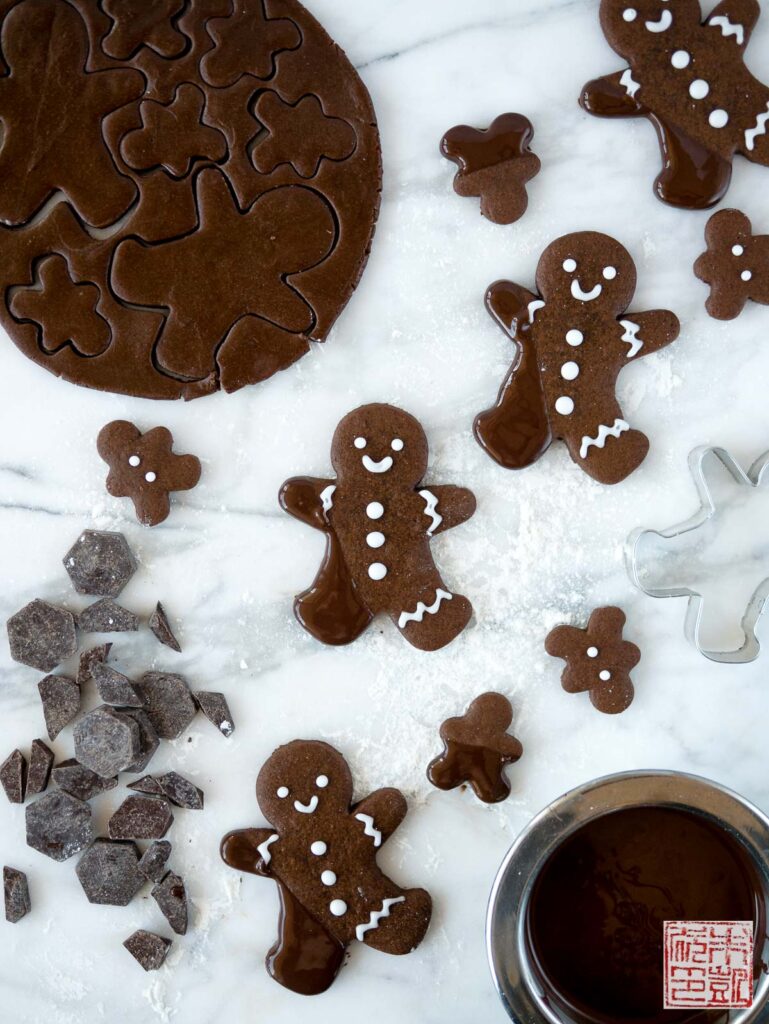 I was asked by TCHO Chocolate to participate in their virtual cookie exchange for the holidays, and my thoughts went immediately to combining one of my favorite Christmas cookies with their baking chocolate. TCHO has a fantastic line of chocolates in a great range of percentages from 39% milk to 99% dark. These chocolate gingerbread cookies have some cocoa powder mixed into the dough to give a hint of chocolatey edge. Then they're taken over the top by dipping them into melted chocolate – I prefer the 60.5% as the sweeter chocolate makes a nice contrast with the spice and molasses in the gingerbread.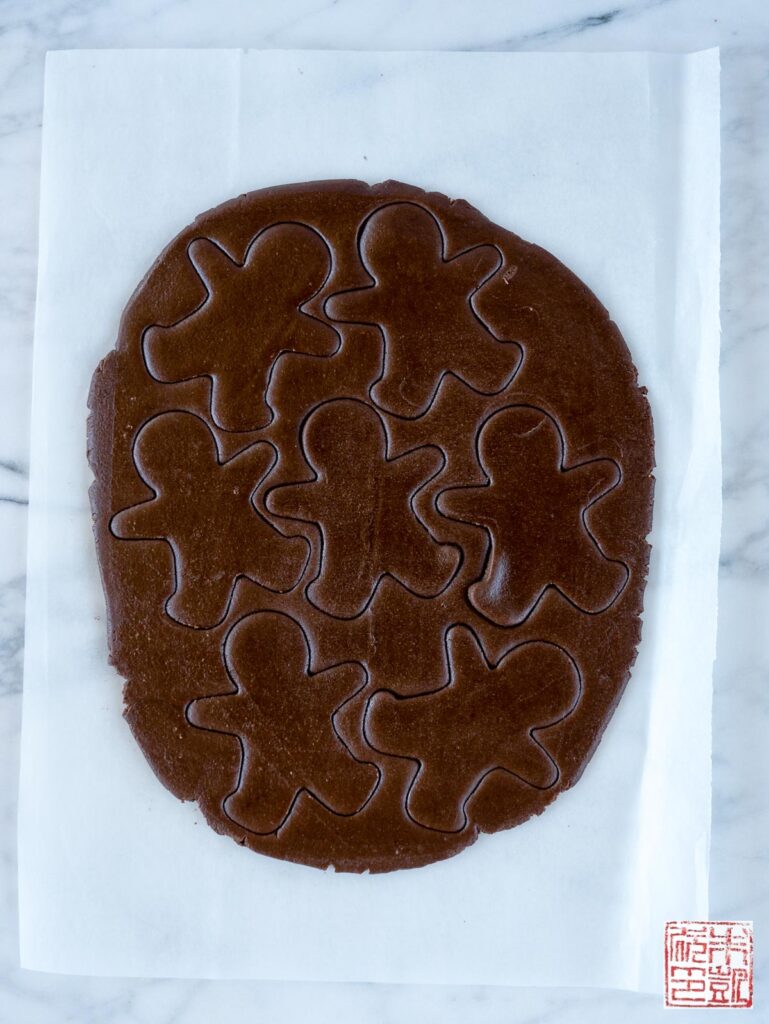 Like most gingerbread recipes, this chocolate gingerbread dough is fairly soft so it needs some time to rest and firm up in the refrigerator before you roll it out. If at any time the dough seems to be getting too soft and sticky, you can pop it back in the refrigerator for another 15 minutes or to let it firm up.
There's definite preferences for soft gingerbread or crisp gingerbread. For soft gingerbread, I like to roll it out thicker, about 1/2″, and I bake the cookies for about 10 minutes, until the surface of the cookies looks just set and still yielding to the touch in the center. For crisper gingerbread, I roll out the dough to 1/4″, and I let them bake for about 10-12 minutes, depending on how set they look. I like my gingerbread on the softer side, but for gingerbread men I'm going to decorate, I try not to have them too soft (I baked these at 10-11 minutes) so they don't accidentally break when I'm moving them around.
There's nothing like a long stretch of afternoon spent decorating cookies with Christmas music in the background to remind you that it's the holiday season. I kept it super simple and minimalist, but of course you can always turn this into an over the top activity with the kids (or on your own!) with different colored icings, sprinkles, and other decorations.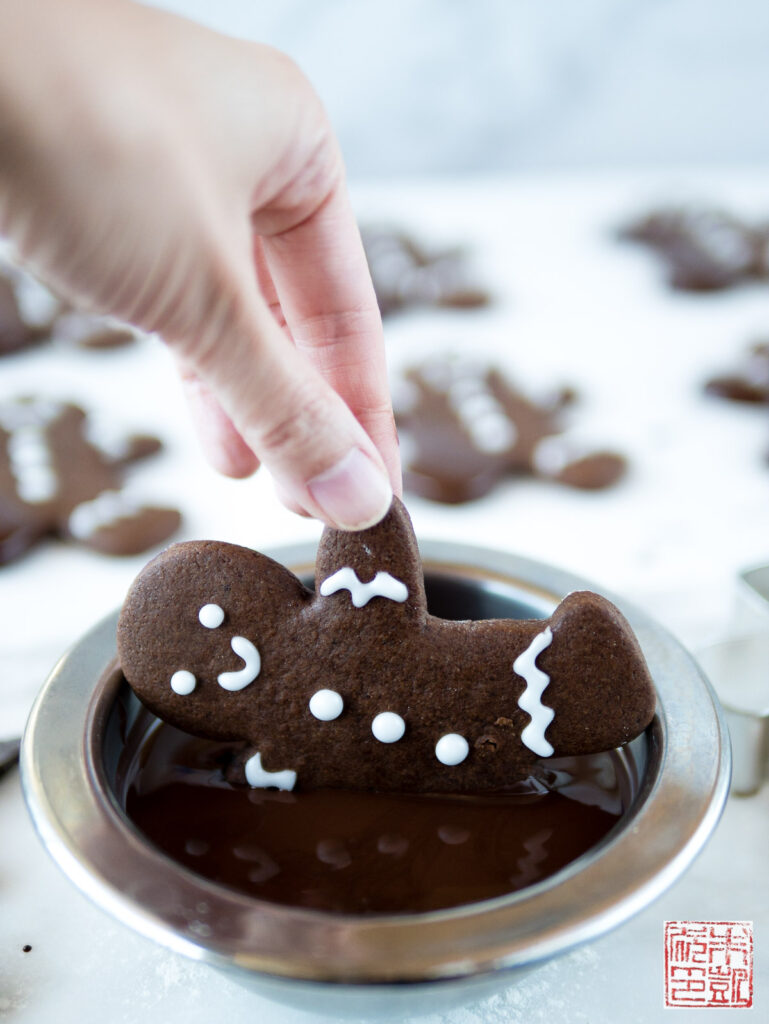 Finally, the best part: giving all the cookies a chocolate dip. To dip the chocolate gingerbread, I simply melted the chopped chocolate in a double boiler, and then dipped the cookies and let them set on sheets of parchment or wax paper. Once the cookies fully set they travel very well, so you can definitely pack your cookie tins with these. Hope your holiday season is starting out cozy and bright!
Chocolate Dipped Chocolate Gingerbread
Ingredients
Gingerbread Cookies
3 cups (375 g) all-purpose flour
2 tablespoons natural cocoa powder
2 teaspoons ground cinnamon
2 teaspoons ground ginger
1 teaspoon baking soda
½ teaspoon ground cloves
¼ teaspoon salt
¾ cup (165 g) unsalted butter, room temperature
1 cup (200 g) light brown sugar
½ cup(130 g) molasses
1 large egg, room temp
8 oz bittersweet chocolate, roughly chopped, for dipping
Icing
1 cup (120 g) confectioners' sugar
1½ tablespoons (23 g) milk
1½ teaspoons light corn syrup
Instructions
Combine flour, cocoa powder, cinnamon, ginger, baking soda, cloves, and salt in a large bowl. Set aside.
Place butter and brown sugar in bowl of stand mixer. Beat on medium speed with paddle attachment until light and fluffy.
Add in molasses and beat until combined. Add in egg and beat until combined.
Add in flour mixture in three additions, beating on low speed just until combined.
Divide dough into two portions and flatten each into a rectangle roughly ½" thick. Wrap in plastic wrap and chill in refrigerator for 1-2 hours, until firm, or overnight.
When you are ready to bake the cookies, preheat the oven to 350 degrees F. Line a couple of baking sheets with parchment paper or silicone baking mats.
Take out one of the dough rectangles and roll out between two sheets of parchment paper to ½" thick. (You can roll to ¼" thick if you want crispier cookies). Using a cookie cutter, cut out shapes from the dough.
Place cookies onto prepared sheets. If the cookies are too soft to move, you can always put the dough back in the refrigerator for 10-15 minutes to let it firm back up. Repeat with the other block of dough.
Bake for about 10 minutes, until the surface of the cookies is dry and firm. Remove from oven and let cool on wire racks.
For the icing, whisk all the ingredients together in a bowl until smooth. If it's too runny, you can add some more confectioners' sugar. If it's too stiff, add some more milk a little bit at a time. You don't want the icing too runny; it's better for it to be on the stiffer side if you're piping out details. If you're using it as a glaze, you can have it runnier.
Pour the icing into a piping bag fitted with a round #2 tip, or into a ziploc bag and then snip off one of the bottom corners to make a piping bag. Decorate cookies as desired.
To dip the cookies: melt the chopped chocolate in a double boiler or metal bowl set over a saucepan of simmering water.
Dip the cookies into the melted chocolate and set on sheets of parchment paper or wax paper to let set. Store cookies between sheets of parchment or wax paper.