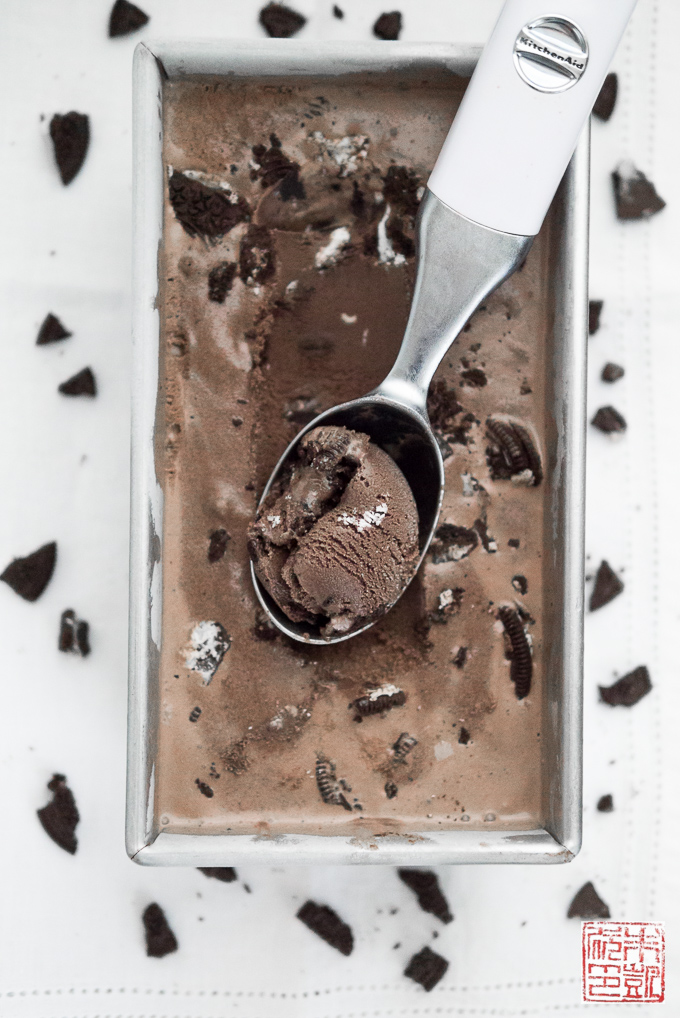 Happy New Year! Chocolate Milk and Cookies ice cream – just like the classic childhood treat, but even better.
For my first recipe this year, I got to test out one of my Christmas presents: a new ice cream maker! Hubby is starting to make a tradition of getting me ice cream machines for the holidays – my first fancy ice cream maker with a built-in compressor was a Christmas gift from him over eight years ago. It broke down last summer, much to my dismay, and I decided I was in the market for an upgrade. Hubby/Santa heard my Christmas wish, and I found the Whynter ICM-200LS Ice Cream Maker under the tree on Christmas Day! After so many ice cream-less months, I was super eager to test this new toy out!
Since one of my main ice cream customers is an almost 3 year old girl, I wanted a kid-friendly flavor, but not something so kiddy that my husband and I couldn't enjoy it as well (I find as a grownup I've lost my taste for neon coloring and hyper-sweet candy flavors). I ended up choosing Chocolate Milk and Cookies from the Ample Hills Creamery
ice cream cookbook, which proved to be an all-around winner in the household. Chocolate ice cream flavored with a combination of cocoa powder and chocolate, then enriched with cookie "powder" made from crushing sandwich cookies and layered with more cookie chunks: if only every snacktime was this perfectly satisfying. Isabelle has developed quite the sweet tooth, so I haven't let her indulge in chocolate milk since I know she probably won't stop asking for it afterwards. If her delighted reaction to this ice cream was any indication, I think I made the right guess.
First, my impressions of the Whynter ice cream maker. The machine was simple to set up and once I poured the ice cream mix in, it froze the ice cream to just-firmer than soft-serve, scoopable stage in about 40 minutes, which is acceptable to me given that I had only chilled the mixture for about six hours. The ice cream was pleasantly creamy with no ice crystals – my husband said it was his ideal ice cream texture and would happily eat the entire batch right then and there. After scraping it into a container and storing in the freezer overnight, the ice cream firmed up to a fairly solid consistency. A few minutes on the counter and it softened enough for easy scooping. It retained the same great texture from the day before, and no iciness yet. (The little white flecks you see in the photos are from the cream-filled sandwich cookies mixed into the ice cream, not ice).I'll note that this recipe is on the lower fat side with only three egg yolks and lower proportion of cream to milk, so it's likely that using a richer base will yield even creamier results.
Other things I liked about the Whynter:
It's fairly quiet – all ice cream makers will make noise, and my last one was so loud I essentially had to banish it to a separate room with the door closed when I used it – by comparison the Whynter stayed at the level of a background hum. Not silent, but definitely much quieter.
The newest model, which is the one I got, has a 2 quart capacity, compared to 1.5 quarts for many other similar models from other brands. This extra capacity can come in quite helpful, as you can make larger batches of ice cream without worrying as much about overrun. For a 1.5 quart machine, you rarely will get 1.5 quarts of ice cream, because as the machine whips air into the mixture it will increase in volume. Ice cream spilling over the top of the machine can damage it, not to mentioning polluting your ice cream. Having the extra margin of safety with a 2 quart bowl is definitely a plus.
It's sleek and fairly compact for its capacity – nice smooth surfaces make it easy to keep clean. The controls may seem minimalist, but they are all you need to get the job done.
On to the ice cream itself:
Seal of approval from Isabelle.
The Ample Hills Creamery cookbook is definitely one of the most charming cookbooks I have; it's full of cute drawings and funny anecdotes that really capture the unique character of the Brooklyn ice cream shop. I haven't been there myself but I'm not surprised that New York City is as obsessed with fancy artisan ice cream as the Bay Area. The cookbook does a lovely job of telling the story of this family-run business and how they've become a neighborhood landmark.
Most of the Ample Hills ice cream flavors are pumped-up versions of traditional flavors, such as toasted marshmallow with chocolate and graham cracker bits or strawberries and cream. They are big on the mix-ins. If you're a fan of Ben and Jerry's (which the owners have cited as an inspiration) you get an idea of their ice cream philosophy. Salted Crack Caramel ice cream has pieces of caramel-and-chocolate covered saltines. "The Munchies" is stuffed with potato chips, pretzels, and M&Ms. Ooey Gooey Butter Cake is embedded with literal chunks of the famous St. Louis butter cake. If you want your ice cream to be half (or more) add-ins, Ample Hills is your place. The great thing about having their cookbook is that you can tailor the amount of stuff you add in, to get your preferred ratio. I like having fewer mix-ins in my ice cream, so for this Chocolate Milk ice cream I decreased the number of cookies I added in and it still came out quite decadent for me.
I love the idea of pumping up the traditional kid treat of milk and cookies with chocolate and more chocolate. The Chocolate Milk ice cream uses a paste made of sugar, cocoa powder and chocolate chunks mixed into its base ice cream. Cookies ground into a fine powder are also mixed in; I was afraid this would give the ice cream a gritty texture but it didn't; as long as you process the cookies finely, they melt nicely into the overall mouthfeel of the ice cream. Larger chunks of cookies amp up the sweetness of the ice cream; you could probably get away with using a slightly more bittersweet chocolate if you want to counteract the sugar rush of the cookies, but I stuck to a semisweet chocolate to give it more of a mild, "chocolate milk" flavor and not a darker chocolate taste.
Also of interest: the Ample Hills Creamery base is a French custard style that incorporates milk powder. One of the benefits of using milk powder in baking is that it imparts milk flavor without increasing the liquid in a recipe. In ice cream, more water is a liability because as it freezes ice crystals will form, making the final product unpleasantly icy and grainy. It's especially tricky with ice cream made at home since most home freezers don't have the fine temperature and moisture controls that commercial freezers do. So using milk powder is a clever solution to increase the richness, creaminess, and flavor of the ice cream without using more milk or cream and increasing the liquid content. Although it's an extra ingredient and extra step, it doesn't add much more to the prep time. I'm definitely looking to see if adjusting some of my other ice cream recipes to include the milk powder will make a noticeable difference in taste and texture.
So new ice cream maker and new ice cream book led to a resounding success and many licked-clean ice cream bowls in the sink this week. I'm very pleased with the first run of this machine and look forward to continuing to test it out throughout the year!
Chocolate Milk and Cookies Ice Cream
Ingredients
chocolate paste
¼ cup (50 g) sugar, preferably organic cane
½ cup (30 g) cocoa powder
2 ounces (55 g) semisweet (60-70%) chocolate, roughly chopped
ice cream base
¾ cup (150 g) sugar, preferably organic cane
½ cup (60 g) skim or nonfat milk powder
1⅔ cups (400 ml) whole milk
1⅔ cups (400 ml) heavy cream
3 large egg yolks
16-25 chocolate sandwich cookies, depending on how many cookies you want in the ice cream
Instructions
for the chocolate paste:
Bring ⅓ cup (80 ml) water to a boil in a small saucepan.
Remove from heat and add in sugar and cocoa powder. Whisk until combined and smooth.
Add in chopped chocolate and whisk until melted and combined. Set aside to cool.
for the ice cream base:
Prepare an ice bath with a large heatproof bowl.
Combine sugar, milk powder, and milk in a medium saucepan. Whisk until smooth and milk powder is fully dissolved.
Add in the cream.
Cook mixture over medium heat, stirring often with a rubber spatula to prevent burning, until mixture reaches 110 degrees F as measured with a candy thermometer, about 5 to 10 minutes.. Remove from heat.
Place egg yolks in a medium heatproof bowl. Pour about half of the hot milk mixture over the yolks, whisking vigorously to temper the yolks and prevent them from cooking.
Pour the egg yolk mixture back into the milk mixture in the saucepan. Return saucepan to stovetop and cook over medium heat, stirring often, until mixture reaches 165 degrees F, about 5 to 10 minutes.
Remove saucepan from heat. Stir in the chocolate paste.
Place saucepan in the ice bath carefully, so ice won't get in the saucepan. Let cool for about 15-20 minutes, stirring occasionally.
Pour ice cream base through a strainer into a container. Refrigerate for at least 2 hours or overnight if desired.
Place six of the sandwich cookies in the food processor and process to fine crumbs. The rest of the cookies you can break up into larger pieces to mix into the ice cream. Use as many as you desire - I used about 10 more cookies.
Stir cookie powder into the chilled ice cream base. Freeze ice cream in an ice cream maker according to manufacturer's instructions.
Transfer ice cream to a storage container, stirring in the larger cookie pieces. You can serve immediately or put in the freezer for an additional eight hours for a more scoopable ice cream.