Chocolate Milk and Cookies Ice Cream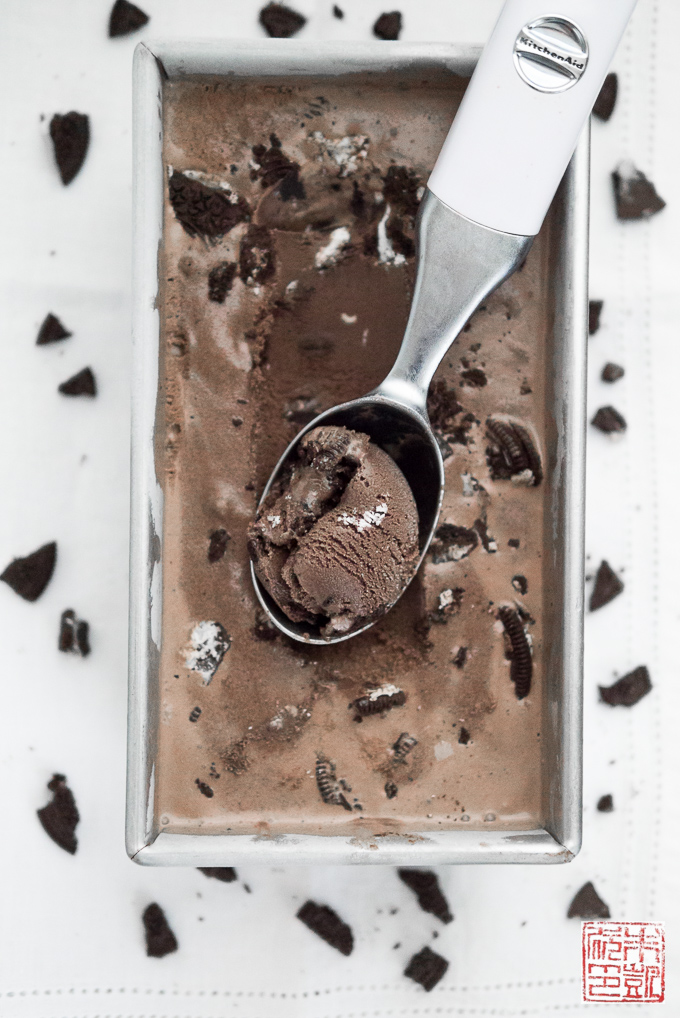 ¼ cup (50 g) sugar, preferably organic cane
½ cup (30 g) cocoa powder
2 ounces (55 g) semisweet (60-70%) chocolate, roughly chopped
¾ cup (150 g) sugar, preferably organic cane
½ cup (60 g) skim or nonfat milk powder
1⅔ cups (400 ml) whole milk
1⅔ cups (400 ml) heavy cream
3 large egg yolks
16-25 chocolate sandwich cookies, depending on how many cookies you want in the ice cream
Bring ⅓ cup (80 ml) water to a boil in a small saucepan.
Remove from heat and add in sugar and cocoa powder. Whisk until combined and smooth.
Add in chopped chocolate and whisk until melted and combined. Set aside to cool.
Prepare an ice bath with a large heatproof bowl.
Combine sugar, milk powder, and milk in a medium saucepan. Whisk until smooth and milk powder is fully dissolved.
Add in the cream.
Cook mixture over medium heat, stirring often with a rubber spatula to prevent burning, until mixture reaches 110 degrees F as measured with a candy thermometer, about 5 to 10 minutes.. Remove from heat.
Place egg yolks in a medium heatproof bowl. Pour about half of the hot milk mixture over the yolks, whisking vigorously to temper the yolks and prevent them from cooking.
Pour the egg yolk mixture back into the milk mixture in the saucepan. Return saucepan to stovetop and cook over medium heat, stirring often, until mixture reaches 165 degrees F, about 5 to 10 minutes.
Remove saucepan from heat. Stir in the chocolate paste.
Place saucepan in the ice bath carefully, so ice won't get in the saucepan. Let cool for about 15-20 minutes, stirring occasionally.
Pour ice cream base through a strainer into a container. Refrigerate for at least 2 hours or overnight if desired.
Place six of the sandwich cookies in the food processor and process to fine crumbs. The rest of the cookies you can break up into larger pieces to mix into the ice cream. Use as many as you desire - I used about 10 more cookies.
Stir cookie powder into the chilled ice cream base. Freeze ice cream in an ice cream maker according to manufacturer's instructions.
Transfer ice cream to a storage container, stirring in the larger cookie pieces. You can serve immediately or put in the freezer for an additional eight hours for a more scoopable ice cream.
Recipe by
Dessert First
at https://dessertfirstgirl.com/2016/01/chocolate-milk-cookies-ice-cream.html