Sugar and spice cookies turned into lollipops you can dip into chocolate, marshmallow cream, or cookie butter. A fun interactive treat for New Year's Eve or any get-together.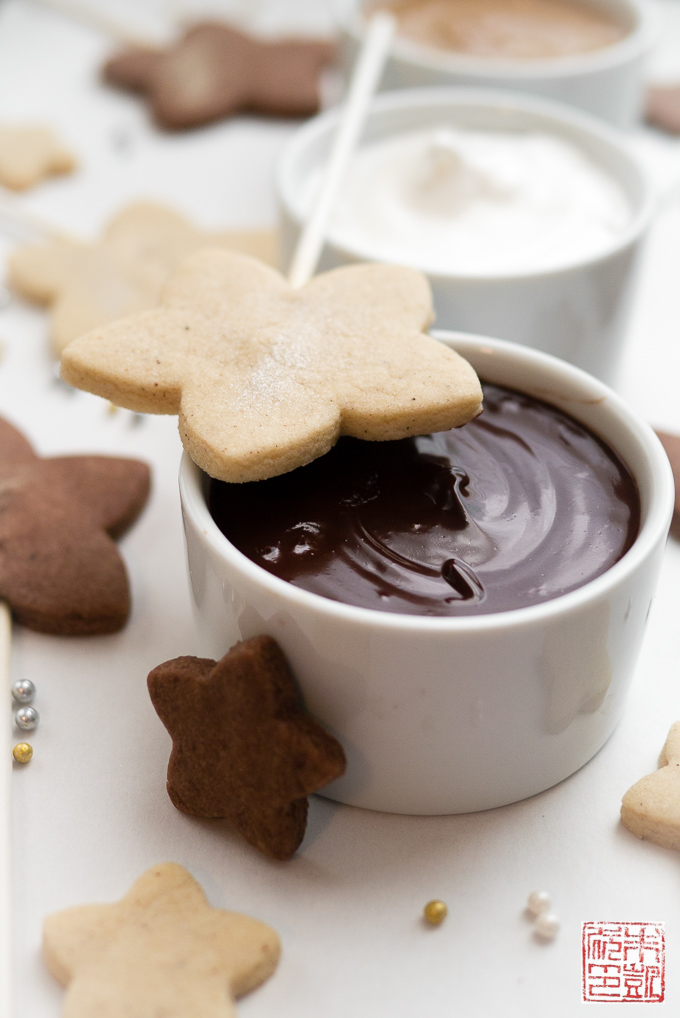 How quickly another year comes to an end. It's been unusually chilly and rainy here, but on this last day of the year it's calm, clear, and bright. I've been enjoying the last couple of weeks with my family, and I'm looking forward to a quiet passing of the year this evening (maybe in a few more years when Isabelle is older I can go back to crazy New Year's Eve parties – for now, we're content with popping the bubbly at home).
Celebrating New Year's at home doesn't mean we can't have our own fun traditions. The S'mores Creme Brûlée I came up with a couple years ago turned into a yearly ritual of some interactive treats to snack on while waiting for the countdown to the new year. Since this was the year of lollipops for me, I decided to combine lollipops along with the time-honored party tradition of fondue, and make some cookie lollipops for dipping in various ganaches and sweet sauces.
The cookies themselves are a simple sugar cookie base that requires no chilling, so it's super quick to make the dough and bake them. Generally, I have found the dough very workable right after I make it; if it does seem a little too soft you can dust it with a little flour, or chill for a few minutes in the refrigerator if it's really sticky, but typically I haven't found it necessary.
The spice in the cookies comes from Baker's Spice, a beautifully aromatic blend of spices mixed together for convenience by Greenpoint Trading Company, a Brooklyn-based company that creates unusual spice blends. I was introduced to Baker's Spice by Hatchery, an online community that explores and celebrates small-batch, artisan ingredients and condiments from makers around the US. I was lucky enough to get a sample of some of the products they offer, and I'm really excited to be trying out more of them in the new year.
Baker's Spice is a blend of ground cinnamon, nutmeg, cloves, allspice, and ginger, and a teaspoon gives the sugar cookies a faintly spicy kick reminiscent of holiday time, without dominating the flavor like in a gingerbread. If you can't find this blend, you can make your own mix of spices for the cookies.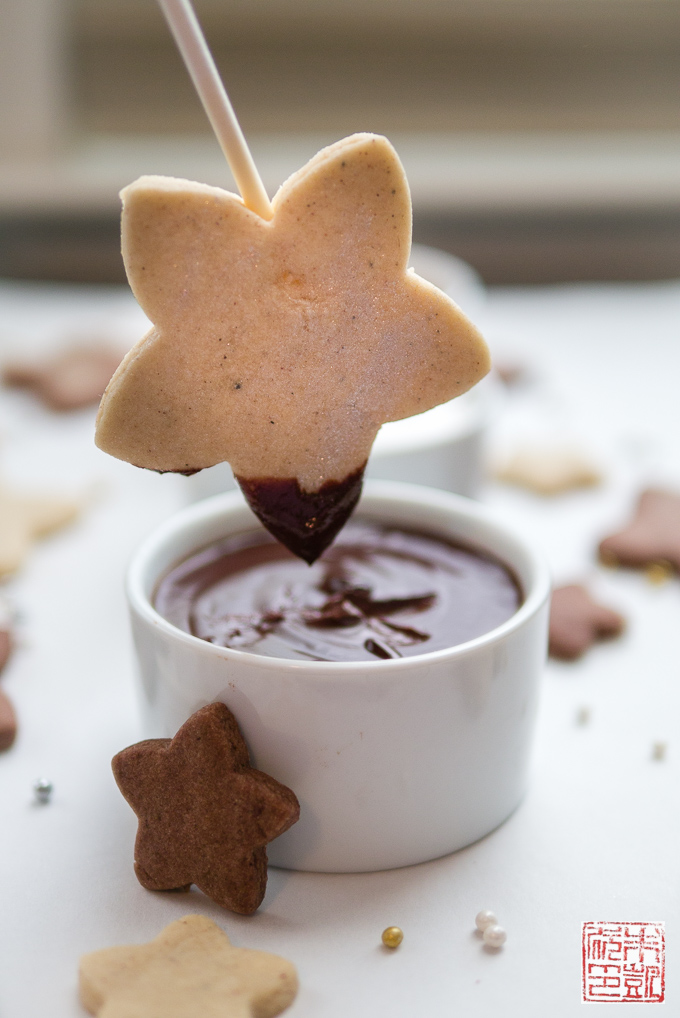 Now for the fun part: creating various dips for the cookies. I made a trio of contrasting sweet sauces: a dark chocolate ganache, a fluffy white marshmallow cream, and speculoos cookie butter. The cookie butter is the easiest: if you have a container of Trader Joe's cookie butter, just warm some up in the microwave. The marshmallow cream is a simple Italian meringue (much better than store bought marshmallow fluff – I promise it's worth the eight or nine minutes it takes to make it). For the ganache I used some Theo 70% Baking Chocolate – Theo's new cookbook was one of my favorites of 2015 and I'm impressed with their baking chocolate as well.
The possibilities for dipping are nearly endless – you can add flavorings to the ganaches and marshmallow cream, add bowls of sprinkles or other decorations for further dipping, basically make as the bar as fancy as you'd like. Isabelle had a blast making up her own combinations; this would be a fun idea for a kids' party as well.
I wish you all a happy and sweet New Year! Looking forward to what 2016 will bring!
Sugar and Spice Cookie Fondue
This recipe uses Baker's Spice by Greenpoint Trading Co. If you can't find it, you can use a mixture of ½ teaspoon ground cinnamon, ¼ teaspoon allspice, ¼ teaspoon ground nutmeg, and ¼ teaspoon ground ginger mixed together for a similar effect.
Serves:
about 3 dozen cookies
Ingredients
Sugar and Spice Cookies
3 cups (375 g) all-purpose flour
1 teaspoon baking powder
1 teaspoon Baker's Spice or substitute as noted above
½ teaspoon salt
1 cup (226 g) unsalted butter, room temperature
1 cup (200 g) sugar
1 large egg
1 teaspoon vanilla extract
chocolate ganache
3 oz bittersweet chocolate, chopped into small pieces
3 oz heavy cream
Instructions
for the cookies:
Preheat oven to 350 degrees F. Combine all dry ingredients together in a bowl and set aside.
Combine butter and sugar in bowl of a stand mixer. Beat with paddle attachment until sugar is fully incorporated and mixture is light and fluffy.
Add egg and vanilla extract and beat until incorporated.
Add dry ingredients in three additions, beating to incorporate after each addition. The dough should come together into a smooth ball. Do not overbeat.
Roll dough out on a clean lightly floured surface to about ¼" thick. Using a star or other 2½" wide cookie cutter, cut out shapes from the dough.
Transfer cookies to a baking sheet. Carefully insert lollipop sticks into the bottom of each cookie.
Bake for 6-8 minutes in the oven, rotating halfway through. The cookies should be just starting to color at the edge. Don't let them color too much or they will be harder and crisper after cooling.
Remove from sheet and let cool on wire racks.
Variation: To make chocolate cookies, replace ¼ of the flour with cocoa powder.
for the ganache:
Place chocolate in a heatproof bowl. Heat cream in saucepan on stove over medium high heat just to a boil.
Pour cream over the chocolate and let sit for a minute. Gently stir with a spoon to fully combine the chocolate and cream.
Pour ganache into a small heatproof bowl for serving. If it gets too firm after cooling, you can reheat by placing over a bowl of simmering water to soften.